Hive F1 2023 Contest - Race #16 - Marina Bay, SINGAPORE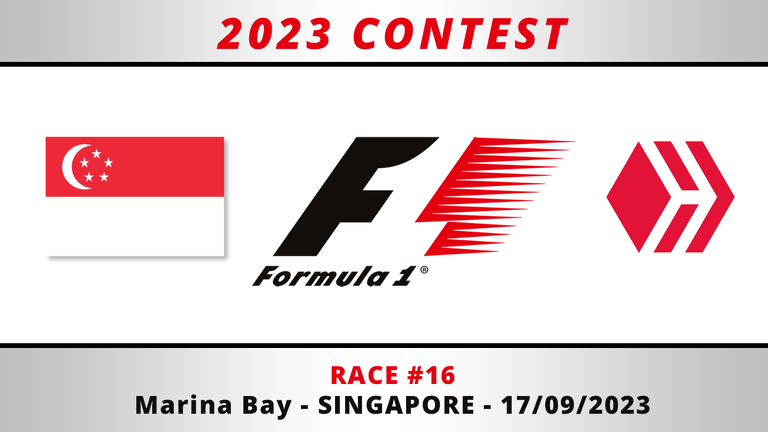 Gara #16 - Marina Bay, SINGAPORE
Un saluto a tutti.
dopo la gara a Monza, dove tutti ci aspettavamo una vittoria Ferrari, ma dove come al solito ha vinto Verstappen, ci spostiamo in Asia per correre sul circuito cittadino di Marina Bay, a Singapore.
Classico circuito cittadino, con diversi rettilinei interrotti da curve a 90°. Pista dove non si può mai abbassare l'attenzione per non rischiare di ritrovarsi a muro o in mezzo a qualche incidente, quindi aspettiamoci qualche ingresso di Safety Car.
Aggiungiamo la spettacolarità del correre in notturna, con luci artificiali, e abbiamo abbastanza elementi per poter vedere una gara sicuramente interessante.
Favoriti? Ormai possiamo facilmente dire "i soliti".
Ricordo che anche se si correrà di sera, da noi in Europa per il fuso orario la partenza della gara sarà nel primo pomeriggio di domenica. Attenzione! 😉
Aspetto i vostri pronostici e come sempre, buona fortuna a tutti! 🏁
---
Molti di voi già conoscono il funzionamento del nostro contest, mentre per i nuovi rimando al regolamento del concorso presente nel post della prima gara.
---
Per quanto riguarda il nostro concorso, più sotto potete vedere i risultati dell'ultima gara e la nostra classifica generale.
@acont è riuscito ad indovinare i primi due piloti sul podio, @pousinha il primo ed il terzo, mentre tutti gli altri solamente il vincitore.
Classifica invariata, ma alcuni distacchi sono diminuiti, quindi controllate la vostra posizione attuale.
---
NFT FRAPPE'

Da quest'anno parte anche una collaborazione con gli amici di @nftfrappe che ci forniscono un ulteriore premio per il vincitore del contest a fine campionato: un NFT Epico di loro creazione!
Visitate pure la loro gallery di nftshowroom.


Race #16 - Marina Bay, SINGAPORE
Hello everybody,
after the race in Monza, where we all expected a Ferrari victory, but where as usual Verstappen won, we move to Asia to race on the Marina Bay street circuit in Singapore.
Classic street circuit, with several straights interrupted by 90° bends. Track where you can never lower your attention to avoid the risk of finding yourself on the wall or in the middle of an accident, so expect some Safety Cars to appear.
Add the spectacularity of racing at night, with artificial lights, and we have enough elements to be able to see a certainly interesting race.
Favorites? Now we can easily say "as usual".
I remember that even if we will race in the evening, in Europe due to the time difference the start of the race will be in the early afternoon of Sunday. Attention! 😉
I'll wait for your prediction, and as always, good luck to everyone! 🏁
---
Many of you already know how our contest works, while for the new ones I refer to the contest rules in the post of the first race.
---
As for our competition, below you can see the results of the last race and our general ranking.
@acont managed to guess the first two riders on the podium, @pousinha the first and third, while all the others only the winner.
Ranking unchanged, but some gaps have closed, so check your current position.
---
NFT FRAPPE'

By this year a new collaboration with my friends of @nftfrappe who gift us a new prize for the contest winner at the end of the championship: an Epic NFT, original creation!
Take a look to the gallery on nftshowroom.


Race #15 results and general standing



Races Calendar 2023
| RACE | Track | 1st | 2nd | 3rd |
| --- | --- | --- | --- | --- |
| | | | | |
| 05 / 03 | | | | |
| R01 | Bahrain | Verstappen | Perez | Alonso |
| 19 / 03 | | | | |
| R02 | Saudi Arabia | Perez | Verstappen | Alonso |
| 02 / 04 | | | | |
| R03 | Australia | Verstappen | Hamilton | Alonso |
| 30 / 04 | | | | |
| R04 | Azerbaijan | Perez | Verstappen | Leclerc |
| 07 / 05 | | | | |
| R05 | USA - Miami | Verstappen | Perez | Alonso |
| 21 / 05 | | | | |
| R06 | ITA - Imola | NO RACE | - | - |
| 28 / 05 | | | | |
| R07 | Monaco | Verstappen | Alonso | Ocon |
| 04 / 06 | | | | |
| R08 | Spain | Verstappen | Hamilton | Russell |
| 18 / 06 | | | | |
| R09 | Canada | Verstappen | Alonso | Hamilton |
| 02 / 07 | | | | |
| R10 | Austria | Verstappen | Leclerc | Perez |
| 09 / 07 | | | | |
| R11 | Great Britain | Verstappen | Norris | Hamilton |
| 23 / 07 | | | | |
| R12 | Hungary | Verstappen | Norris | Perez |
| 30 / 07 | | | | |
| R13 | Belgium | Verstappen | Perez | Sainz |
| 27 / 08 | | | | |
| R14 | Netherlands | Verstappen | Alonso | Gasly |
| 03 / 09 | | | | |
| R15 | ITA - Monza | Verstappen | Perez | Sainz |
| 17 / 09 | | | | |
| R16 | Singapore | - | - | - |
| 24 / 09 | | | | |
| R17 | Japan | - | - | - |
| 08 / 10 | | | | |
| R18 | Qatar | - | - | - |
| 22 / 10 | | | | |
| R19 | USA - Austin | - | - | - |
| 29 / 10 | | | | |
| R20 | Mexico | - | - | - |
| 05 / 11 | | | | |
| R21 | Brazil | - | - | - |
| 18 / 11 | | | | |
| R22 | USA - LasVegas | - | - | - |
| 26 / 11 | | | | |
| R23 | Abu Dhabi | - | - | - |
---
Official FIA Formula 1 Site
Official FIA Formula 1 Youtube Channel


Call for the Players
@robertomarinello, @zottone444, @stefano.massari, @catgio, @zipsardinia, @lokibalboa, @ciuoto, @blumela, @yocritico, @alfredolopez1980, @grof, @jonelescalona, @vicpics, @dexpartacus, @franz54, @nfelix92, @fuentesjo3006, @cmoljoe, @sportsjrfc2018, @bisec, @lucasantangelo, @carlood, @dianagomez, @pagliozzo, @lelluzzo, @antorchajohnny, @acont, @dernierdiaz, @deusjudo, @lolyfuentes, @salazarcag, @colon2018, @linterio, @jclark, @neo-wiza, @sljivanono, @justamoment, @lostprophet, @hollywwod, @barbadosso, @davidesimoncini, @serialfiller, @sukhothai, @perdomo56, @adimantong, @traveljack894, @stefanogabbo, @coccodema, @freestyle7, @massrado, @alequandro, @eagle71, @mrhuman88, @ifiwasfrank, @britandjosie, @cetyoung, @tosolini, @samubit, @vancouverpics, @samubit, @mauropi,@ifiwasfrank, @c3r34lk1ll3r, @bencwarmer, @siomara-2018, @sportsbuddy, @makeitreal95, @libertycrypto27, @ismaelgranados, @mrfrank88, @coolkris, @fraba, @stewie.wieno, @davidesimoncini and the others…
---
Immagini CC0 con diritti di modifica
CC0 Image labeled for reuse with modification
---
---