Hive F1 2023 Contest - Race #13 - Spa-Francorchamps, BELGIUM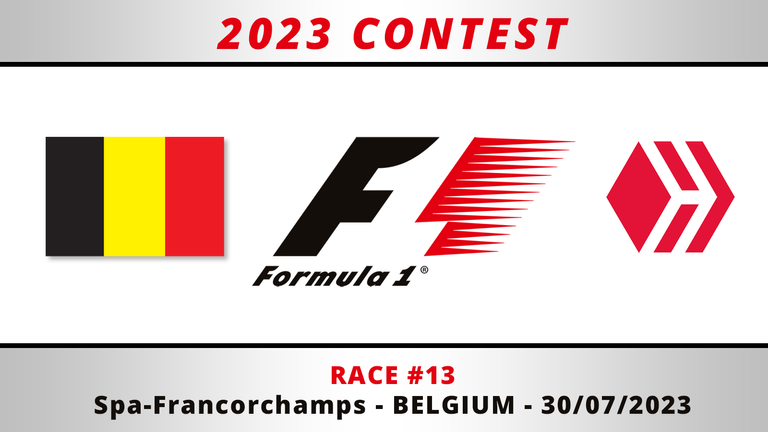 Gara #13 - Spa-Francorchamps, BELGIO
Un saluto a tutti.
FINALMENTE!
Eccoci arrivati alla gara che personalmente aspetto tutto l'anno, ogni anno, quella del Belgio, sul bellissimo e impegnativo tracciato di Spa-Francorhchamps. E' il più lungo di tutto il calendario, piace molto ai piloti perchè qui da sempre devono dimostrare il proprio valore, e da sempre è un pista molto spettacolare, piena di imprevisti, con il risultato mai scontato. Soprattutto in caso di pioggia, che qui si verifica abbastanza spesso.
La Redbull è sempre li davanti, ma le altre squadre sono sempre più vicine, e sempre più vicine fra loro, soprattutto McLaren e Mercedes. Ferrari ancora lontane, ma soprattutto per mancanza di prestazioni e gestione delle strategie ai box. Aston Martin è un pò in calo, ma non è da sottovalutare.
Aspetteremo le qualifiche per vedere quali saranno qui le prestazioni delle vetture.
Aspetto i vostri pronostici e come sempre, buona fortuna a tutti! 🏁
---
Molti di voi già conoscono il funzionamento del nostro contest, mentre per i nuovi rimando al regolamento del concorso presente nel post della prima gara.
---
Per quanto riguarda il nostro concorso, più sotto potete vedere i risultati dell'ultima gara e la nostra classifica generale.
@c3r34lk1ll3r si dimostra sempre il più forte, avendo indovinato i primi due piloti sul podio. In cinque abbiamo indovinato solamente il vincitore e in due solo il secondo gradino.
Classifica invariata, ma stanno aumentando i distacchi tra i concorrenti.
---
NFT FRAPPE'

Da quest'anno parte anche una collaborazione con gli amici di @nftfrappe che ci forniscono un ulteriore premio per il vincitore del contest a fine campionato: un NFT Epico di loro creazione!
Visitate pure la loro gallery di nftshowroom.


Gara #13 - Spa-Francorchamps, BELGIUM
Hello everybody,
FINALLY!
Here we are at the race that I personally wait for all year round, the one in Belgium, on the beautiful and challenging Spa-Francorhchamps track. It's the longest of the entire calendar, and the riders like it a lot because they have always had to prove their worth here, and it's always been a very spectacular track, full of unexpected events, with results that are never predictable. Especially in rainy weather, which happens quite often here.
Red ull is always on the lead, but the other teams are getting closer and closer to each other, especially McLaren and Mercedes. Ferrari still far away, but above all due to lack of performance and management of strategies in the pits. Aston Martin is down a bit, but it shouldn't be underestimated.
We will wait for qualifying to see how the cars will perform here.
I'll wait for your prediction, and as always, good luck to everyone! 🏁
---
Many of you already know how our contest works, while for the new ones I refer to the contest rules in the post of the first race.
---
As for our competition, below you can see the results of the last race and our general ranking.
@c3r34lk1ll3r always proves to be the strongest, having guessed the first two riders on the podium. In five, we only guessed the winner and in two only the second position.
Standings unchanged, but the gaps between competitors are increasing.
---
NFT FRAPPE'

By this year a new collaboration with my friends of @nftfrappe who gift us a new prize for the contest winner at the end of the championship: an Epic NFT, original creation!
Take a look to the gallery on nftshowroom.


Race #12 results and general standing



Races Calendar 2023
| RACE | Track | 1st | 2nd | 3rd |
| --- | --- | --- | --- | --- |
| | | | | |
| 05 / 03 | | | | |
| R01 | Bahrain | Verstappen | Perez | Alonso |
| 19 / 03 | | | | |
| R02 | Saudi Arabia | Perez | Verstappen | Alonso |
| 02 / 04 | | | | |
| R03 | Australia | Verstappen | Hamilton | Alonso |
| 30 / 04 | | | | |
| R04 | Azerbaijan | Perez | Verstappen | Leclerc |
| 07 / 05 | | | | |
| R05 | USA - Miami | Verstappen | Perez | Alonso |
| 21 / 05 | | | | |
| R06 | ITA - Imola | NO RACE | - | - |
| 28 / 05 | | | | |
| R07 | Monaco | Verstappen | Alonso | Ocon |
| 04 / 06 | | | | |
| R08 | Spain | Verstappen | Hamilton | Russell |
| 18 / 06 | | | | |
| R09 | Canada | Verstappen | Alonso | Hamilton |
| 02 / 07 | | | | |
| R10 | Austria | Verstappen | Leclerc | Perez |
| 09 / 07 | | | | |
| R11 | Great Britain | Verstappen | Norris | Hamilton |
| 23 / 07 | | | | |
| R12 | Hungary | Verstappen | Norris | Perez |
| 30 / 07 | | | | |
| R13 | Belgium | - | - | - |
| 27 / 08 | | | | |
| R14 | Netherlands | - | - | - |
| 03 / 09 | | | | |
| R15 | ITA - Monza | - | - | - |
| 17 / 09 | | | | |
| R16 | Singapore | - | - | - |
| 24 / 09 | | | | |
| R17 | Japan | - | - | - |
| 08 / 10 | | | | |
| R18 | Qatar | - | - | - |
| 22 / 10 | | | | |
| R19 | USA - Austin | - | - | - |
| 29 / 10 | | | | |
| R20 | Mexico | - | - | - |
| 05 / 11 | | | | |
| R21 | Brazil | - | - | - |
| 18 / 11 | | | | |
| R22 | USA - LasVegas | - | - | - |
| 26 / 11 | | | | |
| R23 | Abu Dhabi | - | - | - |
---
Official FIA Formula 1 Site
Official FIA Formula 1 Youtube Channel


Call for the Players
@robertomarinello, @zottone444, @stefano.massari, @catgio, @zipsardinia, @lokibalboa, @ciuoto, @blumela, @yocritico, @alfredolopez1980, @grof, @jonelescalona, @vicpics, @dexpartacus, @franz54, @nfelix92, @fuentesjo3006, @cmoljoe, @sportsjrfc2018, @bisec, @lucasantangelo, @carlood, @dianagomez, @pagliozzo, @lelluzzo, @antorchajohnny, @acont, @dernierdiaz, @deusjudo, @lolyfuentes, @salazarcag, @colon2018, @linterio, @jclark, @neo-wiza, @sljivanono, @justamoment, @lostprophet, @hollywwod, @barbadosso, @davidesimoncini, @serialfiller, @sukhothai, @perdomo56, @adimantong, @traveljack894, @stefanogabbo, @coccodema, @freestyle7, @massrado, @alequandro, @eagle71, @mrhuman88, @ifiwasfrank, @britandjosie, @cetyoung, @tosolini, @samubit, @vancouverpics, @samubit, @mauropi,@ifiwasfrank, @c3r34lk1ll3r, @bencwarmer, @siomara-2018, @sportsbuddy, @makeitreal95, @libertycrypto27, @ismaelgranados, @mrfrank88, @coolkris, @fraba, @stewie.wieno, @davidesimoncini and the others…
---
Immagini CC0 con diritti di modifica
CC0 Image labeled for reuse with modification
---
---