Hive F1 2023 Contest - Race #12 - Budapest, HUNGARY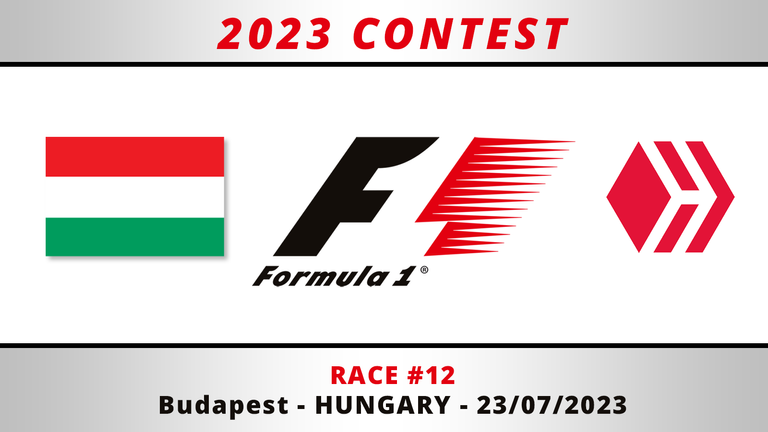 Gara #12 - Budapest, UNGHERIA
Un saluto a tutti,
nuovo weekend di gara per la Formula 1. Si correrà in Ungheria, su un altro tracciato ormai storico, quello di Budapest. Abbastanza corto, con pochi punti dove si possono raggiungere alte velocità: il rettilineo principale, e altri due più brevi. Per il resto abbastanza tortuoso, dove c'è la necessità di avere una vettura ben bilanciata e con un setup corretto. Dietro le RedBull le altre squadre stanno migliorando parecchio in prestazioni, soprattutto la McLaren, che è arrivata a giocarsela con le altre: Mercedes, Ferrari, AstonMartin. Da non sottovalutare però anche la Williams (Albon) e la Alpine (Ocon).
Sarà sicuramente un'altra gara spettacolare e da vedere!
Aspetto i vostri pronostici e come sempre, buona fortuna a tutti! 🏁
---
Molti di voi già conoscono il funzionamento del nostro contest, mentre per i nuovi rimando al regolamento del concorso presente nel post della prima gara.
---
Per quanto riguarda il nostro concorso, più sotto potete vedere i risultati dell'ultima gara e la nostra classifica generale.
I punteggi e previsioni dell'ultima gara rispecchiano il campionato di Formula1: il vincitore è quasi sempre scontato, e lo abbiamo indovinato tutti, le altre posizioni no, e infatti nessuno ha indovinato gli altri piloti sul podio. In effetti, viste le performance delle McLaren, nessuno si sarebbe aspettato Norris secondo. Hamilton terzo si poteva anche azzardare. Classifica quindi invariata, avendo tutti noi guadagnato 3 punti.
---
NFT FRAPPE'

Da quest'anno parte anche una collaborazione con gli amici di @nftfrappe che ci forniscono un ulteriore premio per il vincitore del contest a fine campionato: un NFT Epico di loro creazione!
Visitate pure la loro gallery di nftshowroom.


Gara #12 - Budapest, HUNGARY
Hello everybody,
new race weekend for Formula 1. The race will take place in Hungary, on another historic track, in Budapest. Quite short, with a few points where high speeds can be reached: the main straight, and two other shorter ones. For the rest quite tortuous, where there is the need to have a well-balanced car with a correct setup. Behind the RedBulls, the other teams are improving a lot in performance, especially McLaren, which has come to fight with the others: Mercedes, Ferrari, AstonMartin. Also not to be underestimated are Williams (Albon) and Alpine (Ocon).
It will certainly be another spectacular race!
I'll wait for your prediction, and as always, good luck to everyone! 🏁
---
Many of you already know how our contest works, while for the new ones I refer to the contest rules in the post of the first race.
---
As for our competition, below you can see the results of the last race and our general ranking.
The scores and forecasts of the last race reflect the Formula1 championship: the winner is almost always obvious, and we all guessed it, the other positions weren't, and in fact nobody guessed the other drivers on the podium. In fact, given the performance of the McLarens, no one would have expected Norris second. Hamilton third could also be risked. Ranking therefore unchanged, having all of us earned 3 points.
---
NFT FRAPPE'

By this year a new collaboration with my friends of @nftfrappe who gift us a new prize for the contest winner at the end of the championship: an Epic NFT, original creation!
Take a look to the gallery on nftshowroom.


Race #11 results and general standing



Races Calendar 2023
| RACE | Track | 1st | 2nd | 3rd |
| --- | --- | --- | --- | --- |
| | | | | |
| 05 / 03 | | | | |
| R01 | Bahrain | Verstappen | Perez | Alonso |
| 19 / 03 | | | | |
| R02 | Saudi Arabia | Perez | Verstappen | Alonso |
| 02 / 04 | | | | |
| R03 | Australia | Verstappen | Hamilton | Alonso |
| 30 / 04 | | | | |
| R04 | Azerbaijan | Perez | Verstappen | Leclerc |
| 07 / 05 | | | | |
| R05 | USA - Miami | Verstappen | Perez | Alonso |
| 21 / 05 | | | | |
| R06 | ITA - Imola | NO RACE | - | - |
| 28 / 05 | | | | |
| R07 | Monaco | Verstappen | Alonso | Ocon |
| 04 / 06 | | | | |
| R08 | Spain | Verstappen | Hamilton | Russell |
| 18 / 06 | | | | |
| R09 | Canada | Verstappen | Alonso | Hamilton |
| 02 / 07 | | | | |
| R10 | Austria | Verstappen | Leclerc | Perez |
| 09 / 07 | | | | |
| R11 | Great Britain | Verstappen | Norris | Hamilton |
| 23 / 07 | | | | |
| R12 | Hungary | - | - | - |
| 30 / 07 | | | | |
| R13 | Belgium | - | - | - |
| 27 / 08 | | | | |
| R14 | Netherlands | - | - | - |
| 03 / 09 | | | | |
| R15 | ITA - Monza | - | - | - |
| 17 / 09 | | | | |
| R16 | Singapore | - | - | - |
| 24 / 09 | | | | |
| R17 | Japan | - | - | - |
| 08 / 10 | | | | |
| R18 | Qatar | - | - | - |
| 22 / 10 | | | | |
| R19 | USA - Austin | - | - | - |
| 29 / 10 | | | | |
| R20 | Mexico | - | - | - |
| 05 / 11 | | | | |
| R21 | Brazil | - | - | - |
| 18 / 11 | | | | |
| R22 | USA - LasVegas | - | - | - |
| 26 / 11 | | | | |
| R23 | Abu Dhabi | - | - | - |
---
Official FIA Formula 1 Site
Official FIA Formula 1 Youtube Channel


Call for the Players
@robertomarinello, @zottone444, @stefano.massari, @catgio, @zipsardinia, @lokibalboa, @ciuoto, @blumela, @yocritico, @alfredolopez1980, @grof, @jonelescalona, @vicpics, @dexpartacus, @franz54, @nfelix92, @fuentesjo3006, @cmoljoe, @sportsjrfc2018, @bisec, @lucasantangelo, @carlood, @dianagomez, @pagliozzo, @lelluzzo, @antorchajohnny, @acont, @dernierdiaz, @deusjudo, @lolyfuentes, @salazarcag, @colon2018, @linterio, @jclark, @neo-wiza, @sljivanono, @justamoment, @lostprophet, @hollywwod, @barbadosso, @davidesimoncini, @serialfiller, @sukhothai, @perdomo56, @adimantong, @traveljack894, @stefanogabbo, @coccodema, @freestyle7, @massrado, @alequandro, @eagle71, @mrhuman88, @ifiwasfrank, @britandjosie, @cetyoung, @tosolini, @samubit, @vancouverpics, @samubit, @mauropi,@ifiwasfrank, @c3r34lk1ll3r, @bencwarmer, @siomara-2018, @sportsbuddy, @makeitreal95, @libertycrypto27, @ismaelgranados, @mrfrank88, @coolkris, @fraba, @stewie.wieno, @davidesimoncini and the others…
---
Immagini CC0 con diritti di modifica
CC0 Image labeled for reuse with modification
---
---