Hive F1 2023 Contest - Race #11 - Silverstone, GREAT BRITAIN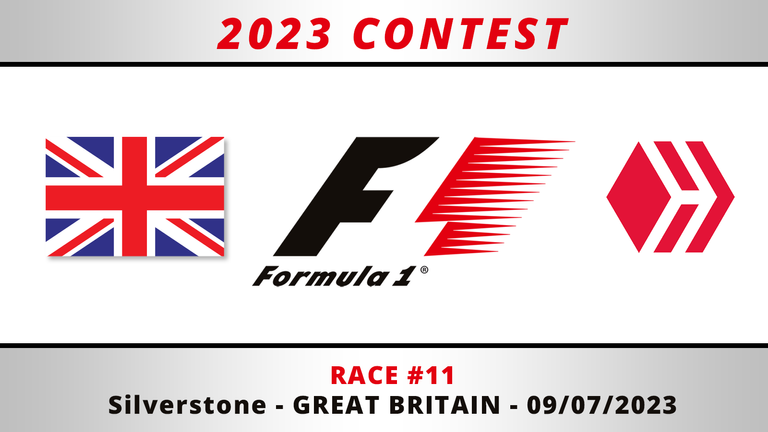 Gara #11 - Silverstone, Gran Bretagna
Un saluto a tutti,
questa volta non abbiamo weekend di pausa, ma si correrà subito a Silverstone, in Gran Bretagna. Altra pista classica, la pista di casa per McLaren e Mercedes, che qui sicuramente vorranno fare bene e potrebbero portare qualche aggiornamento tecnico.
Il tracciato non ha bisogno di presentazioni: veloce e con molti punti abbastanza tecnici che esaltano le capacità di guida dei piloti e le vetture con le caratteristiche migliori.
Aspettiamoci anche qui che Verstappen e le RedBull siano le vetture da battere, però subito dietro la concorrenza è molto alta: Ferrari sembra essere tornata abbastanza competitiva, McLaren con i nuovi aggiornamenti ha recuperato in parte la distanza dai migliori, Mercedes ed Aston Martin sempre presenti ed una nota positiva per le Alpine, sempre veloci e difficili da superare.
Sarà sicuramente un'altra gara spettacolare e da vedere!
Aspetto i vostri pronostici e come sempre, buona fortuna a tutti! 🏁
---
Molti di voi già conoscono il funzionamento del nostro contest, mentre per i nuovi rimando al regolamento del concorso presente nel post della prima gara.
---
Per quanto riguarda il nostro concorso, più sotto potete vedere i risultati dell'ultima gara e la nostra classifica generale, per ora ancora con pochi partecipanti rispetto allo scorso anno.
Questa volta il migliore è stato @serialfiller che ha indovinato anche il pilota al secondo posto, oltre ovviamente al vincitore.
Tutti gli altri ottengono solamente i punti per il pilota vincente e si spartiscono il premio relativo.
Classifica sostanzialmente invariata, ad eccezione di @acont che sorpassa @ciuoto e @zottone444 che rientra in gara.
---
NFT FRAPPE'

Da quest'anno parte anche una collaborazione con gli amici di @nftfrappe che ci forniscono un ulteriore premio per il vincitore del contest a fine campionato: un NFT Epico di loro creazione!
Visitate pure la loro gallery di nftshowroom.


Gara #11 - Silverstone, GREAT BRITAIN
Hello everybody,
this time we don't have a break and we will race immediately at Silverstone, in Great Britain. Another classic track, the home track for McLaren and Mercedes, who will certainly want to do well here and could bring some technical updates.
The track needs no introduction: fast and with many quite technical points that enhance the driving skills of the drivers and the cars with the best characteristics.
Let's also expect here that Verstappen and the Red Bulls will be the cars to beat, but immediately behind the competition is very high: Ferrari seems to be competitive enough again, McLaren with the new updates has partially recovered the distance from the best, Mercedes and Aston Martin are always present and a positive note for the Alpines, always fast and difficult to overtake.
It will certainly be another spectacular race!
I'll wait for your prediction, and as always, good luck to everyone! 🏁
---
Many of you already know how our contest works, while for the new ones I refer to the contest rules in the post of the first race.
---
As for our competition, below you can see the results of the last race and our general ranking, still with few players.
This time the best was @serialfiller who also guessed the second place driver, as well as obviously the winner.
All the others only get the points for the winning driver and share the relative prize.
Ranking essentially unchanged, with the exception of @acont who overtakes @ciuoto and @zottone444 who is back in the race.
---
NFT FRAPPE'

By this year a new collaboration with my friends of @nftfrappe who gift us a new prize for the contest winner at the end of the championship: an Epic NFT, original creation!
Take a look to the gallery on nftshowroom.


Race #10 results and general standing



Races Calendar 2023
| RACE | Track | 1st | 2nd | 3rd |
| --- | --- | --- | --- | --- |
| | | | | |
| 05 / 03 | | | | |
| R01 | Bahrain | Verstappen | Perez | Alonso |
| 19 / 03 | | | | |
| R02 | Saudi Arabia | Perez | Verstappen | Alonso |
| 02 / 04 | | | | |
| R03 | Australia | Verstappen | Hamilton | Alonso |
| 30 / 04 | | | | |
| R04 | Azerbaijan | Perez | Verstappen | Leclerc |
| 07 / 05 | | | | |
| R05 | USA - Miami | Verstappen | Perez | Alonso |
| 21 / 05 | | | | |
| R06 | ITA - Imola | NO RACE | - | - |
| 28 / 05 | | | | |
| R07 | Monaco | Verstappen | Alonso | Ocon |
| 04 / 06 | | | | |
| R08 | Spain | Verstappen | Hamilton | Russell |
| 18 / 06 | | | | |
| R09 | Canada | Verstappen | Alonso | Hamilton |
| 02 / 07 | | | | |
| R10 | Austria | Verstappen | Leclerc | Perez |
| 09 / 07 | | | | |
| R11 | Great Britain | - | - | - |
| 23 / 07 | | | | |
| R12 | Hungary | - | - | - |
| 30 / 07 | | | | |
| R13 | Belgium | - | - | - |
| 27 / 08 | | | | |
| R14 | Netherlands | - | - | - |
| 03 / 09 | | | | |
| R15 | ITA - Monza | - | - | - |
| 17 / 09 | | | | |
| R16 | Singapore | - | - | - |
| 24 / 09 | | | | |
| R17 | Japan | - | - | - |
| 08 / 10 | | | | |
| R18 | Qatar | - | - | - |
| 22 / 10 | | | | |
| R19 | USA - Austin | - | - | - |
| 29 / 10 | | | | |
| R20 | Mexico | - | - | - |
| 05 / 11 | | | | |
| R21 | Brazil | - | - | - |
| 18 / 11 | | | | |
| R22 | USA - LasVegas | - | - | - |
| 26 / 11 | | | | |
| R23 | Abu Dhabi | - | - | - |
---
Official FIA Formula 1 Site
Official FIA Formula 1 Youtube Channel


Call for the Players
@robertomarinello, @zottone444, @stefano.massari, @catgio, @zipsardinia, @lokibalboa, @ciuoto, @blumela, @yocritico, @alfredolopez1980, @grof, @jonelescalona, @vicpics, @dexpartacus, @franz54, @nfelix92, @fuentesjo3006, @cmoljoe, @sportsjrfc2018, @bisec, @lucasantangelo, @carlood, @dianagomez, @pagliozzo, @lelluzzo, @antorchajohnny, @acont, @dernierdiaz, @deusjudo, @lolyfuentes, @salazarcag, @colon2018, @linterio, @jclark, @neo-wiza, @sljivanono, @justamoment, @lostprophet, @hollywwod, @barbadosso, @davidesimoncini, @serialfiller, @sukhothai, @perdomo56, @adimantong, @traveljack894, @stefanogabbo, @coccodema, @freestyle7, @massrado, @alequandro, @eagle71, @mrhuman88, @ifiwasfrank, @britandjosie, @cetyoung, @tosolini, @samubit, @vancouverpics, @samubit, @mauropi,@ifiwasfrank, @c3r34lk1ll3r, @bencwarmer, @siomara-2018, @sportsbuddy, @makeitreal95, @libertycrypto27, @ismaelgranados, @mrfrank88, @coolkris, @fraba, @stewie.wieno, @davidesimoncini and the others…
---
Immagini CC0 con diritti di modifica
CC0 Image labeled for reuse with modification
---
---