Hive F1 2023 Contest - Race #07 - Montecarlo, MONACO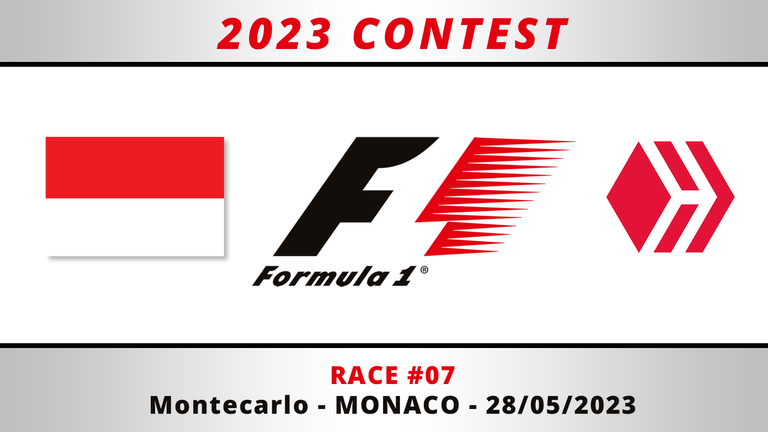 Gara #07 - Montecarlo, MONACO
Un saluto a tutti,
causa mal tempo, il GP di Formula 1 ad Imola non è stato disputato, per inagibilità del circuito. Un pensiero di solidarietà verso le persone e le terre colpite, ricordando anche le immagini di Tsunoda stesso che dava una mano a ripulire le strade di Faenza (RA), dove ha sede la AlphaTauri.
La gara di Imola sarà probabilmente recuperata in altra data, mentre il prossimo weekend si correrà a Monaco, sul famoso tracciato di Montecarlo, che sicuramente conosciamo tutti benissimo.
Come sempre, qui può succedere di tutto, e non c'è mai un vero favorito. Il pronostico è sempre molto difficile e conta spesso la buona sorte perchè i piloti arrivino fino al traguardo senza imprevisti. Conta avere una buona vettura, quindi RedBull, e soprattutto esperienza e concentrazione dei piloti, e ce ne sono parecchi in grado di poter vincere!
Aspetto i vostri pronostici e come sempre, buona fortuna a tutti! 🏁
---
Molti di voi già conoscono il funzionamento del nostro contest, mentre per i nuovi rimando al regolamento del concorso presente nel post della prima gara.
---
Per quanto riguarda il nostro concorso, più sotto potete vedere i risultati dell'ultima gara e la nostra classifica generale, per ora ancora con pochi partecipanti rispetto allo scorso anno.
Non avendo corso ad Imola, i risultati si riferiscono alla gara di Miami, così anche la classifica. Al comando @c3r34lk1ll3r è stato superato da @stefano.massari di un punto, mentre al terzo posto è stabile @green77. Segnalo la partecipazione di @pousinha che guadagna 4 punti già al primo pronostico!
---
NFT FRAPPE'

Da quest'anno parte anche una collaborazione con gli amici di @nftfrappe che ci forniscono un ulteriore premio per il vincitore del contest a fine campionato: un NFT Epico di loro creazione!
Visitate pure la loro gallery di nftshowroom.


Race #07 - Montecarlo, MONACO
Hello everybody,
due to bad weather, the Formula 1 GP at Imola was not held due to the circuit flooded. A thought of solidarity towards the people and the lands affected, also keeping in mind the images of Tsunoda himself helping to clean up the streets of Faenza (RA), where AlphaTauri is based.
The Imola race will probably be recovered on another date, while next weekend it will take place in Monaco, on the famous Montecarlo track, which we all certainly know very well.
As always, anything can happen here, and there's never a real favourite. Prediction is always very difficult and good luck often counts for the drivers to reach the finish line without unexpected events. What counts is having a good car, therefore Red Bull, and above all the experience and concentration of the drivers, and there are many capable of winning!
I'll wait for your prediction, and as always, good luck to everyone! 🏁
---
Many of you already know how our contest works, while for the new ones I refer to the contest rules in the post of the first race.
---
As for our competition, below you can see the results of the last race and our general ranking, still with few players.
Not having raced at Imola, the results refer to the Miami race, as does the standings. @c3r34lk1ll3r was overtaken by @stefano.massari by one point in the lead, while @green77 is stable in third place. I point out the participation of @pousinha who earns 4 points already in the first prediction!
---
NFT FRAPPE'

By this year a new collaboration with my friends of @nftfrappe who gift us a new prize for the contest winner at the end of the championship: an Epic NFT, original creation!
Take a look to the gallery on nftshowroom.


Race #05 results and general standing



Races Calendar 2023
| RACE | Track | 1st | 2nd | 3rd |
| --- | --- | --- | --- | --- |
| | | | | |
| 05 / 03 | | | | |
| R01 | Bahrain | Verstappen | Perez | Alonso |
| 19 / 03 | | | | |
| R02 | Saudi Arabia | Perez | Verstappen | Alonso |
| 02 / 04 | | | | |
| R03 | Australia | Verstappen | Hamilton | Alonso |
| 30 / 04 | | | | |
| R04 | Azerbaijan | Perez | Verstappen | Leclerc |
| 07 / 05 | | | | |
| R05 | USA - Miami | Verstappen | Perez | Alonso |
| 21 / 05 | | | | |
| R06 | ITA - Imola | NO RACE | - | - |
| 28 / 05 | | | | |
| R07 | Monaco | - | - | - |
| 04 / 06 | | | | |
| R08 | Spain | - | - | - |
| 18 / 06 | | | | |
| R09 | Canada | - | - | - |
| 02 / 07 | | | | |
| R10 | Austria | - | - | - |
| 09 / 07 | | | | |
| R11 | Great Britain | - | - | - |
| 23 / 07 | | | | |
| R12 | Hungary | - | - | - |
| 30 / 07 | | | | |
| R13 | Belgium | - | - | - |
| 27 / 08 | | | | |
| R14 | Netherlands | - | - | - |
| 03 / 09 | | | | |
| R15 | ITA - Monza | - | - | - |
| 17 / 09 | | | | |
| R16 | Singapore | - | - | - |
| 24 / 09 | | | | |
| R17 | Japan | - | - | - |
| 08 / 10 | | | | |
| R18 | Qatar | - | - | - |
| 22 / 10 | | | | |
| R19 | USA - Austin | - | - | - |
| 29 / 10 | | | | |
| R20 | Mexico | - | - | - |
| 05 / 11 | | | | |
| R21 | Brazil | - | - | - |
| 18 / 11 | | | | |
| R22 | USA - LasVegas | - | - | - |
| 26 / 11 | | | | |
| R23 | Abu Dhabi | - | - | - |
---
Official FIA Formula 1 Site
Official FIA Formula 1 Youtube Channel


Call for the Players
@robertomarinello, @zottone444, @stefano.massari, @catgio, @zipsardinia, @lokibalboa, @ciuoto, @blumela, @yocritico, @alfredolopez1980, @grof, @jonelescalona, @vicpics, @dexpartacus, @franz54, @nfelix92, @fuentesjo3006, @cmoljoe, @sportsjrfc2018, @bisec, @lucasantangelo, @carlood, @dianagomez, @pagliozzo, @lelluzzo, @antorchajohnny, @acont, @dernierdiaz, @deusjudo, @lolyfuentes, @salazarcag, @colon2018, @linterio, @jclark, @neo-wiza, @sljivanono, @justamoment, @lostprophet, @hollywwod, @barbadosso, @davidesimoncini, @serialfiller, @sukhothai, @perdomo56, @adimantong, @traveljack894, @stefanogabbo, @coccodema, @freestyle7, @massrado, @alequandro, @eagle71, @mrhuman88, @ifiwasfrank, @britandjosie, @cetyoung, @tosolini, @samubit, @vancouverpics, @samubit, @mauropi,@ifiwasfrank, @c3r34lk1ll3r, @bencwarmer, @siomara-2018, @sportsbuddy, @makeitreal95, @libertycrypto27, @ismaelgranados, @mrfrank88, @coolkris, @fraba, @stewie.wieno, @davidesimoncini and the others…
---
Immagini CC0 con diritti di modifica
CC0 Image labeled for reuse with modification
---
---