Spending to stay sane when broke
One of the moments in life I despise is being broke, the truth is some of us will have to experience this at some point in life, The harsh economy with inflation is not helping at all, making things even harder for the common man, it is so sad that while we experience inflation in all basic items from food , school fees, fuel price, etc our salaries remain same, this has left most of us to become budget experts, so we don't fall into debt but still in that very low cash moment, there are things I can't do without because they help me keep sane, if you've ever been broke with no hope, you know at this moment, it is very important for one to maintain his or her emotions/sanity io, so as not to fall into depression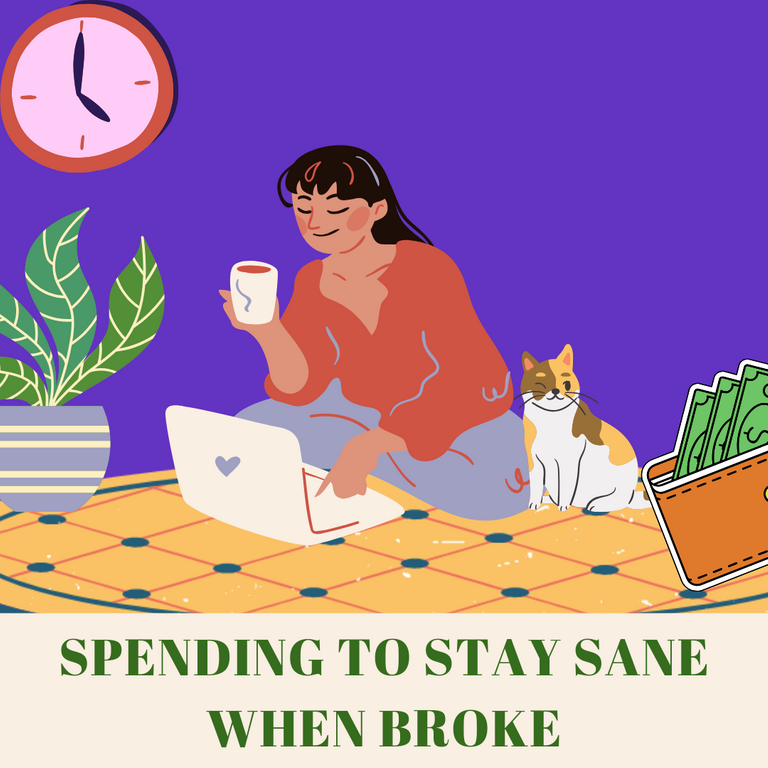 Image edited using canva
The very first being
DATA SUBSCRIPTION
Data is life, we must have heard this times without number, do you know how many people would have fallen into depression if there was no access to the internet, People have become so dependent on the internet for news, entertainment, and social interaction, that it is difficult to imagine life without it. Without data, many people would struggle to stay connected and informed, leading to feelings of isolation and depression.
There was a time I travelled to the village and the internet connection was very poor I could hardly open google page talk less of browsing other websites, this particular reason made the village tiring for me very quickly, because I am the type that likes her personal space rather than looking for adventure outside, I could stay in my room all day, as long as my phone and internet were available, I won't get tired, imagine all these taken from me because of being broke, I don't want to imagine, especially now that I earn online apart from the entertainment, I don't mind spending my last dime on data subscription. Life would seem lifeless without it.
Another thing that my last dime would go for is
FOOD/SNACKS
I'm kind of an emotional eater ha ha😂😂, what I mean is that I have high cravings when I'm worried and being broke makes me worried as well. I almost need to have something in my stomach when I'm stressed. I know it's not healthy, so I try to buy snacks that are not too unhealthy. But it's hard to find something that's both cheap and not bad for me. I start thinking of different dishes or snacks I can afford at that moment, being broke and not having food to eat or snack to munch on could make me feel depressed for real, but when I'm filled, no worries, during my time in school, I always made sure to have a bottle of groundnut and cabin biscuit, my roommates thought it was because I'm rich little did they know that it was for a time in need, being broke and hungry is not a good combination at all, and I make sure to avoid it at all cost. Funny enough just like @merit.ahama , on the opposite, when I'm not broke, I hardly feel hungry and don't even have any cravings haha, I'm still looking for an explanation to this, maybe someone will help me out, its probably because I don't need to worry about food when I'm not broke, so my body doesn't need to remind me of it. Well, just maybe.
That's all about what my leisure spending nature will look like in my broke moment.
This post is in response to the hive learners weekly contest, week 74,edition 1.
Thank you for your time on my blog, it is much appreciated.❤❤
---
---