Surviving Yet Another Day.

There is a Yoruba adage that says "Eni ija ko de ba, lon pe ara e lokunrin" and it means, "A man who hasn't experienced a real fight will always brag to be a man".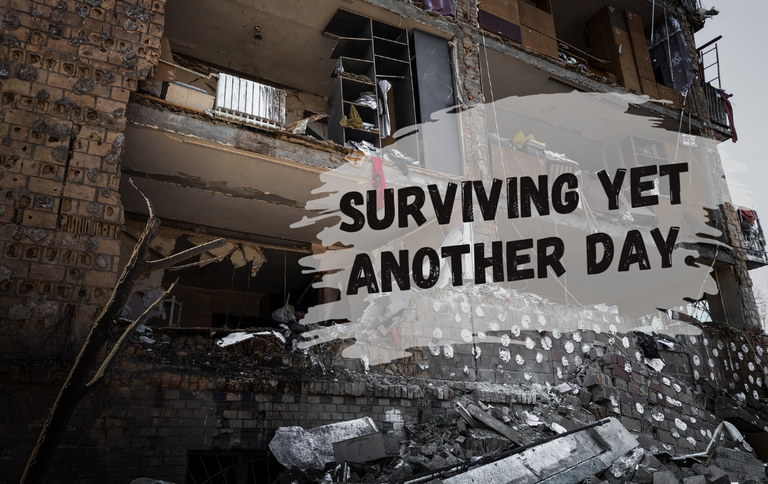 Image was designed on Canva
I have seen people brag about being fearless and it only makes me laugh. A lot of people do not like to admit the feeling because they don't want to be looked down on but deep down, it's the other way around. Being a Lagosian has exposed me to a lot of terrible situations and being alive today is a great privilege for me.

My experience as a kid instilled some fear in me and also upgraded my survival instinct. I was in nursery school when I first experienced what a broad daylight robbery means which claimed a lot of lives that year in Abule Egba, Lagos. Then, I attended Evaton Nursery and Primary School. After the robbers were caught, we had to pass through burning bikes and dead bodies which made us shiver as little as we are and somehow, that memory wouldn't just leave my head. Our house was robbed after that time and a police officer who lived in our compound lost his life. My heart raced seeing men with guns as if we were at war and couldn't stop crying when they took my dad out because he didn't have anything to give to them. We moved to the Agbado axis in the early 2000 after the Ikeja cantonment bomb incident and the community we lived in experienced a Fulani attack because vigilantes killed one of them while trying to break into someone's house.
We fled the community and it was really a bloody fight before peace was restored. All these experiences made me realize earlier that the world is not a safe place to be and I am always very conscious of things happening around me. Staying alert helped me survive some thug attack when I went for my voter card registration almost a decade ago.
We were in the queue when I noticed some guys entering the school premises where the registration was going. They were thugs and knew they weren't there for peace. I told the person standing behind me that I wanted to get something outside and wasn't out of the gate before someone shot in the air.
A few of us were able to get out while some were trapped inside, the police came around but the thugs had injured people and damaged the INEC tools.

Some years ago, I was returning from work when I alighted at a popular bus stop called Ilepo Oja. It is a huge and busy market but immediately I got there, I knew something wasn't right. The market was quiet and shops were locked which was very unusual.
I knew something happened but there was no sign of trouble so I entered the market road since I was going to board a tricycle at the end of it. I was already halfway through the market when I saw some men charging with guns and cutlasses. I turned back immediately but it wasn't an option because some of them had gathered there as well.
In the twinkle of an eye, the atmosphere changed and I had to hide somewhere but couldn't stay for long because they started shooting. Leaving that premises was the only way to prevent myself from stray bullets and immediately I got out of my hiding, a woman with two little girls came out of nowhere begging me to help her carry one of the girls.
It would slow me down but my conscience would haunt me if I didn't help. I collected one of the girls and the bag she was carrying. We walked as fast as we could until we got to a school where the security let us in. We were there for a few minutes but had to leave, it wouldn't make sense for these guys to enter the school and just kill everyone. I wasn't sure that would happen but from experience, nowhere is until you are completely out of that place.
We kept moving until we found a tricycle that was also fleeing, the rider helped us out of the place completely. As the tricycle was moving, I thanked God for sparing my life again. The tricycle guy said the fight started while they were trying to appoint a new chairman for the motor park in the market.

It got me wondering why people will kill just to attain a position or gain power. Depending on the security agencies is a quicker route to heaven so I just depend on God for protection and don't let my guards down. If not for God, a lot of us won't be among the living today.
---
---