Special Rising Star & 1UP Coop-Card Available Now: Win 3x "Juan Up"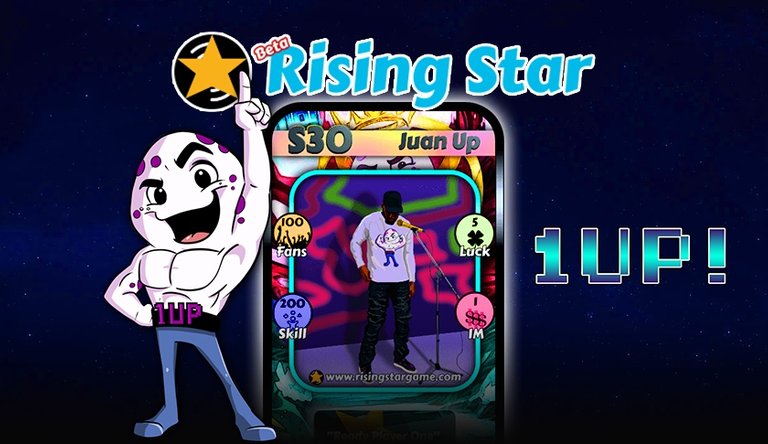 1UP is a HIVE community dedicated to blockchain games and NFTs, so we are naturally expanding into all HIVE games by cooperating in various ways. Our latest addition to the 1UP-family comes from the popular Rising Star game, where you grind your way up your musical career to eventually become a star.

What Is Rising Star?

Rising star is a slow-paced free to play browser game based on HIVE. You can login with Hive-Keychain and start to do time-based quests where you begin as an illegal busker and move your way up to fame and fortune.
Completing quests earns you STARBITS, a Hive-Engine token which you can use to buy packs with NFT cards to build out your band, or buy cards directly from other players on NFTm.art. These cards can be musicians, instruments, cars or even a private yacht. All of them give you one of four stats, that accumulate for you with all of the cards you are holding.
Besides a multitude of quests that unlock with higher levels, the game stands out for its music and community integration. It has its own radio show with songs from the Rising Star community, that are stored as NFTs themselves in the game - a great way for musicians to get an audience. But the killer feature are the musician cards, which are partly based on HIVE community members, something that creates a tight bond between the players and the game.

Rising Star Presentation at HIVEfest 2021
Below you find a presentation from the virtual HIVE conference that took place recently. The game developer @juxtamusic explains it much better than I ever could.
Meet Juan Up
Since Rising Star features its very unique style of cards - and also just humans and no humanoid mushroom people - we went with a cool idea, that @juxtamusic wife came up with: Juan Up!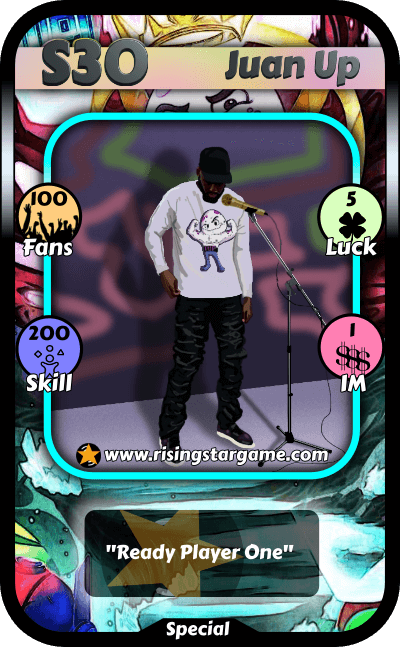 Our special card comes packed with some juicy facts:
There are 2500 total supply
It costs 110 ONEUP each
It has the number S30
The card stats:
100 Fans
200 Skill
5 Luck
1 Income Modifier
Keep in mind that you can stack up multiple Juan Up's and grow your bands stats!
You can purchase Juan Up on the Rising Star Marketplace, where you filter for juan up. If there is no current supply available, check in later again as @jux will add more to the market until the total supply is hit.

Write A Rising Star Tutorial And Win A "Juan Up"
This is pretty simple: We want good content about blockchain games. Tutorials are something that are ultra helpful for new interested players who are often overwhelmed by the technology. We give away 3 "Juan Up"s to the best Rising Star tutorials.
You can write (or record) a tutorial for beginners or advanced players and/or explain the economy and its ecosystem. Just use the #risingstar and #oneup tag and post the link to your tutorial in the comments below this post.
The deadline for posting your link is the payout of this post.

What Else Is New For 1UP?
We have been networking and brainstorming and developing. The next step will be a full-blown curation service for 1UP (and beyond). The problem right now is that ONEUP is still in very few hands and although we have nearly two dozen curating accounts, we have no service where you can delegate your staked ONEUP tokens to and not everyone wants to provide liquidity to our two Diesel pools.
We find the good content and you get the passive income. Like @monster-curator but on another level. More about this soon.
Another important step in changing our 1up.zone frontend is getting access to the code by hosting it on our own server. A member of our community is helping us with setting up a server on Akash, a blockchain competitor to Amazon Web Services, from the Cosmos network. When this is done, we will have full access to our website for the first time. This is when the fun begins. Stay tuned.
---
---