Tale of the Tulip Farm by Market Friday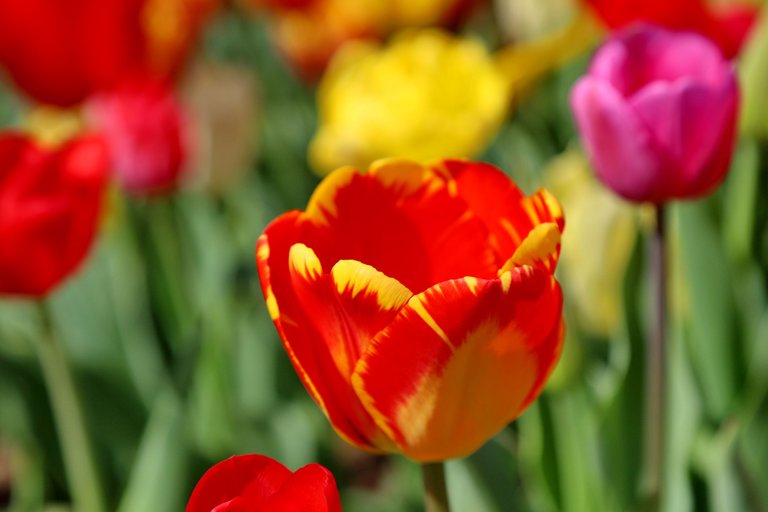 #MarketFriday began as a way to reach out across the globe and learn about different cultures through their markets, especially local markets and farmers' markets, even grocery stores. Over time, it began branching out from shopping to a real cultural affair. It highlights our differences and points out how much we are really alike, a melting pot of customs and traditions. We all have rituals, festivals, and food that are ours alone, among languages that separate and bind us together. We all have unwritten rules for social behavior. Being familiar with all of these things allows for an increased tolerance between us, being educated about them. This month alone, the world has celebrated Ramadan, Passover, Easter, and this weekend, Orthodox Easter. People had posted about these celebrations and I have learned so much about all of you - it has been an amazing experience. I can only hope that learning about each other can help us work together for a peaceful world.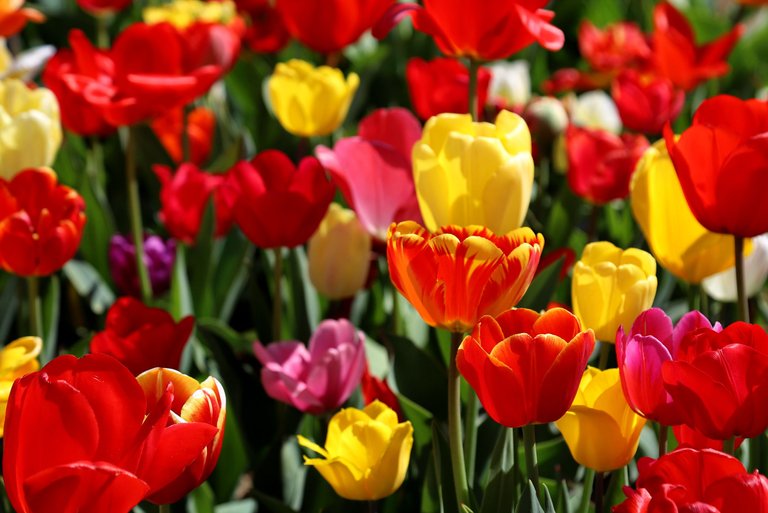 Last week, #MarketFriday brought you wooden shoes. I know you probably were scratching your head, wondering what I was doing with those wooden shoes, slightly broken in. I use mine for gardening, If you didn't get a pair for today, run back to this post and select a pair! Or just pick one from below. We are going to a tulip farm to walk among the beauty of the season. Burnside Farms is a tulip farm in a rural part of Virginia, a fairly easy reach from where I live. Have you ever been to a tulip farm?
Over 100 pairs of wooden shoes to choose from. You too can klomp around in them! Here you go, pick any pair that will fit, and make sure to wear a thick pair of socks. Your shoes should not be tight. The heel of my foot should have enough room to stick my thumb between it and the back of the shoe. I have worn wooden shoes for many years. Despite how they look, they are very comfortable. I wear mine in the garden and around my yard. My daughter wears hers to the grocery store. She grew up with them and feels the Dutchie in her when she slips them on her feet.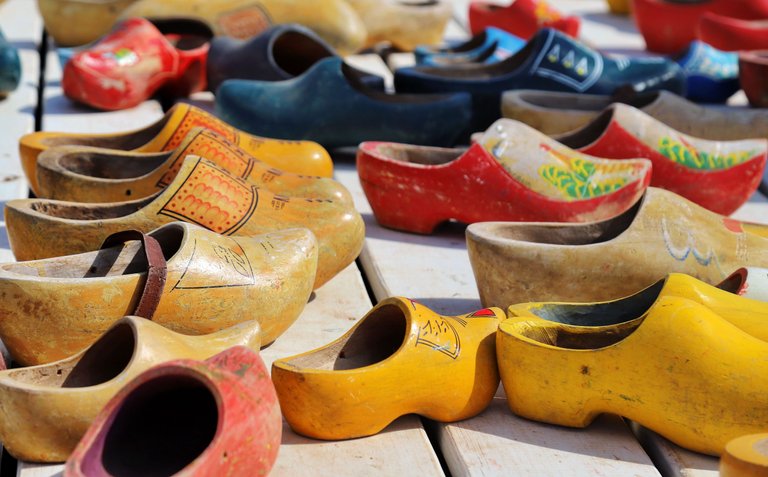 Today is #MarketFriday initiated by @dswigle (Denise, that's me!!) Join me as we share our markets across the globe. I always look forward to seeing what you send me! It is amazing to see the different markets and cultures of our friends here on Hive.
*
This is *Burnside Farms 11008 Kettle Run Rd, Nokesville, VA 20181. Tulips as far as I can see. The price for weekday admission is $14.00 for children over 3 and $19.00 for adults. You get 5 free stems with your admission, 3 for children. Weekend admission is $16.00 for children, $21.00 for adults.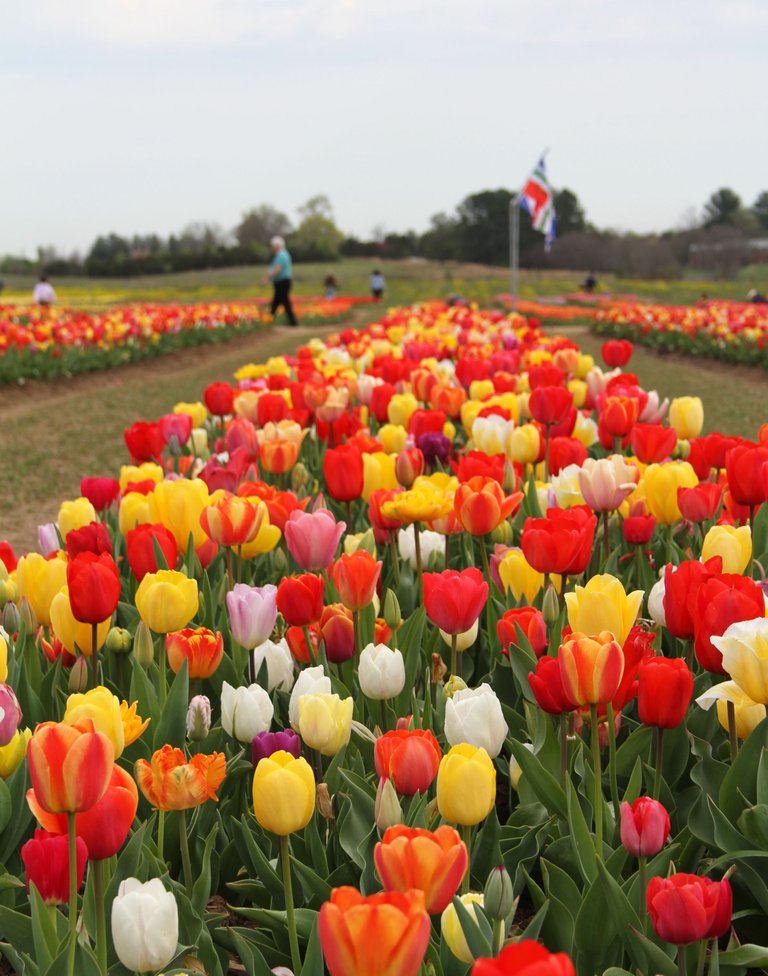 They have this ticket called a passport. It is $70.00 for the season, but, you have free admission any day or every day, plus 5 free stems every time you go. As an aside, this also gets you into the farm when they have the fields of sunflowers. Now, there are places that are free and they grow them, but, you have to go look for them, which is half the fun, but, this came along with the passport, so who am I to pass on a good deal? Have I told you that I have vases and vases of free tulips all over the house? It is literally #alwaysaflower here!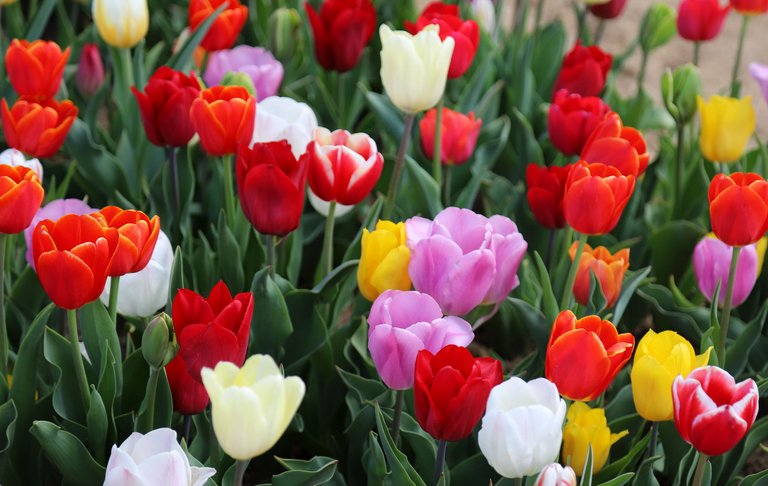 I have never seen them chastise anyone for picking and not purchasing it, They are just too nice that way. It is a family-owned business and they like what they do. After the tulips and daffodils, they do sunflowers, then later in the year, pumpkins and a maze, and then Christmas trees. They all work together and go out of their way to make it a pleasant experience.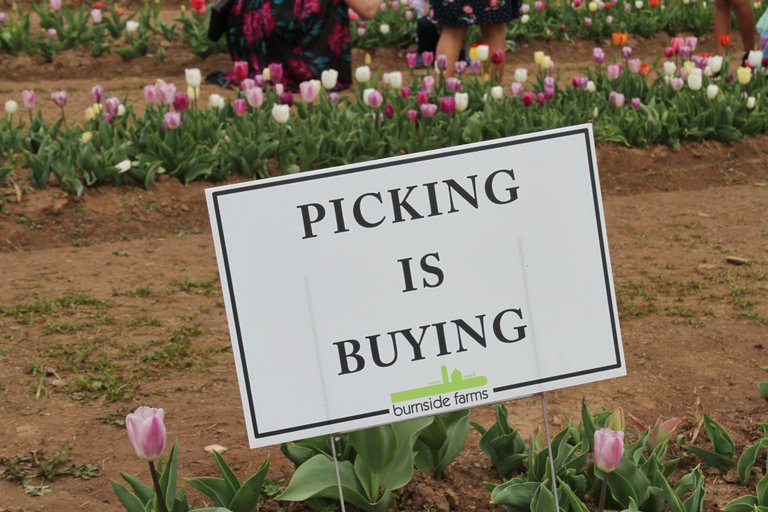 What a life! To be carried around and doted on. The shame of it is that we don't appreciate it when we have it. We even fight for the right to be independent. What is wrong with us? We didn't know we had it so good!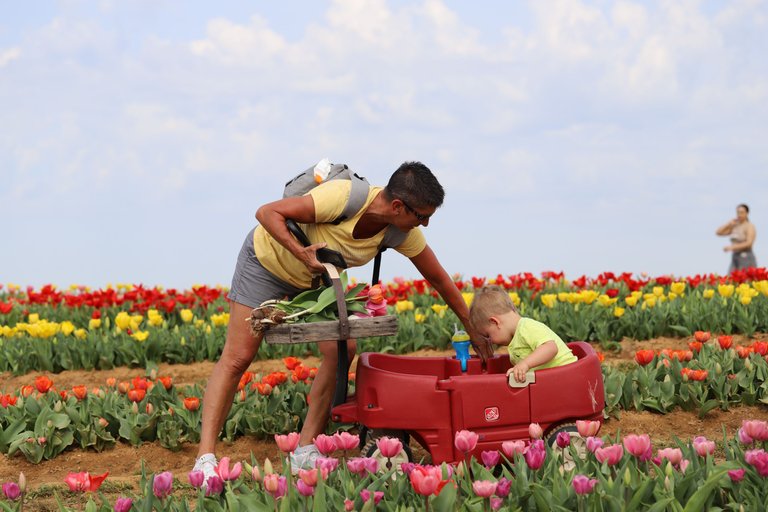 There are acres and acres of tulips, two hundred different varieties. I have seen some this year that I didn't know existed. It is fun to find something unique to you. I pulled a couple of bulbs to plant in my garden. The good thing about these bulbs is that they are tried and true. You know that they are good bulbs and performed well. I like the idea of shopping for them here. I can see what I am getting. Bonus!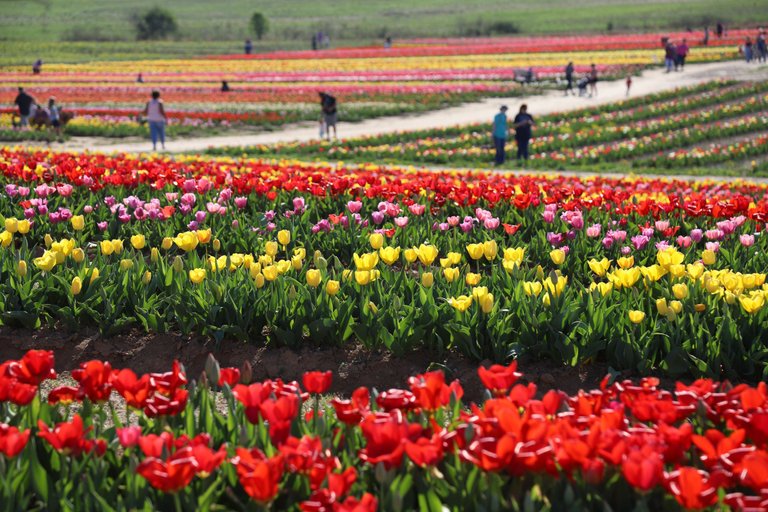 There are some sections with all shades of yellow or red or a particular color. Then they have mixed colors and styles. I like them both and like them both. I am more of a mixed color palette, a little on the colorful side. The order is nice too, but not for my flowers! Bring on the color~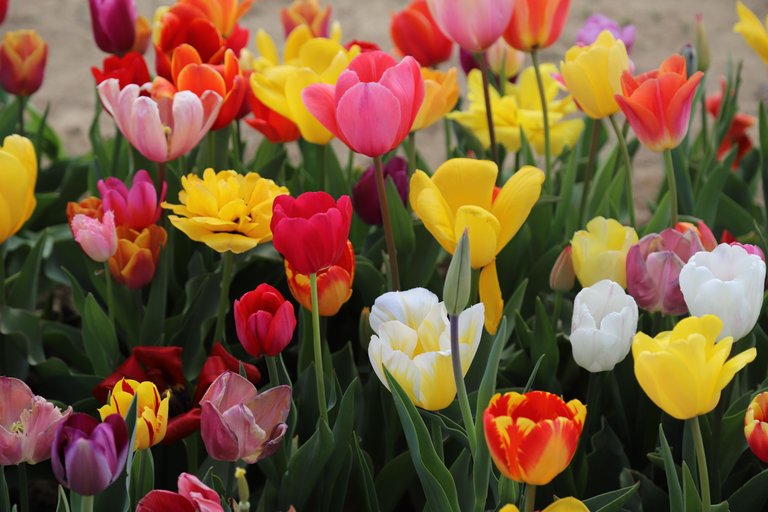 The farmer drove a tractor with two trailers in the back, hauling little kids and adults around to the different sections. I think a few of the kids never got off of it. It was a wonderful day, steeped in the laughter of children and the beauty of nature.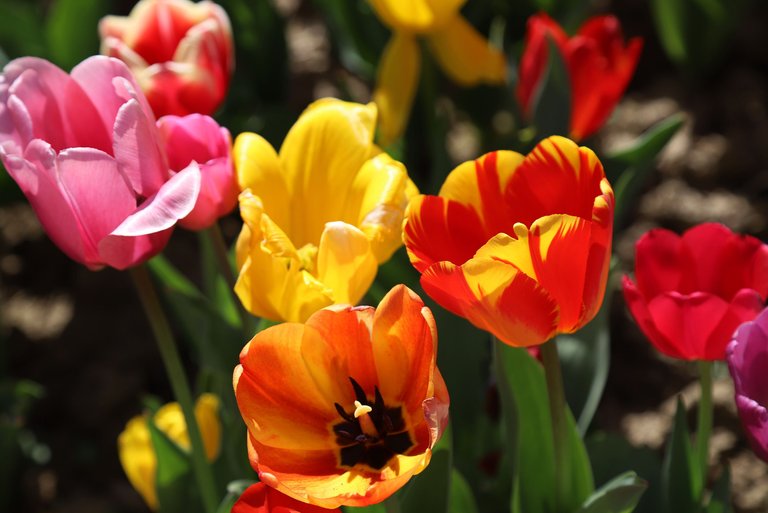 Did you know that tulips originally came from Asia, not Holland? The most beautiful tulip garden I have ever seen was in Holland. It was called the Keukenhof and I have never seen anything as amazing as it, ever. Have you ever been to the Keukenhof?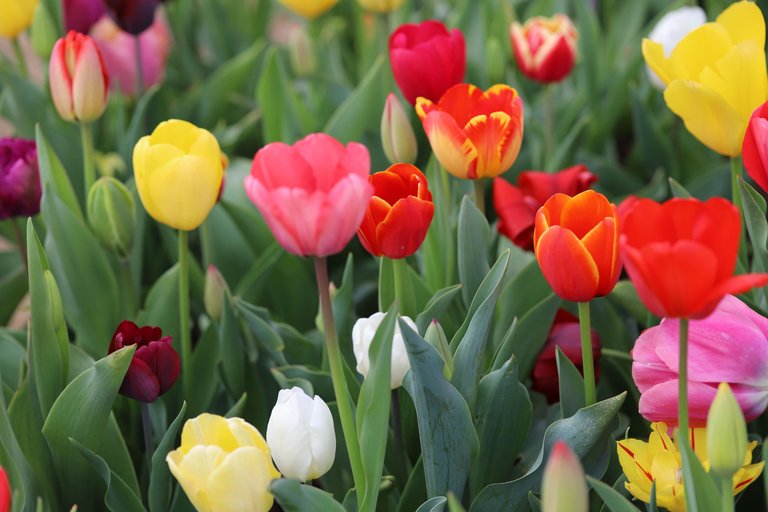 Even though I claim to like an eclectic mix of color, there is something eye-catching about the colors in number. I guess as long as it is a flower, there is a place in my heart for it.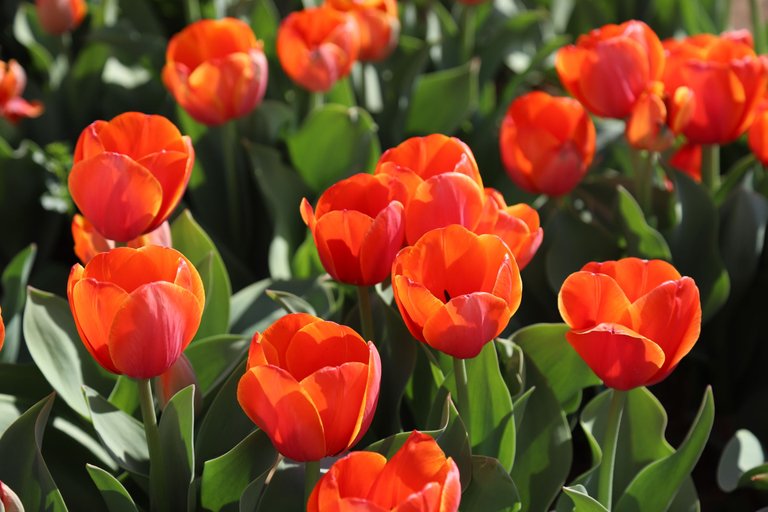 As an aside, Happy Earth Day! The theme for Earth Day 2022 is Invest In Our Planet – a call for governments, businesses, and individuals to invest in a better future for the planet.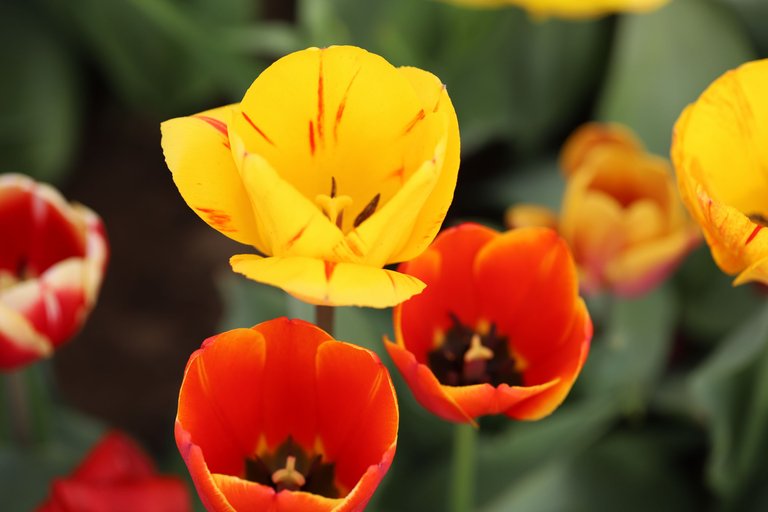 I got both daffodils and tulips this day. I was told not to mix them in the same vase. I didn't know that the affodils have a scent that will ruin your tulips. Who knew? Not me!.

Please leave the link to your post here so it can easily be found by others. It helps you and me to have them in one place. Where else can you take such a quick trip around the globe? Thank you so much for joining us!! ❤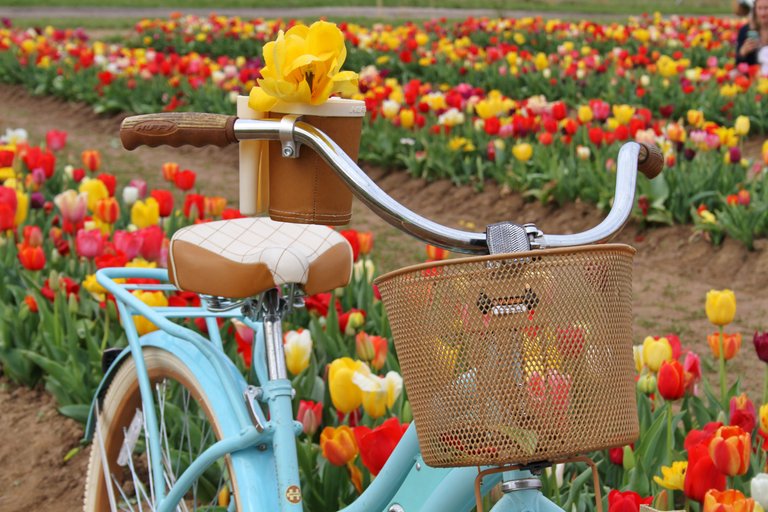 There were bikes to ride and benches to sit nad enjoy the view. I have been a couple of times now, trying to get as many tulip days in as possible.How can you not love the sunny tulip?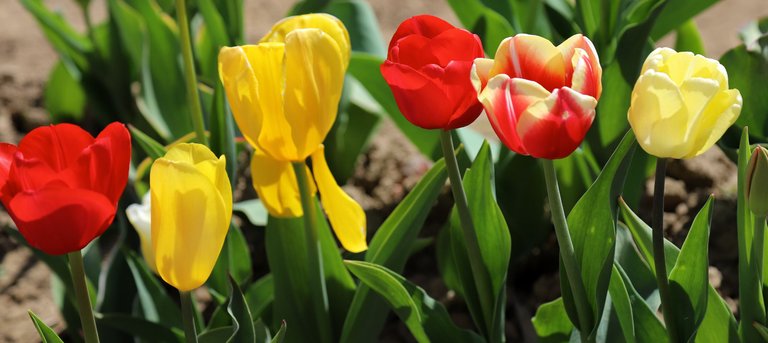 As always, there must be flowers to color my world. I just want to say that I am honored that so many end their post with a flower, to color their world. That truly touches my heart. #alwaysaflower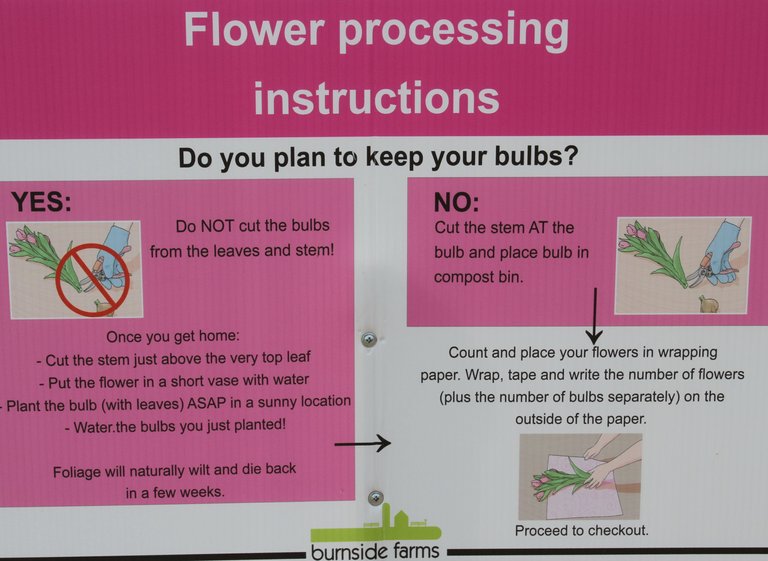 Once you are finished photographing and picking the tulips you want, make your way to the check out tent where there are table set up. Wrap your flowers in the paper provided and write how many tulips and how many bults. Each are $1.00 each, after your five free ones. Step right up to the cashier and they will take good care of you.
Thanks for coming along with me to pick a few tulips and enjoy the view. It was a spectacular day or three and I can breathe normally now that I have had my flower fix. I hope you had a good time and don't forget to return your wooden shoes if you borrowed some. Thank you!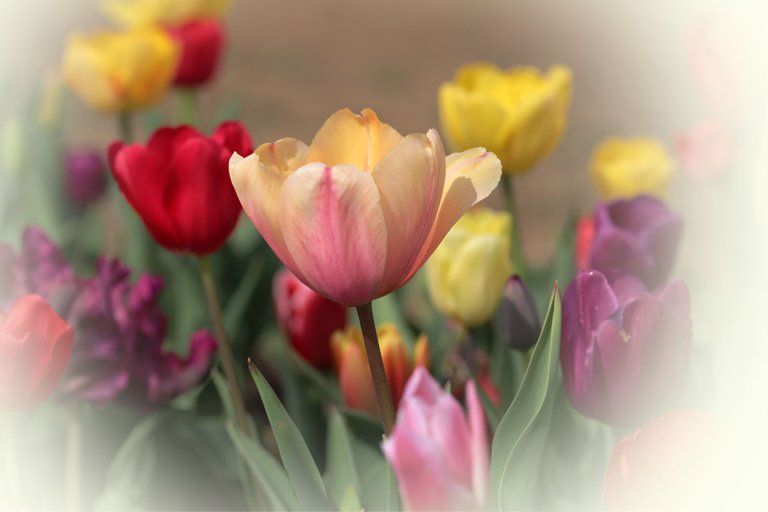 And just like that, this post is done. I hope you had a good time and learned a little something new. As always, I want to thank you for taking the time to visit, and just remember, #MarketFriday loves you! Thank you for supporting the challenge! Have a most fabulous day! Cheers!!

---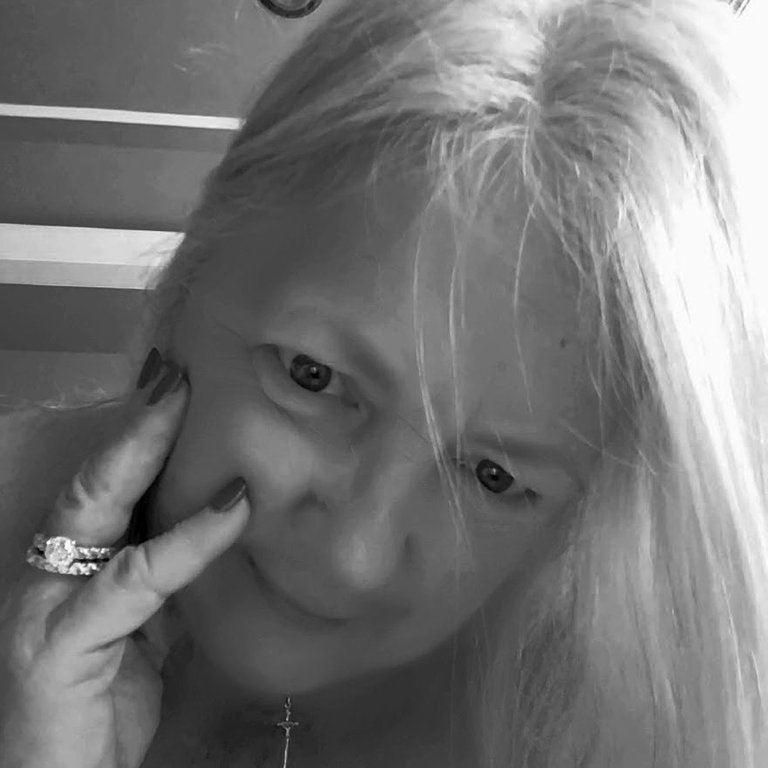 ---
Fridays are all about the #MarketFriday Challenge! Looking to take part in it? Here is how:
Rules of the Road to Join #MarketFriday!
Go to the market, or anywhere that you pay money for a service.
Take pictures! Be creative!
Tell us a little bit about the market or the event. What brought you there? What did you buy? How much did it cost? Was it expensive? Did it go up or down? I need something other than 50 pictures of the market.
Post the pictures. Of course, you should tell a little bit about the ones you post, it is too difficult to guess on some
Use the MarketFriday Community Platform to post (#hive-196308) This is not required but appreciated.
PLEASE Drop the link into the MarketFriday comment section so I can find it!!
Following me and reblogging the post would be appreciated, but not a rule, more vision for more views on the #MarketFriday posts!
You must put #MarketFriday by @dswigle somewhere on your post.
As always, please remember! #MarketFriday loves you!

#TeamUSA is a growing community of quality-content people from the United States or those living here. Check us out on Discord!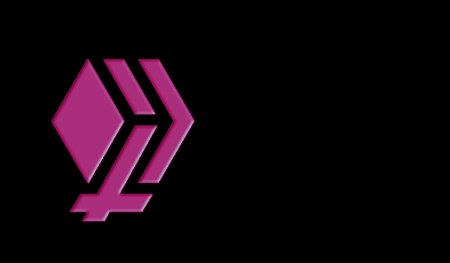 Pinmapple: [//]:# (!pinmapple 38.719378 lat -77.583265 long d3scr)
---
---