NEWBIES INITIATIVE TASK 3: Know Your Hive Keys And Keep Them Secured.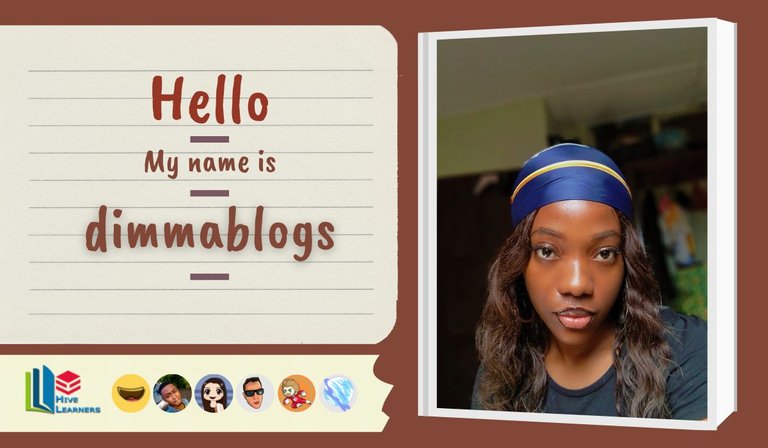 IMAGE CREDIT: @projectmamabg
Hello there Hivians! 🤗 Welcome to my blog once again. First of all, I'd like to offer my sincere apologies to the newbies initiative team and my team leader @vickoly for the late delivery of my entry to task 3 of this program. This was due to some circumstances beyond my control and I pledge to do better in the near future. However, like they say, it's better late than never...
So in this post, I'll be finally writing on the third task for the newbies initiative program which is titled "Hive Keys and Security".
Hive keys as we all know are those really long passwords given to us upon activation of our Hive accounts. These keys are extremely important in the performing of activities on the blockchain. Loosing them would mean loosing our accounts and all the hardwork. So, we must secure them enough to prevent hackers from getting their hands on those keys.
Without further ado, I shall now be giving my answers to the specified task questions:
In your opinion, what are the best ways of keeping your keys safe?
In my opinion, I'd recommend writing them down in a notebook or paper and storing it amongst those other important documents you've kept safe in your home. I believe that soft copy documents would always get lost, even storing the keys on cloud isn't actually 100% safe. So, this is where hardcopies comes to good use.
Before now, I used to carelessly leave my keys as a screenshot on my phone until the day my phone almost got stolen. Since then, I had to carefully and accurately write down all of those keys on my journal.
How do you check your recovery account and what process is needed to recover an account
Thanks to the last meeting held on our discord server, we newbies were able to learn about our recovery accounts and how to recover a lost account. These are things I was never really aware of but now, I can say I understand it all now.
Well, a recovery account is simply a hive account which is linked to yours and can be contacted when you've lost your hive account. Every hive user needs a recovery account which would help to easily retrieve your account after following some protocols.
To view your own recovery account, all you need to do is click on those "triple dot" icon close to the settings icon on your profile.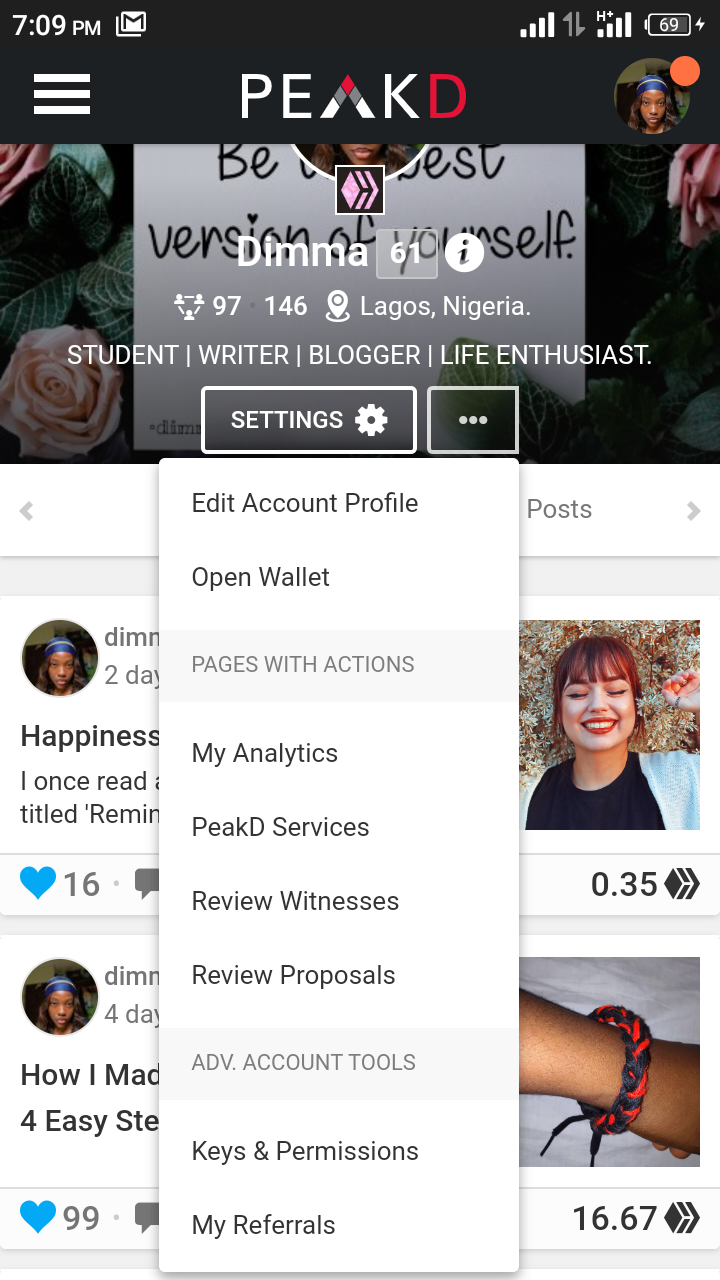 At the buttom, you'd see "keys and permission", click on it to get to the next page.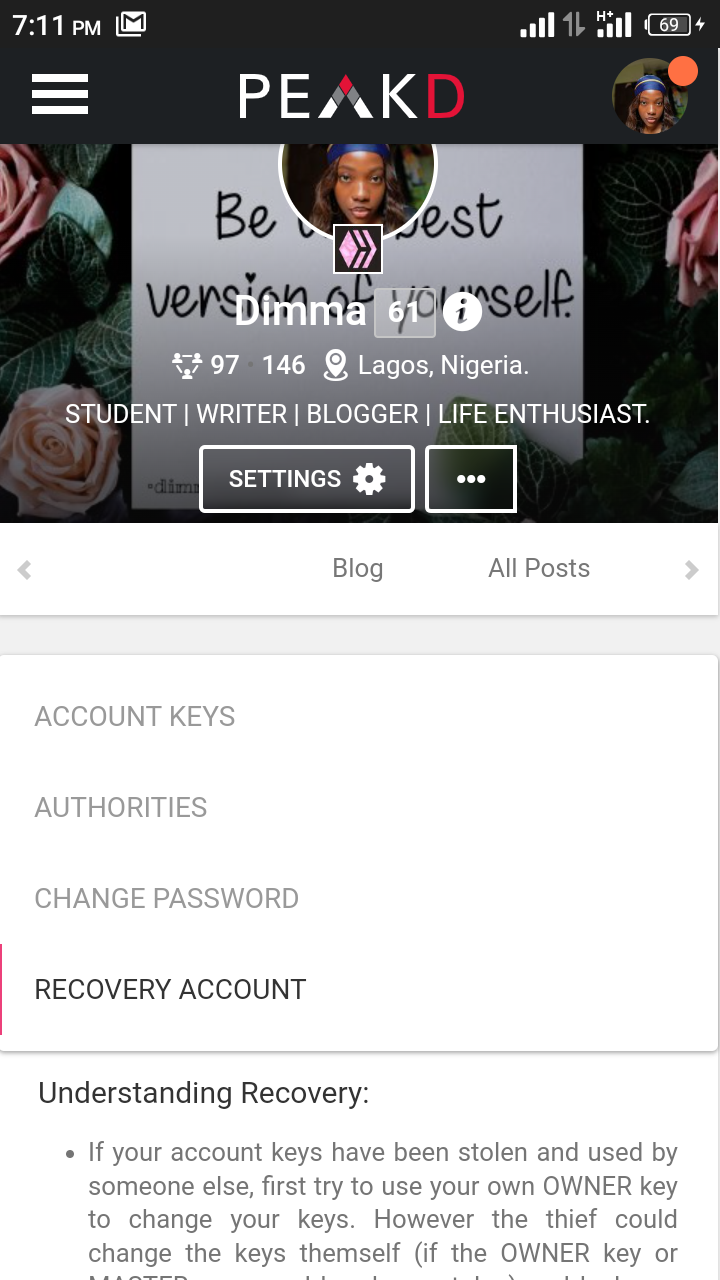 The next page should look like the screenshot above and this is where you click on recovery account.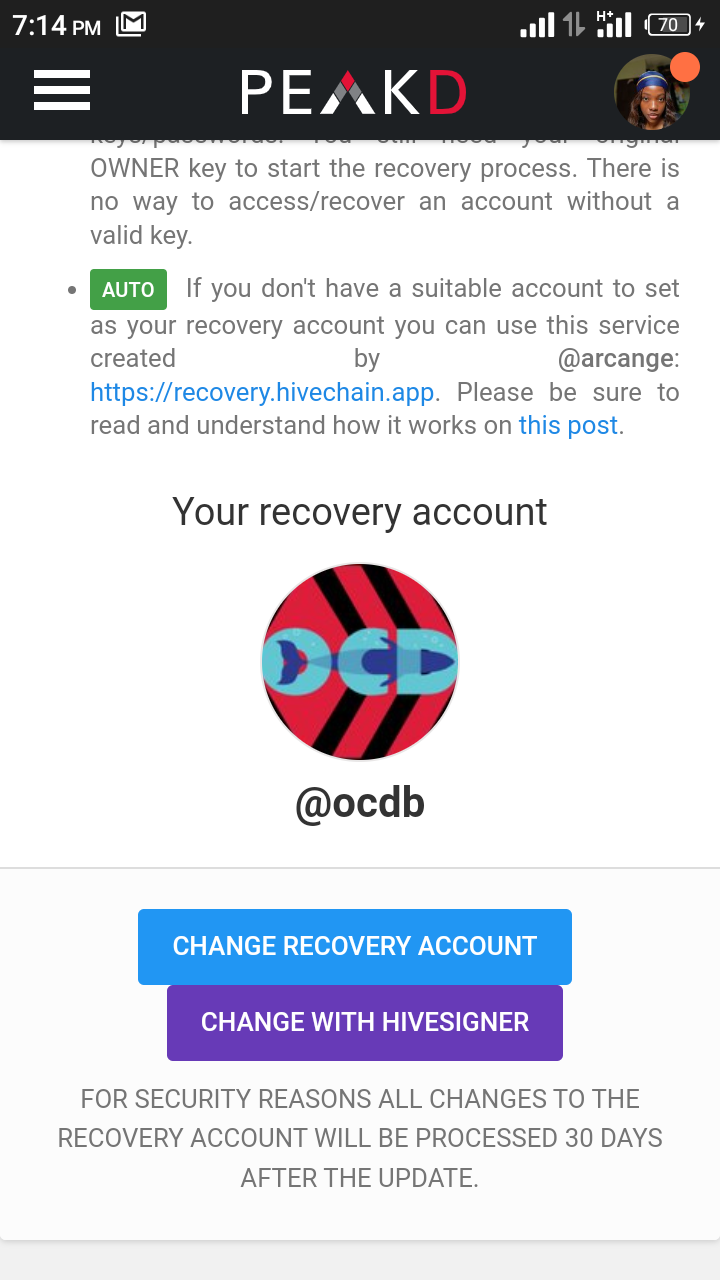 Once you scroll down, you'd see your recovery account name and like the screenshot above, you can see that my recovery account is ocdb. If I wish to, I could change my recovery account by clicking on either the blue or purple buttons.
The processes involved in recovering an account is quite simple and only require a few steps;
Using this link, the first step is to click on the blue icon which says recover account, then you generate a new password on the next page.

The next step is to send your public owner key to your trustee. Oh and lest I forget, a trustee is also your recovery account. So you'll have to send the generated key to your trusted recovery account.

And finally, the last step is to recover your account by inputing the account username to be recovered and placing your request. As long as you've correctly filled in the necessary details, you're good to go! 😊
Whom did you choose as your account trustee, and why?
Well, like I said earlier, ocdb is my recovery account and also my trustee. I believe them to be capable because they are technically proficient, trustworthy and reliable. It's also quite easy for me to contact them through their discord server and that's the reason I chose them as my account trustee.
List the various types of keys and their use cases.
There are 5 different types of hive keys with each having their distinctive functions and they include:
• MEMO KEY.
This key is one which can be used to encrypt and decrypt private messages on the blockchain. And in our last meeting, @samostically taught us that this key can also be used to make transactions as well.
• POSTING KEY.
This key is required to perform social activities like posting, commenting and voting on the blockchain. It is not used for monetary purposes and so, you need not worry about loosing your funds if someone gets access to this key.
• ACTIVE KEY.
This key is required to make more sensitive actions related to money. For example, powering up or down, transferring and exchanging of tokens on the blockchain.
• OWNER KEY.
This key is one which would be required to change your other keys or recover your lost account.
• MASTER KEY.
Like the name implies, it's the master of all keys and can be used to recover your other keys if lost.
In conclusion, all the above mentioned keys are equally important and should be kept secured to avoid stories that touch the heart. It's also important that we know their functions and apply them in proper usage.
I'd like to appreciate the entire newbies initiative team, @starstrings01, @theycallmedan and the @aliento team. Thank you @vickoly for your great leadership in our team 2.
And to my dear readers,
THANKS FOR READING! ❤️
---
---