LukeIsAlive - ClickTrackProfit Prize Wheel Current Jackpot $67.36
I am still trying to win the ClickTrackProfit Prize Wheel Jackpot. It is now at $67.36. Normally when I spin, I end up landing up on the "No Prize" space. I used my 1 spin today and landed on the "100 XP" space. At some point, someone will be lucky enough to land on the "Jackpot" space. Will it be You?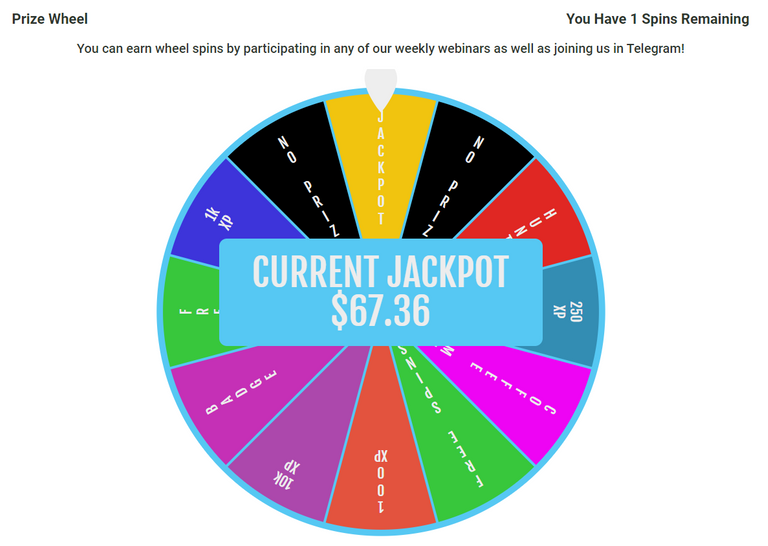 Finding Luke Screenshots
This afternoon, I was able to find Luke 1 times. I started in Bluebarrow which was occupied by Cup of Traffic. I am grateful for the opportunity to find Luke one time.


I started surfing at Cup of Traffic and surfed 47 pages. Due to the limited participation today of different traffic exchanges, Luke had no where to travel to next.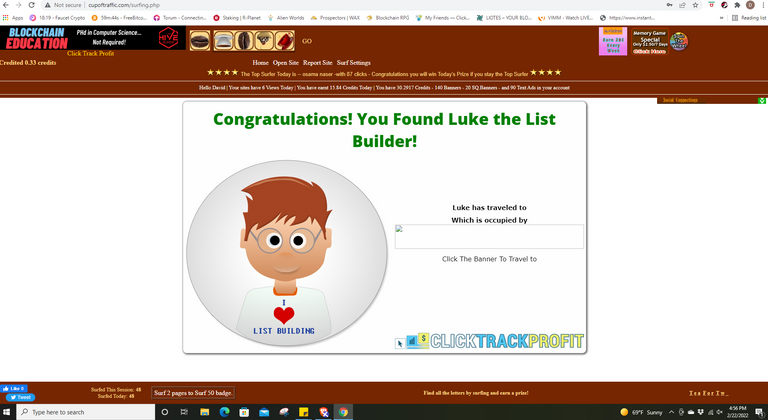 Campaign Tracking
With the shift in my campaign to Listnerds, I am using HitsConnect as my campaign tracker. I used the HitsConnect tracker so that I could see all of the various sites which I am receiving hits.
Second day of the week, I received 84 hits with 54 being unique. Overall, I am receiving 64.2% unique traffic at all sites. My highest unique traffic (sites with 10 or more hits) is 94.4% at Donkeymail with 18 page views. My lowest unique traffic is 44.6% at Sea Life Hits.
I am targeting to make 500 page views this week. It is day two and I have received 84 page views. I have 416 additional page view needed to hit my target before the week ends.

---
Sites Advertised With Credits Earned


ClickTrackProfit - An Affliate Marketing Training Program


Start Earning Today - Several Programs from which you can earn Crypto


The Hive Guide - A Training Program for the Hive Platform
Traffic Exchanges Used to Earn Credits
---
---