DO NOT read this post unless you actually understand Hive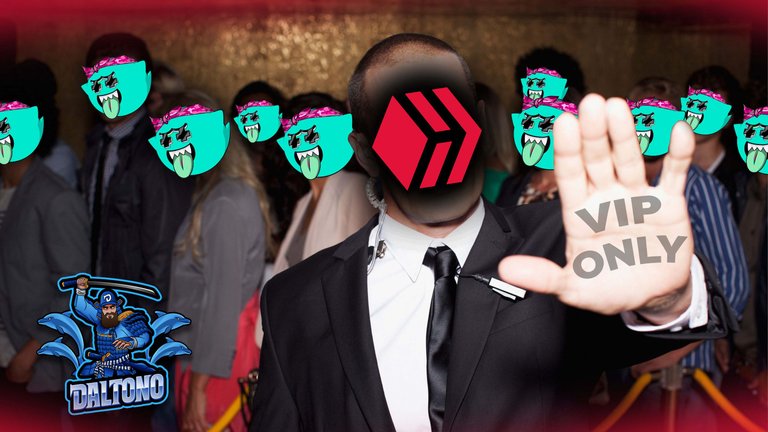 Did you get past security❓
If you are reading this then I guess it is safe to assume that you understand Hive at least a little bit. Well, that is, unless your sneak skill is maxed out and you managed to slither past the big bad bouncer Victor. In that case, my gang of rare ghosts is about to throw you out on your ass. Rules are rules!
You may be wondering why I only want a certain type of Hive user reading this specific post. Normally I welcome any and all people to view/interact with my content, but today I would love to have some answers from people who really know what is going on with something relatively specific on Hive.
---
I have been pondering what exactly is the best way to spread my vote around.
Is it to...
hand out a dozen or less daily 100% votes to the most popular content?
upvote in smaller percentages on a wide range of content?
vote lots of content all near 100% and drain my voting power drastically every day?
create several different accounts and all vote together on one trail?
vote early or wait until the last second?
As you can see from just those few ideas, there are a lot of options and surely more that I didn't even bring up.
---
Here lately my voting power has fluctuated from 70-80% most of the time and I do it all manually. Back in the day, I tried to never let my percentage go below 90% and set up a portion of my votes to happen automatically. Here lately, I notice @ocdb, @appreciator, @bdvoter, @leo.voter, @curangel, and other large curation accounts usually hovering above 90%, sometimes even higher. When I check @buildawhale & @themarkymark they tend to sit at or near 80-85% typically. As of writing this, one of the most well-known manual curators in my eyes, @acidyo is nearly below 60%. Some new users that do not even know that they have a voting percentage or what exactly it even means, often dip down below 25%.
So many numbers. So little answers.
---
My question(s) is/are 🙋🏻‍♂️
Is it more profitable if you keep your vote above a certain percentage at all times?
Are there benefits to voting so much that percentage drops to extremely low levels?
Does voting too much negatively impact the future of Hive?
Can you show me data to prove your point?
Are you sure that Victor said you could read this?
Hive is a Web 3.0 social blockchain with massive power and near-endless capabilities. We are growing more each and every day, but with that comes even more of a blur over the technicalities of how everything actually functions.
I'm big into total optimization. I'm going to work as hard as I can no matter what, but wouldn't it be better if my 110% goes further thanks to a few slight alterations to my practices? It is kind of difficult to make that happen if I don't even know what truly is considered to be best practice.
I know that pretty much everybody that I'm in contact with on a regular basis here on Hive would benefit tremendously from understanding the answers to these deeper questions that I am asking today. I hope that some of our more tech-savvy users and developers can chime in here to provide us with some clarity.

Now it is your turn 🗣
I've laid out some basic questions, but you are more than welcome to explain anything that you think would be important for people on Hive to know about their voting process.
Comment your best advice and explanations for how the process of voting on Hive is best carried out.
---
---
---

My NFTs: https://inji.com/@daltono/nfts

---
---