When real life is more wild than the crypto world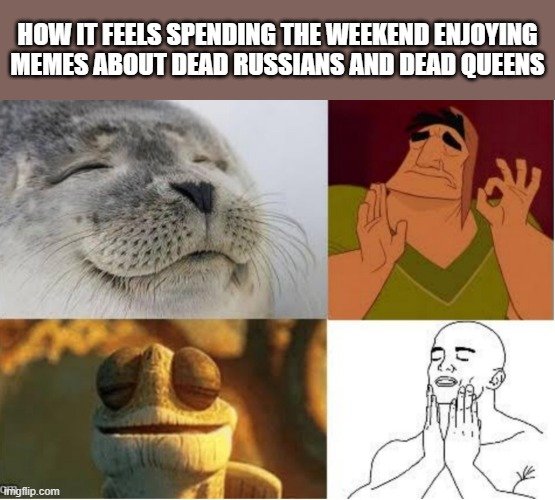 Besides a small bump in bitcoin's price I think most people would agree that the crypto world hasn't been buzzing ( pun intended ) with anything too exiting in the past few weeks. Fortunately real life proved very entertaining and it provided a nice mental break from the crypto grind.
The "bri'ish" might be feeling a bit down with the queen passing and stuff but given the fact she was already a living meme, she became an even greater one when she finally pressed Alt+F4 out of this world. I must admit when I first heard that the "old hag" ( as we shitposters affectionately like to call her ) proved she was actually a mortal being I was in disbelief and was almost expecting that she would prank everybody with a "gotcha! thought you were getting rid of me didn't you ? ". I bet old Charles hoped his mom would stay queen for eternity so he could keep enjoying his mostly carefree lifestyle. Well, I guess all good memes must be put to rest at some point, and the "immortal" queen is no exception.
But far more entertaining was seeing the Ukrainians rofl stomp the Russians so hard that some of them won't stop running until they reach Siberia. I was hoping that the vodka wars would be over months ago, but the wait was well worth if we get to enjoy seeing how much the Russian Ministry of Defeat struggles to spin the ass spanking they received into a "tactical redeployment". Not even the most fanatical of rusky supporters are buying it, so it's beyond obvious that they are failing even in the lying department where I thought they were the experts. I spent countless hours on twitter digesting the latest developments on the battlefield and studying war maps to understand how far the Ukrainians managed to advance into the Russian rear ... lines. I have become quite the expert in Ukraine's geography and infrastructure lately after reading so many reports about how this successful offensive will impact the war. Time well spent ? probably not but I freaking enjoyed it :)
My favorite meme that came out of this Russian debacle is the fact Russia became Ukraine's biggest weapons supplier after leaving vast quantities of ammunition and equipment as they fled in panic. Watching this develop in real time I was constantly playing the "Brave Sir Robin" song from Monty Python in my head.
---
---