Rising Star boosters part 2

I have been playing the Rising Star Game for a few months now, and I have discovered several pearls of information along the way.
I have decided to start writing about my experience at RSG.

Energy Boost
This is part 2 of the energy boosters series.
You can read part 1 here
You need energy to perform missions. You will start off with 100% energy. As your run missions, your energy will drop.
Energy replenishes itself at a rate of 1% every 5 minutes. To completely refill your energy from zero takes 8 hours and 20 min.
Most of us want to run more missions without waiting 8 hours to replenish energy.
Luckily, there are energy boosters as well as energy bonuses that you can earn in the game.
The primary energy is "Pizza Slice" that you find in gameplay from time to time. This will refill your energy to full as soon as you find it.
But what if you do not find a discarded "pizza slice" and you are low on energy?
In this case, you will want to buy at least one "Pizza Slice Energy Boost".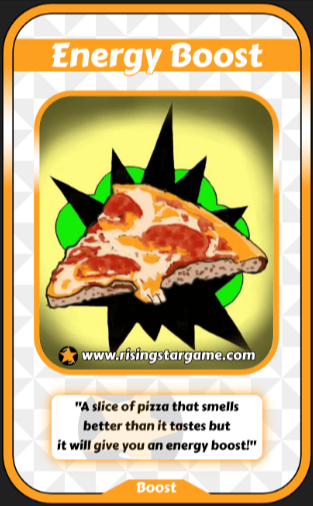 To purchase a "Pizza Slice", simply go to the menubar in the left upper side of the game page. Click on the tab with the cards icon. Click "Your Collection".
This will take you to the cards page.
Look at the card categories and click on "Boosters".
You will see the "Pizza Slice Energy Boost" card.
Click on it, and you will see a popup that shows the card as well as the market prices for the card.
Be sure to scroll through the listed cards as there is a significant difference in prices. Find the best price and click on "Buy"
At the time of writing this post, the best price was 0.66 swap.Hive or 9000 Starbits.
This will take you to the purchase page. Simply click on "Buy," and you have just purchased a "pizza slice."
The "Pizza slice Energy Booster" card will give you full energy. This card can be used once every 24 hours. It take 24 hours to recharge so plan accordingly.


You can purchase a few more cards, as well that will be helpful with energy management.
Birthday Cake and Coffee
Who doesn't like cake and coffee. These are two more options for you in energy management.
During game play you will find discarded coffee. Coffee will give you one hour of energy regeneration boost. You can buy Empty "Coffee Cups" to store your coffee for later use.
Purchase your coffee cups the same way that you have purchased the other Energy Boosters.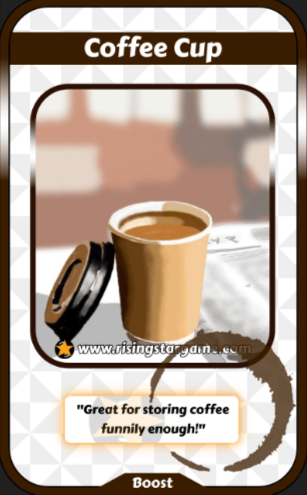 You will also see cards for Birthday Cake. These are special addition cards that were distributed at the first and second birthday of RSG.
The Birtday Cake cards work identical to the Pizza Slice, the difference is that they regenerate after 12 hours, rather than 24 for the Pizza slice.


I recommend that when getting Energy Boosters, that you purchase at least
Pizza Box
Coffee Cup
Pizza Slice
Birthday Cake
Please remember that when making purchases with Startbits, the Starbits need to be in your Hive Engine and not in the game.
Moving your Starbits from the game to your Hive Engine wallet is simple. You just move your cursor over your Starbits total on the right upper side, and you will get a dropdown list that starts with "Withdraw/Deposit."
Click the Withdraw/deposit tab, and you will see your choices for moving Starbits to your Hive Engine wallet.

If you are NOT yet playing Rising Start game, You can click on the link to start playing now!
Rising Star game.
The information in this post is my opinion and is correct to the best of my knowledge. There are always other options to consider. Be sure to D.Y.O.R
Until next time,
John Novak

All game images used in this post have come from the Rising Star Game.
Divider by @doze
Programs I Endorse
Click Track Profit
ListNerds
Rising Star Game

---
---