When you find Buddha sleeping in a cave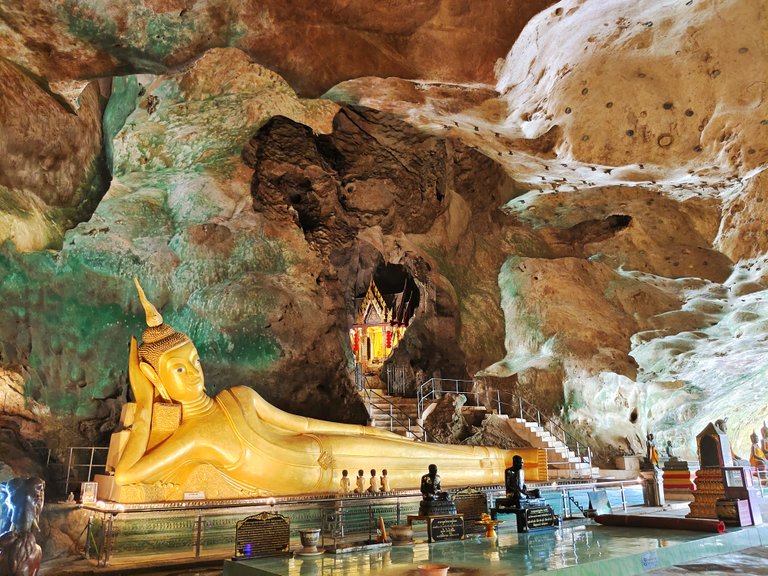 Hello everyone
It's been a few weeks now that I want to go to a special place located 35 km from Phuket, the Wat Suwan Khuha temple with its sleeping Buddha in a cave.
But but but! My husband is lazy to take me there because he already went there 8 years ago, my friends always have something to do which makes them unavailable... In short, there is always something that makes this trip impossible. 😭 And then the unexpected happened.
Thursday morning, after I woke up as usual and prepared to spend a normal day, even if it was my birthday, my husband came quietly to tell me that if I wanted, we could go to Wat Suwan Khuha temple. In addition to having succeeded in surprising me, I was particularly happy because as a Thai, going to the temple on your birthday to make merit to Buddha is something very important. Thai Buddhists believe that making merits on birthdays will bring them prosperity and make their families happy.
Around 11 am we set off with our youngest son for the Wat Suwan Khuha Temple, located in the Phang Nga Province, which is 70km from the house and 35km from the Sarasin bridge marking the exit of Phuket island.
Today, it is this journey that I will try to make you live with us as if you had come with me
สวัสดีคร้าาาาาา.... เมื่อวันที่ 27 มกราคมที่ผ่านมา เป็นวันคล้ายวันเกิดของบัว สาก็เลยพาไปทำบุญที่วัด เพื่อความเป็นสิริมงคลแต่ตัวเองและครอบครัว วัดที่ไปอยู่ที่พังงา ก็ไม่ไกลจากภูเก็ตเท่าไหร่ ซึ่งบัวนะอยากจะไปมานานแล้ว ชวนสาทีไรนางก็บอกให้ชวนเพื่อนไป เพราะนางเคยไปมาแล้ว แต่พอสายๆ สาเดินมาบอกว่าจะพาไปวัด บัวนี่รีบอาบน้ำแต่งตัวรอเลย 555 พวกเราออกจากบ้านตอน 11 โมงเช้า ก็ขับกินลมชมวิวไปเรื่อยๆ ค่ะ ไม่ได้รีบร้อน ใช้เวลาเดินทางไม่นาน แต่ช่วงนี้ถนนช่วงใกล้ๆ รอยต่อระหว่างภูเก็ตกับพังงา กำลังซ่อมแซมเป็นระยะทางประมาณ 1 กิโลเมตร ทำให้ช่วงบริเวณนี้รถติดพอสมควร แต่พอพ้นช่วงนี้ไปแล้วก็ขับสบายๆ ค่ะ ถนนโล่งม๊วกกกก....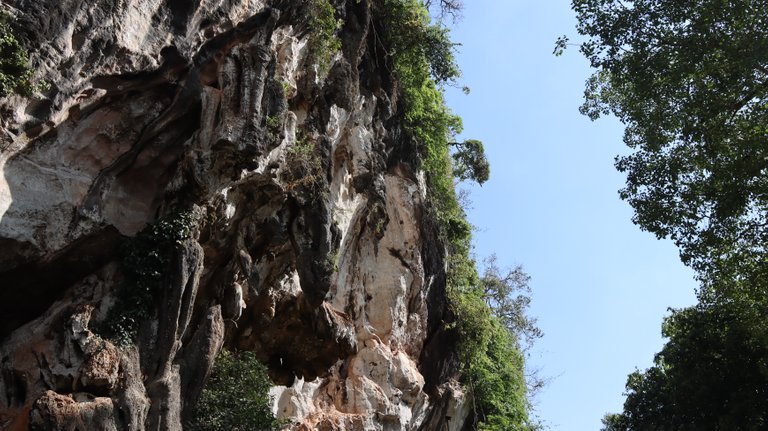 The road to get there is very easy, mainly highway with few vehicles, it took us only one hour to get there despite impressive works a little before arriving.
Wat Suwan Khuha was for a long time an abandoned temple making its history not clear. It was finished to be rebuilt in 1924, the history of this temple seems to take place in 932 AD and was built by Phra Chai Chetthathirat if we follow stone inscriptions and monks' knowledge.
It is an interesting temple and an important historical site of Phang Nga Province. Suwan Khuha Cave is located in Suwan Khuha Temple or Cave Temple. It is a small limestone mountain nestled in the eastern and southern plains adjacent to Khlong Tham which flows into Phang Nga Bay. There is a large cave cliff in the Permian limestone.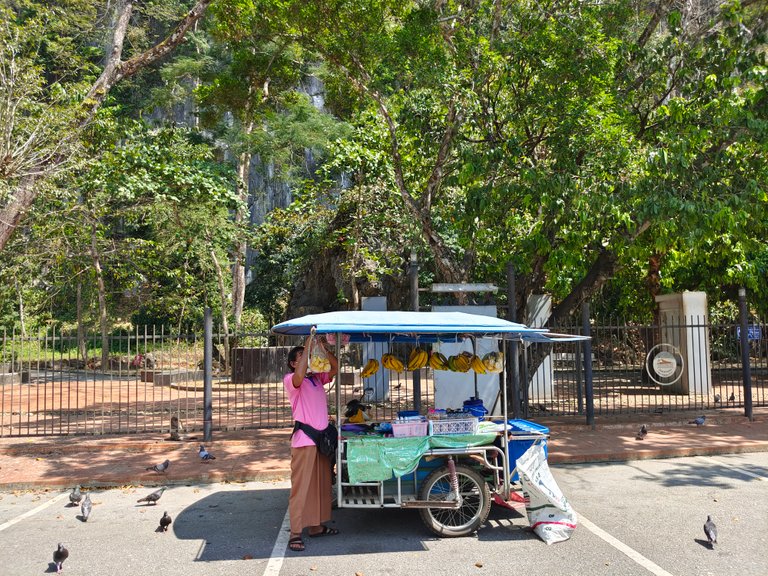 จังหวัดพังงาเป็นจังหวัดที่มีภูเขาสูงเยอะ ทำให้มีถ้ำน้อยใหญ่อยู่เป็นจำนวนมากวัดที่บัวกับครอบครัวไปชื่อว่าวัดสุวรรณคูหา หรือวัดถ้ำ ซึ่งเป็นวัดเก่าแก่ที่มีความสำคัญกับจังหวัดพังงา ภายในบริเวณมีที่จอดรถกว้างขวางมาก และยังมีร้านขายอาหารลิงด้วย ส่วนใหญ่ก็จะเป็นกล้วย ข้าวโพด และถั่วลิสง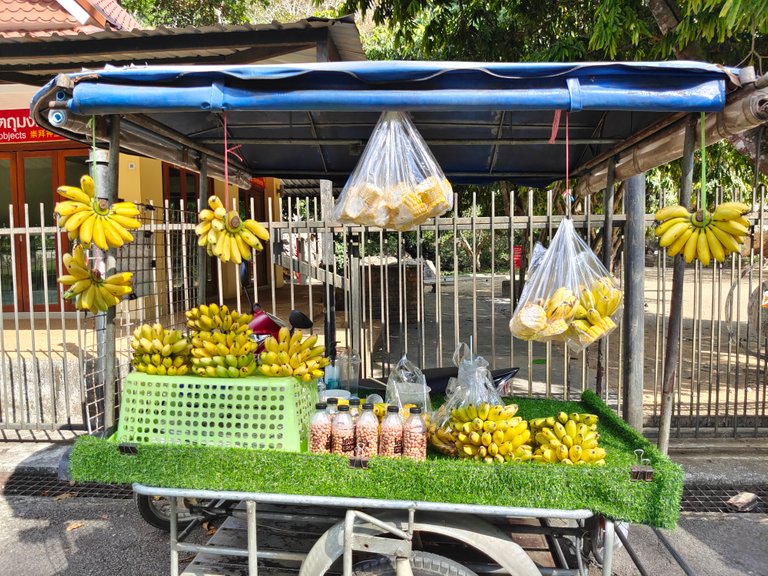 Inside the temple, there is ample parking for tourists and there is also a fruit shop to feed the monkeys including bananas, corn, and nuts.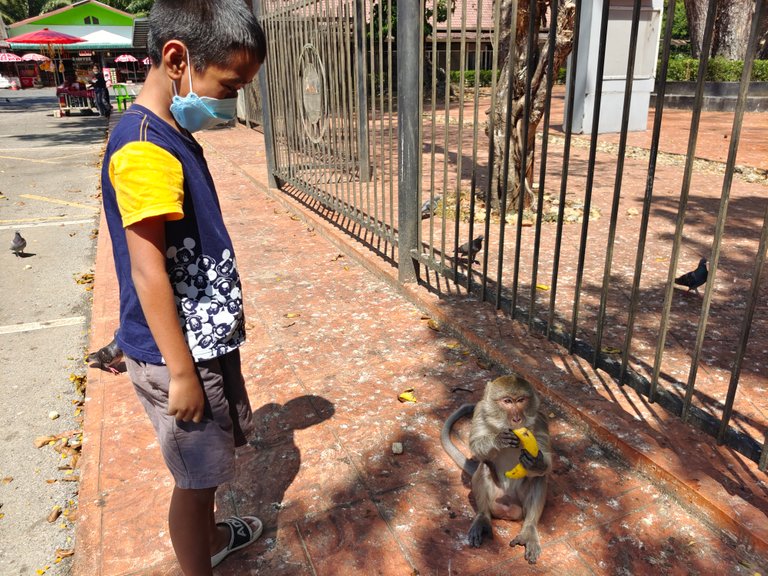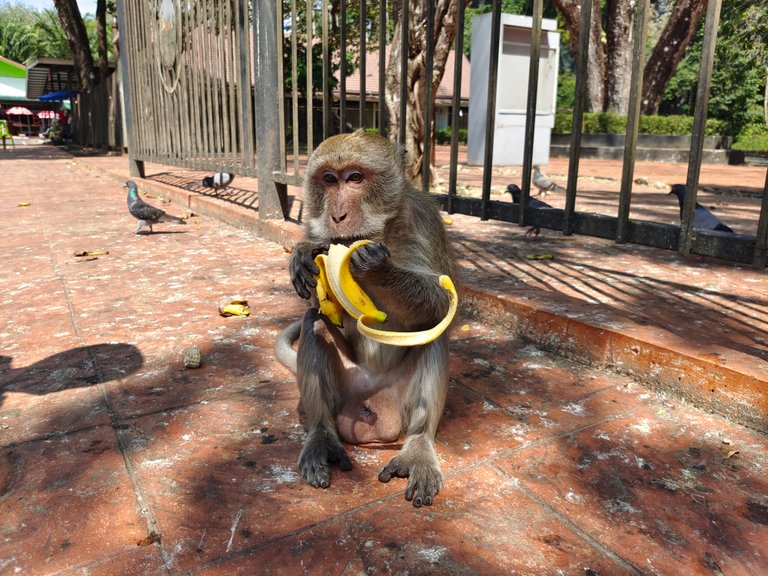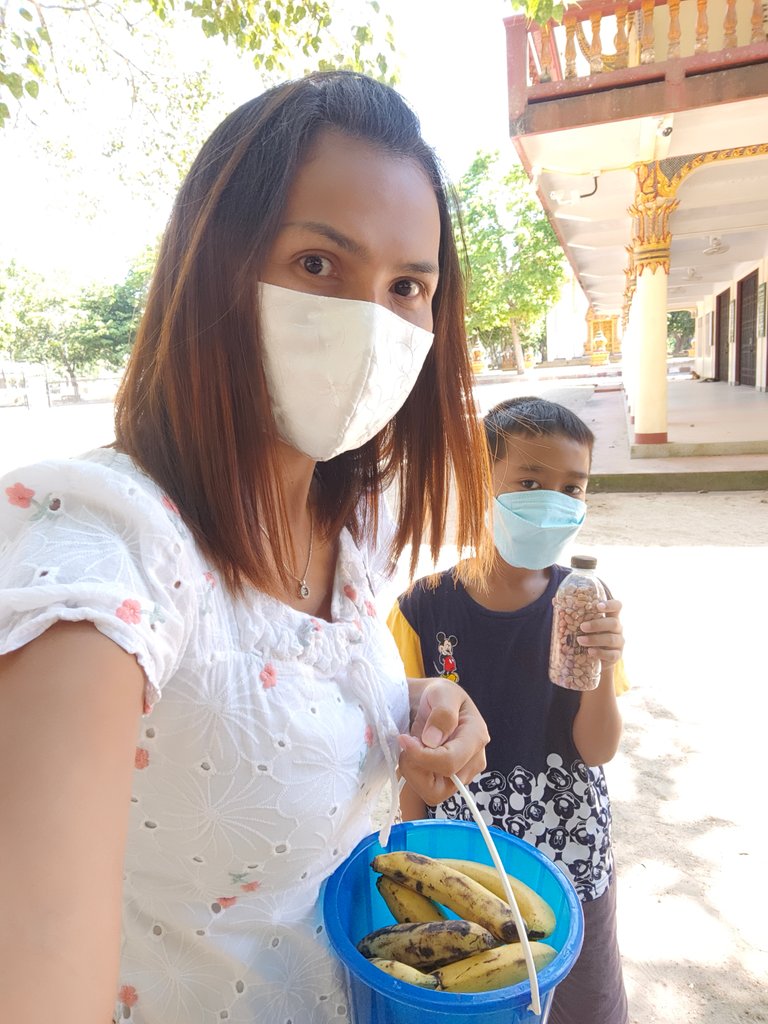 ภายในบริเวณวัดมีลิงอาศัยอยู่เป็นจำนวนมาก การให้อาหารลิงต้องระวัง แม่ค้าแนะนำให้เอาอาหารใส่ในถังพลาสติก เพื่อไม่ให้ลิงเห็น แต่ถ้าใส่ในถุงพลาสติก ลิงเห็นอาหารก็จะมาแย่งอาหารที่มือเราได้ หรือเวลาที่ให้อาหารอย่าจับที่ตัวลิง เพราะลิงอาจจะกัดได้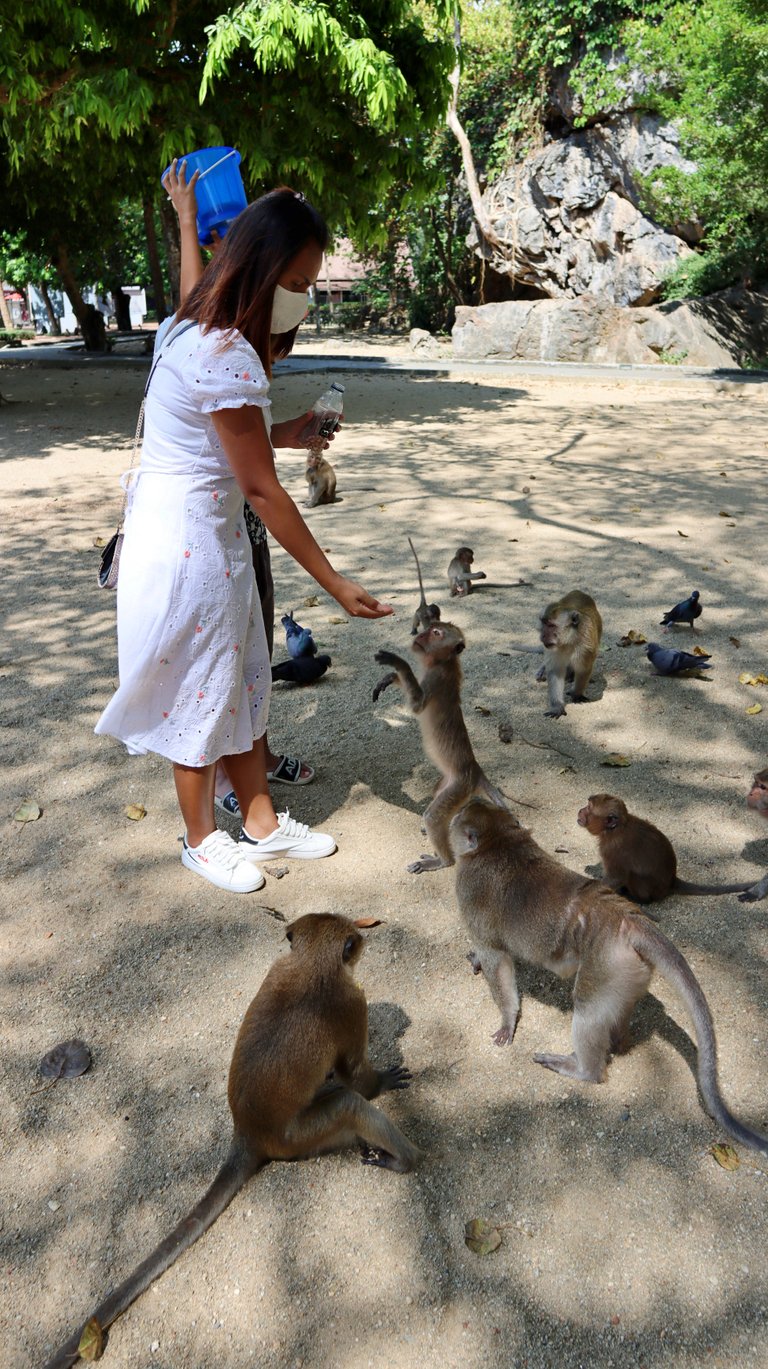 There are many monkeys here be careful when feeding monkeys do not put food in plastic bags which, when seen by the monkeys, will steal the food in your hands or injure you. Put a bucket where the monkeys can't see the food when feeding, do not touch the monkey as it may bite.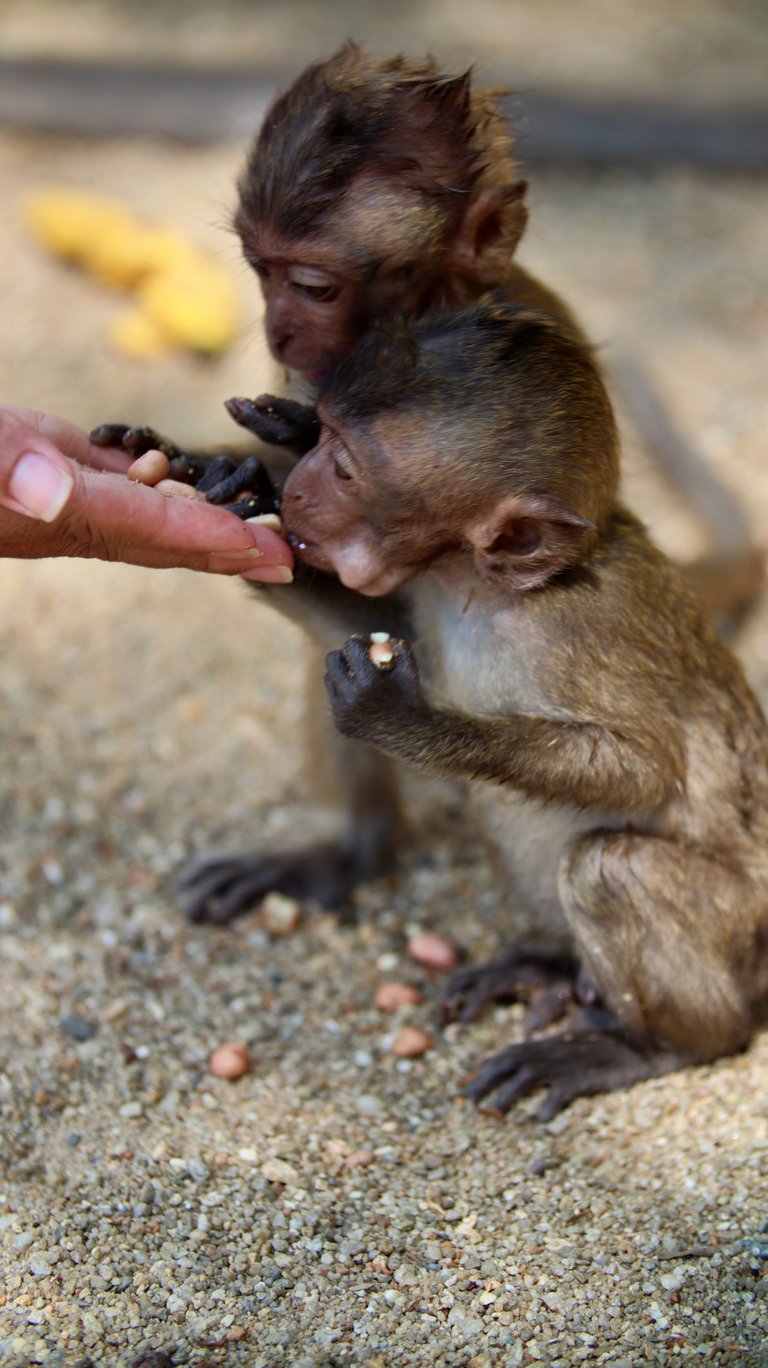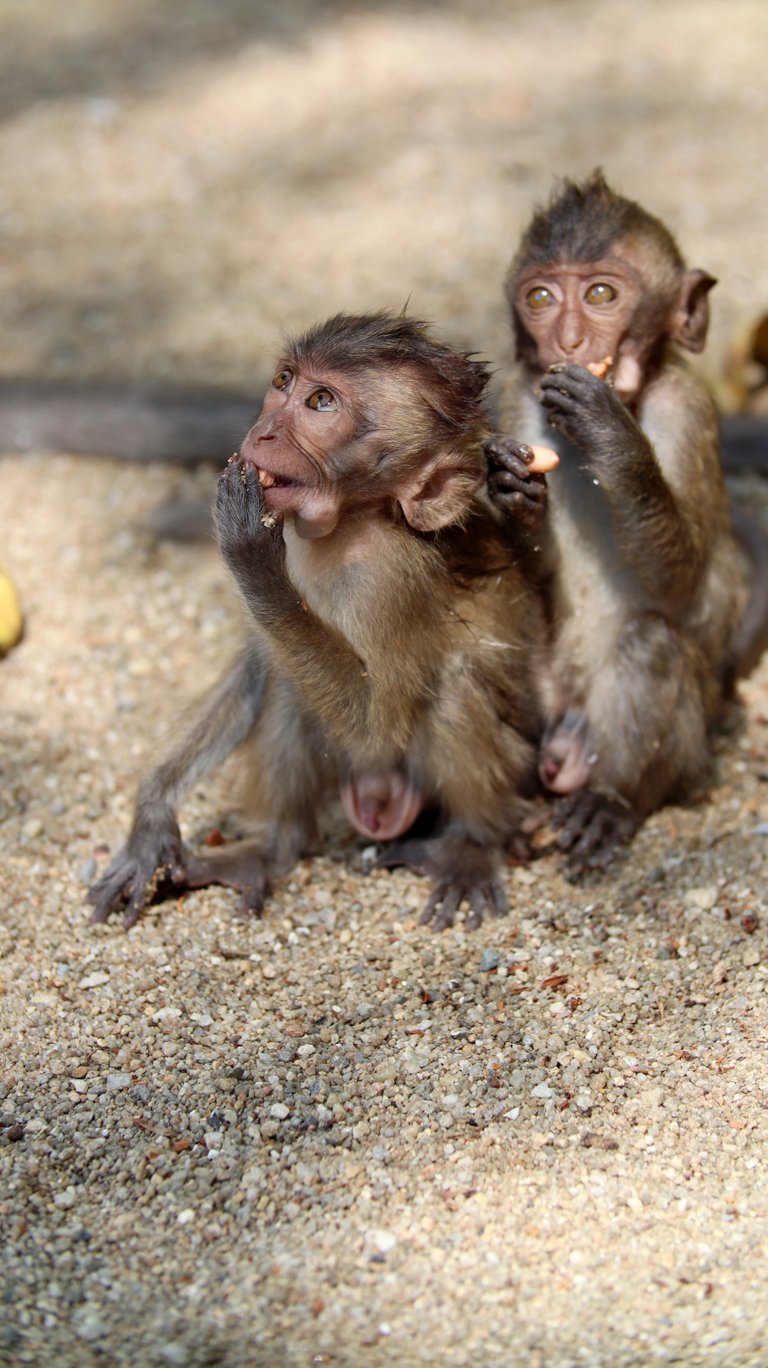 I saw a big monkey chasing after a baby monkey trying to come and beg for food from me made me feel very mirthless for the baby monkey. I tried to chase the big monkey away and feed the baby monkeys.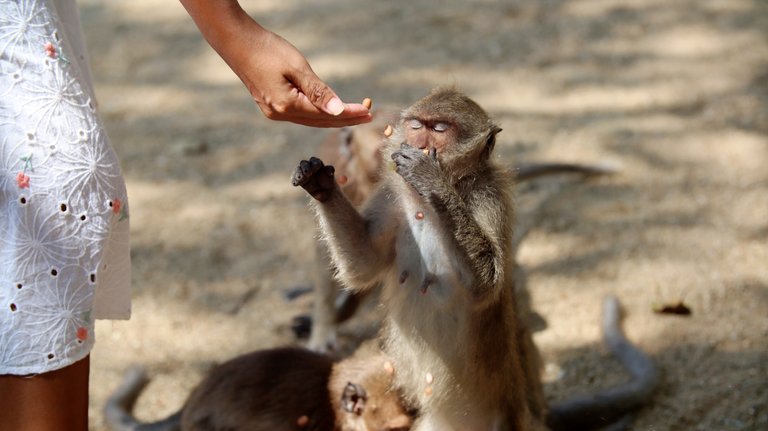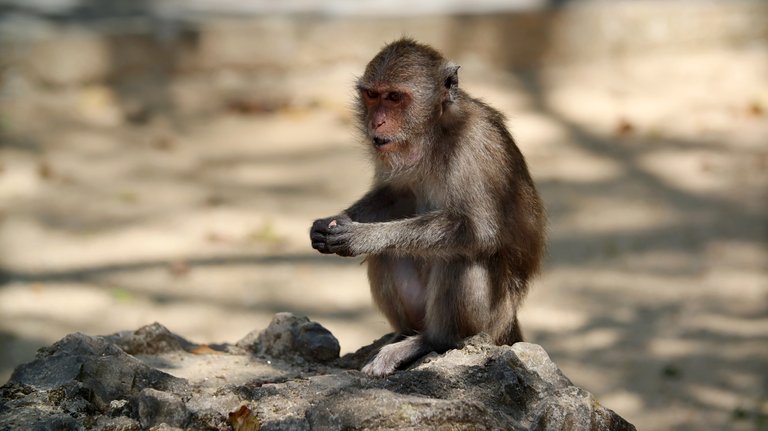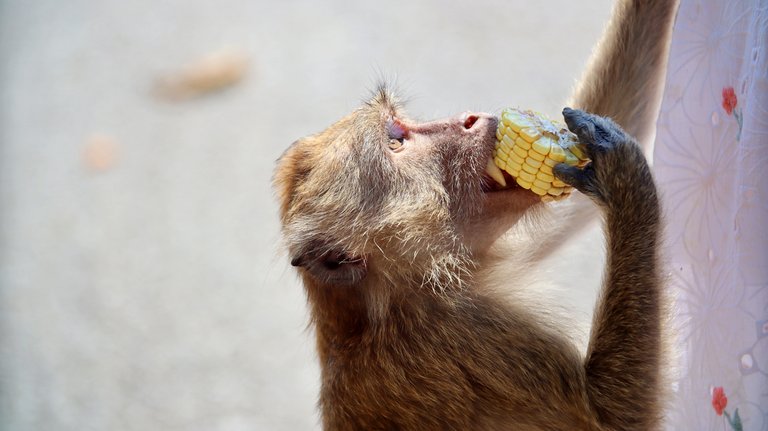 With my youngest son we really spent a good time feeding them, you know how he is a big lover of animals. 😋 It was the first time I saw so many monkeys like this, I am really lucky for my birthday, good place, good weather, everything was perfect.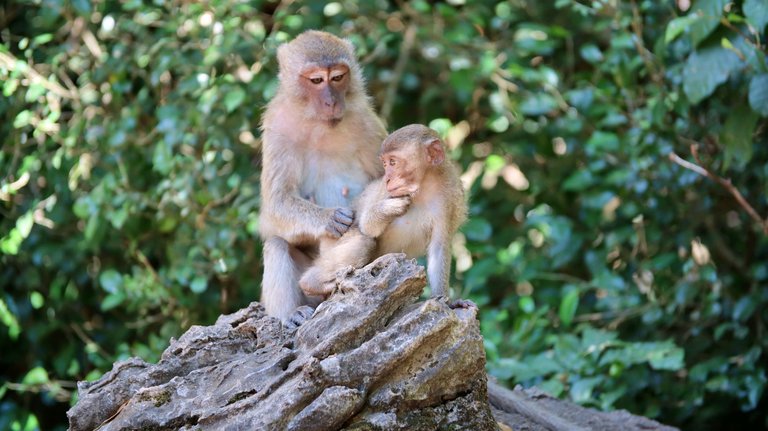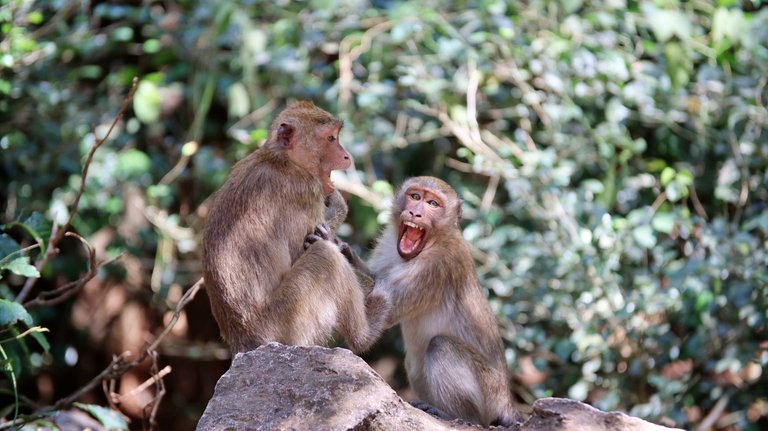 ที่นี่มีลิงอยู่เยอะพอสมควร ลิงตัวใหญ่บางครั้งก็จะแย่งอาหารจากนักท่องเที่ยว ถ้าไม่ให้ก็จะเกาะและดึงเสื้อผ้า ซึ่งบัวโดนมาแล้ว นางดึงกระโปรงเลยจร้าาาา..... ไม่ให้ไม่ปล่อยเอาซี้..... ส่วนลูกลิงก็จะโดนพวกลิงตัวใหญ่กว่าไล่กัด จนไม่กล้ามากินอาหารจากนักท่องเที่ยว บางทีก็ต้องเก็บกินเศษอาหารที่หล่นพื้น ตอนที่ลิงตัวใหญ่เผลอ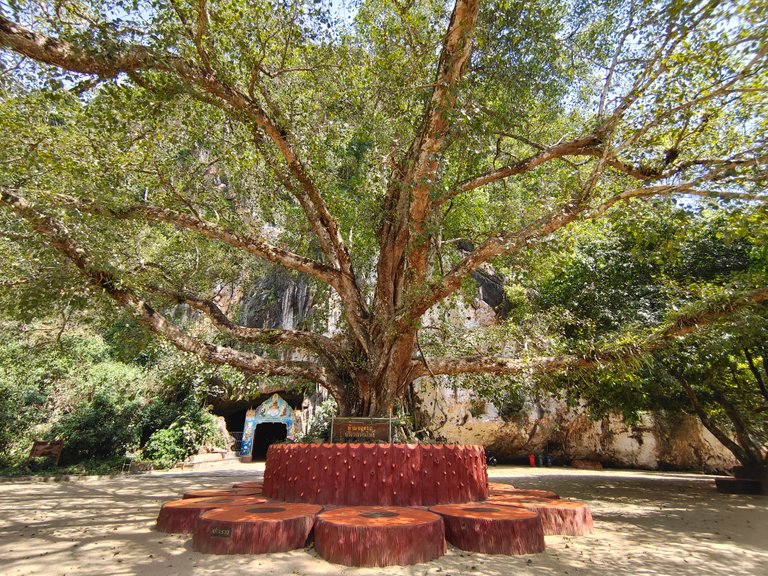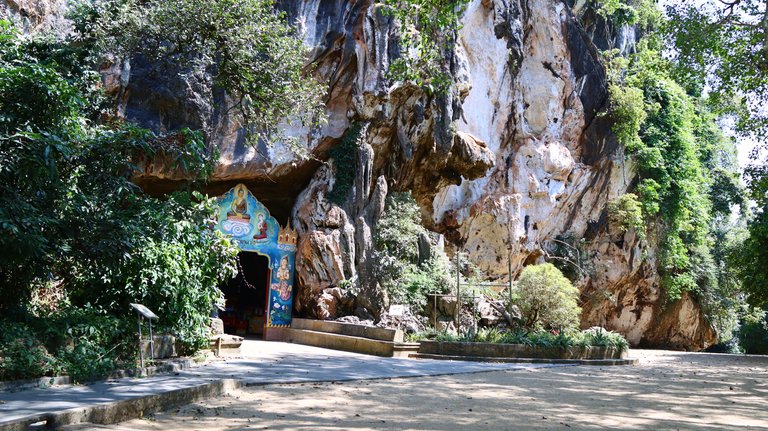 In front of the entrance to the cave temple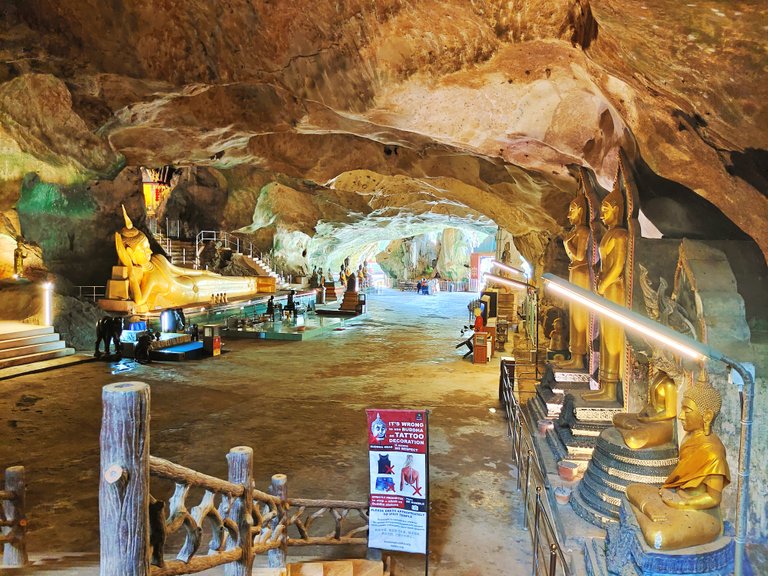 The mouth of the cave shows the characteristics of dolomite rocks in that the surface area will have cracks like elephant skin, about 250-280 million years old.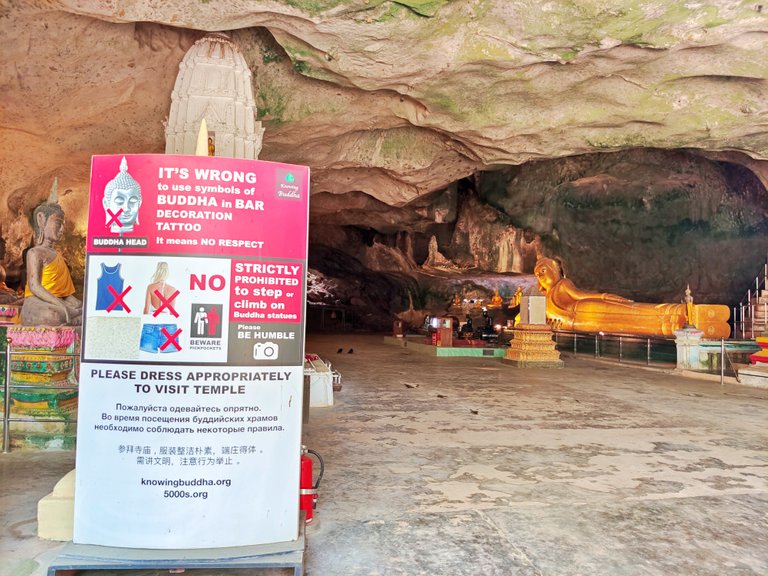 Inside the cave temple, some rules must be followed, remember, it's a temple first. 😉 Thai people enter for free, foreign tourists pay a service fee of 20 baht.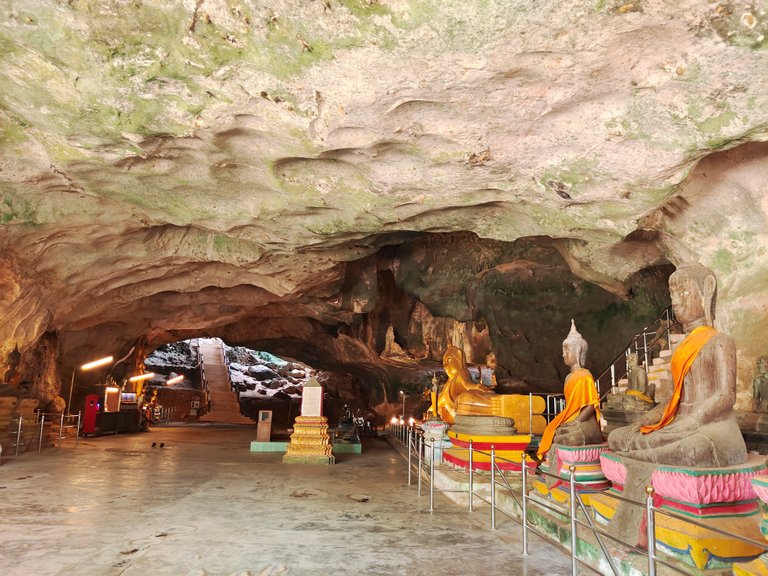 การเข้าไปในวัดถ้ำก็จะมีกฎระเบียบข้อปฎิบัติ หลักๆ ก็แต่งกายให้สุภาพ คนไทยเข้าชมฟรี ส่วนต่างชาติเสียค่าเข้าชม 20 บาท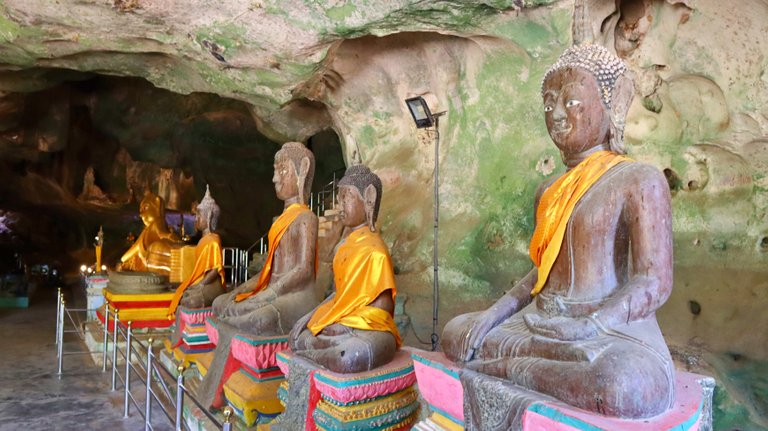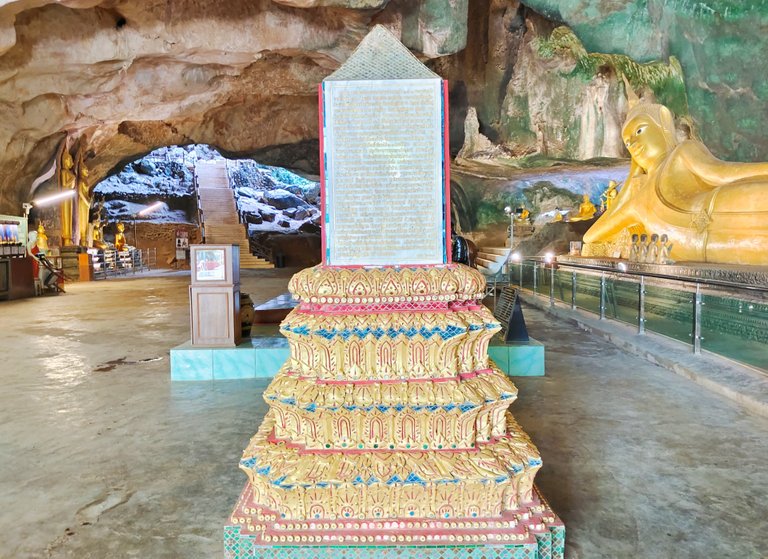 The inscription of Phraya Borisut Loha Phumintrathibodi at Tham Yai is an ancient Thai script from the early Rattanakosin period (Rama IV) composed in prose. Made in the shape of a parapet from slate, width 85 cm. and height 100 cm., a perfect condition which gave the inscription when the Suwan Kuha Temple was renovated in 1858.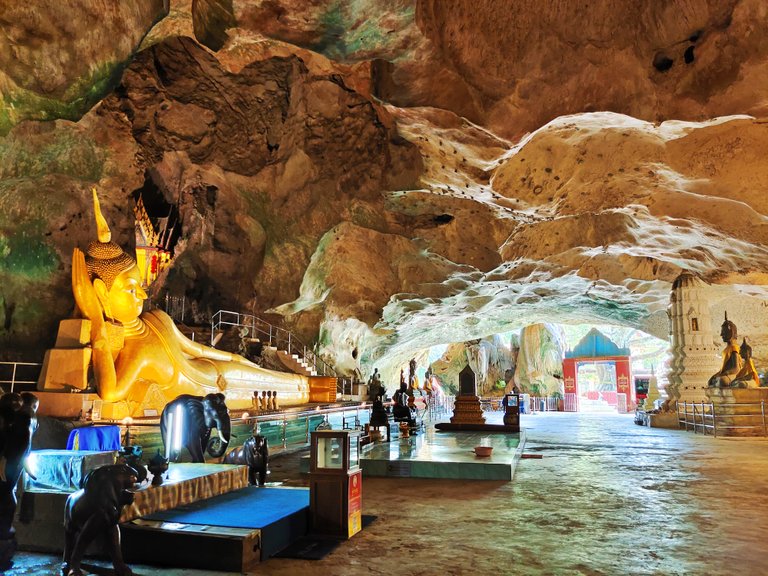 There are many stucco Buddha images in the big cave area the most important element is the Reclining Buddha statue with a length of 7 wa (1 Wa = 2 Meters) 2 sok (1 Sok = 50 Centimeters) that are perfectly beautiful. Deep in the big caves are Tham Jaeng, Tham Daeng, and Tham Kaew, where you will find the beauty of stalagmites and stalactites. where tourists can walk to see this natural wonder.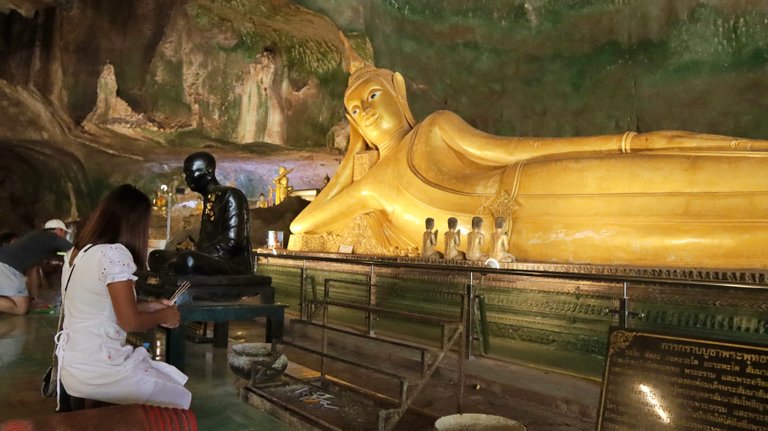 ภายในถ้ำมีพระพุทธไสยาสน์ ยาวกว่า 7 วา 2 ศอก สีเหลืองทองอร่าม ผนังถ้ำก็จะมีลวดลายที่สวยงามที่เกิดขึ้นเองตามธรรมชาติ มองขึ้นไปที่หลังคาถ้ำ ก็จะเป็นแอ่ง เป็นโค้ง ซึ่งตอนแรกบัวคิดว่าทางวัดเขาเซาะหลังคาถ้ำให้เป็นแบบนี้หรือเปล่า แต่พอถามเจ้าหน้าที่ที่ดูแลที่นี่ เขาบอกว่ามันเป็นเองตามธรรมชาติ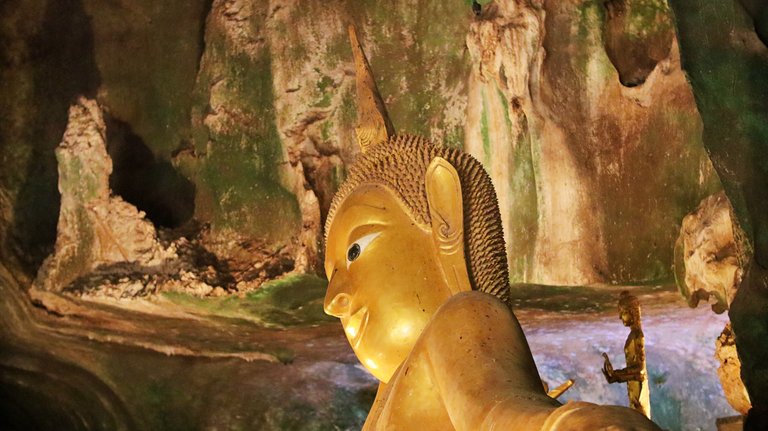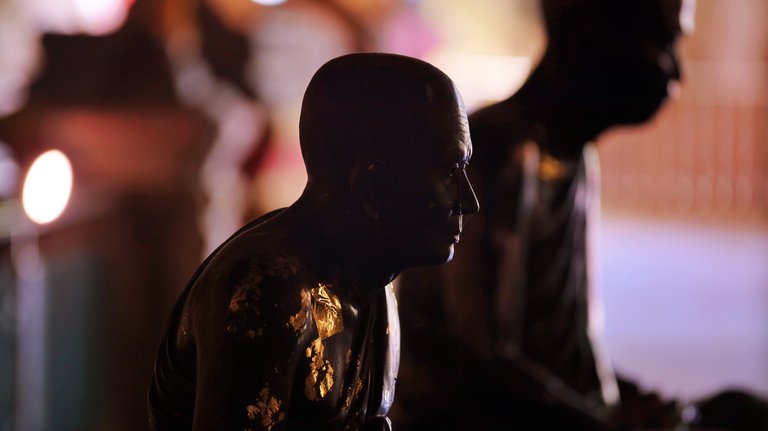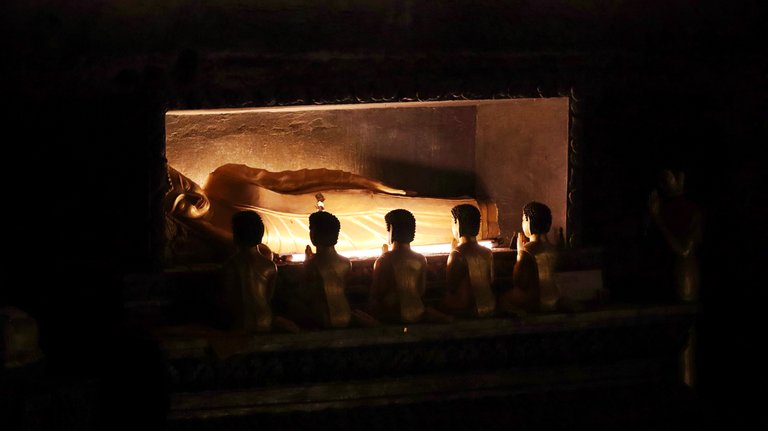 Luck was really with us because we were the only visitors, allowing us to enjoy a really relaxing and peaceful atmosphere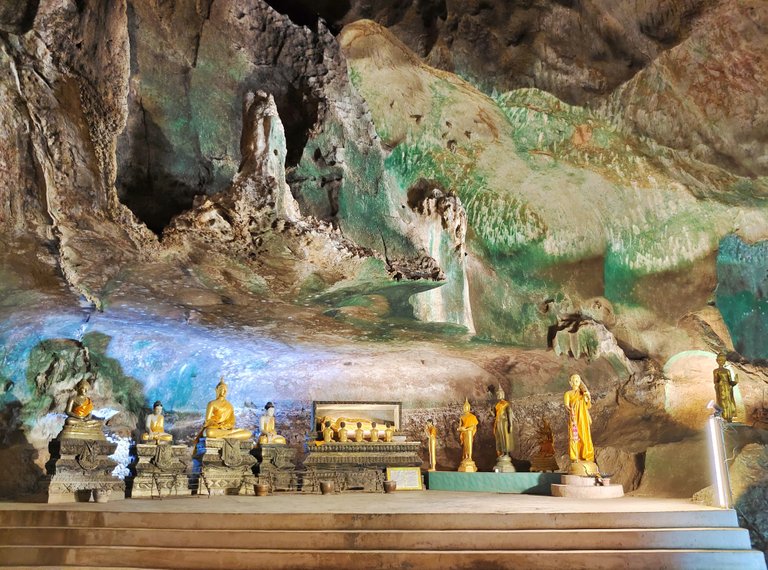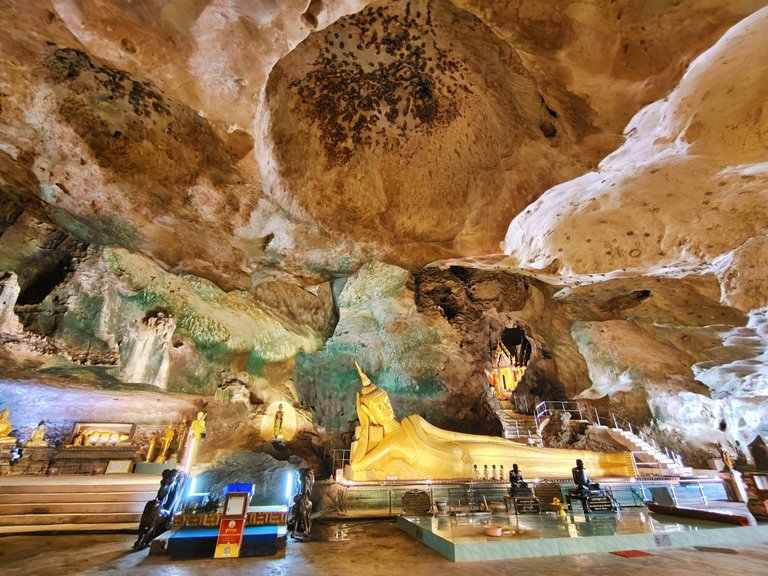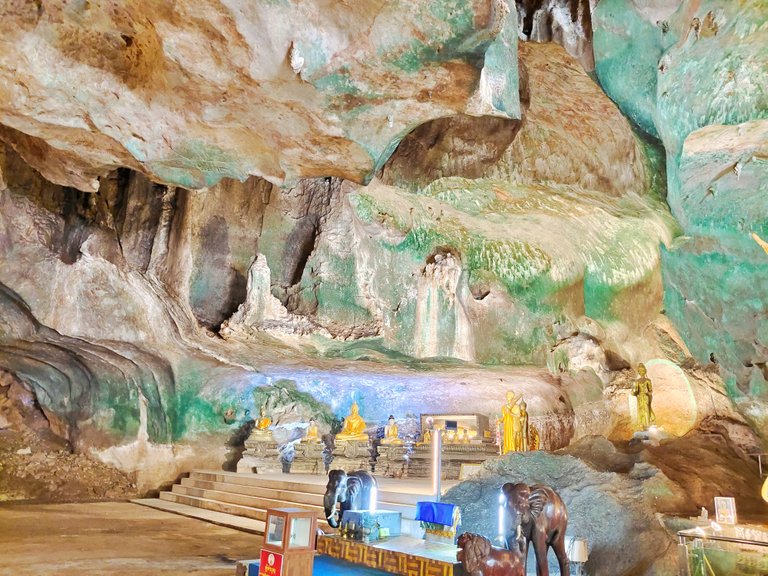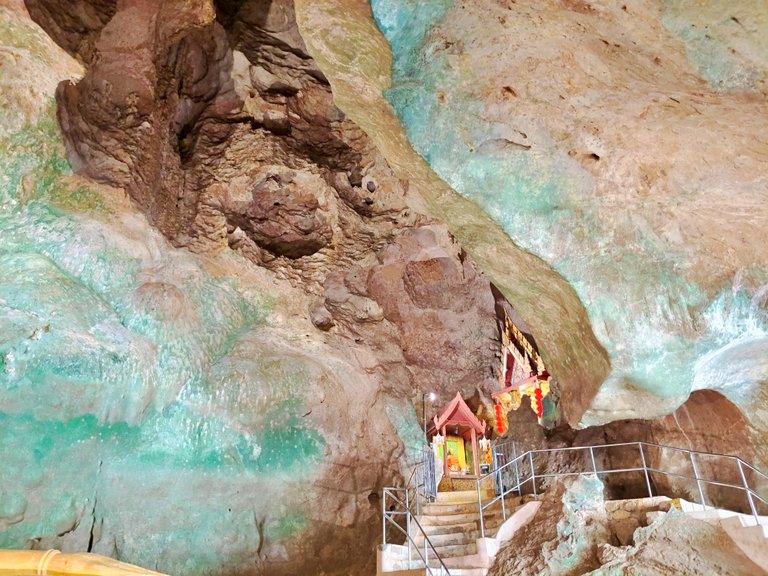 And what more can be said than these images on the wonderful colors of the cave.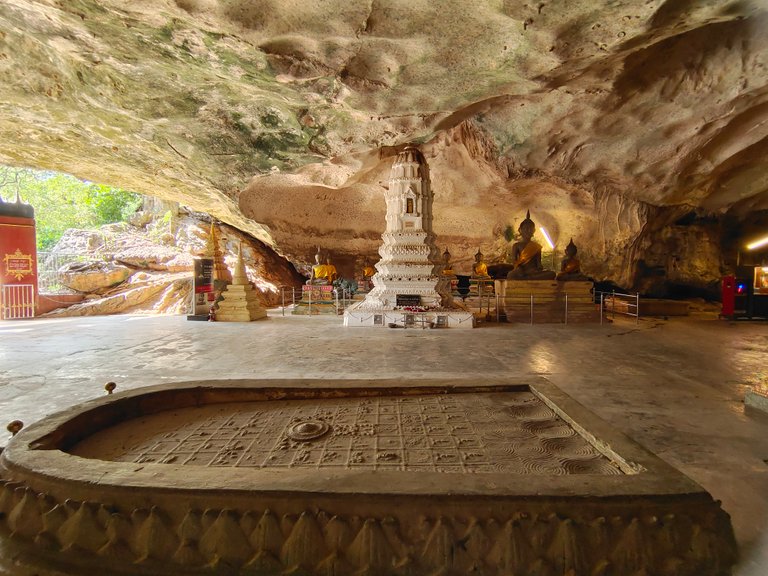 This is the footprint of the Buddha. There are two forms of Buddha's feet, the natural footprint as found in the rocks and the Buddha's foot that has been constructed or the natural footprint of the Buddha which is not the real footprint of Gotama Buddha but a replica of a representation.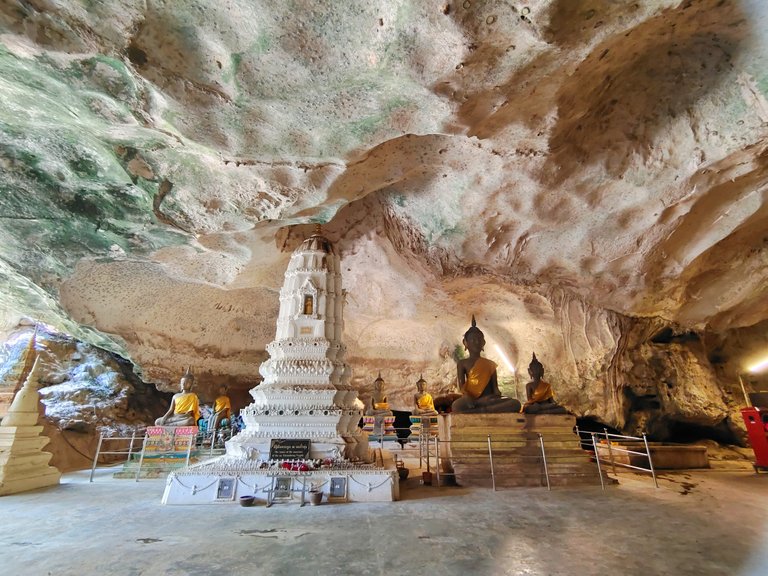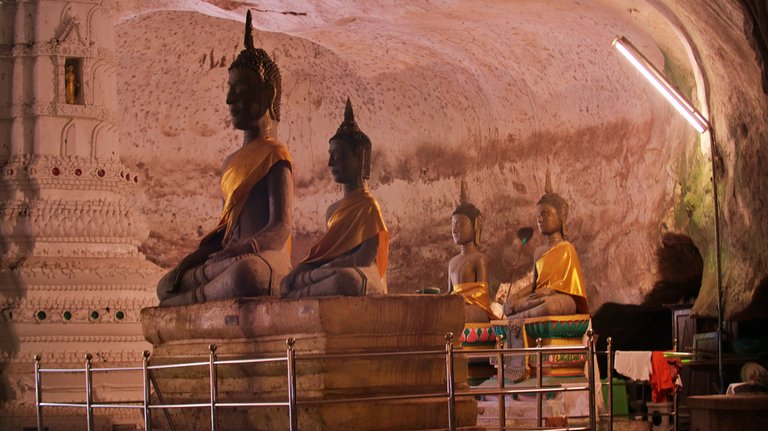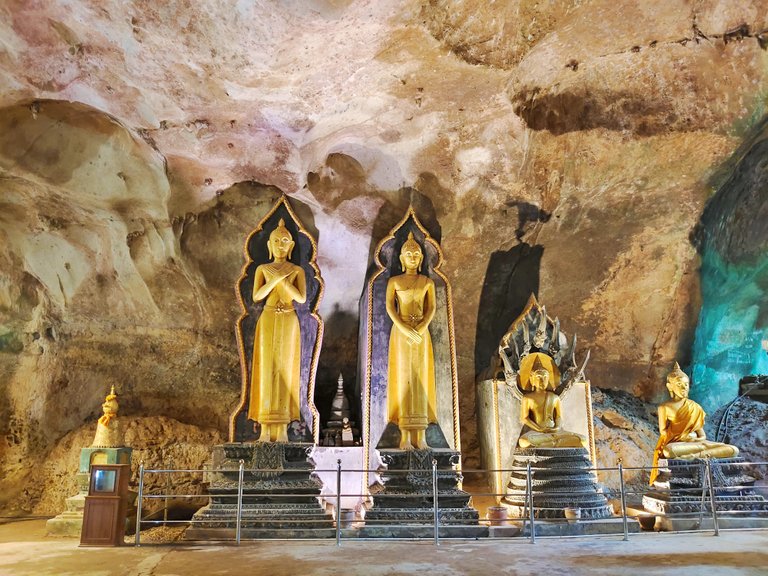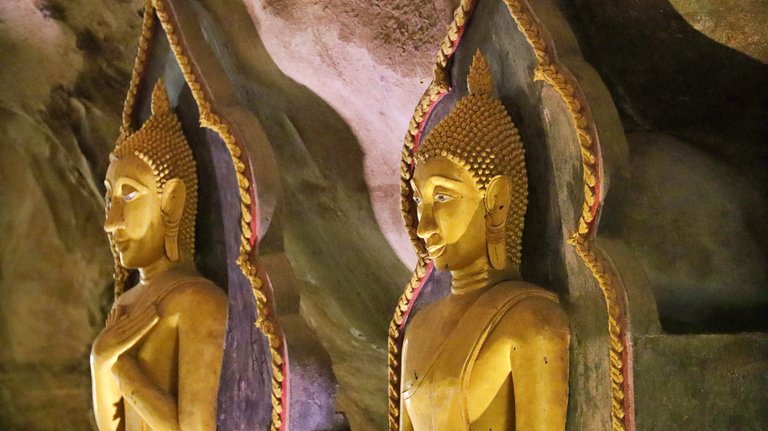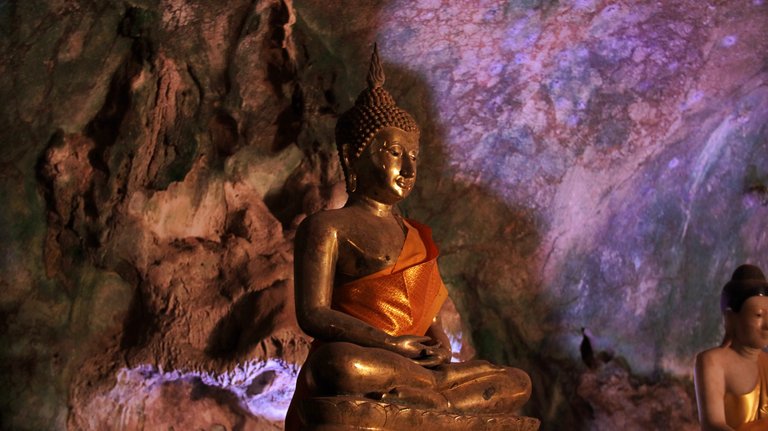 From excavations inside the cave and in front of Wat Suwan Khuha, prehistoric artifacts were found such as polished stone axes, stone axes with shoulders, stone-shards tools. Cracking stone tools, stone bracelets, crushed stone, terracotta stone shell bracelet earthenware scraps animal bone fragments human bone fragment carnelian stone beads and the wreck of the junk, etc.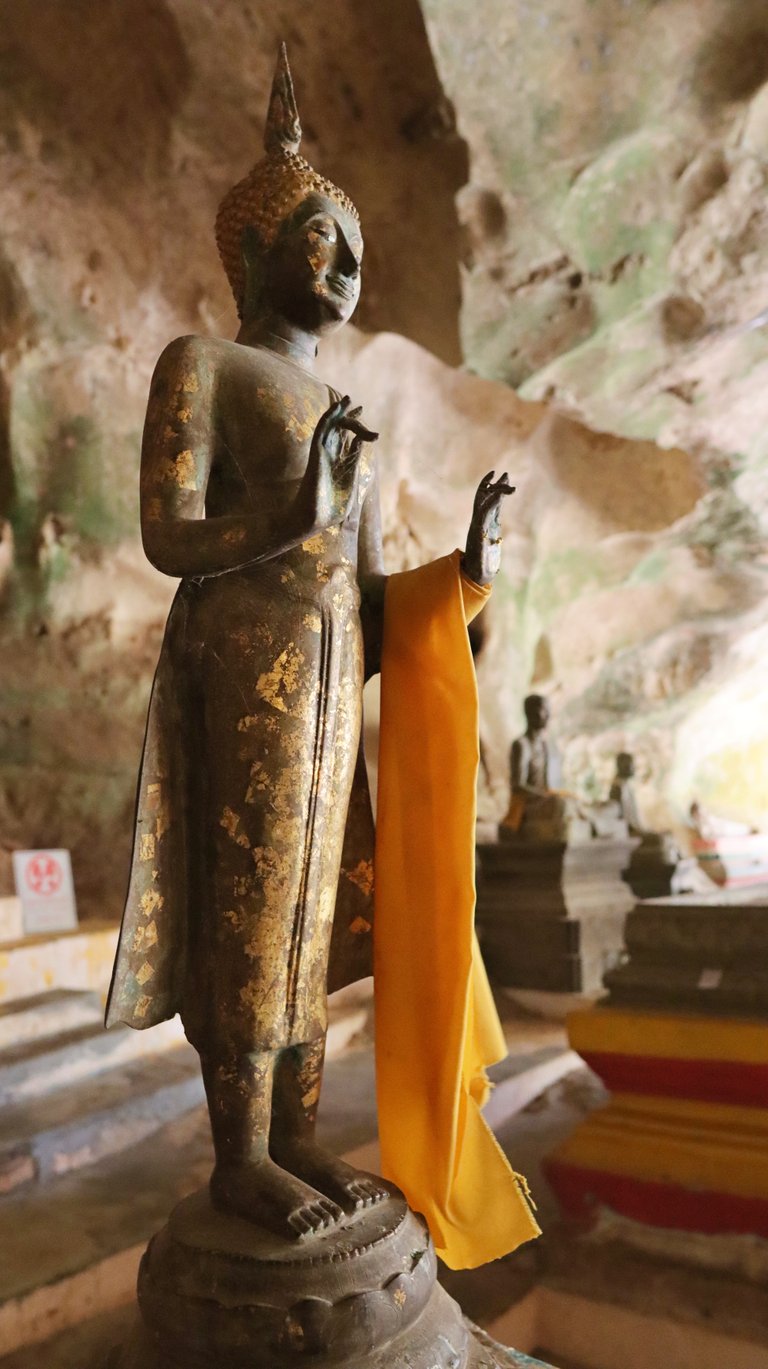 The discovery of antiques in front of Wat Suwan Kuha due to the reign of Phraya Pursuthit Loha Phuminthabodi Suwan Kuha Temple was restored, so the soil from the cave was taken out causing the relics to move out at the same time. At present, some evidence is kept in an exhibition cabinet and the Suwan Kuha Temple Museum building.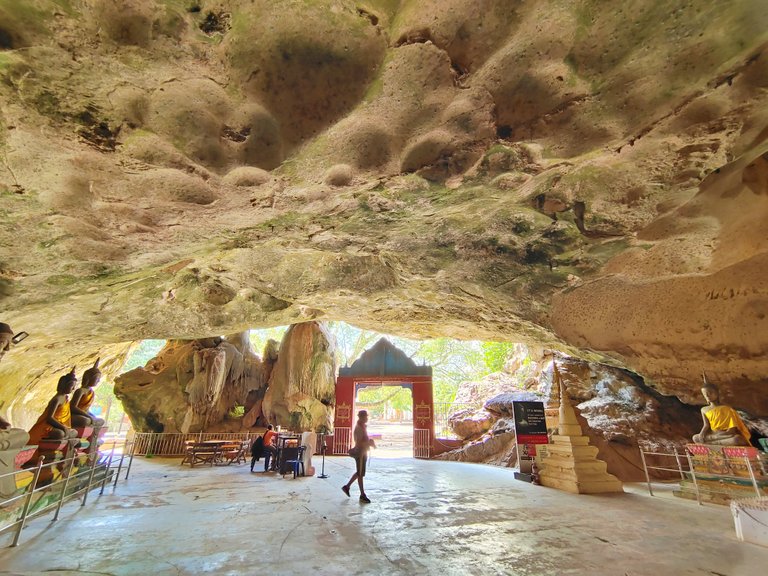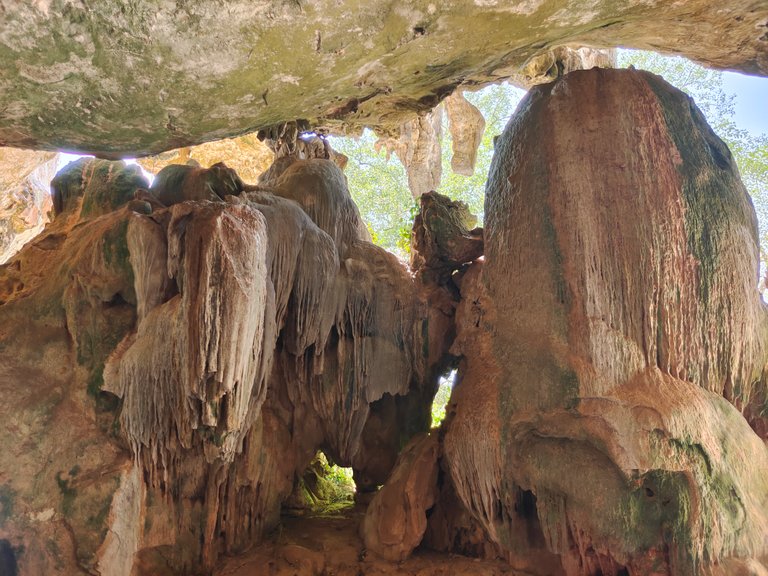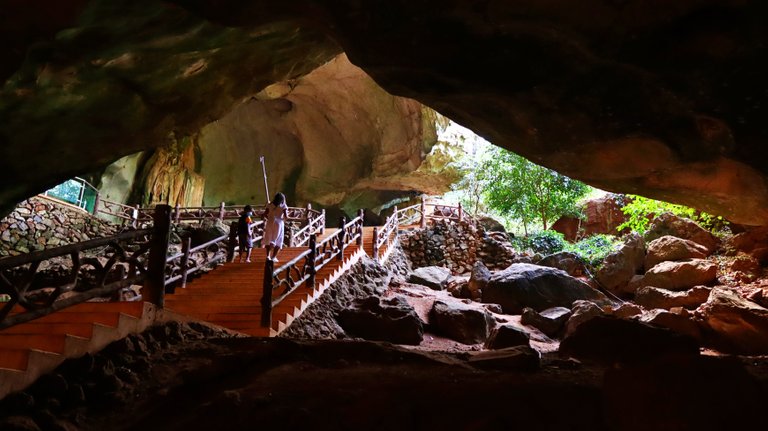 Next to this cave, you can walk up to the top. There is a small cave at the top that contains many stalagmites and stalactites.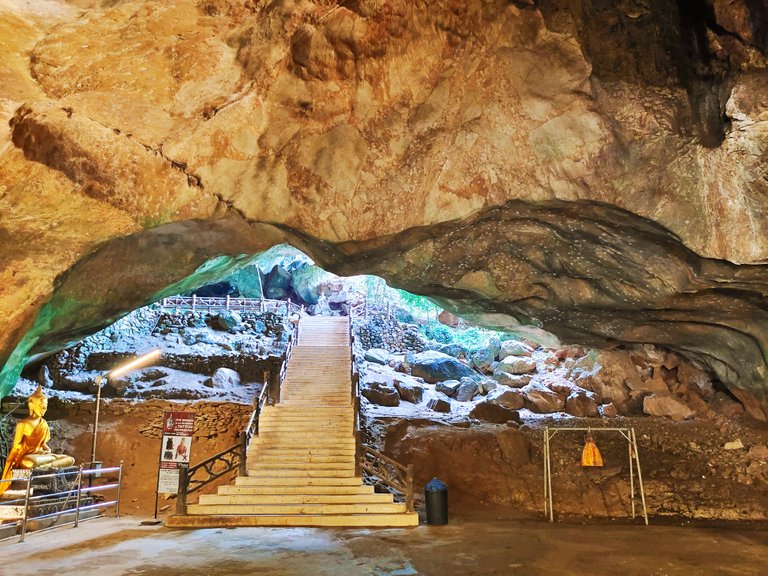 ไหว้พระที่ห้องโถงใหญ่แล้ว ด้านบนมีบันไดสามารถเดินขึ้นไปได้ ด้านบนมีถ้ำเล็กๆ ที่เต็มไปด้วยหินงอก หินย้อย มากมายและสวยมากๆ บริเวณนี้จะได้ยินเสียงร้องของสัตว์ต่างๆ ที่อาศัยอยู่ในป่าบริเวณนี้ด้วย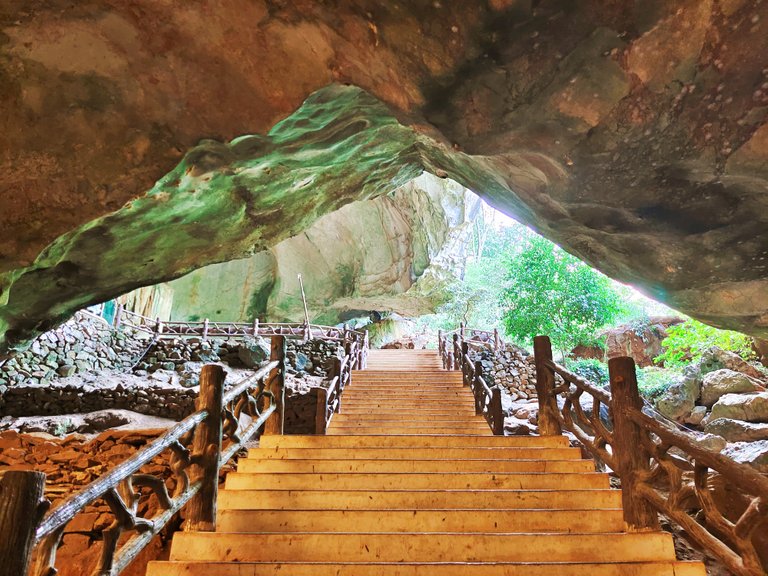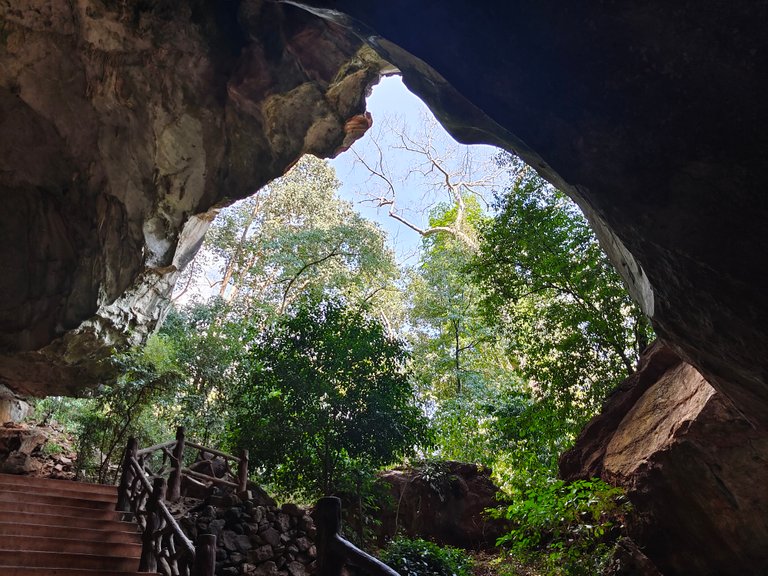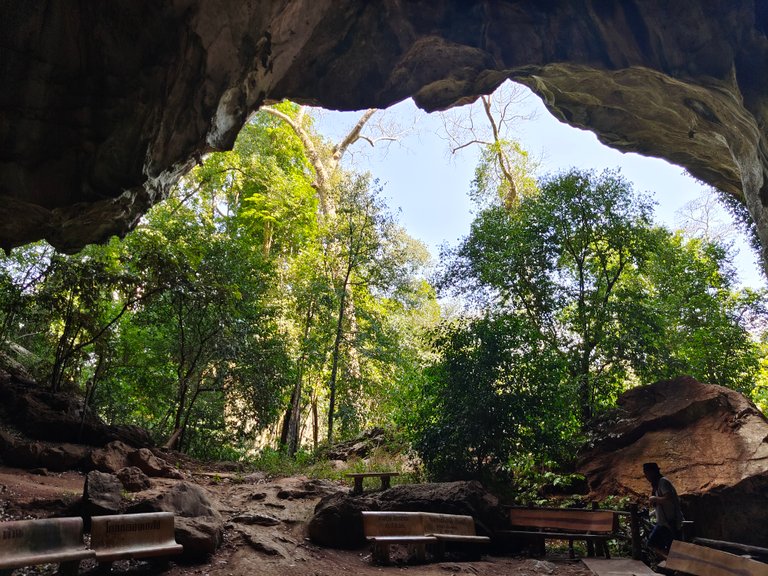 This area can hear the chirping of birds, monkeys, and wild animals.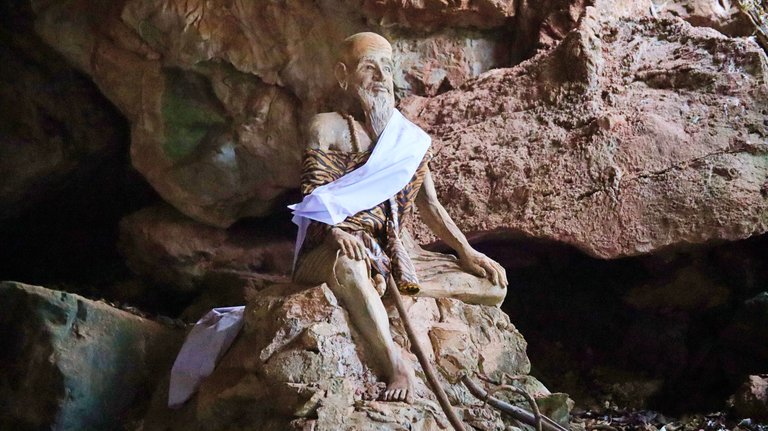 I was really impressed by the quality of this representation and the high level of details.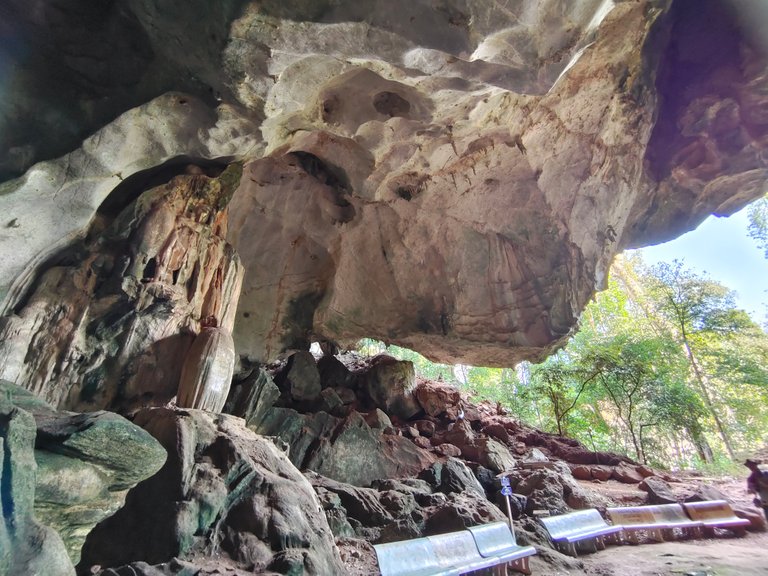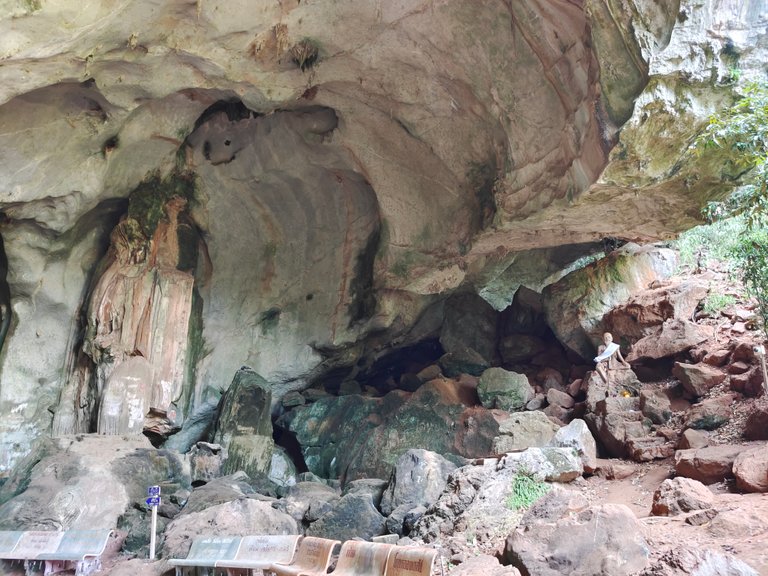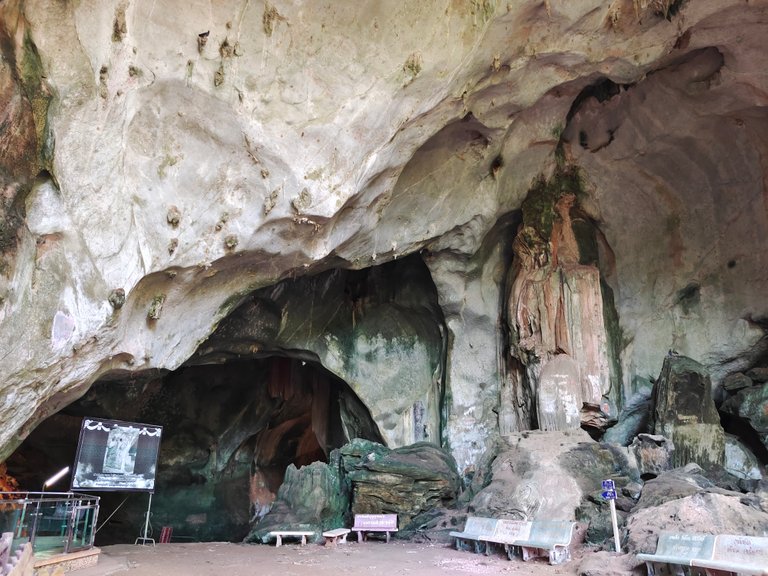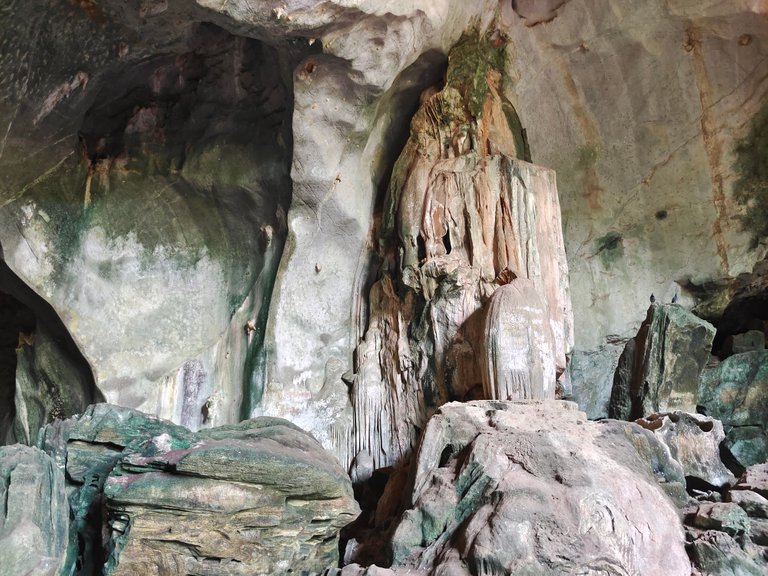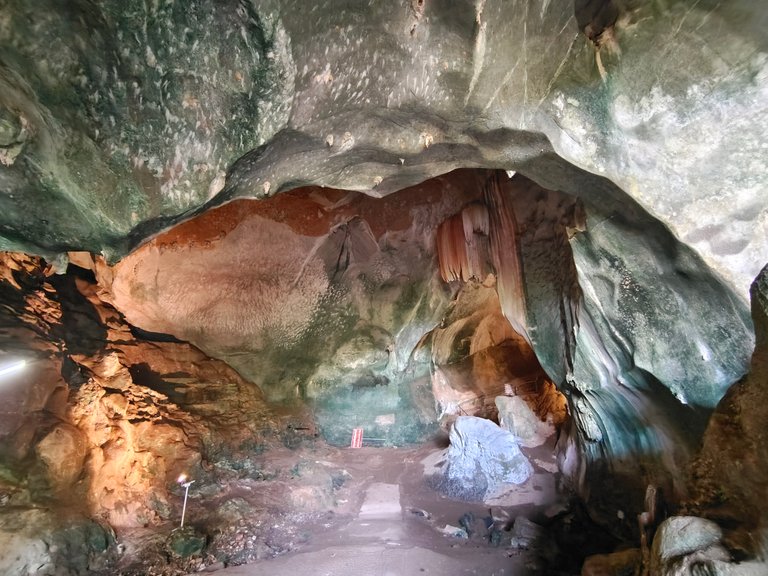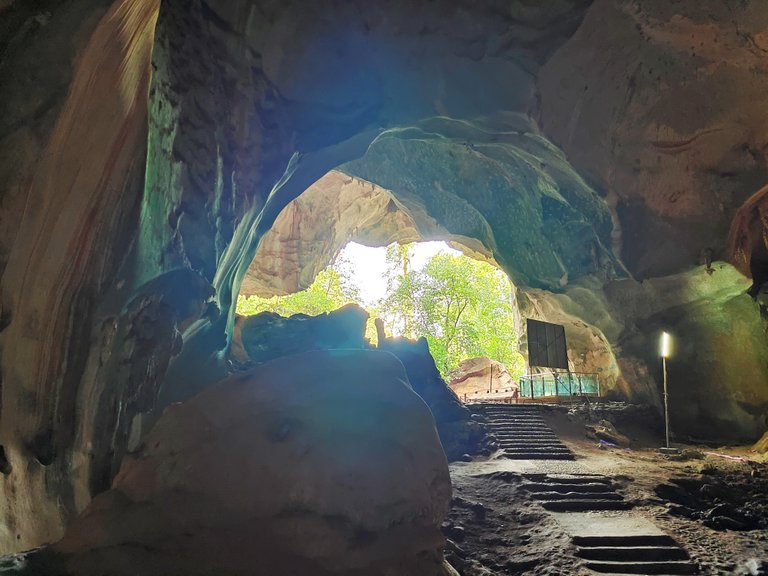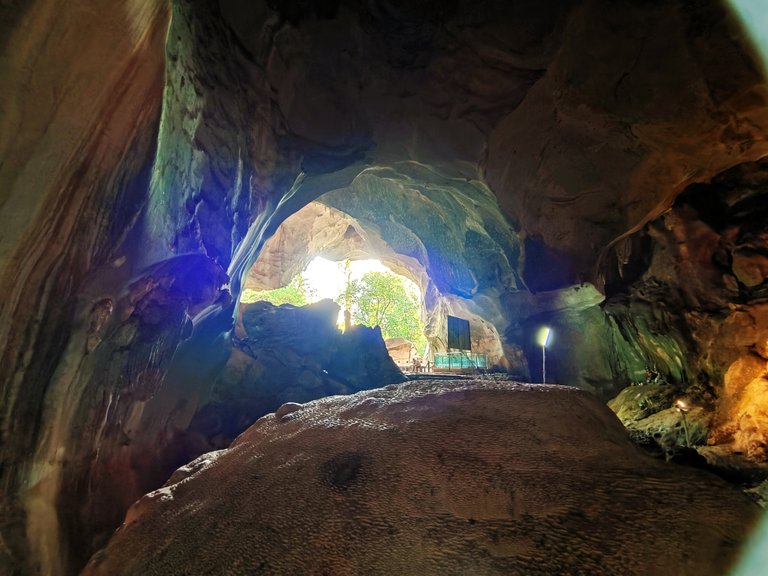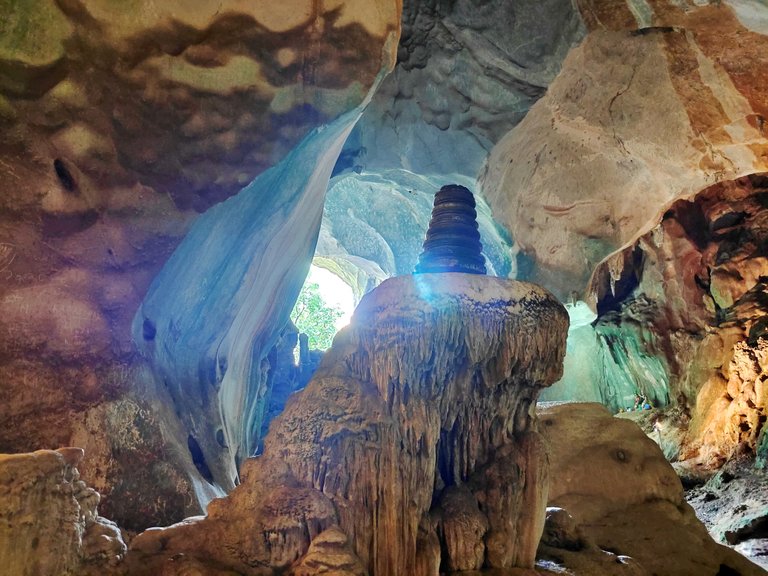 The light effects of the second cave are extraordinary, I think we visited it at the best time (early afternoon).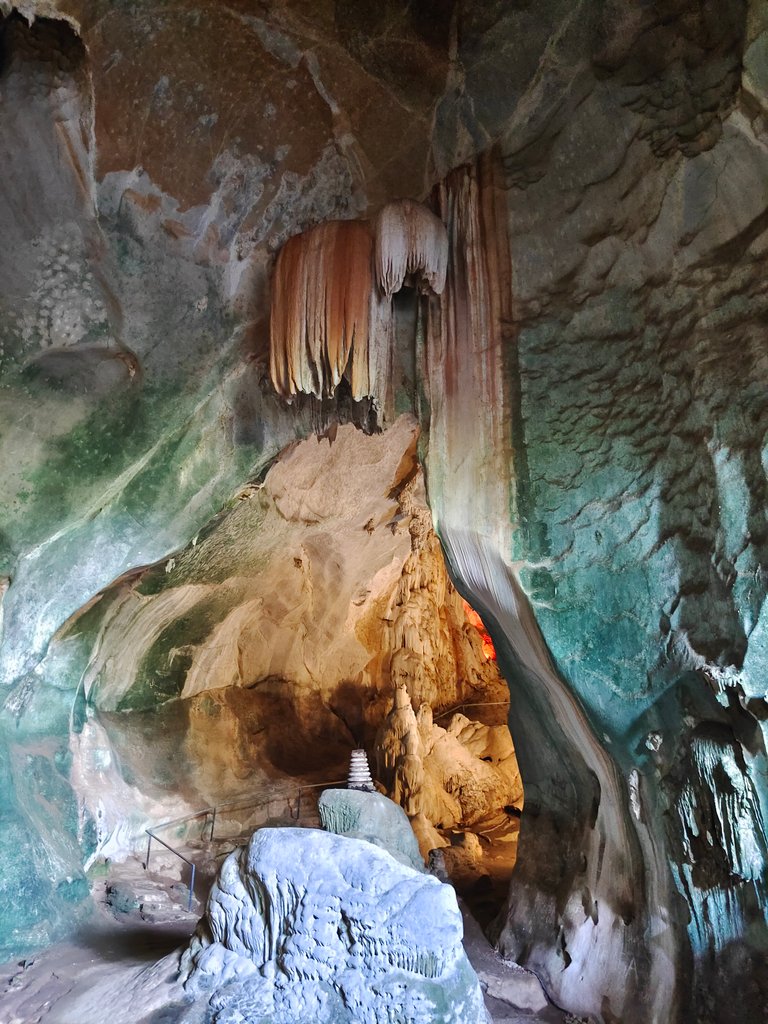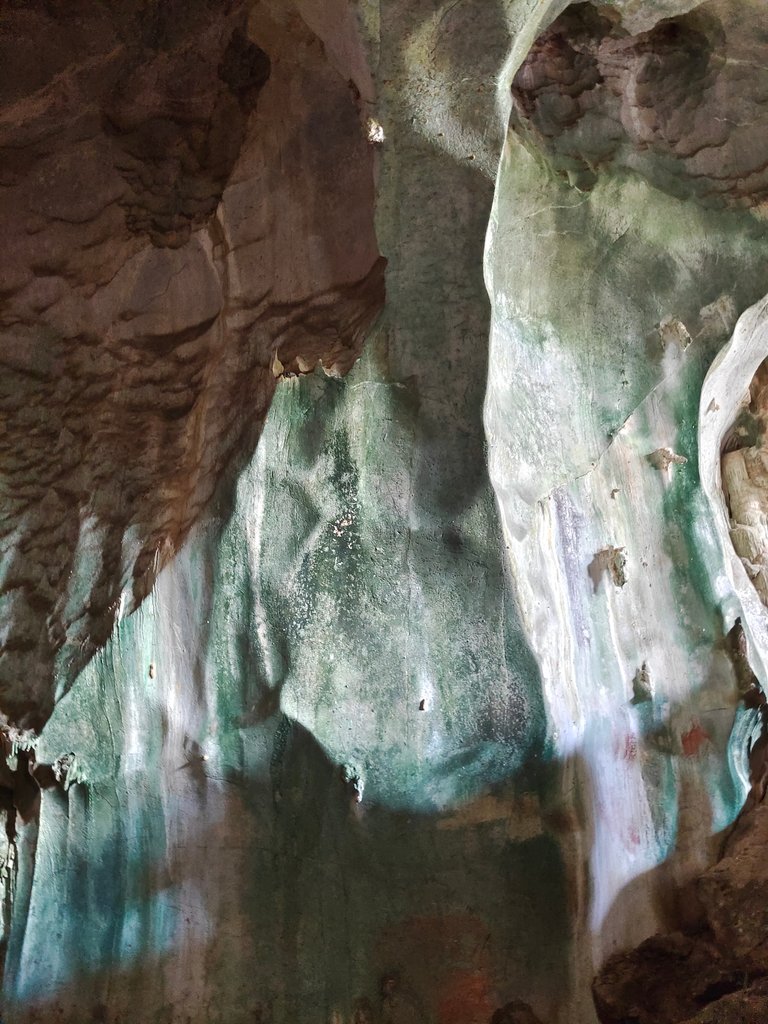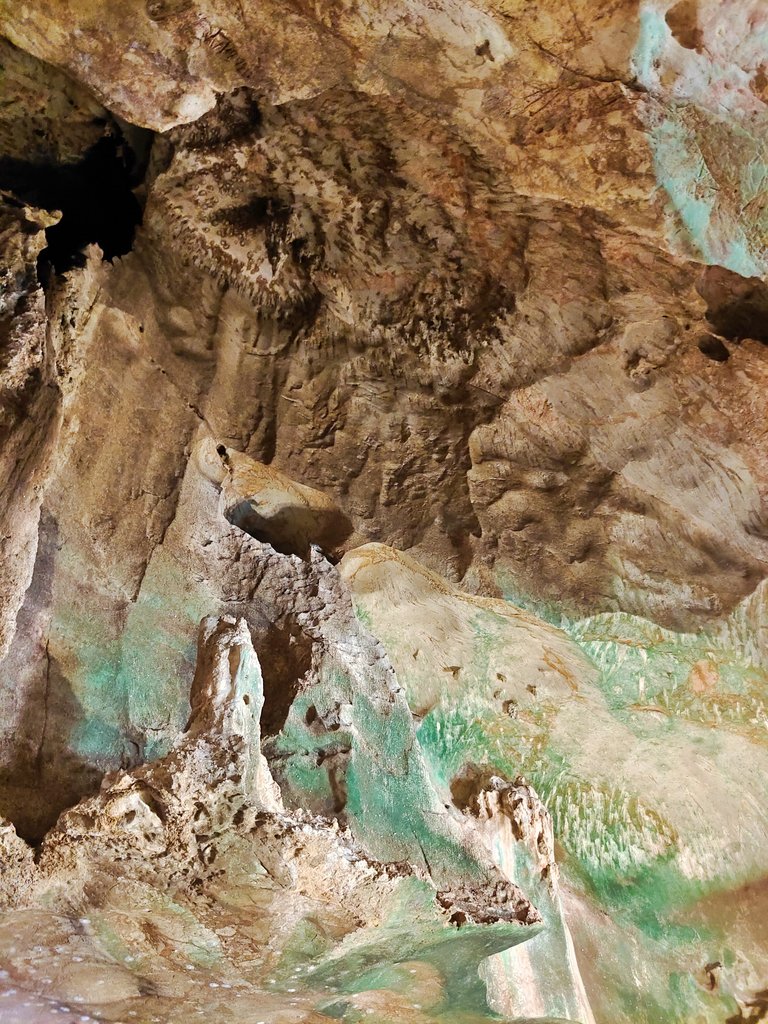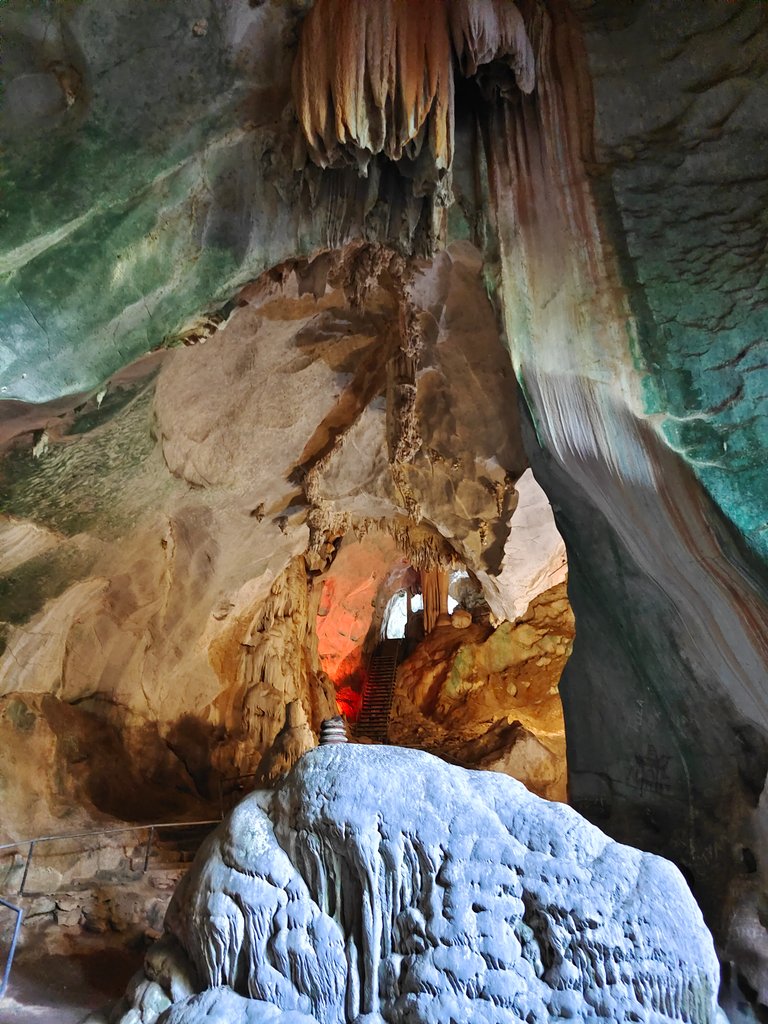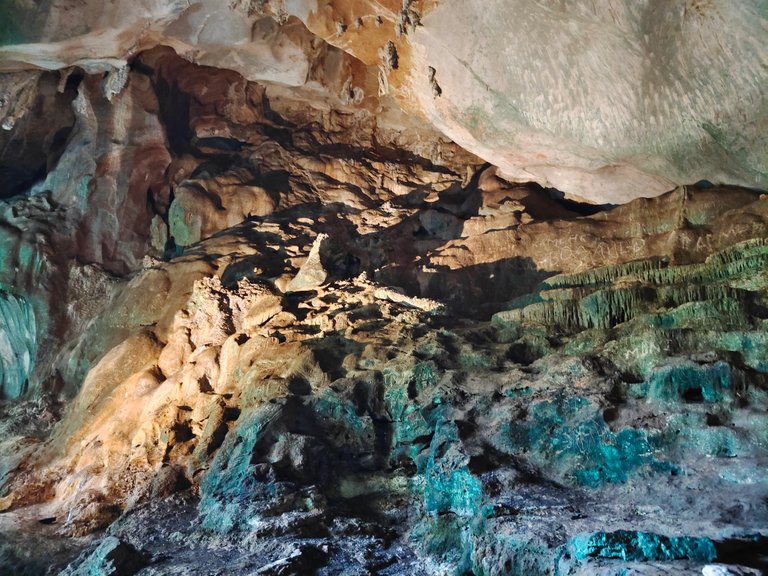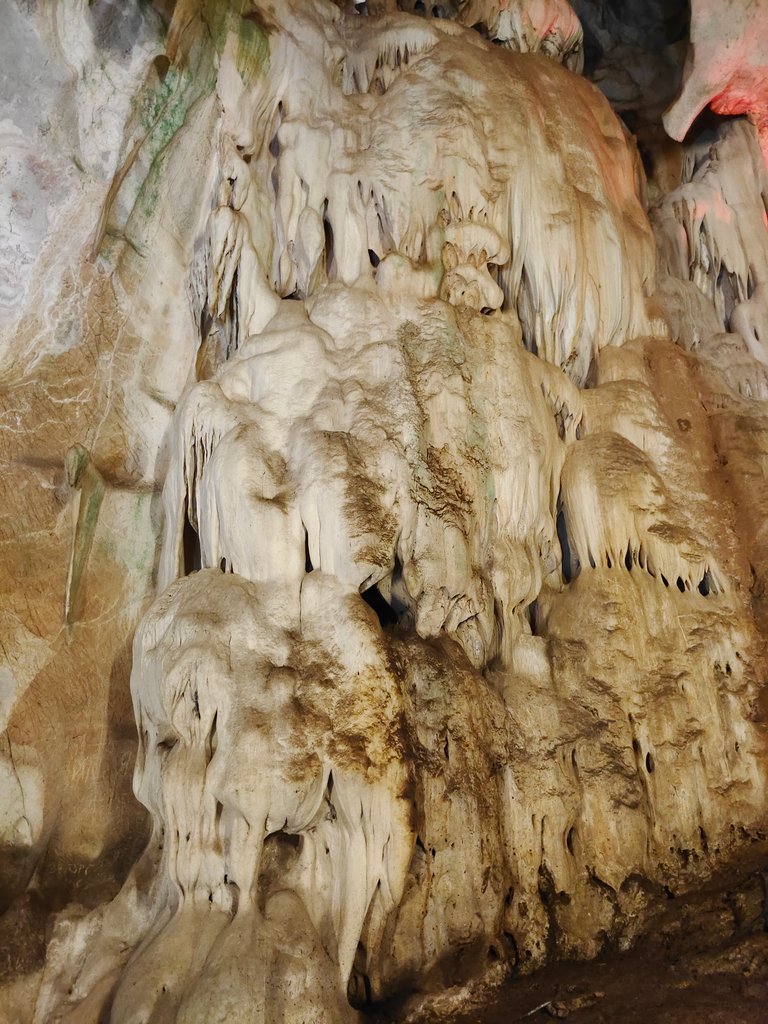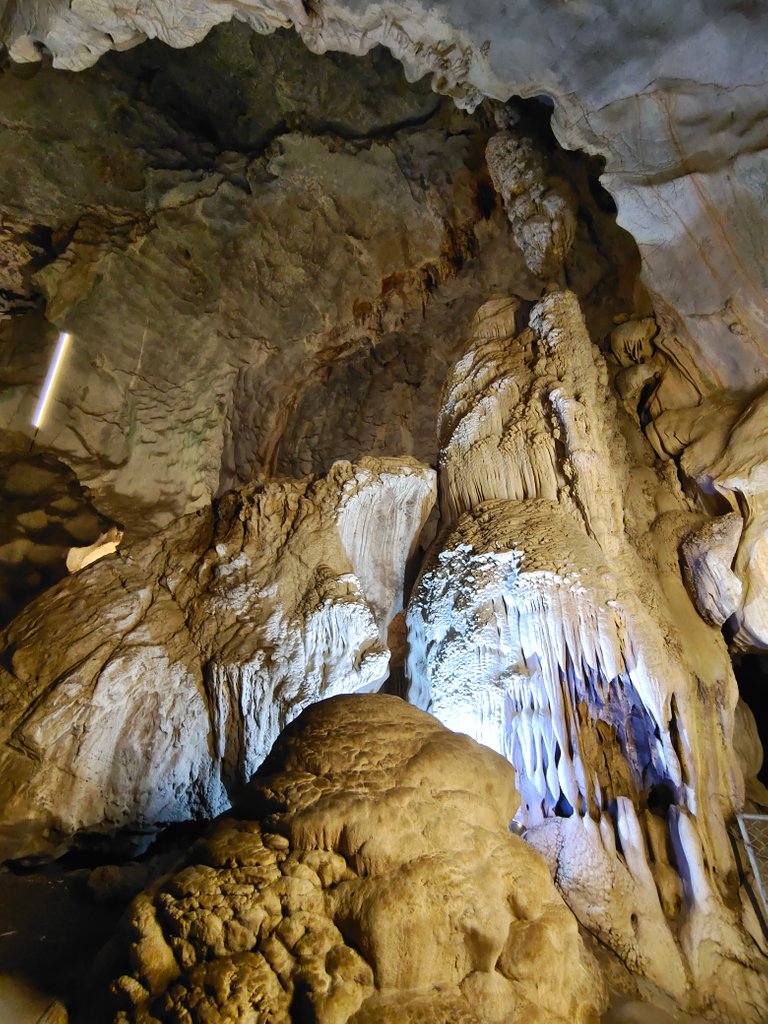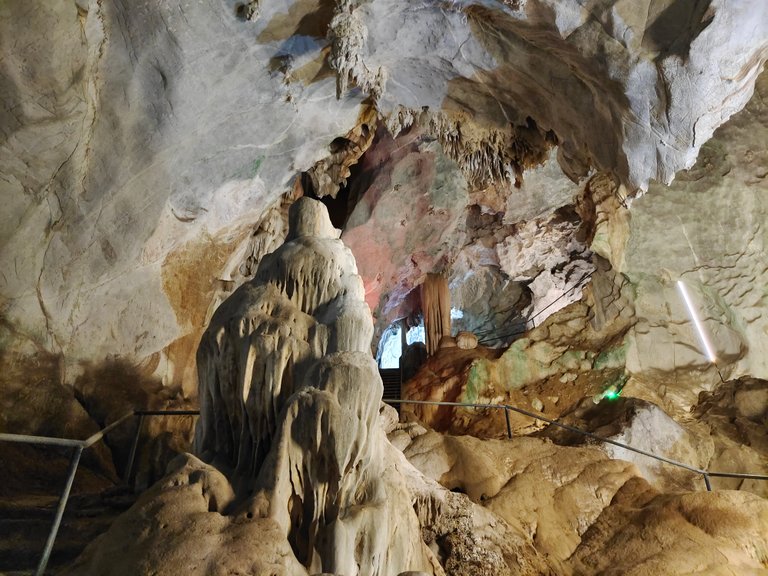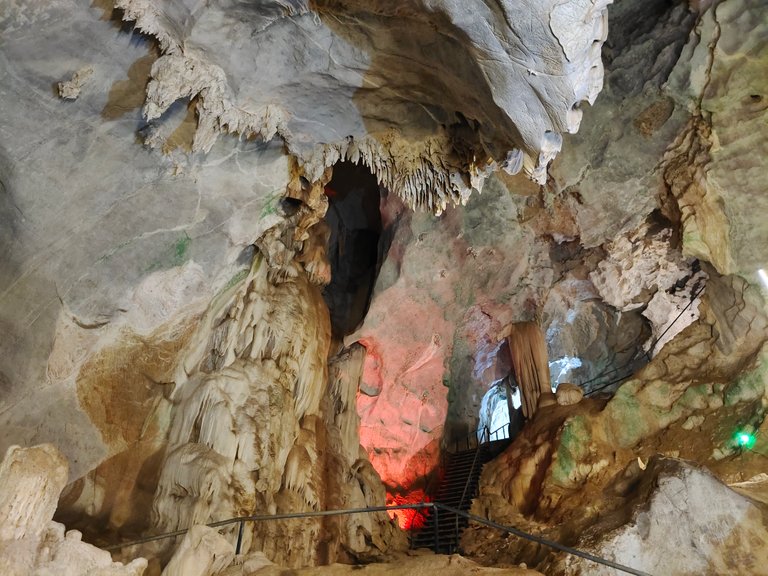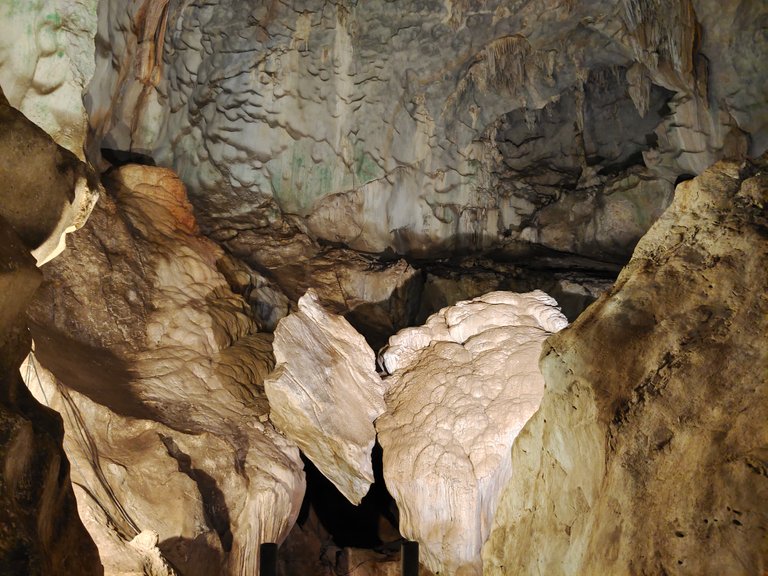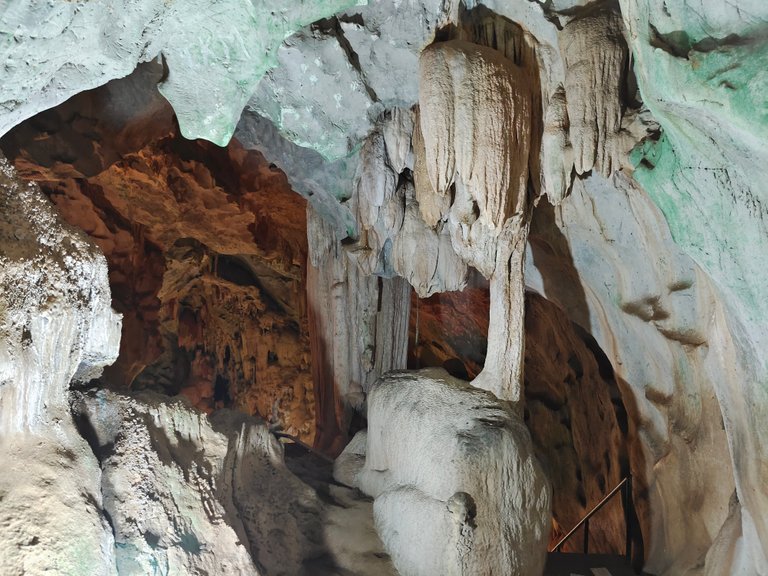 Inside the cave, there are fluorescent lamps attached to various points inside the cave to provide light for vision. The cave above has a large number of stalagmites and stalactites. It is a cave that is not very deep climb the stairs to the top and end the cave.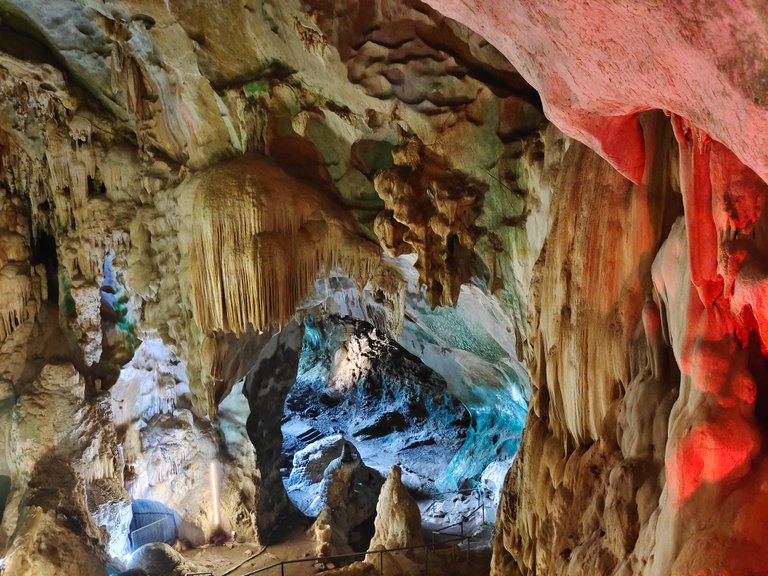 Seen from below from the third and last cave.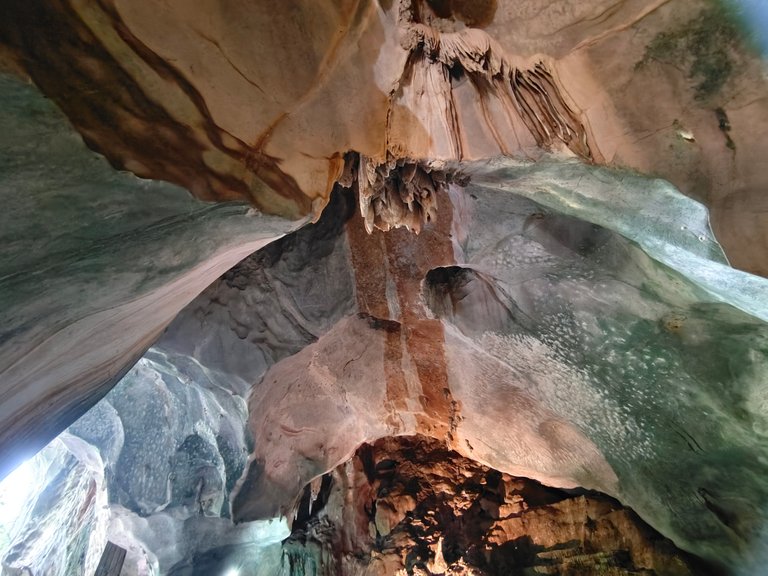 And if I leave you here for once, I'm sure you'll find your way out, right? 😋 I hope you enjoyed this little trip not far from Phuket and see you soon for new adventures.

| 📷 Camera | Model | Lens |
| --- | --- | --- |
| Vivo | X60 5G | / |
| Canon | EOS M6 Mark II | Sigma 16mm f/1.4 DC DN Contemporary |
| Canon | EOS M50 | Tamron 70-210mm f/4 Di VC USD |
| 📷 Picture | . |
| --- | --- |
| Photographer | @baibuaza |
| Location | Wat Suwan Khuha, Phang Nga, Thailand |

Thank you for your support
ขอบคุณสำหรับการโหวต
เลิฟนะยู้ววววววว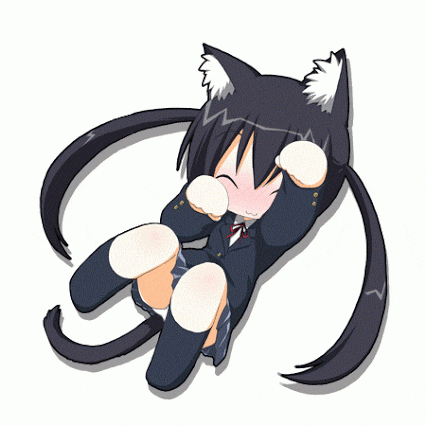 if you missed my last travel posts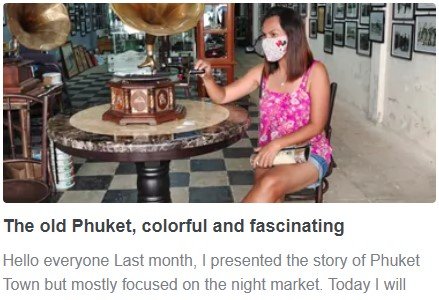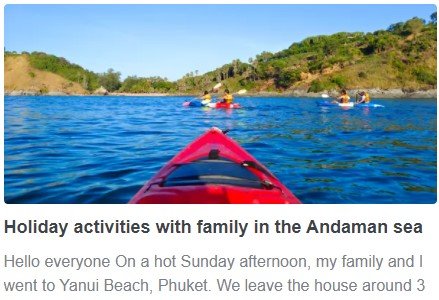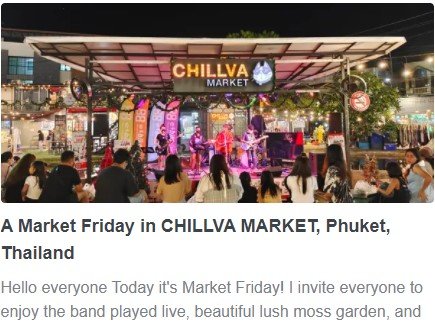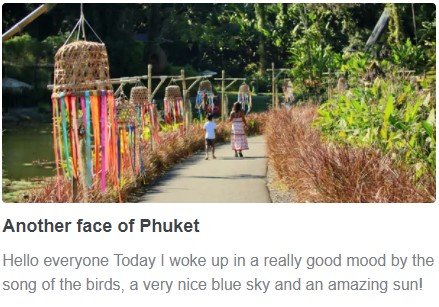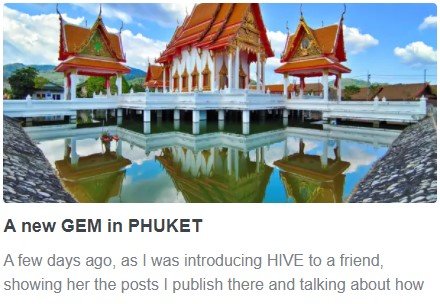 ---
---