Understanding How To Arbitrage On Hive - Dive In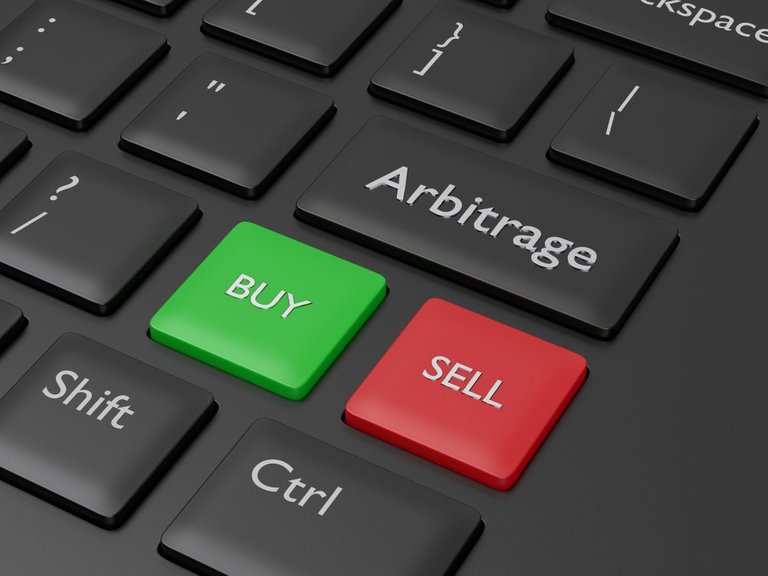 If you're not a full time writer like myself, you may, probably be looking for ways to maximize your time on Hive, that's by earning decently even without making a sound in the hallway, well, there's one, two ways to trade out some value right here on Hive, which, not so many may be aware of.
Arbitrage
Quite a strange word, but with a very basic meaning… it basically means trading but unlike trade on a fundamental level where traders are creating positions to exist on percentage profits, arbitrage isn't about creating positions, it's not like futures or spot market orders, it's an instant practice which deals with carefully watching price differences. The cryptocurrency market is such a big investment field, creating opportunities for everyone to maximize, all it requires is knowledge and that, from the right sources.
I discovered this method of trading some weeks or probably months back when I needed to put some capitals to work and pay off a debt, at this time I wasn't so active on the writing end, so arbitrage on hive specifically, paid the bills… Let's dive in real quick.
First rule: Trade responsibly, when dealing with crypto transactions, for most of it, no one can help you if certain mistakes like mistyped addresses are made…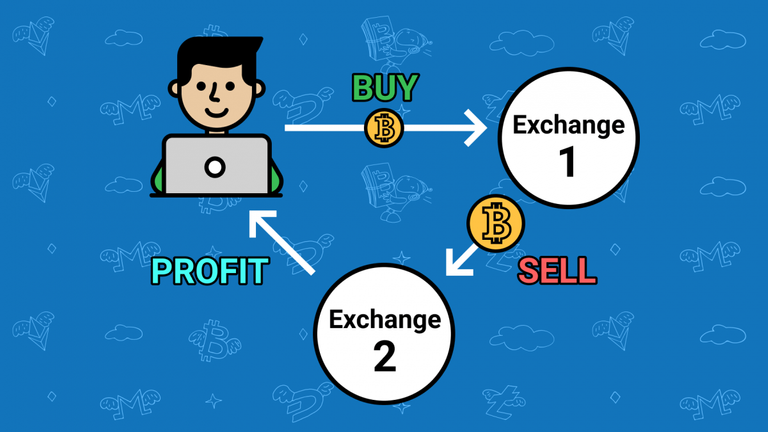 We will be looking at Two types of Arbitrage;
Arbitrage Between Exchanges
Triangular Arbitrage
With this practice, you could either be earning more, token/coin wise or earning more, dollar wise. What I mean by that is; depending on what coin or token you're trading, the value of the token may be your point of profit or the token itself if it's low price. Meaning, you're either earning much more tokens, or just gaining more dollar value via your bit token profits.
Arbitrage Between Exchanges
Arbitrage Between Exchanges basically involves two tokens, it's either a volatile asset and Stablecoin trade, or two volatile assets. How this works is that, you monitor the price value, bidding and selling rate of a certain token on one exchange, then compare it to another exchange, if there is some price difference then you strike. Let's say Bitcoin was trading at $50,000 on Binance, then you noticed it was trading at $51,000 on Kucoin, you are then in a position to buy bitcoin on Binance and sell off on Kucoin for a $1,000 profit. However, you have to consider the transaction fees and transaction speed through transactions on these exchanges, because if that's not on watch, you either lose via paying too much for the transaction or you receive the coin late to make your trade for a profit.
So, since we're dealing on Hive, how do we carry out arbitrage between exchanges? Well, we have (https://leodex.io) (https://tribaldex.com) and (https://wallet.hive.blog/market)
Now, considering the bull market we are currently moving into, the chances of experiencing sharp run ups is highly good for arbitrage, because in order for Crypto markets to have huge price differences, there should either be a sharp pump or sharp dump, this opens a route for traders to milk the markets left behind.
So then, the tokens here include HBD and HIVE, is that a surprise?
At the time when I was practicing this, I was more interested in getting more Hive, and Hive then was valued at $2-3, so making as much as 10-20 was magic money.
See images below…
from https://wallet.hive.blog/market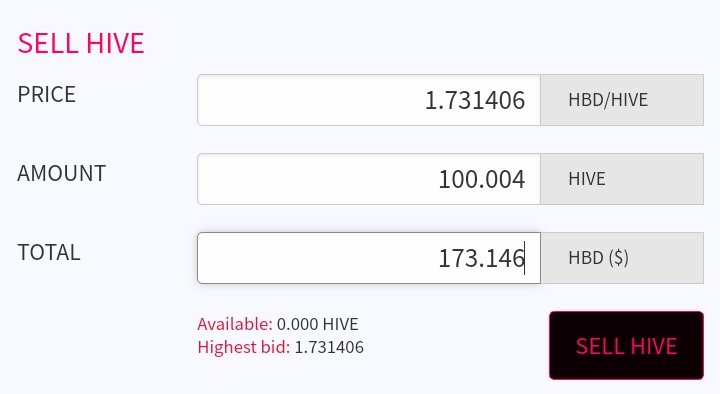 from https://tribaldex.com/dieselpools/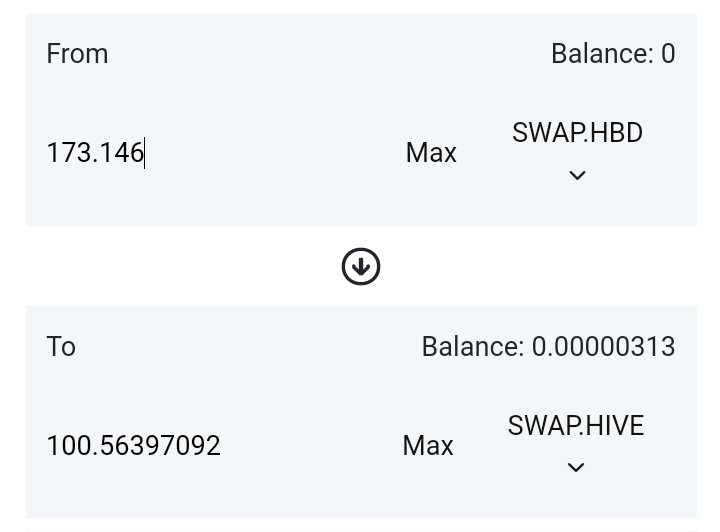 You'll notice that if you sell 100.004 Hive on (https://wallet.hive.blog/market) for HBD, you can then sell that HBD back to Hive for a tiny profit by utilizing (https://tribaldex.com/dieselpools/) to initiate a swap. This is how to arbitrage between exchanges on Hive. Now, mind you, currently, you can't possibly initiate this trade and make a profit. There's a heavy 1% charge on HBD deposits to Hive Engine via graphene-swap so you'd be paying too much and end up losing. That is why I mentioned that a trader has to consider these things. So, the only way to make profits is if there's a huge price difference, that even while paying a 1% fee, you still make back something decent, this is attainable if there's some quick Hive pumps or dumps. Usually, when there's a pump, buying HBD from (https://wallet.hive.blog/market) then selling off on (https://tribaldex.com/dieselpools/) swaps is often profitable, but when there's a dump, tribaldex is often late to notice that correction due to its heavy architecture, so buying HBD from (https://tribaldex.com/dieselpools/) then sell for HIVE on (https://wallet.hive.blog/market) would be profitable. Remember not to blindly trade, check price differences carefully, that's the only way to profit from this. In cases where you need to deposit HIVE to trade on tribaldex, you could try leodex and hope there's enough liquidity, that way, you'd pay less fees, if in future Leofinance adds HBD to its dex, we will be having an alternative to pay way less and make more.
Triangular Arbitrage
This involves three tokens, so you're trading the price difference between them, in some cases, Hive may be its final bus stop, or whatever else. I recall a time I used HIVE, POB and CENT for this practice. The full potential of hive engine comes in here, because while you can utilize (https://tribaldex.com/dieselpools/) and (https://leodex.io) without trading fees, it is just amazing. Triangular Arbitrage avoids fees because it occurs on the same exchange. Instead of moving funds from (https://wallet.hive.blog/market) to (https://tribaldex.com/dieselpools/) thereby paying huge fees, you are positioned to trade just on Hive engine layer without that process that creates charges.
The week I made the triangular arbitrage with HIVE, POB and CENT I had high records of sold pob because of this. If I can quite remember, I bought POB with HIVE on leodex, then traded it into Cent via (https://tribaldex.com/dieselpools/) swaps, then further traded it back to Hive on leodex. Of course you can still use tribaldex open market, I've just been used to leodex. How I am able to make profits is that; the bidding price to buy cent vs the selling price of pob was huge, and with the available CENT/POB diesel pool, buying pob from the market, then trading it for CENT on the diesel pool, further selling it off on the open market was profitable.
Notice the process? Buy pob from open market trade it for cent on diesel pool then sell off cent on open market. This was profitable then because the market created an opportunity of huge price differences, even the SPT market was once profitable for this. The idea is just to trade the differences, this type may seem a little confusing than the first one and it definitely takes more observations to make profits. So if you put in time and dedicate yourself to it, you may make some decent earnings, even though not everyday.
Remember, arbitrage isn't about creating positions, it's all instant trade, if you result into creating positions, you're speculating, and hoping the market favors you when your order is filled.
Trade responsibly, I hope this helps, a reblog from you will get more people to see this, and it's much appreciated, thank you…
Posted Using LeoFinance Beta
---
---