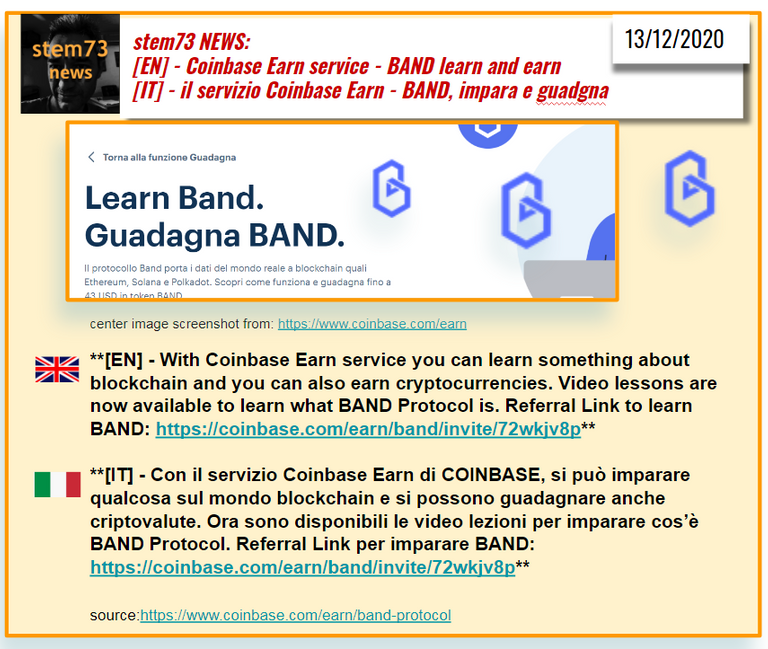 center image screenshot from: https://www.coinbase.com/earn
[EN] - With Coinbase Earn service you can learn something about blockchain and you can also earn cryptocurrencies. Video lessons are now available to learn what BAND Protocol is. Referral Link to learn BAND: https://coinbase.com/earn/band/invite/72wkjv8p
[IT] - Con il servizio Coinbase Earn di COINBASE, si può imparare qualcosa sul mondo blockchain e si possono guadagnare anche criptovalute. Ora sono disponibili le video lezioni per imparare cos'è BAND Protocol. Referral Link per imparare BAND: https://coinbase.com/earn/band/invite/72wkjv8p
source:https://www.coinbase.com/earn/band-protocol
[EN] - My opinion
Band Protocol is a crypto platform of cross-chain decentralized oracles. We can say that it is an alternative to Chainlink. The difference with CHAINLINK is in the fact that BAND PROTOCOL uses its own DPOS (Delegate-Proof-of-Stake) blockchain and operates within the Cosmos ecosystem. One of the features of Band Protocol is that it is a cross-chain, so it can be used on different blockchains.
[IT] - Considerazioni personali
Band Protocol è una piattaforma crypto di oracoli decentralizzati cross-chain. Possiamo dire che è un'alternativa a Chainlink. La differenza con CHAINLINK sta nel fatto che BAND PROTOCOL usa una sua blockchain DPOS (Delegate-Proof-of-Stake) ed opera all'interno dell'ecosistema Cosmos. Una delle caratteristiche di Band Protocol è quella di essere una cross-chain, quindi può essere utilizzata su diverse blockchain.
Posted Using LeoFinance Beta