On the evening of Loi Krathong, @waybeyondpadthai said on the SteemFest Telegram group that she was going to Golden Mount. I had no idea what it was, but when a local Steemian says they're going to a place on a festive night, you really have no reason not to go!!!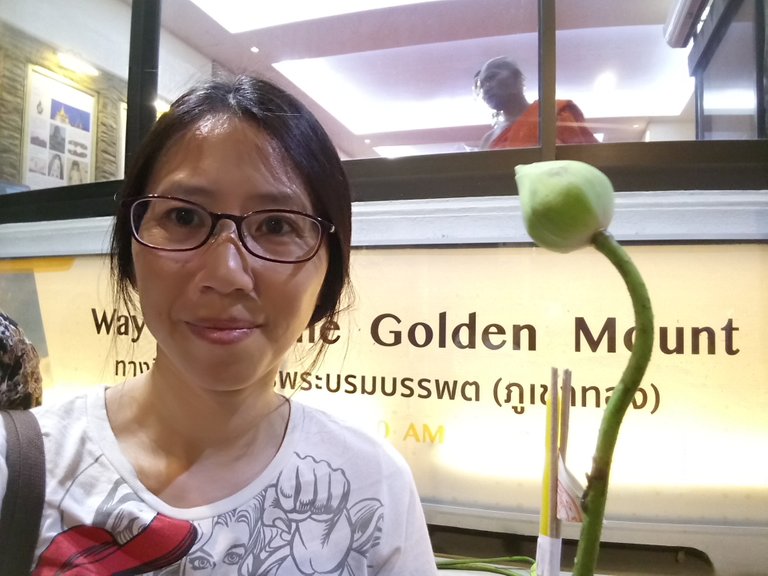 ---
Going to the unknown
I know Loi Krathong is one of the biggest Thai festival, something to do with floating a lot of flower baskets onto the river. I thought Golden Mount was to see that (with hindsight, the name should have been a giveaway). Since it was an impetuous visit, I couldn't be bothered to do any research and took a taxi from my hotel. We zoomed across town and gradually slowed down behind some traffic. It was very busy at... somewhere... and we were stuck in the traffic for quite a while.
When I finally got off the taxi, the road was jam packed with people and cars. I had to cross to the opposite side of the road, which for once in Bangkok wasn't difficult at all as the traffic was hardly moving. Now it seems I have to battle through this crowd to get to the building at the end. This took me about 20 minutes! Not because I was browsing at the stalls to buy anything, but simply because I could hardly move through the crowds.
---
Wak Saket
After I battled through the crowd, I hit like a T junction. People seemed to be moving towards the right so I followed them. I saw a sign for Wat Saket. So that's what Golden Mount is. Ok... so I've come to see a temple. That's fine, temples are good, that's what Thailand is famous for.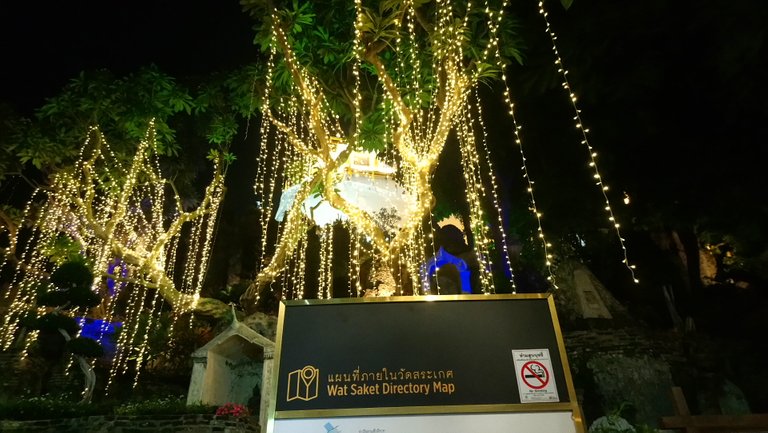 There were more people here and I kept on walking, following everyone else. I walked past the main exit for the temple, that was on my right hand side. And a bit further on lots of people were coming down some stairs on my left hand side. I figured the temple must be on the left and everyone was heading there. I continued walking and walking for which seems like eternity, but now I look at the time stamps on my photos, it was only five minutes!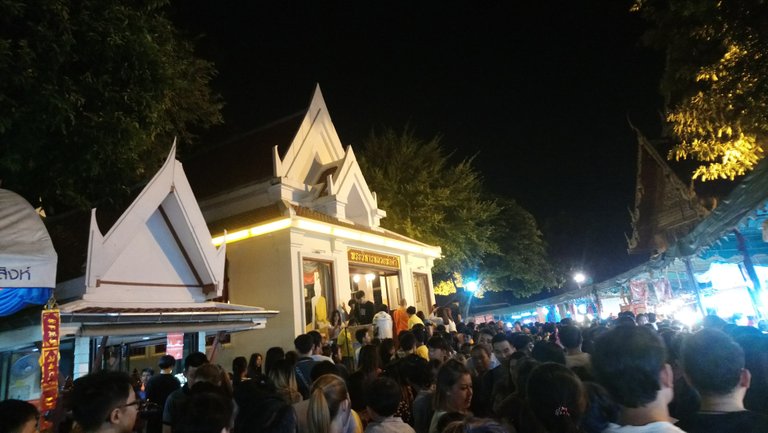 Finally I arrived at the entrance for the Golden Mount. There was a staircase and everyone was going up. Nearly everyone was holding a lotus flower, a candle and some incencse sticks. These were on sale for 20 baht (I think) opposite the foot of the staircase. When you're in Rome you do as the Romans does.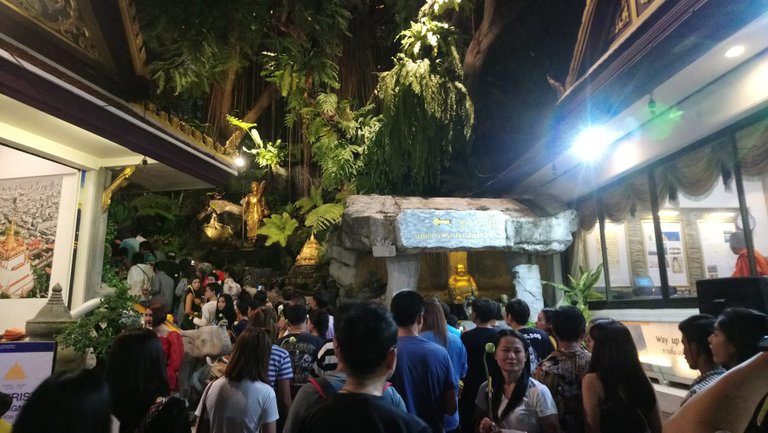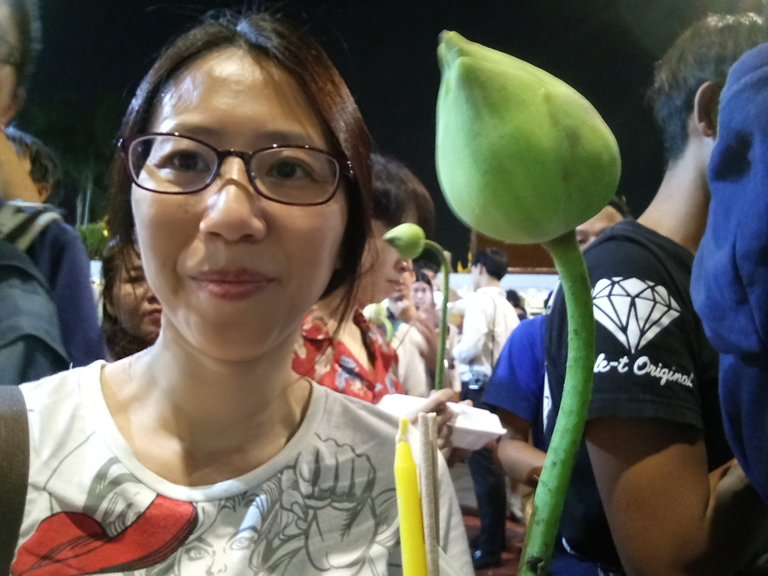 ---
Ascending Golden Mount
Going up the Golden Mount was just as packed with people as the previous half an hour. Though the good thing was that people were spread out a bit because of the staircase. I could hear lots of bells ringing ahead of me, and the sound of gongs. Despite the crowd around me, it was actually quite soothing.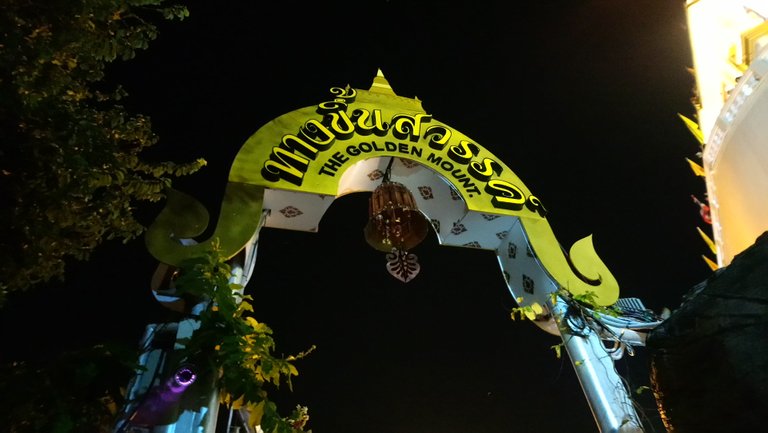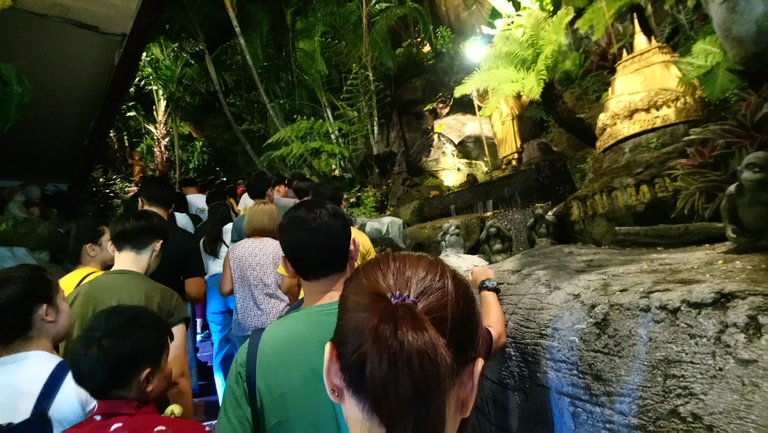 Every now and then, we reached a patio. Many bells were hung on the side and people were ringing them as they walked passed. That's where the sounds of the bells came from.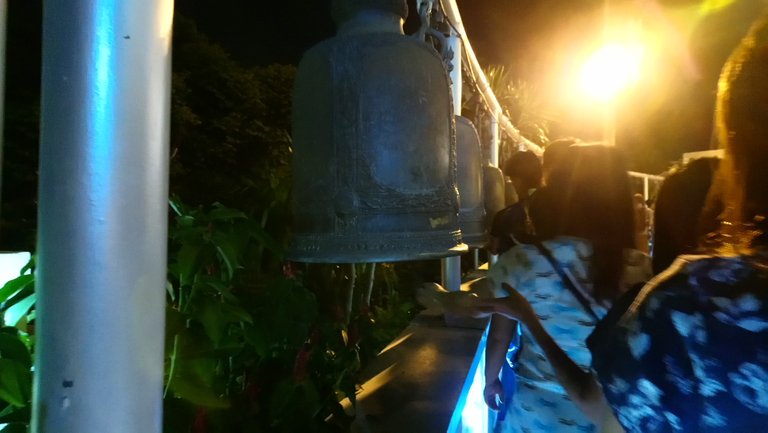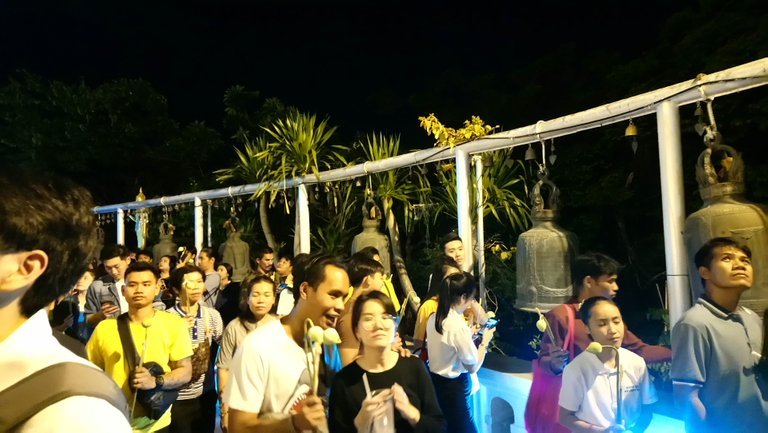 The massive gong was a bit further up. A lot of people, myself included queued up patiently to hit the gong. This is a massive gong, so big that the mallet was suspended in front of it. I can't understand why some people felt the need to bash the mallet so hard against it. Personally I think it's very impolite to be so aggresive inside a temple.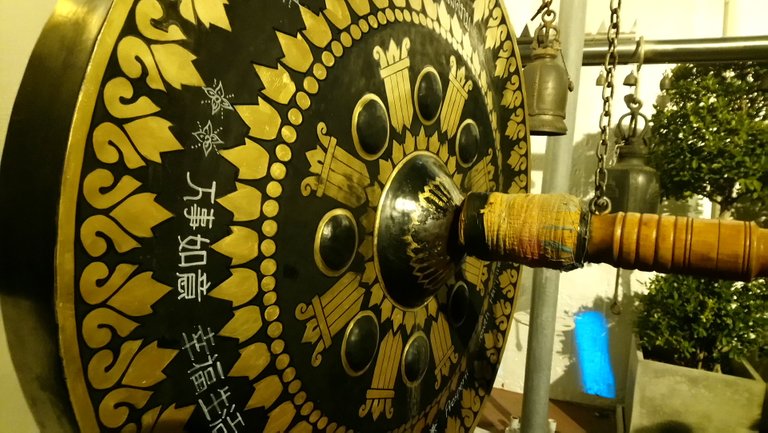 As we got a bit futher up there were more bells, these were much smaller. The size of the crowd remained just as big.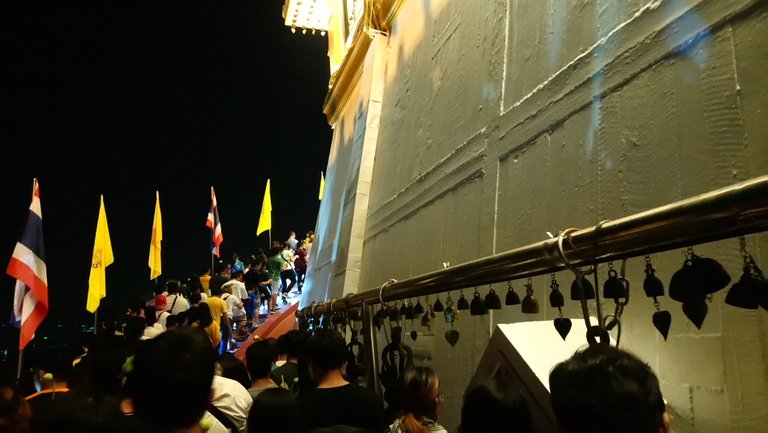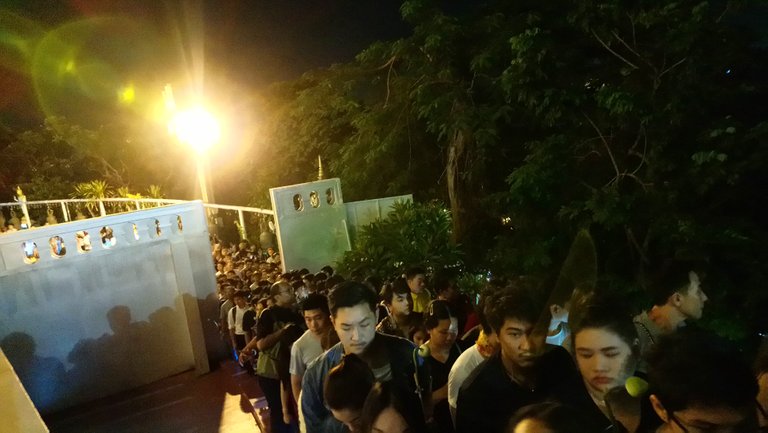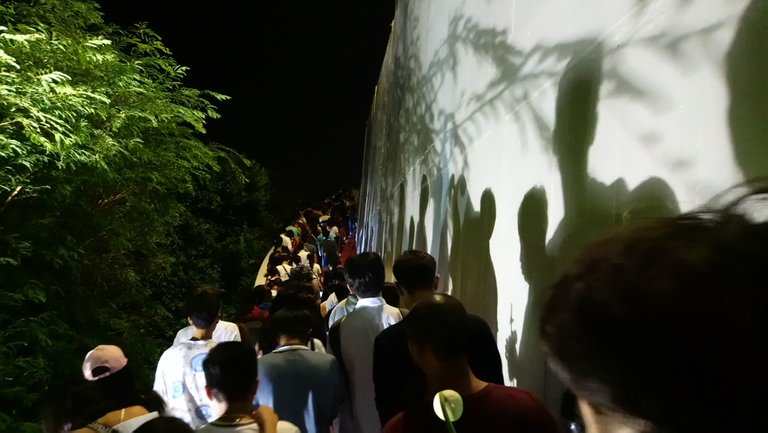 ---
The Shrine Hall
Finally the shrine hall was in sight. A few more steps, I was in. By the way, on the way up, I saw the local girls had folded the outer petals of their lotus flower into a triangle. This made the flower look like it was blooming, and less boring. I did it with a few of my outer petals but it was quite difficult to get a perfect triangle and for the petals not to fall off. How's this for first attempt?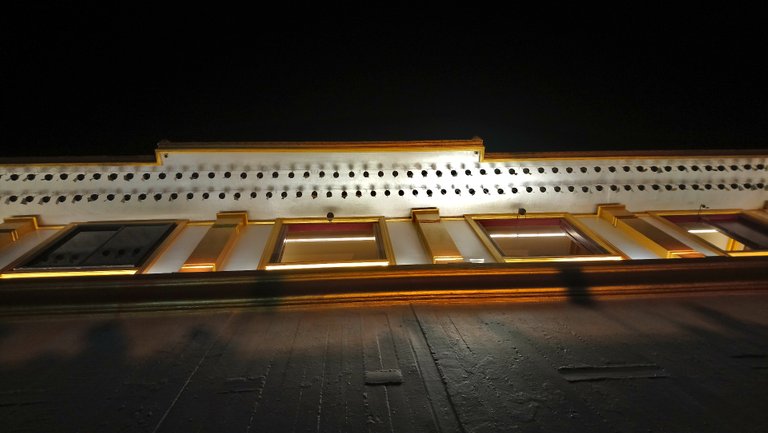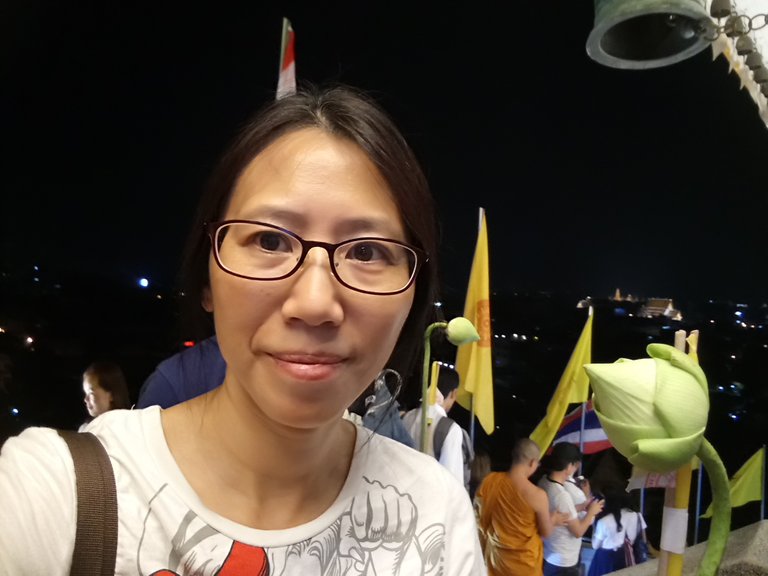 This is the view at the entrance of the hall. The road below is (I think) the one that I had battled through earlier on.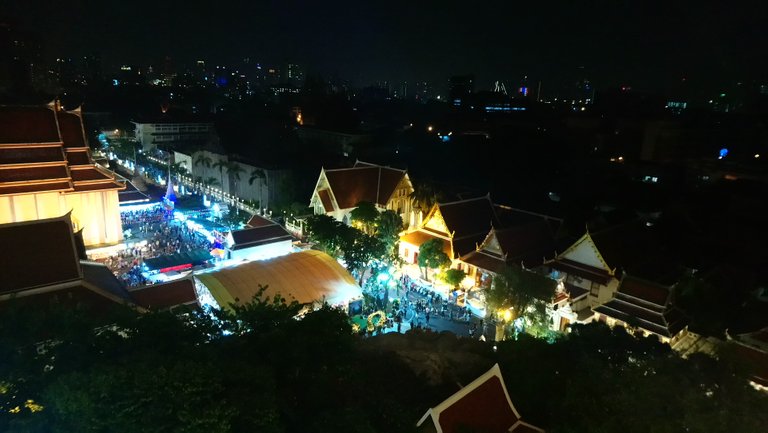 I followed the crowd into the inside. Unlike the other temples, we didn't have to remove our shoes. Imagine the chaos if we had to remove our shoes to enter and then try to find them again when we leave. I wonder whether if this arrangement was just for the evening or if it is is always like this. Anyway, the inside was packed with people. It felt much worse than coming up as it was really stuffy and hot inside. I didn't feel peaceful and calm at all like I normally do inside temples. In fact I felt very frustrated.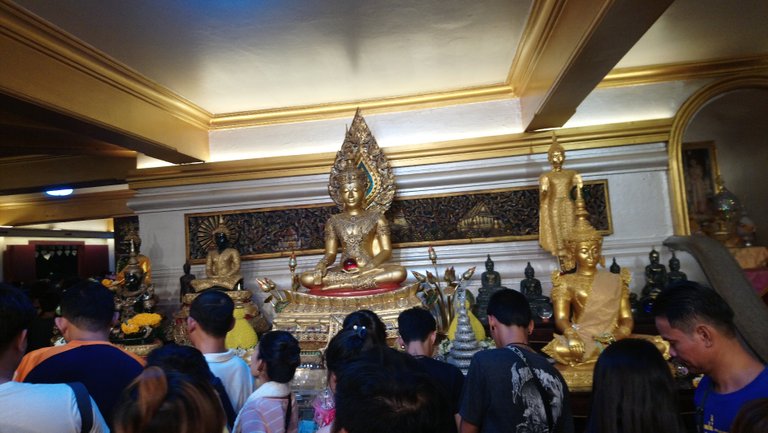 Luckily I reached a big window and managed to get some fresh air. In fact I got more than fresh air here. The Golden Mount dates back to the 17th century, and used to be the highest point in Bangkok. The night view of Bangkok up here is just spectacular. It briefly bought some peace and calm back.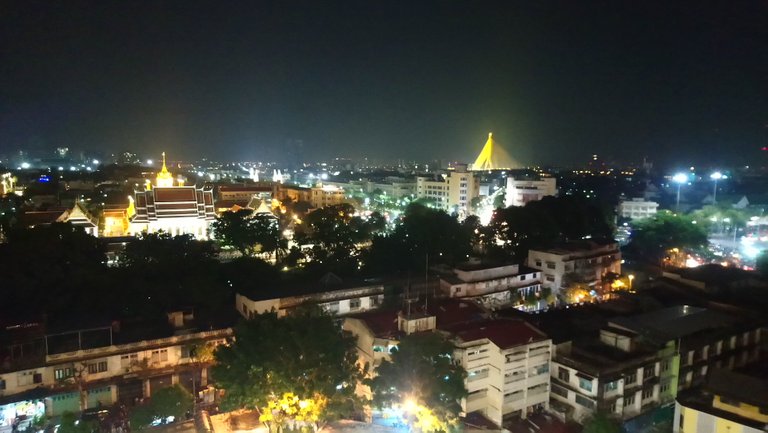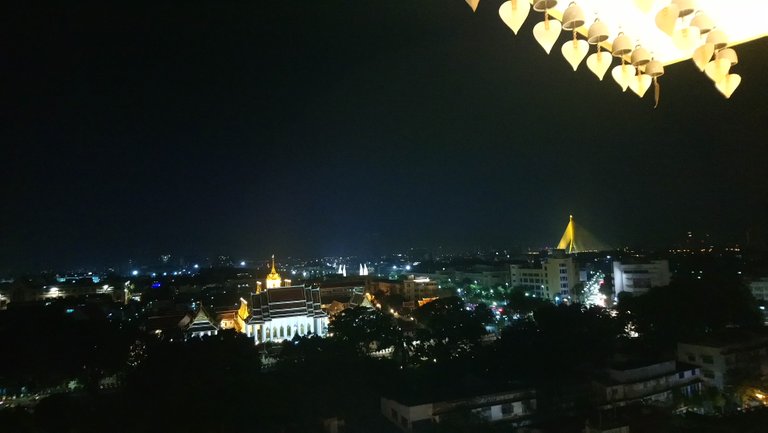 From here, you can keep on going up to the chedi terrace. I image the view would be even more stunning. If there were less crowd I definitely would have gone the whole hog. But I just wasn't prepared for another battle with the crowds. I've come up to the Golden Mount on Loi Krathong, seen some spectacular Bangkok city night view, let's just leave things on a high as it is.
---
View this post on TravelFeed for the best experience.