Lille
---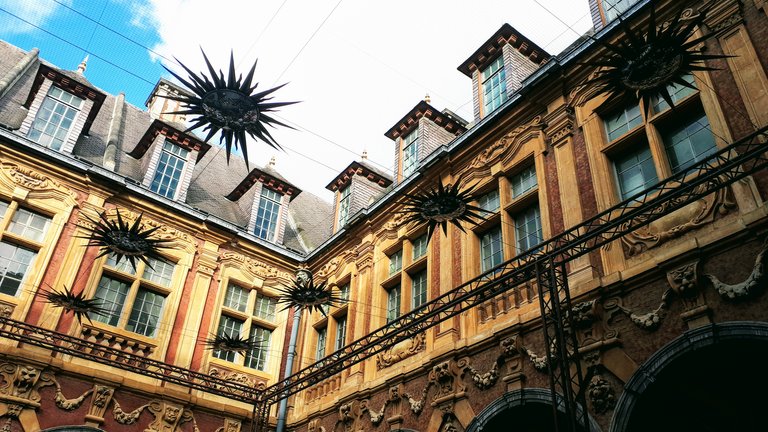 Lille is located in the Northern part of France in the Flanders region. It is situated close to the border of Belgium and has a strong Flemish feel about it that reminded me a lot of Brussels.
Triomphant Arc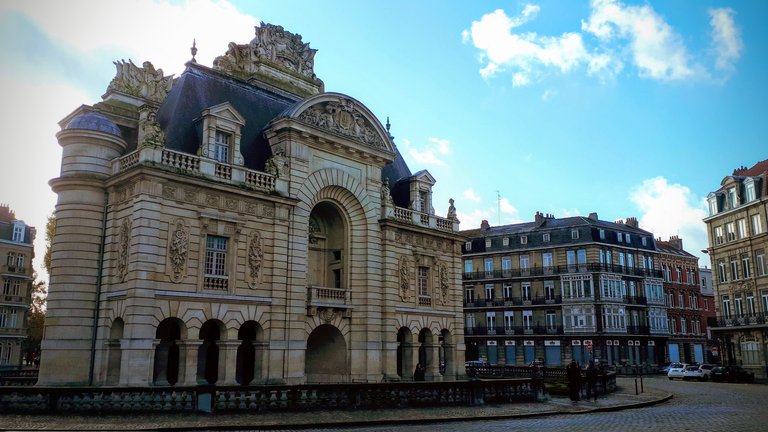 Lille's arc de triomphe, once referred to as the "door of the sick" was built in 1692. Its tall and easily accessible and mark's the exit and entrance into the great city. Though I'm not thrilled with the photo that I took because of how dark it turned out, the arc is certainly worth visiting if you ever go Lille.
Old Stock Exchange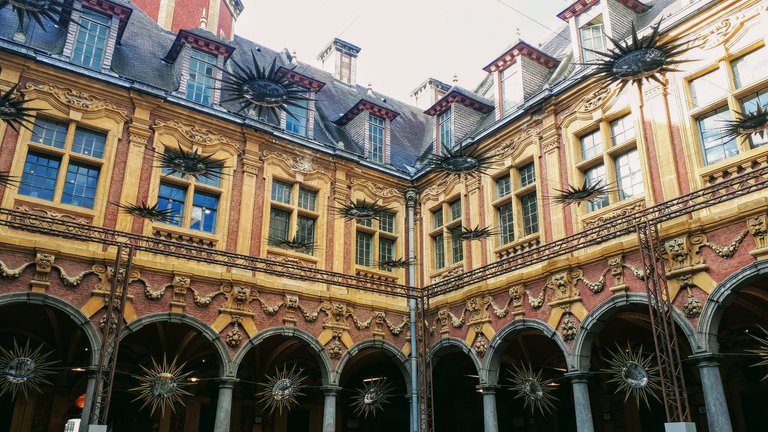 In the courtyard of the old stock exchange building, dozens of star shaped mirrors hang overhead. They certainly add to the buildings timely beauty.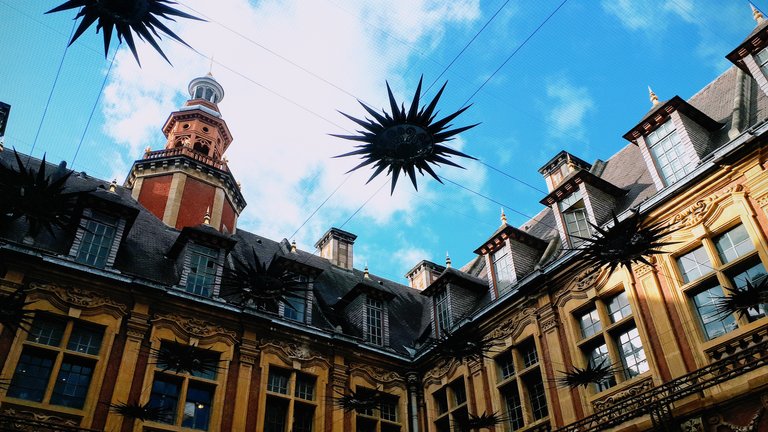 On weekends, vendors gather in the courtyard to sell used books and art prints. My wife and I bought a print of an old coffee advertisement when we visited a few months ago. It currently hangs on the wall outside our kitchen.
Clock Tower and Chamber of Commerce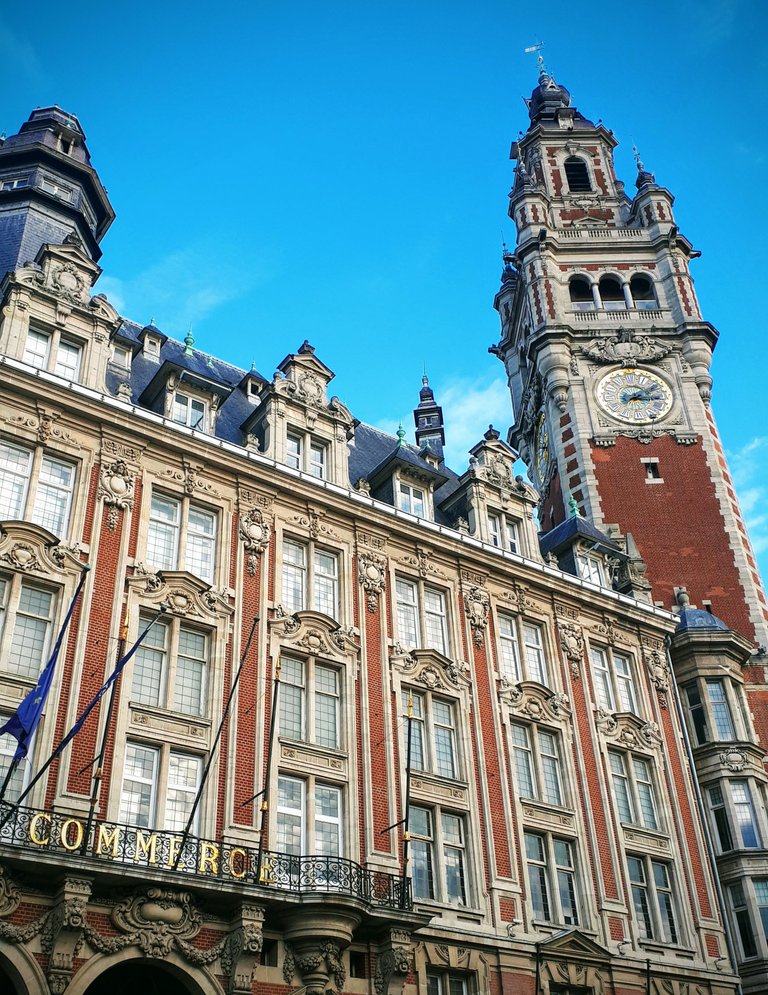 The Chamber of Commerce and clocktower was one of the buildings that really stood out for me in the city. It was large, elaborate and colorful and had a Flemish look about it. You can't really miss it when you're in the downtown core area.
Local Desserts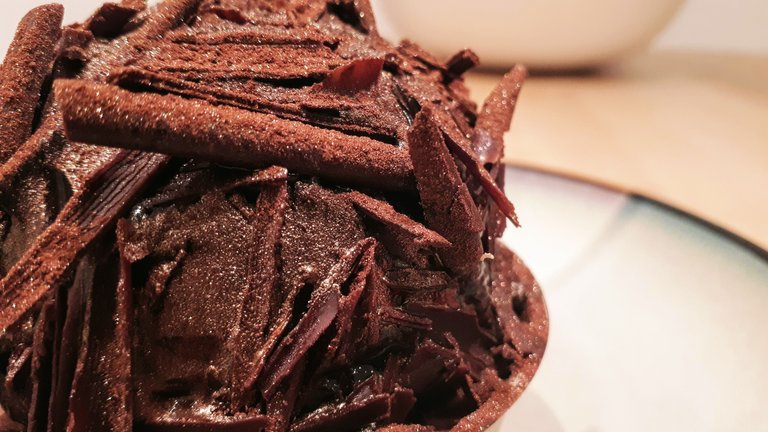 Local delicacies that we tried in Lille were gaufre fourée by Meert, which consists of two ultra thin waffles sandwiched together around a bed of vanilla whip cream. We ate ours immediately after exiting the shop so sorry, no pictures. They were delicious though. I also recommend simply checking out Meerts store front, which is a really cool looking building. I regret not taking a picture.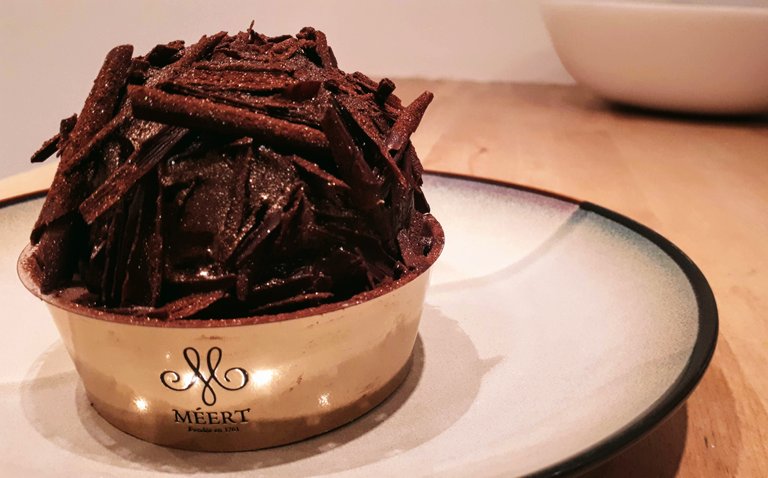 The other delicacy that we tried was merveilleux which is a marange covered in creamy whipped chocolate and chocolate shavings. We bought ours at Meert but later past a shop called aux Merveilleux de Fred that specializes in only the one pastry. They looked incredible in the window and I immediately had plate envy. Next time I will definitely buy one from Fred.
---
Lille is a beautiful and fun city with a distinct cultural feel. Though I didn't take a lot of pictures I would say that is one of my favourite cities in France.
Lyon
---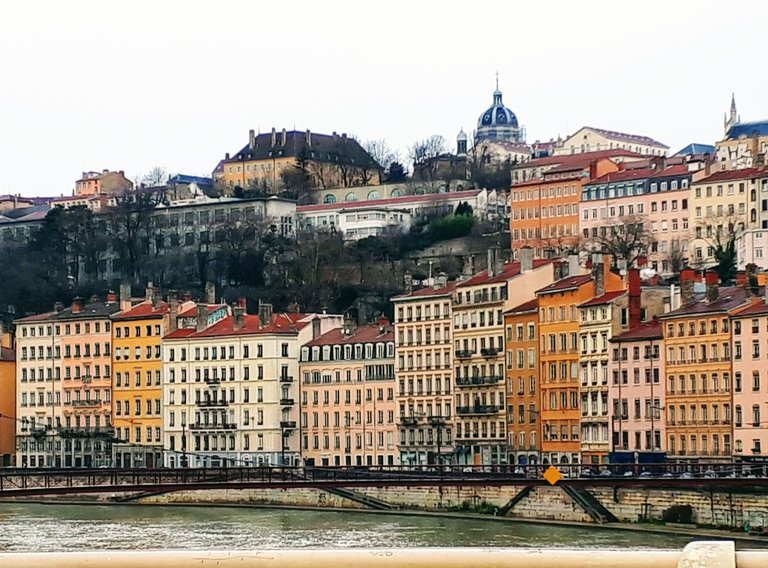 Lyon is located in the central eastern part of France along the Rhone and Saône rivers. It is one of the largest cities in the country and is known for its cuisine, having been dubbed the culinary capital of the world by several writers and Michelin starred chefs.
Old Town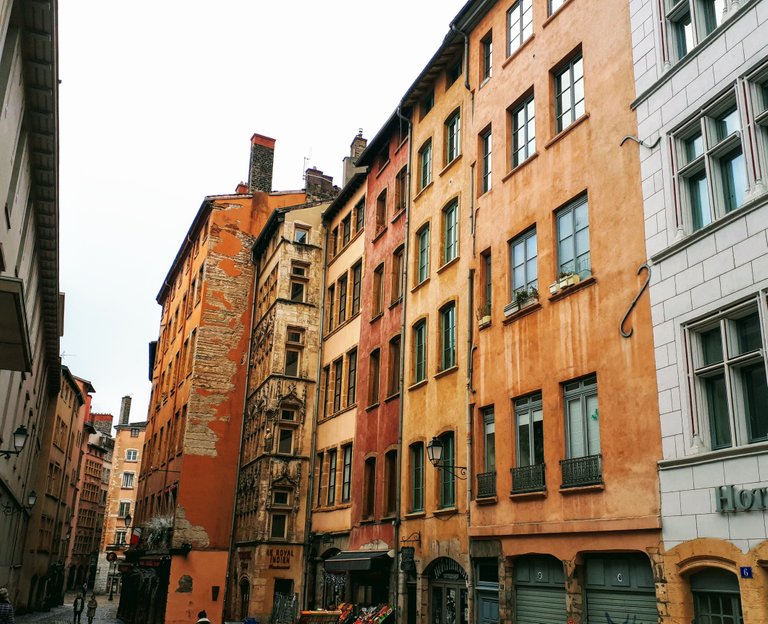 The city has a large old town with colorful buildings, cobblestone walking streets and countless quaint little shops and eateries.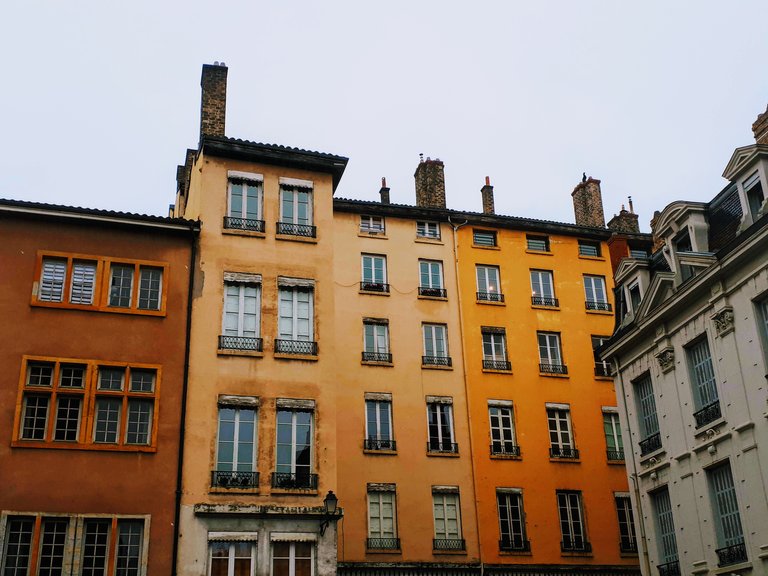 Long streets that appear endless. Continuous rows of shops and residences. This part of the city has a very distinctive character.
Traboules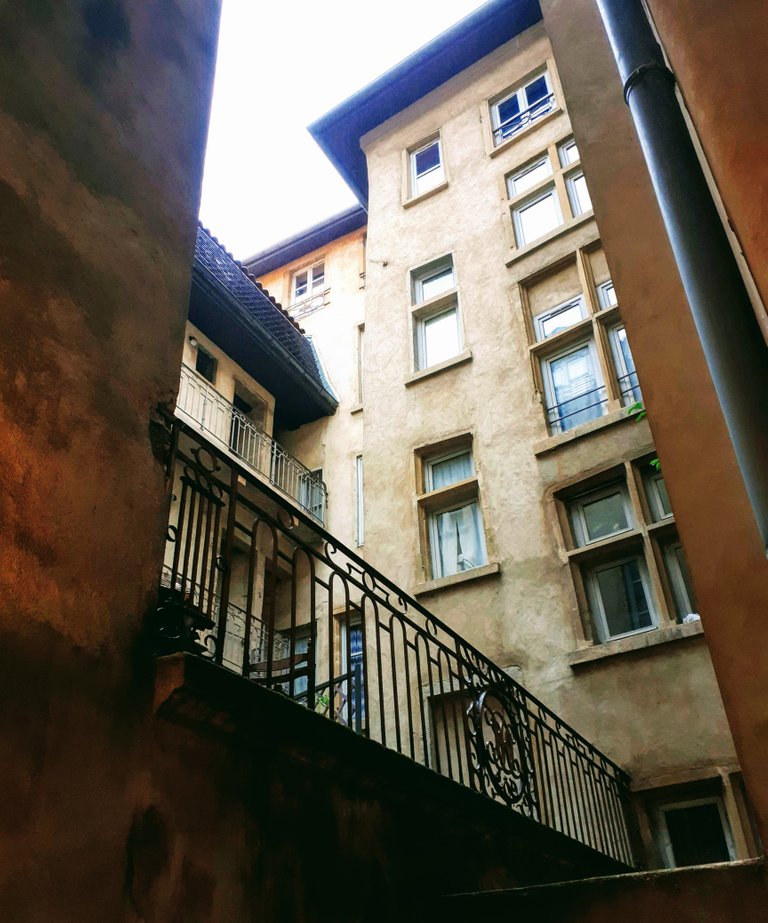 Another interesting feature of Lyon is its Traboules network, which are a series of hidden passageways. These passages were designed to connect streets together and give residents a more direct route down to the river, to the cities fresh water supply. Rather than winding their way through the long and narrow streets that run parallel to each other, residents could simply pass through one of these seemingly hidden passages. Later, merchants would use them to make their job of carrying their goods to and from the river canal much easier.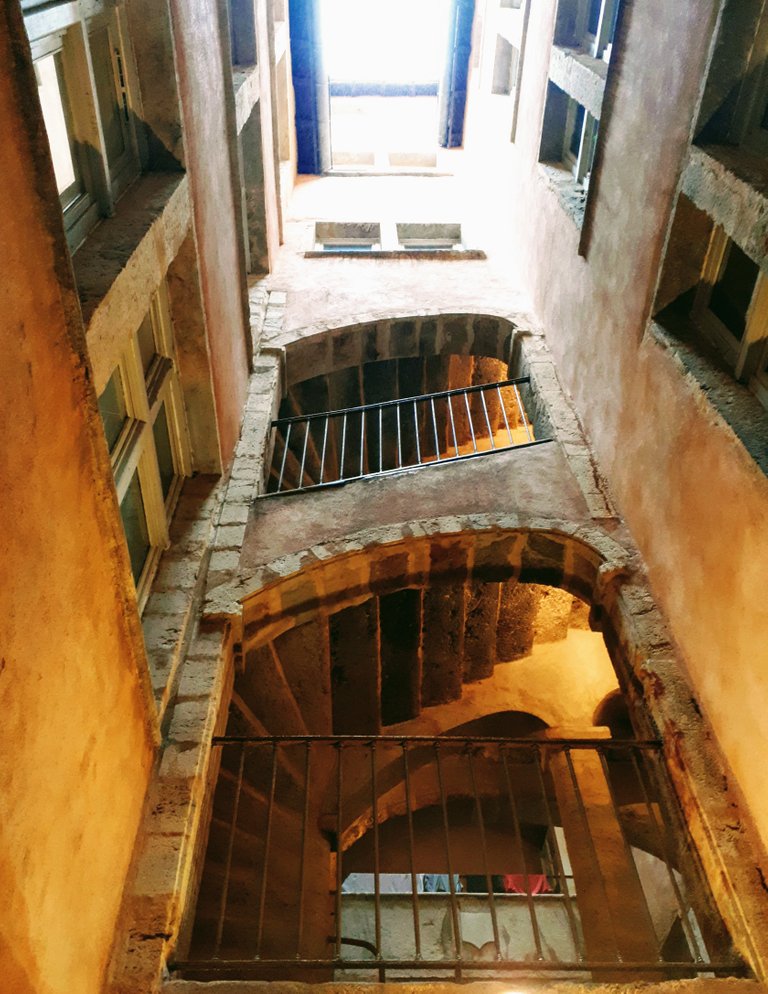 There are actually a few hundred Traboules scattered throughout the city but only 40 or so are accessible to the public. They are not always easy to spot either.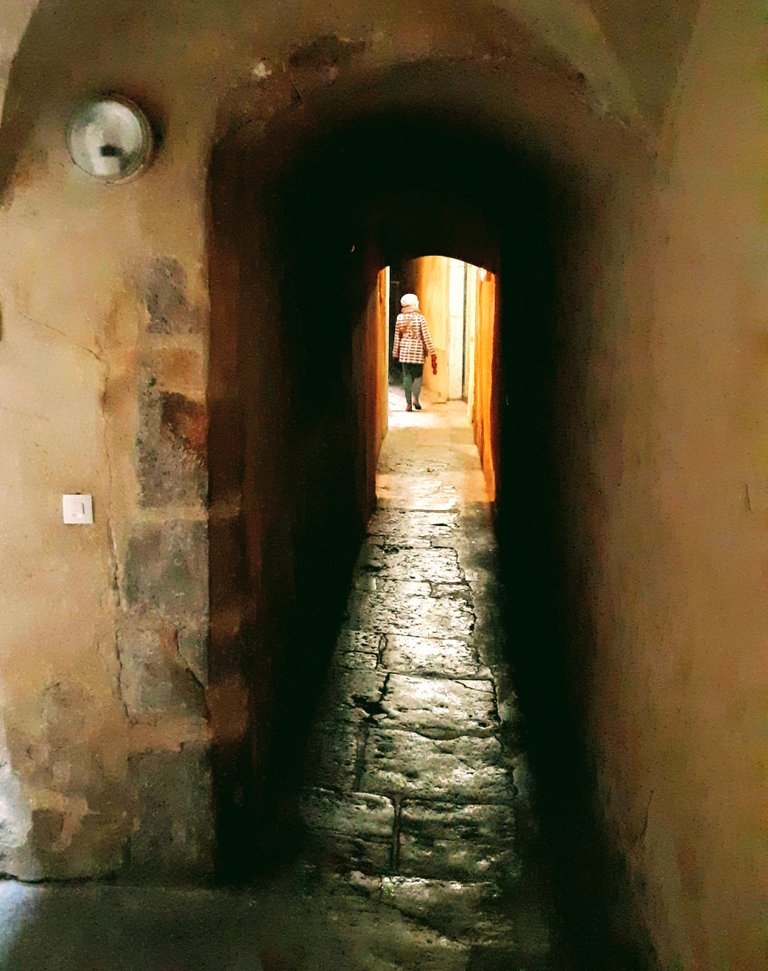 We stood in one spot for 5 minutes trying to figure out where the entrance was until finally another family walked up close to where we were standing and opened an inconspicuous door and went inside. Apparently, many of the passages are marked by symbols or plaques on the wall.
Each Traboule is different but we only actually went into one of them.
Fountain and Square
---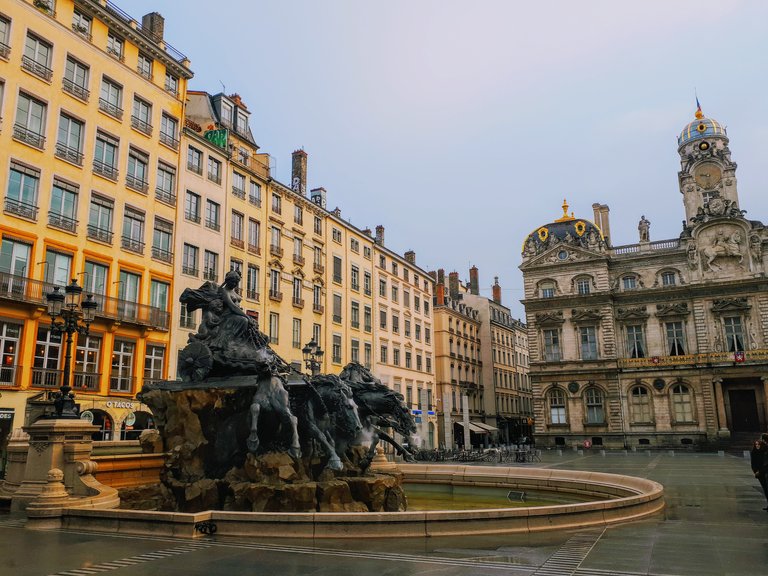 Fontaine Bartholdi, which was originally meant to be built in Bordeaux, is constructed out of iron and lead and depicts a woman on a chariot run by four horses. Bartholdi, who also sculpted the famous Statue of Liberty, was only 23 when he originally designed the fountain.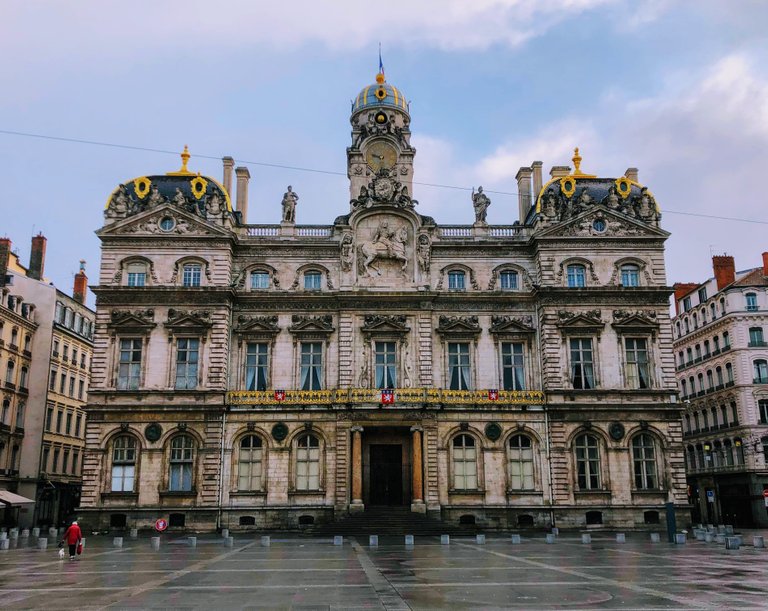 The fountain sits in the Place des Terreaux next to City Hall and the Museum of Fine Arts. Its also close to the opera house which is just around the corner. I think its worth checking out.
View of the City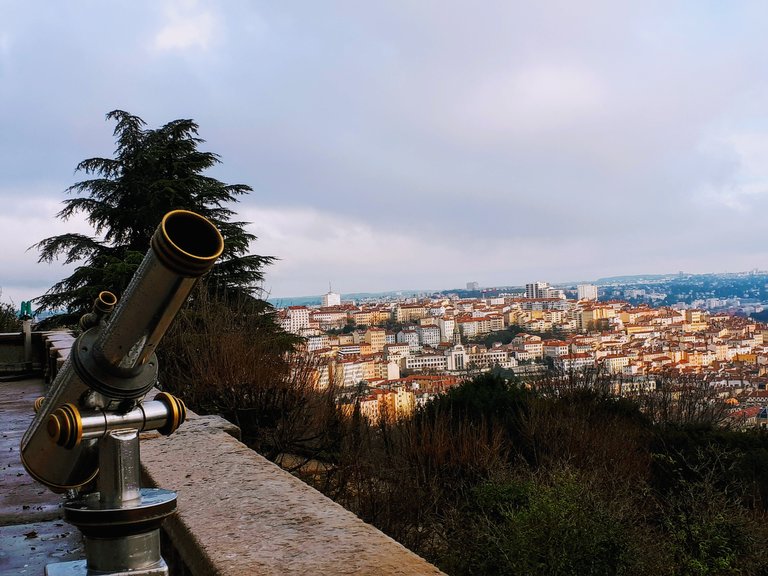 A long, steep and winding climb gets you to the top of the city. Here a small and unimpressive Eiffel Tower is kept that was built using leftover material from the Eiffel Tower of Paris. Though the tower isn't even worth a photograph, it sits beside one of the most spectacular churches that I have ever experienced - a must see for anyone who likes churches. Behind the church is also an impressive view of the river and city below. Its certainly worth the climb. My only regret was that I wasnt wearing my step counter at the time so I didnt know how many flights of steps we had climbed.
Lyon is a large city located on the river. There's almost too much to do in a single day so I hope to go back in the near future.
Thanks for Reading