If someone reads the title above and has no idea what I'm talking about, they might expect maybe SteemWorld natives have put up a good fight before they were conquered!
Wrong! Tribes were actually "invited in" by the rules of the realm and will soon have the same rights as the natives (i.e. STEEM).
I hope you enjoyed the opening metaphors, but it would be complicated to follow if I continue like that.
So, let's put on the reporter's hat and see what's new and exciting in the SteemWorld's land.
Opening SteemWorld to Steem-Engine tribes and tokens, as well as to the upcoming SMTs, is something many of us have been waiting for patiently, but also with anticipation.
It isn't a quick fix to change SteemWorld to support multiple tokens, since it was coded initially for one token - STEEM, as far as I understood, so there are extensive and progressive changes that need to be adapted, in order for SteemWorld to completely support tokens, both S-E and SMT. But the first steps have been made.
Now you can easily check out all your SE Tokens and their amounts (balance, staked or rewards) from Balances -> SE Tokens. If you click one of the token names, that token is selected and information referring to it instead of STEEM is displayed throughout SteemWorld, where the changes to support tokens were made already.
In the image below, I've selected PAL as the "current" token. You can do that from the SE Tokens page described above, or from the dropdown menu at the top-right of the section, which will be displayed on every page.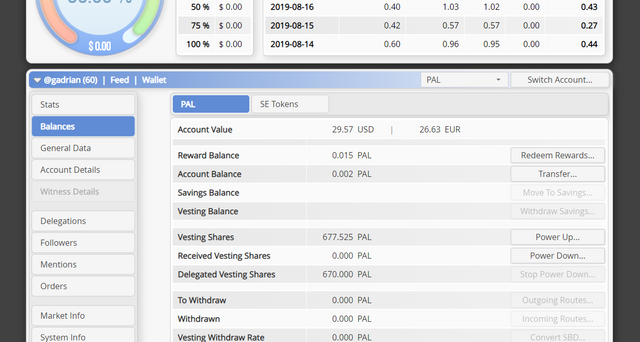 One of the interesting parts about checking out tokens on SteemWorld so far, is that you have an estimated value of your account in USD and EUR, and that includes both liquid balance and staked/unstaking balances.
On Steem-Engine, you have the estimated value of the liquid balance, because that is what is tradable, and S-E is a DEX. But you don't have the estimated value of your entire token holdings, unless you manually calculate it.


See how it says the estimated value is $0.00 in Steem-Engine for my PAL holdings (actually for my liquid PAL, which is practically zero)? Well, on SteemWorld you can see the estimated account value, including the stake (which is mostly delegated in my case for PAL), is a little over $29. Now I can see how much each token stake is worth, without manually calculating it.
Among the immediate developments that will be included to SteemWorld, the fact that one would be able to claim all tokens with one click of a button seems an addition that will be greatly appreciated, even if there is already a script available right now to automatically claim rewards for manually approved accounts.
The other useful addition is a total token portfolio estimated value, which with all these tokens and the high volatility can be an easy algorithm, but a valuable helper to replace manual operations.
Here's the full update post of steemchiller:
https://steempeak.com/steemworld/@steemchiller/steemworld-weekly-support-41
Now that the process of integration of tokens into SteemWorld has begun, I expect tokens will slowly but surely become just as common as STEEM across the ecosystem, because that was one big missing part: complete tools for tokens.