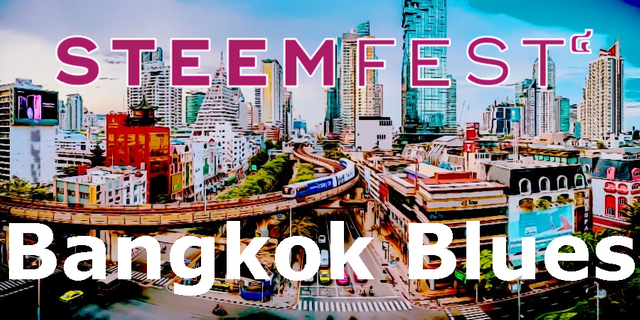 SteemFest is over for nearly a month now. As usual, the event has been a blast!
Once again, my friend @roelandp, and the whole team around him, successfully managed to create a special atmosphere, favoring the interpersonal meetings of the users of Steem (which was his initial goal) and exchanges around each other's projects.
I think the choice of Asia and Bangkok was particularly good because it is a cool city that is full of energy and I think it has been contagious for all of us.
Of course, like every year, SteemFest has been challenging. We only had a few days to share together, parties (and after-parties) were also on the agenda and the FOMO was running at full speed. The hours of sleep were therefore not numerous.


Cocktail bucket sharing and some weird proof-of-hugs in Khaosan night club
Hacked by a virus and down for a month
No wonder I came back home quite tired. And speaking of contagion, it looks like I also brought back some small Thai virus too.
Two days later, I was bedridden for a week, just going out of it for one visit to the doctor and many quick trips to the bathroom.
After that week, I found myself exhausted, sometimes dizzy, energy-less... Felling better only a few hours per day, I had to give priority to my usual business and my family. My only interactions with the Steem world have been summed up in a few appearances in Steem related chats, a few replies to comments, ...
I'm much better now, even if everything is not settled and I still struggle to find my energy.
But one thing is certain, I'm back and I can finally share my SteemFest memories with you.
Communities, community!
I'm used to describe each SteemFest edition with one word.
SteemFest 1 - Amsterdam was about money
SteemFest 2 - Lisboa was about projects
SteemFest 3 - Krakòw was about (d)Apps
And I will tag SteemFest 4 - Bangkok with the word Community!
From day one till the end, SteemFest was like visiting family. We were so happy to meet each other again and to welcome new people.
Of course, SteemFest was a lot about Steemit inc. close to release SMTs and Communities. But for me, this is not the main reason, if not an amazing synchronicity!
Everyone agreed that the gap between the community and Steemit Inc., in many respects, has been diminished thanks to the extensive communication efforts undertaken. There is certainly more work to be done, but it has also greatly contributed to the feeling of belonging to one and the same community.
I also think the fact that fewer made the trip to Bangkok (we were only 128 this year while the previous edition had an average of over 300 participants) played an important role in that. We had more time to meet each other, more opportunities to see the same person again, less fears of missing someone. In a word, it was way more relax.
Finally, I can say that another major element was the new proof-of-hug rule added to the Meet the Steemians Contest™ that I organized again to promote meetings. Despite the cultural differences, everyone has played the game and this has created more tactile proximity between us all.
Have a look here and here! Check this post too, where you can see the difference between without and with a proof-of-hug.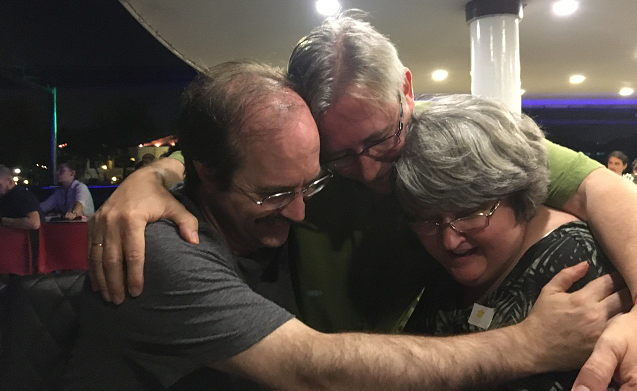 This is one of my favourites. Can you feel the love?
How could this close proximity between a smaller number of people and Steemit's team, each taking hold of each other, sharing the same values not reinforce the sense of community? We really knew that together we were believing in our dreams, that together we are building them.
This is a community!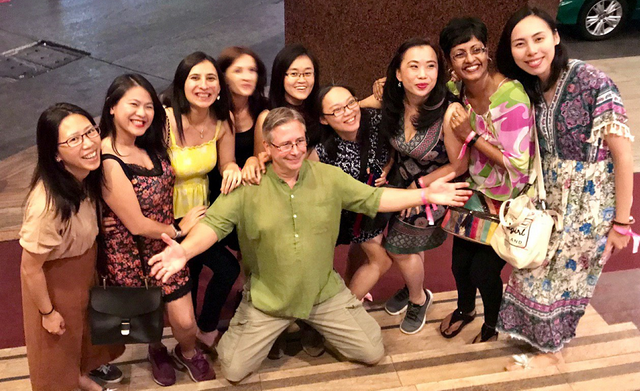 How to forget those lovely girls dressed for the closing dinner. This is a community ;)
I've got the blues!
How to forget these few days that I lived with the few Steemians who made the trip to Bangkok? I strongly believe none of us wanted to put an end to this!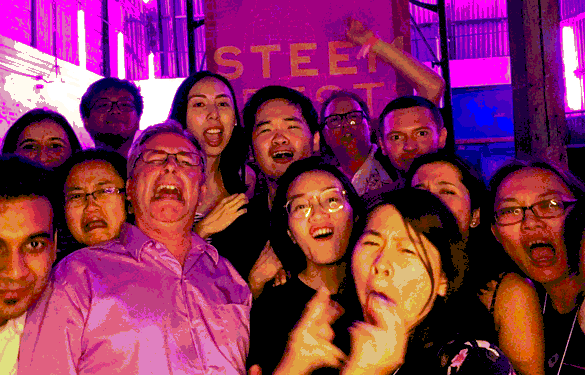 We do not want SteemFest to end!
Unfortunately, I lost all my SteemFest photos and videos because a pickpocket stole my phone less than an hour before I left for the airport (you can read the story here). Too bad, because there I had not saved the (now traditional) hug session pictures I took with each participant at the closing dinner.
But the images are all in my brain memory and they have been looping for days as I had plenty of time for that while I was recovering and when reading other's testimonies).
Thanks to those who shared with me some pictures they took. This enabled me to illustrate this post. Be blessed!
I'm now tagging you all, my friends from all over the world:
If you had to summarize SteemFest 4 in one word, what would it be?
@ace108, @aggroed, @aishwarya, @andrarchy, @andywong31, @anomadsoul, @anthonyadavisii, @anyx, @bitrocker2020, @bizventurer, @blocktrades, @bubke, @buttcoins, @buzz.lightyear, @celestal, @cjsdns, @cleanplanet, @corinnestokes, @corsicana, @crazysailor, @crimsonclad, @cryptospa, @daabi2006, @danea, @derangedvisions, @detlev, @dmitrydao, @doxie-tx, @dylanhobalart, @elipowell, @elizacheng, @eturnerx, @fabianklauder, @faitherz33, @firepower, @fitinfun, @for91days, @fusan, @gabbygolden, @gamer00, @gandalf, @gengua, @gerbino, @goblinknackers, @grampo, @heleenvanlier, @hidemi, @howo, @iguazi123, @jack8831, @jacobyu, @jaki01, @jarvie, @jeffjagoe, @joannewong, @joythewanderer, @jpphotography, @julesplaschke, @justinw, @kaerpediem, @karinpics, @karinxxl, @kevinli, @khimgoh, @kinakomochi, @knozaki2015, @kobold-djawa, @koolitime, @kopasi, @kristiankho, @lemony-cricket, @liliana.duarte, @littlenewthings, @livinguktaiwan, @lizanomadsoul, @louis88, @lukestokes, @m31, @martibis, @misslasvegas, @miss-travel-pro, @mynewlife, @mys, @nainaztengra, @nateaguila, @neueimmo, @nicniezgrublem, @oleg326756, @osavi, @poezio, @preparedwombat, @raynie, @reggyaguila, @revisesociology, @rmach, @roadscape, @robinron, @roelandp, @rollie1212, @rycharde, @sflovik, @sg1, @shintakai, @sho-t, @sjennon, @slobberchops, @starkerz, @steemrollin, @stoodkev, @superoo7, @surpassinggoogle, @sytj0116, @theycallmedan, @travelgirl, @vaelriey, @valentinepudding, @vandeberg, @vandining, @varunpinto, @vesytz, @vikonomics, @wanderein, @wandereronwheels, @waybeyondpadthai, @world-travel-pro, @yoshiko, @zlatan-spielberg
I miss you so much… till next year!
---

Support my work for the Steem blockchain.