Steem - Abra adds 60 new currencies, including STEEM and SBD!
Steem quietly got a new listing today
Abra announced today that they would be adding support for 60 new cryptocurrencies to their wallet app for US based users.
It wasn't initially clear which coins they added, so I did some digging.
Scrolling through their home page, I was pleasantly surprised to see this at the bottom...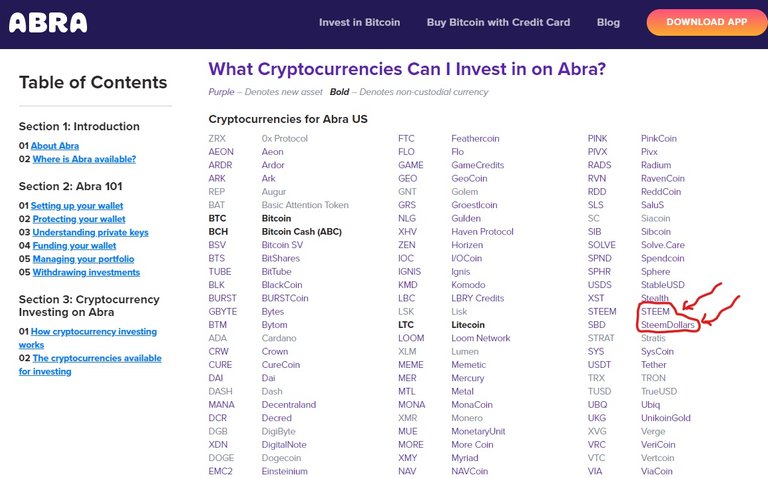 (Source: https://www.abra.com/cryptocurrency/investing-guide/)
We have a STEEM and SBD sighting!
The purple color indicates it was a new listing as of today.
They now support 90 cryptocurrencies for US based users and 200 cryptocurrencies for International users.
A little about Abra...
I didn't know much about Abra before today, but from the looks of things they are more of a wallet than an exchange, though it does appear they have exchange capabilities as well.
From what I could glean from their website and wiki...
It appears that Abra is a financial services and technology company that operates an all-in-one cryptocurrency wallet and exchange app.
The Abra app is available on both iOS and Android platforms and allows users to buy, sell, and hold 90 different cryptocurrencies and multiple fiat currencies in one place.
It was created several years ago (2014) in Silicon Valley by Bill Barhydt, a former engineer at Goldman Sachs.
It says the app is available in over 150 countries globally and as part of the announcement today, it looks like they have also doubled daily deposit/withdrawal limits.
More about it can be seen here:
https://www.abra.com/blog/meet-the-new-abra/
It's not Coinbase, but we'll take it!
Steem FTW.
This wasn't as big as getting steem listed on say Coinbase or Bitfinex, but hey, it's solid news never the less and it was nice to see steem included with the 60 other coins they decided to add.
Now, we just gotta give ol' Brian Armstrong a call and ask him what the deal is about getting STEEM listed on Coinbase.
And now we can point to another San Francisco based wallet/exchange (Abra) as a reference of ours. :)
Stay informed my friends.
-Doc
---
---