[EN]
I haven't posted a report in a long time, so it's time to catch up.
Today, my wife and I knew from the morning that we would not spend this day passively, especially as the weather today was beautiful. My daughter and I went first to hang up the food for the birds so that they would have something to eat in the coming cold days.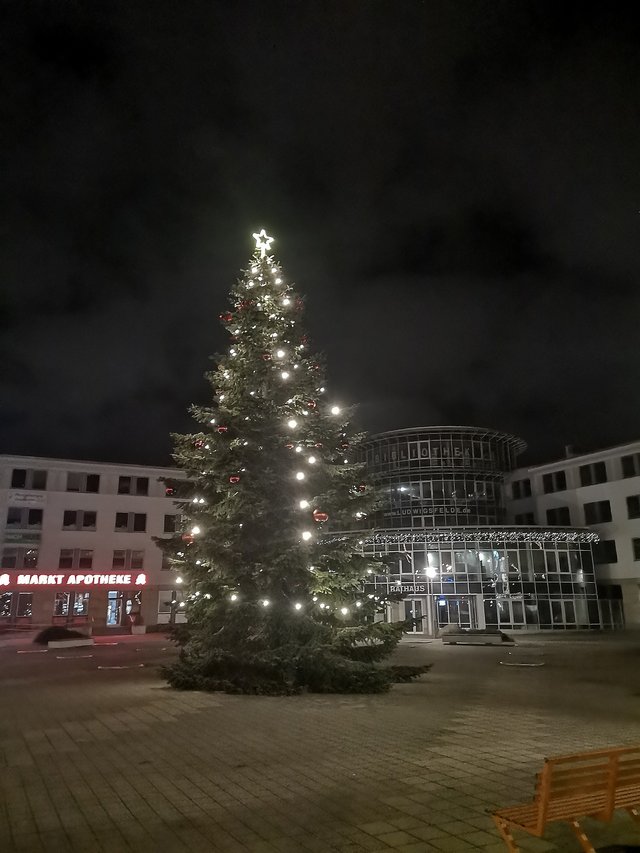 Later we went to see the ornaments in the city, which had been preparing the municipal services for the last few days. This year there are really many of them in our city. We have also seen that the stands for the so-called Weihnachtsmarkt are being prepared for this weekends. Unfortunately, there wasn't much to look for in the morning, so we decided to come back late afternoon to see wow effect.
After the walk we came back home for a while to take a car and go to the shop for shopping.
After lunch we went for a walk to the city again. This time the effect of the decoration of the city was better visible and it looks more and more good, it is a pity that there is no snow and taking into account the previous years too much we can not count on it... Such is our climate... 😋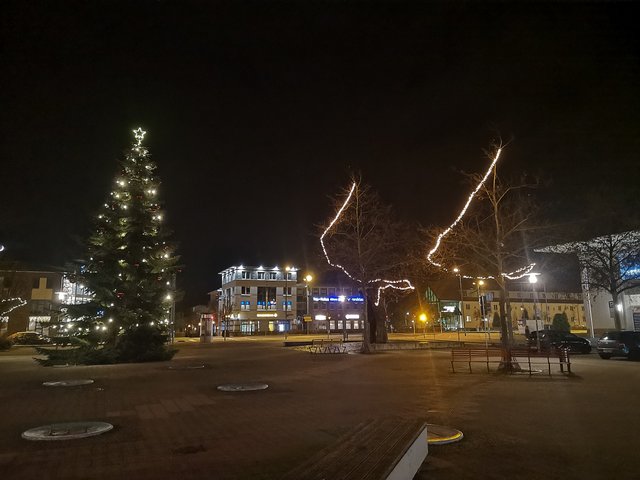 We went to see what was going on at the Weihnachtsmarkt and in total we are not very happy. First of all, in this place, where it is organized, it was very tight and it was barely possible to pass between people. Secondly, there were no attractions for the children, except for Santa standing in the place and giving away candy. But you could drink mulled wine or eat hamburger or fries at each booth.
I think that we will have to go to Berlin or other places for Christmas markets, which are really beautiful and have many attractions, and above all feel the Christmas atmosphere.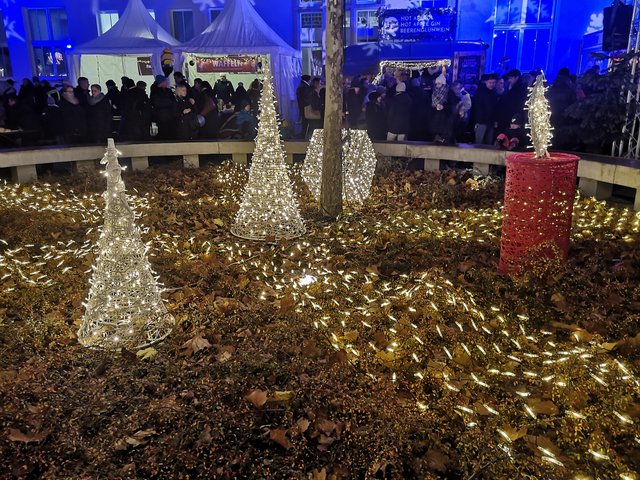 Unfortunately in our town such a fair is organized only on the first weekend of Advent and that's all. Nothing else happens in this beautiful pre-Christmas period.
---
[PL]
Dawno nie wrzucałem raportu, więc czas nadrobić zaległości.
Dzisiaj już od rana wiedzieliśmy z żoną, że nie spędzimy biernie tego dnia, szczególnie że pogoda dzisiaj była piękna. Wybraliśmy się najpierw z córką porozwieszać jedzenie dla ptaków, aby miały one co jeść w zbliżające się chłodne dni.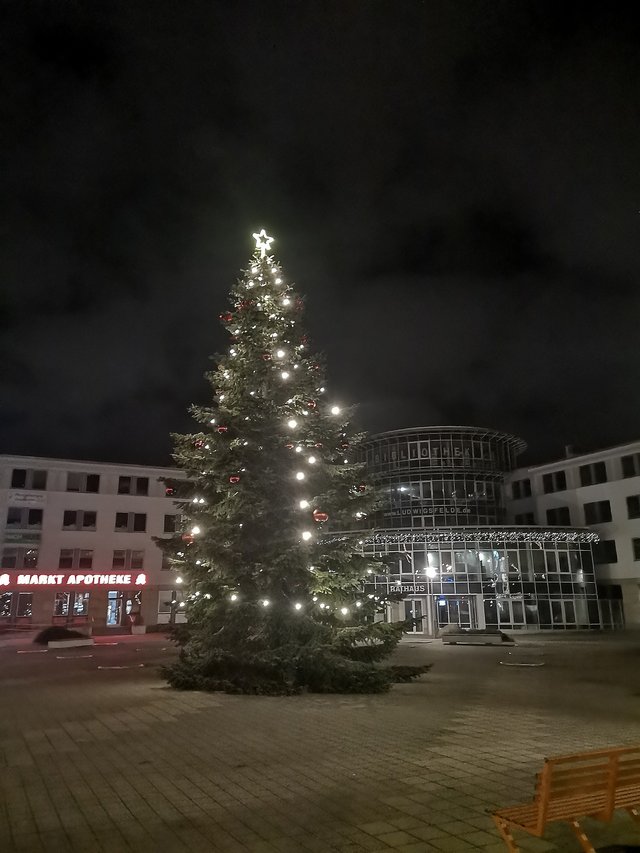 Później poszliśmy zobaczyć ozdoby w mieście, które przez kilka ostatnich dni przygotowywały służby miejskie. W tym roku w naszym mieście jest ich naprawdę dużo. Widzieliśmy również, że przygotowywane są stoiska do odbywających się w ten weekend tzw. Weihnachtsmarkt. Niestety w godzinach porannych nie było co tam szukać, więc stwierdziliśmy, że przyjdziemy jeszcze późnym popołudniem, żeby było widać efekt WOW.
Po spacerze wróciliśmy na chwilę do domu, aby wziąć samochód i pojechać do sklepu na zakupy.
Po obiedzie wybraliśmy się ponownie na spacer do miasta. Tym razem efekt wystroju miasta był lepiej widoczny i wygląda to bardzie dobrze, szkoda tylko, że nie ma śniegu i biorąc pod uwagę wcześniejsze lata zbytnio nie mamy co na niego liczyć... Taki mamy klimat... 😋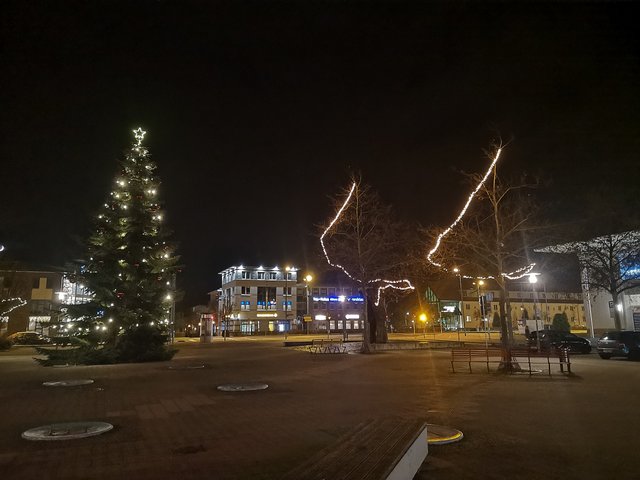 Poszliśmy zobaczyć co się dzieje na Weihnachtsmarkt i w sumie nie jesteśmy zbytnio zadowoleni. Po pierwsze w tym miejscu, gdzie jest to organizowane, było bardzo ciasno i ledwo dało się przejść między ludźmi. Po drugie nie było żadnych atrakcji dla dzieci, oprócz stojącego w miejscu i rozdającego cukierki Mikołaja. Za to można było przy każdej budce napić się grzanego wina lub zjeść hamburgera czy frytki.
Myślę, że będziemy musieli wybrać się do Berlina lub innych miejscowości na jarmarki świąteczne, która są naprawdę przepiękne i mają wiele atrakcji, a przede wszystkim czuć klimat świąteczny.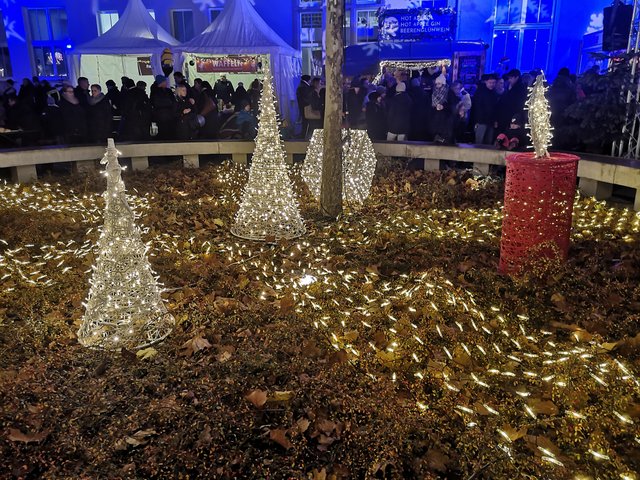 Niestety w naszym mieście taki jarmark jest organizowany jedynie w pierwszy weekend adwentu i to wszystko. Nic więcej nie dzieje się w tym pięknym okresie przedświątecznym.



14310