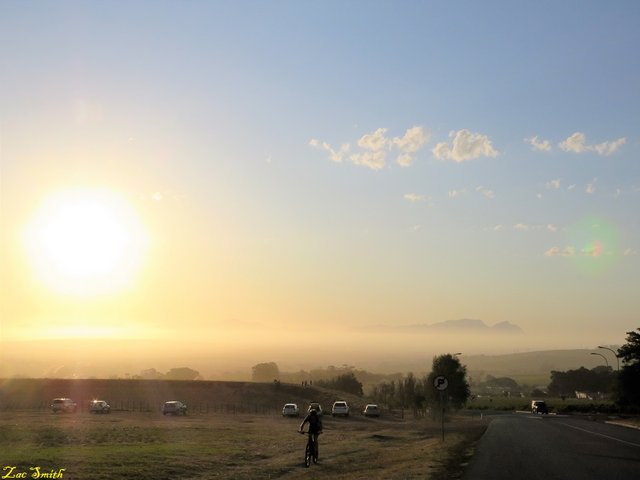 We discovered this amazing sight on our way to visit some friends on the other side of town!
Since we have moved in here, we have only been out at night on a few rare occasions, but today we were invited to join a study group and we accepted the invitation. One can always benefit from studies and I see it as a life long habit, but I digress. It was the road to their place that held some beautiful surprises for us.
Come and join the ride!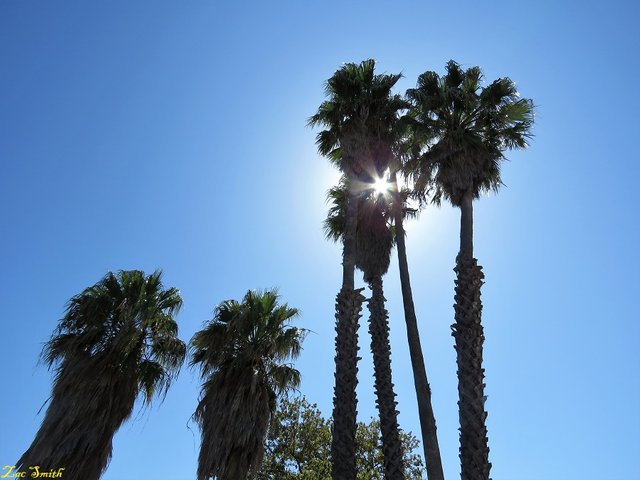 Some seriously high palm trees that guard the entrance to the road that we were about to take!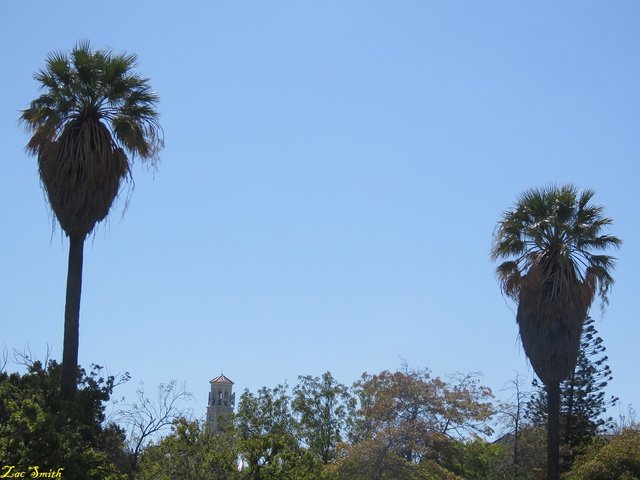 Look at that church tower between the two palm trees!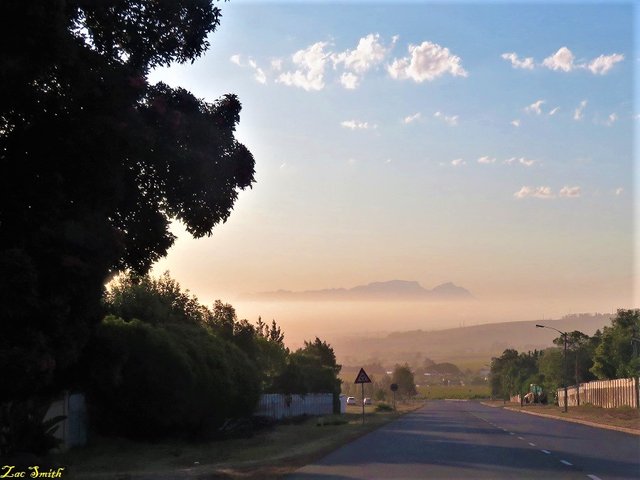 Here we were nearing our destination and in a few moments I had to stop the car! Why?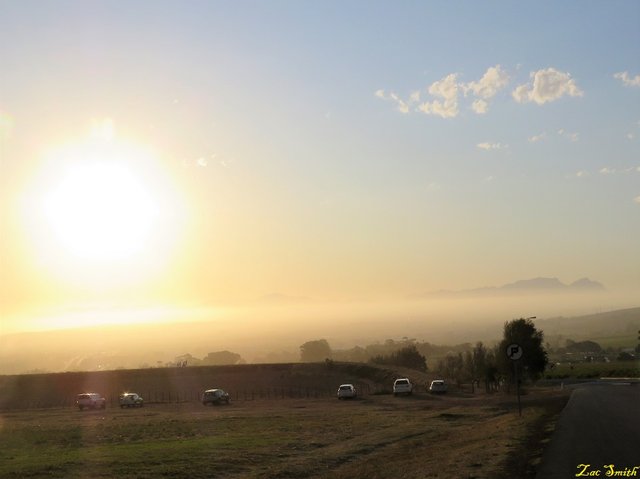 This and the first photo above is why! Just look at that sight!
If you look carefully to the right you will see a "No Parking" sign, but no ways was I not going to stop here!
Although I did put the car's hazard lights on!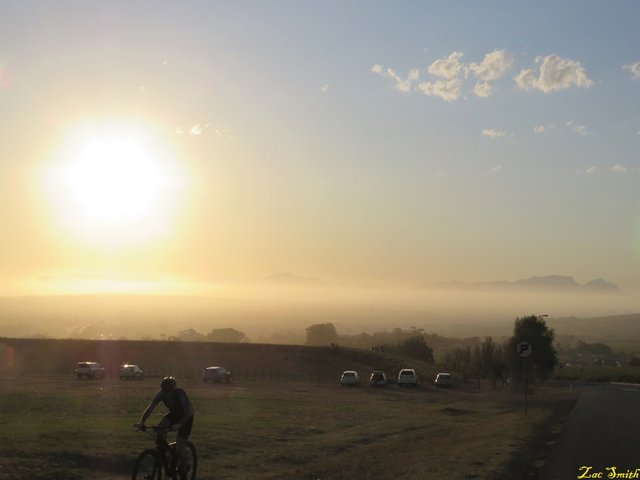 People here in South Africa enjoy the outdoor life and I could hear the cyclist's gasps for air as he rode past us!
Of course I greeted him!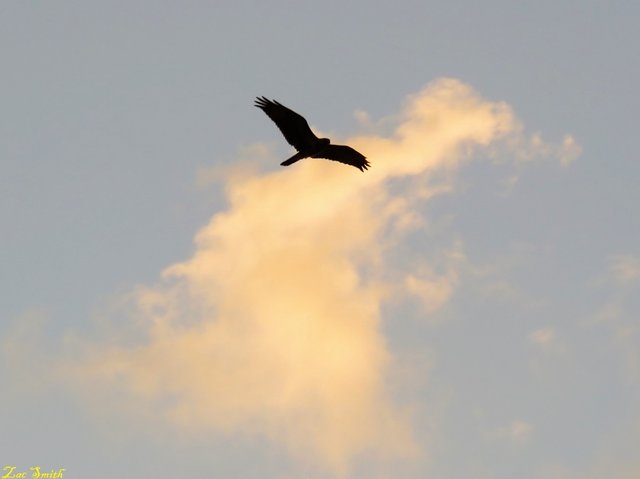 Looks like a falcon and I had to wait for him to fly across one of the yellow clouds!
Makes a nice backdrop methinks!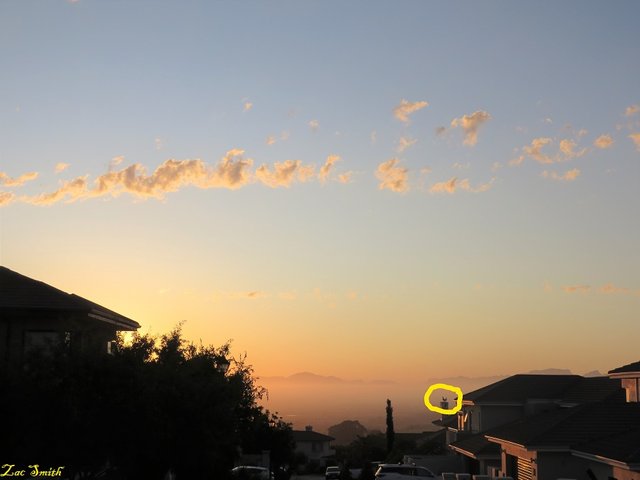 We have arrived at our friend's place and I hurriedly took a few more shots before we entered.
Although it is a great view, please concentrate on the chimney that I circled in yellow!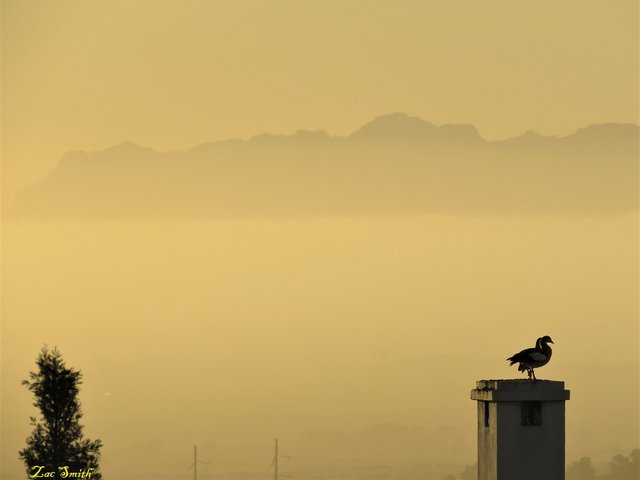 I kicked the zoom into gear and what do we have but two Egyptian geese on the chimney!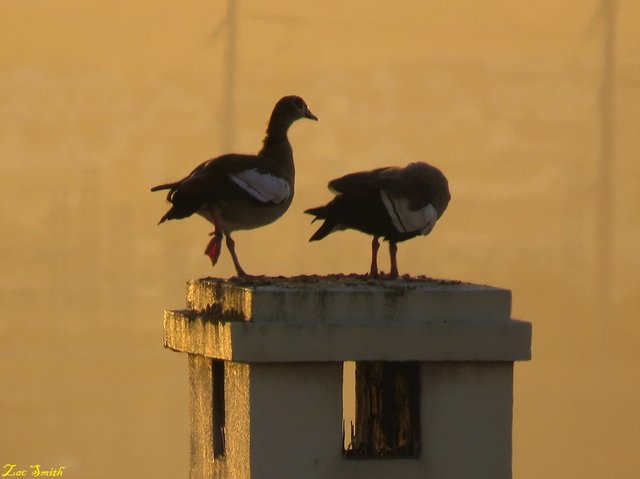 Finally, how did I know what specie the birds are? Because the zoom told me hahaha!
And That's All Folks!
I have the habit of seeing both the big picture and the small things in the picture. Many times it is the small things that make the picture, but hardly anything can compete with the brilliantness of the sun, or the calm and serene glow of the moon. It is such a pleasure even just to step outside and to watch the visual offerings of nature.
Scenes and visuals that strokes the flows of one's thoughts into a calm and serene channel.
I sincerely hope that many others will adopt this habit of allowing nature to calm them down, especially after a harrowing or stressful day in their lives. Nature is my depression medication Lol.
By the way also have a look at @Steempeak if you are searching for a good front end!
We hope that you have enjoyed the pictures and thank you for visiting @papilloncharity



Connecting the people of #STEEM across South Africa. #steemsa
JOIN US ON DISCORD (South Africans Only)
JOIN US ON TWITTER
JOIN US ON FACEBOOK

Team South Africa banner designed by @bearone
</<center<