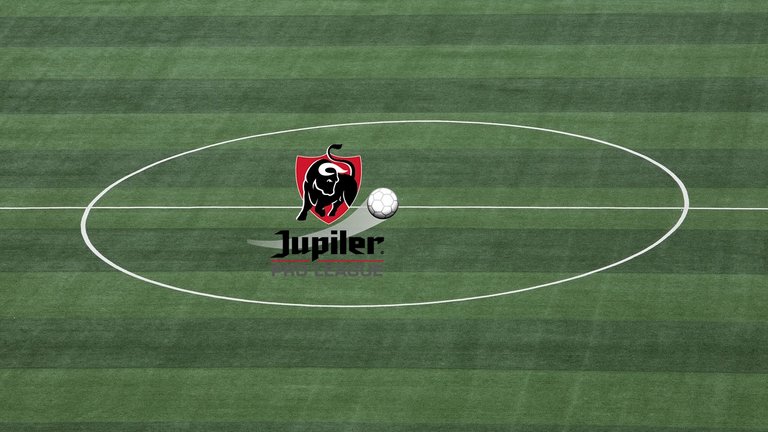 These are previews from matches involving Belgian Teams with all the latest on team news, player form, injuries along with my personal betting angles, ...

I should have taken the over especially at the start of the 2nd half in the match yesterday but didn't manage to pull the trigger. I did get some small corner bets in live which did well though. So far the week has been good which always tends to happen when I take a low profile. 3 matches today, same approach...
---
Beerschot vs Waasland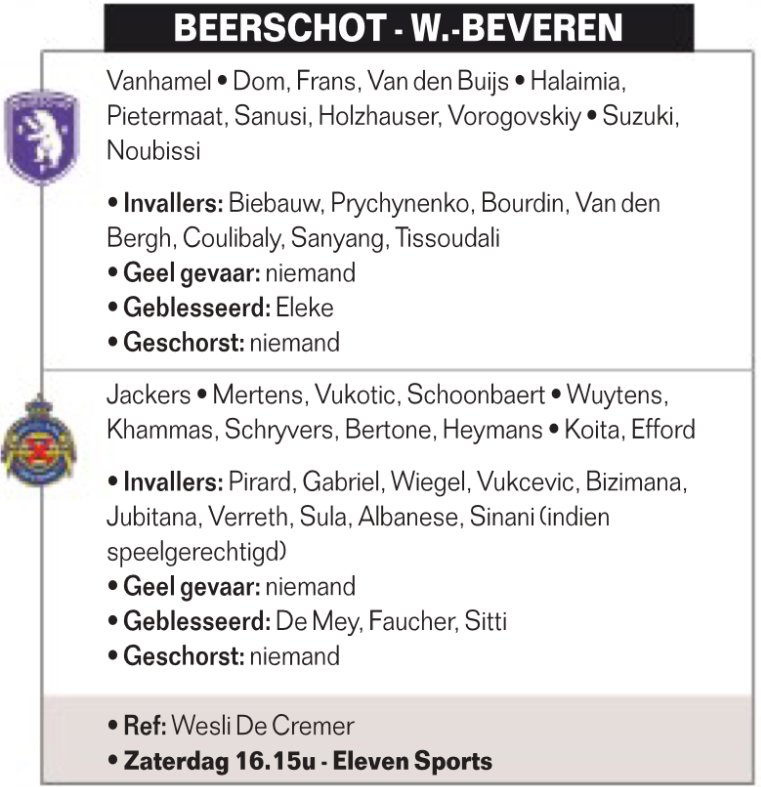 Waasland has been the weakest team in the league so far and don't seem to be good enough to compete in the league. They both manage to score goals but get plenty of goals against (9 Scored - 18 Against in 6 matches). Beerschot so far both played excellent matches (vs Club Brugge, Zulte, Genk) and some really poor matches (vs Standard & Charleroi). From what it looks like, they are playing more forward at home(4.67 goals) compared to away (2.67 Goals). Based on the numbers, I took an early bet on
Over 3.5 @ 2.77
for small stakes (0.252 units) as that is what the limits allowed me to get. One of the stats that mostly stands out the 2nd half over for Waasland which has an average of over 3 goals while Beerschot at home also has an average of over 3 2nd Half goals. A blowout home win is an obvious choice in this match and I would not be surprised to see the odds on it drop further during the day. Based on what I've seen in terms of what these teams are capable of, I had to take a small position on
Beerschot -1.25 @ 1.892
. Waasland only managed to create 1.66 corners on average in away matches while this number is at 5 for Beerschot. The
Under 9.5 Corners @ 2.48
is also a position I took pre-game with an eye to trade out of it live if possible. It should be a fun match and I anticipate more bets live.
---
Mechelen vs Sint-Truiden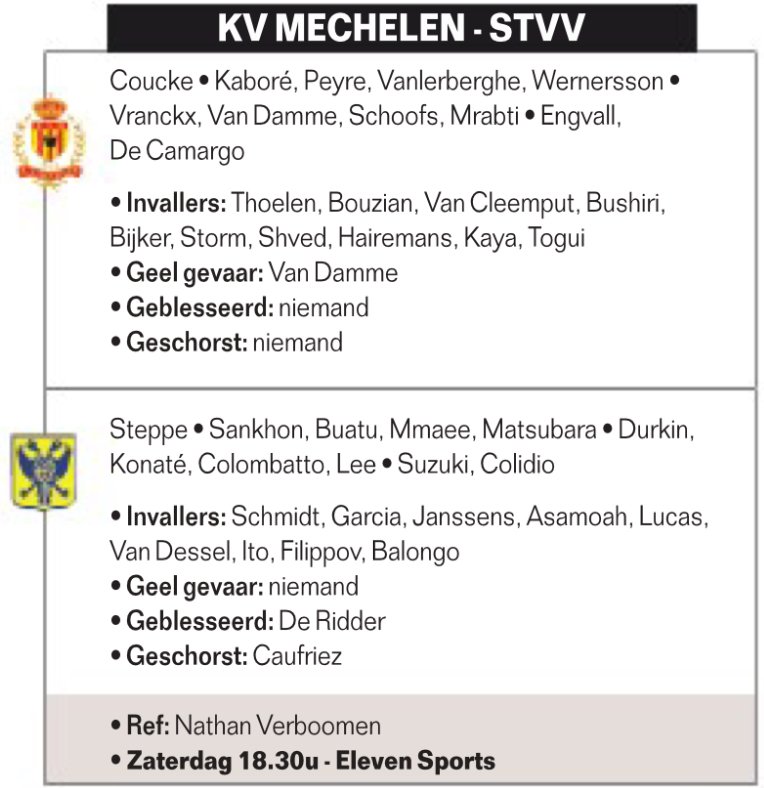 Mechelen is a team that got on the good side of variance last season when it came down to finishing their chances but have been on the bad side of variance this season. They basically create quite a lot of big chances but their efficiency has been quite poor. This is one of the reasons why they are on a 4-game losing streak currently. Sint-Truiden is just above them in the rankings and only managed to get 2 points from the last 5 matches. They lost 3-0 deserved last Monday away against Cercle Brugge. I'm expecting a home side that will go for it from the start but have a hard time seeing any value in a -0.75 line on a team that has lost their last 4 matches. I'm keeping all my options open for potential live bets based on how things look in the match. Mechelen 1st Half -0.25 @ 1.943 is the one I'm closest to take since they have done quite well during their 1st halves while Stvv so far is at the bottom 1st half standings away with 0 points.
No Pre-Game Bets
---
AA Gent vs Oud-Heverlee Leuven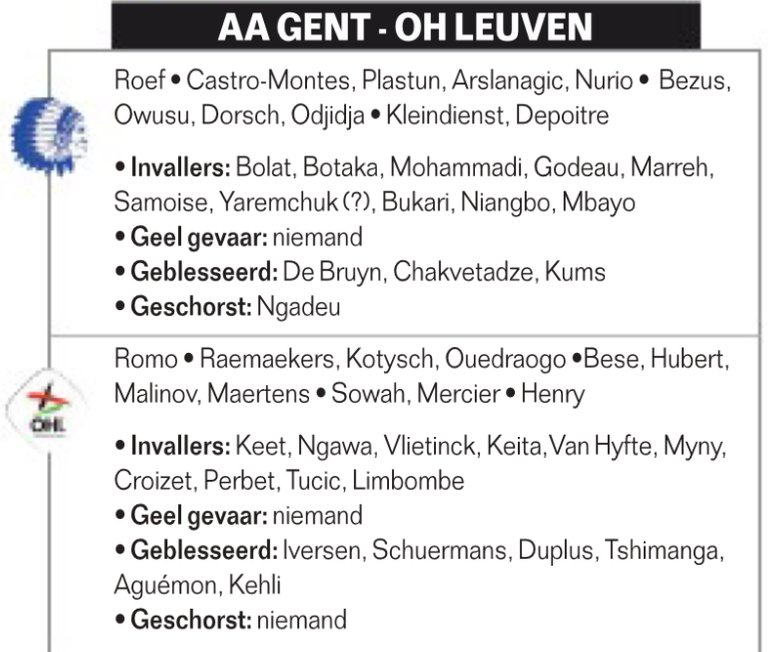 So AA Gent is in between Champions League qualifier matches and lost 1-2 at home to Kiev on Wednesday. Often times, coaches rotate in order to maximize the chances for the more important qualifier matches. AA Gent is still struggling though and it simply was not good enough against Kiev. Chakvetadze and Kums are still injured while Defender Ngadeu is suspended. looking at the average shots on goal, AA Gent is leading the rankings wit a whopping 6.5 overall and 9.5 at home. OHL comes in at a respectable 4.8 chances with 3.7 Away. both are also quite high on getting attempts against them. It's clear that the total line which is set at O 3.25 is based on these numbers. Leuven played a really bad match last week away against a good Oostende and seem to be feeling the many injuries after coping with them very well at the start of the season. AA Gent saw both teams score in 13 of their last 15 home matches while Leuven saw both teams score in 12 of their last 13 away games. Odds on it is just below 1.70 which is something I rarely take. I will wait it out live and see how it goes.
No Pre-Game Bets
---
Late info might change my view on what is written in these previews. I will cover these matches live in our SBC Discord Channel. All my bigger pre-game & Live bets can automatically be followed on Copytip
---
Season 2020-2021 BTC Bets
| Date | Bet | mBTC | Odds | Result | Betslip |
| --- | --- | --- | --- | --- | --- |
| -/08/2020 | Soon | 10 | - | - | - |
---
Bookies, Projects & Platforms I use...

Info

Info

Info

Info

Info
| Month | Bets | Won | Lost | Push | Staked | Profit BTC | ROI |
| --- | --- | --- | --- | --- | --- | --- | --- |
| Jan 2020 | 1 | 1 | 0 | 0 | 0.0100 | +0.01271 | +127% |
| Dec 2019 | 2 | 0 | 2 | 0 | 0.0200 | -0.002000 | -100% |
| Nov 2019 | 2 | 1 | 1 | 0 | 0.0200 | -0.001800 | -9.00% |
| Oct 2019 | 4 | 1 | 3 | 0 | 0.0400 | -0.020800 | -52.00% |
| Sep 2019 | 4 | 3 | 0 | 1 | 0.0400 | +0.028890 | +72.22% |
| Aug 2019 | 10 | 7 | 3 | 0 | 0.1000 | +0.033860 | +33.86% |
| July 2019 | 2 | 2 | 0 | 0 | 0.0200 | +0.018000 | +90.0% |
| Jun 2019 | 0 | 0 | 0 | 0 | 0.0000 | +0.000000 | +0.00% |
| May 2019 | 7 | 0 | 5 | 2 | 0.0700 | -0.050000 | -71.43% |
| Apr 2019 | 5 | 3 | 2 | 0 | 0.0500 | +0.024170 | +48.34% |
| Mar 2019 | 7 | 3 | 3 | 1 | 0.0700 | +0.004120 | +5.89% |
| Feb 2019 | 6 | 4 | 2 | 0 | 0.060 | +0.023210 | +23.21% |
| Jan 2019 | 10 | 0 | 9 | 1 | 0.100 | -0.079640 | -79.64% |
| Dec 2018 | 15 | 4 | 10 | 1 | 0.150 | -0.058880 | -39.25% |
| Nov 2018 | 17 | 7 | 10 | 0 | 0.170 | -0.032170 | -18.92% |
| Oct 2018 | 15 | 6 | 9 | 0 | 0.150 | -0.028290 | -18.86% |
| Sep 2018 | 14 | 13 | 0 | 1 | 0.140 | +0.141820 | +101,3% |
| Aug 2018 | 8 | 5 | 1 | 2 | 0.080 | +0.045470 | +56.84% |
| Jul 2018 | 17 | 8 | 9 | 0 | 0.135 | +0.033590 | +24.88% |
| Jun 2018 | 15 | 7 | 7 | 1 | 0.150 | +0.018200 | +12.13% |
| May 2018 | 2 | 2 | 0 | 0 | 0.020 | +0.023440 | +117% |
| Feb 2018 | 12 | 3 | 8 | 1 | 0.091 | -0.036293 | -39,88% |
| Jan 2018 | 21 | 10 | 10 | 1 | 0.147 | +0.005800 | +3.95% |
| Dec 2017 | 19 | 9 | 8 | 2 | 0.148 | +0.010422 | +7.04% |
| Nov 2017 | 21 | 11 | 10 | 0 | 0.210 | -0.008030 | -3.82% |
| Oct 2017 | 21 | 10 | 10 | 1 | 0.210 | +0.003080 | +1.46% |
| Sep 2017 | 9 | 4 | 4 | 1 | 0.090 | +0.001440 | +1.60% |
| Total | 266 | 124 | 126 | 16 | 2.491 | +0.092319 | +3.71% |