First off, thanks for everyone's patience while we worked through a few issues sorting out the ACE Air Drop. It's done now, we are getting ready to roll on!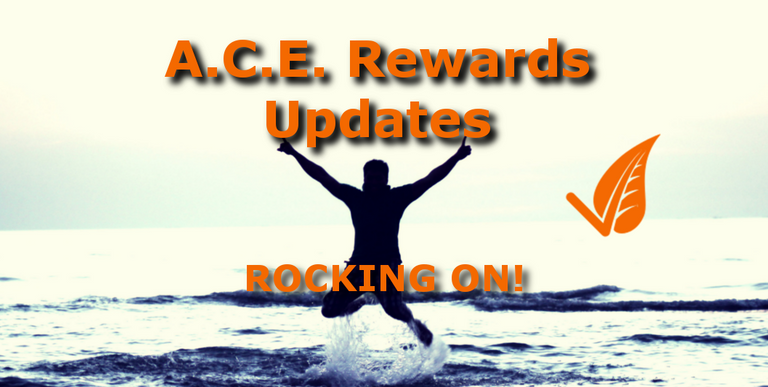 We had a few issues with sending out the air drop. At first we thought it was coding and related to the HF21/22 issues. It turned out that we were just burning through the RC of the account we used. So, with that all sorted we can begin our next set of programs to add value to our tribe/community!
We've added Delegators and Patron badges to the accounts that have delegated! We want to thank all those out there that have delegated and we want to give a big shout out to those great folks! If you are not following them be sure to do so.
Patrons
Patrons are the community members that have delegated 5K or more SP to @naturalproducts! We are extremely grateful to these folks for their generosity!
Delegators
Our delegators are awesome! These members have delegated to the @naturalproducts account any amount under 5K. We are very excited to have everyone participating!
@alokkumar121
@sumit71428
@travelgirl
@conradsuperb
@jznsamuel
@certain
@edkarnie
@sumatranate
@trayan
@amar15
@anttn
@reeta0119
@anggreklestari
@liucixin
@artemislives
@pet.society
@mystry360
@dotwin1981
@tixinhacapitinha
@fleur
@hafizullah
@hatoto
Thanks you to all our delegators! We will be sending out the weekly NATRL allocation AND!!!! We are adding a weekly STEEM earn-out pool allocation that we will be sending out as well. Every Monday, delegators will receive a weekly share of the amount accumulated while using their SP.
So, now your delegation earns you NATRL and STEEM!
What's Next!
Hang tight as we have several programs coming out! For now why not follow our guild. Earn 100NATRL by following the guild and voting along with @naturalproducts. We set the guild up on Steemvoter.
You can follow the guild by going to this link:
https://beta.steemvoter.com/explore/guild/naturalproducts/
If you are not familiar with SteemVoter have a quick look at this FAQ on following a guild.
https://beta.steemvoter.com/faq/to-leave-a-guild-enter-the-tab-followed-guilds-which
Coming UP!
Applications for curators - If you would like to be curator for NaturalProducts.Today put together a post as to why you should be considered as a curator. Curators will earn NATRL tokens. We're looking for some Natural Products knowledge and community connections. Place a link to your application in this posts comments.

Contests and more ... be sure to follow us for the latest information and updates... 150th follower gets a bonus!

It's almost time to do a big burn - We're accumulating NATRL from the post promotions. Remember if you promote a post your help the value of NATRL as we will burn it all!
That's the update for now! Keep posting! And remember you all have a downvote pool to use. If you see something tagged that's not appropriate or not in the tags we support let the author know.
Keep Connecting Naturally
---
Become a supporter
Become a supporter. We're looking for like-minded individuals to help support the #naturalproducts front-end project through delegations. Your delegations will help to support contributors and the further development of the front-end. Your support will also allow us to help ensure that the quality of content is high and consistent with the expectations of the community and industry and that posts are rewarded.
You can use these custom links to delegate Steem to us:
30SP, 50SP, 100SP, 250SP, 500SP, 1000SP
Join us in #naturalproducts on https://www.naturalproducts.today!
---
The NATRL token is a utility token specific to the NaturalProducts.Today site (based on Steem) used for curation, rewards, and contest promotion. The token price is market-driven and may never have any value.
images:pixabay