When a new user starts out on Hive they may be excited to vote on everything they see, but there may be times when your vote is pointless. The rewards algorithm has a feature so that if the rewards on a post or comment are below a threshold (about 2.5c) then the rewards are just 'burnt' and nobody gets them. So if you are the only one likely to vote on a comment and you do not have enough HP to push it above that amount then it may be a waste of your vote. You need about 3000 HP (by my estimate) to give a post or comment enough rewards to guarantee it pays out when nobody else votes on it.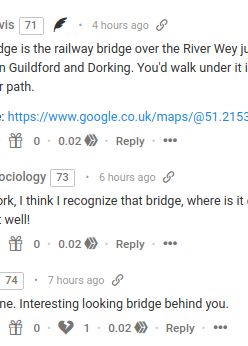 On peakd you can hover the mouse over the amount to see a more accurate figure.
I think on Hive.blog users with smaller amounts of HP do not get a slider to set their vote, so it is always 100%. You can vote ten times each day at that level and your voting power will recover over 24 hours. Voting more just reduces the value of your votes.
So my recommendation to new users with less than thousands of HP is to just vote on posts. You will not gain much from voting on your own posts, so you may as well support others. If you get lucky you may make something from curation. That depends on when big accounts vote on it.
If you make anything on your own posts and comments then power it all up to increase your vote. If you earn Hive Backed Dollars (HBD) you can convert them to Hive via the market or just use the Convert to Hive option that takes 3.5 days.
You may have seen me offering to delegate to small accounts via Twitter. I generally only do this for people who have hardly any HP and are struggling to post due to low RCs. If you are consistently producing good posts and have less than 500 HP I may add you to the @tenkminnows voting trail, but I am selective about this.
If you want to appreciation for comments on your own posts then reply to them. People will like that and maybe give you an extra vote. Just do not appear too needy. Replying to every post by a given person, regardless of the topic may give that appearance. Real engagement that contributes to the conversation makes for a better experience.
My other main recommendation for new users is to find people who share your interests. That can be individuals or communities. If you are into chess then find a chess community. That will mean you have posts that interest you in your communities feed and you can comment with some authority. Make Hive fun for yourself. I know the money is what may have brought you here originally, but it is not that easy to make a lot. I do okay, but then I have spend hundreds of hours on connecting with people, including attending many events such as Steemfest and local meetups. Hive is a social platform, despite what some people might say.
Finally, I will say to those new users, do not vote on my posts or comments! Give votes to small accounts who make a few cents on each post. You may help them make a tiny bit more. Voting strategically for curation rewards with low HP is likely to have a low payoff. Vote on what you enjoy and gradually build your HP.
Experienced users can correct me on anything I have got wrong. I do not keep track of all the inner workings of Hive.
Let's make Hive fun for everyone of every level. That is key to gaining and retaining users.
Hive five!