Happy Friday everyone! I hope you are all well and getting by in these strange times. The UK is still muddling through with confusing messages from the government (Stay alert!) and various businesses being allowed to open based on no logic at all. I am stuck at home, but staying busy with some on-line courses and keeping an eye on Hive.
The $Hive and HBD prices have seen some slight improvement recently. Hive is ranked outside the top 100 coins and it would be great to see it get back up again. That requires more people seeing it as a good investment. Meanwhile, Steemit have sold over six million $Steem from their main account in the last week. That may indicate they need the money.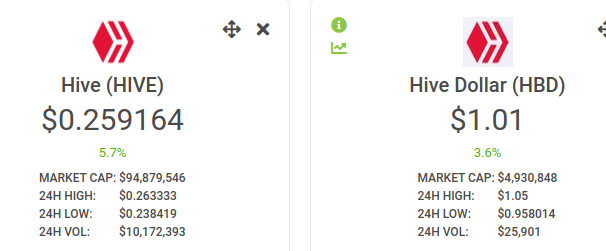 Data from @coingecko
Please spare a moment to vote for Hive in the latest Hackernoon Noonies awards.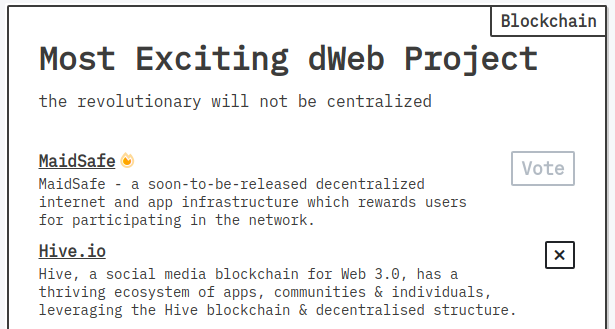 Voting and commenting have been on my mind recently. In my opinion there is too much automatic voting and not enough commenting. The result of these is that some people producing good content to not get enough of either.
Some discusion with @jaki01 made me realise that some big accounts are playing the rest of us to milk the curation rewards. They will make big votes on popular accounts with an expectation that lots of others will vote for them too. So they reap lots of curation rewards. For a while I have been less inclined to vote on posts that already have large rewards (e.g. over $20), or at least give them a smaller vote. In some cases I will agree that the post author deserves good rewards, but by voting on the post I enrich accounts who are unlikely to have read the post and they are even less likely to comment. A better policy may be to leave a comment and if the post author replies then give them a comment vote. They still get the same 50% of my vote, but I do better from the curation. This does rely on having enough HP to avoid the 'dust' threshold (around 2.5c I think). Okay, so I am not helping the post to 'trend', but does that matter? Does this make sense?
In the case of posts with just cents in rewards where the votes have come from people who actually care about it I am quite happy to add to their curation rewards.
I see @justinparke is also thinking about voting.
@sergiomendes posted a video about lack of support. As this post made $30 he cannot complain too much, but then posts about Hive itself tend to do better than others, partly because it is the one interest we all have in common. Unfortunately Hive is not 'fair'. The community in general may not care how much effort you put into a post or video and rewards can depend more on who you know. Given that we only have a few thousand active users niche interest posts will have a small audience. This is why growing the community and having more accounts with considerable HP is important. It will help distribute the rewards wider as the whales and orcas get less influence. That may mean some people getting less Hive per post than they are used to, but that Hive could end up being worth more.
Another critique of Hive came from @dickturpin who is never afraid to say what he thinks. I disagree that 'nobody is on Hive for the love'. Some people do not desperately need the money they make (if they even take any out), but they do believe in the potential of this platform.
The above post mentions @nathanmars is who is Tweeting like a demon to promote Hive whilst interviewing many community members. I am trying to stay off Twitter more lately, but it has value as a way to get out the work that Hive is a good place to be. I am trying to have more conversations here rather than on Twitter, Discord or other platforms.
Please be sure to use your witness votes. You have some influence on who gets to earn the rewards for processing the blockchain and to decide on where Hive goes next.
@c0ff33a runs a witness whilst making coffee 'up north'. He is running a Hive meetup in Halifax next month.
@klye has a Hive dice game as well as being a witness.
@dragosroua is a long-standing witness and creator of Hive Supply that informs your on what you are earning. He is also a fellow runner.
Which witnesses are under-appreciated in your opinion? Suggestions of more people to check out on #FollowFriday are always welcome.
Hive five!