As with all my posts about Hive this is an opinion piece. There are few actual rules here, but there are widely held opinions on what is good and bad for the platform. The community can decide as individuals whether to act against behaviour that is considered to be harmful.
How we use our votes is important. Of course there is a strong incentive to maximise your own income some of the ways this is done are not ideal when it comes to making Hive a popular destination.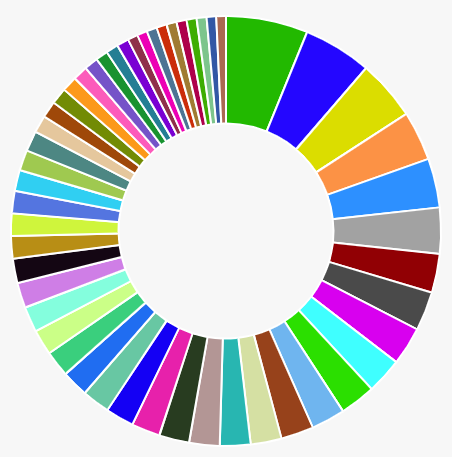 I spread my votes around, mostly manually.
A core part of the Hive design is POB, which stands for Proof of Brain, not Proof of Bot. People are much better than machines at detecting good content. I consider good content to that which a wider audience will enjoy, regardless of who it is by.
What happens in a lot of cases is that people set up automatic voting for either people they know or those who are most likely to get a lot of votes anyway in hope of reaping greater curation rewards. That may not be so effective as the system was designed to reward those who are first to find good content that is subsequently voted up by others. So small accounts should be actively seeking out posts they enjoy and re-posting them for others to see rather than trying to get tiny amounts by following voting trails.
I will admit that some of my votes are automated as I follow what @tenkminnows votes on. That account has a selection of small accounts to support to help them grow. I do not take any rewards directly from it, but will make something from curation.
One of the big issues on Steem was buying of votes. That also distorts the reward distribution and is not reflecting what people actually like. I think excessive self voting (more than the odd post) is similarly bad if your have a substantial vote.
Today I heard about a scheme via a post by @acidyo where people were getting a big vote from some accounts they delegate to if they give half the post rewards to those who control the scheme. Lot of posts are getting over $25 by doing this, but I see others sharing the rewards who do not get the votes. From the posts I have skimmed they look to be general information that is not really going to attract an audience to Hive and at least one was proven to be plagiarised. Some people are using their downvotes to adjust the rewards so as to make more availabel to others as well as discouraging this behaviour.
I get that people want to make more, but if we want this platform to prosper we need to make it an attractive place for really good content creators to post. If they see that Hive is full of 'scams' they will be put off.
I do pretty well from Hive, but I would happily see more rewards going to people creating real quality art, music and writing. I am just an amateur hack, but I will use my votes to do good where I can. Short term greed does not serve use well.
It is a fact that posts about the Hive platform can do pretty well, but then I guess they have the widest audience here. Some I have written have done very well. I will not decline rewards on this post, but I will share them with a few people.
Hve five.