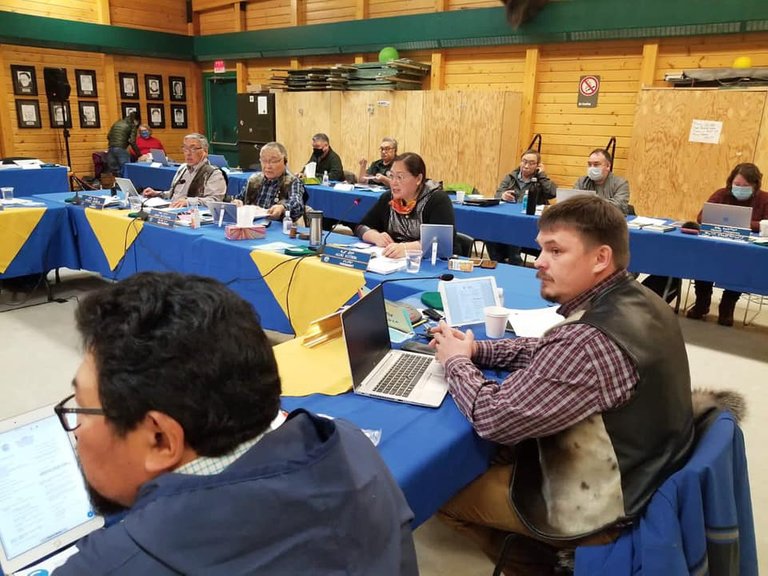 Nunavut Tunngavik Inc. (Which is the legal representative of the Inuit of Nunavut for the purposes of native treaty rights and treaty negotiation.) is calling for the federal government to forgive any debts incurred by Inuit when they collected the Canada Emergency Response Benefit if they were ineligible to do so during COVID-19. The resolution says that Inuit should not be "exposed to undue hardship through taking of benefits" and that any "benefits received in error are forgiven." Many Inuit didn't understand that they would be penalized later for accepting the money, the resolution also said.
CERB was a temporary federal income support provided by the Canadian Government for people who had stopped working due to COVID-19, amounting to $500 a week for up to 16 weeks. Applicants did not need to provide proof they had been laid off or lost their jobs due to COVID-19 to be eligible to receive CERB. The government chose to roll out the program quickly to get the funding to people in need and correct the errors at a later date. In May and June of 2020, Nunavut Premier Joe Savikataaq repeatedly cautioned residents that CERB was not "free money," and that if residents were not eligible to receive it, they will have to pay it back.
"It is a taxable benefit intended to help people who have been laid off or whose employment has been impacted because of the pandemic. If your circumstances have not changed because of COVID-19, please don't access this program. If you are not eligible for this program, you will likely have to pay some or all of it back in the future," Savikataaq said.
But Nunavut Tunngavik Inc. (NTI) alleges that many Nunavummiut (The people inhabiting the territory of Nunavut) thought it was a universal benefit that applied in good faith: "there was confusion and misunderstanding regarding CERB eligibility among Inuit," the resolution said. As of June 28, more than 8,800 Nunavut residents had received the CERB, according to Statistics Canada, with recent numbers putting Nunavut at 10,010 applicants. "Inuit living in extreme poverty are not in a position to repay," the resolution said, so the NTI calls "on governments of Canada and Nunavut to address high risk of COVID-19" instead.
NTI calls for focus to be on better housing, education, health and social services.
Other resolutions asked the federal and territorial governments to improve conditions in education, health and housing. It is said that COVID-19 public health recommendations highlight the need to deal with overcrowding and the lack of affordable housing among Nunavut Inuit. "Inadequate housing prevents Inuit from safeguarding themselves and practicing physical distancing during the pandemic," the resolution said. The resolution, which cited a recent Nunavut Housing Corp. report, said the government must adequately fund housing.
NTI delegates also asked for the governments of Nunavut and Canada to conduct a review of medical services and standards in Nunavut, "including the model of care, Inuit employment and transportation, and make the review publicly available." The resolution goes on to mention the NTI's report on Nunavut infrastructure, released on Oct. 20, which said only 14 per cent of Inuit have a regular health-care provider compared to 85 per cent of Canadians.
Delegates also asked for action to deal with suicide. They called for more specialized mental health units and better counselling, along with actions to reduce poverty and other social inequities that "cause distress among Inuit." The resolution said the Nunavut government must fulfill its commitment to "an Inuit-centric approach for community wellness."
The next NTI AGM takes place in Iqaluit from Oct. 18 to Oct. 21, 2021. No community feast took place in Cambridge Bay during the AGM due to COVID-19 restrictions. Instead, $2,500 was awarded to the community's food bank and to elders who live at the continuing-care facility. NTI President Aluki Kotierk also announced that the NTI board members approved the launch of a financial support program for elders, called Uqqujjait Innarnut. The program aims to provide Nunavut Inuit elders, born between Jan. 1, 1949, and Dec. 31, 1955, with monthly payments of $120.
Sources
https://nunatsiaq.com/stories/article/inuit-who-collected-cerb-despite-being-ineligible-shouldnt-have-to-repay-says-nti/
https://www.canada.ca/en/services/benefits/ei/claims-report.html
https://nunatsiaq.com/stories/article/nunavut-housing-corp-report-underlines-territorys-huge-housing-challenge/
https://nunatsiaq.com/stories/article/new-report-measures-infrastructure-gap-between-nunavut-and-canada/
Apologies if this trips a plagarism bot. I edited this article because I hate the way the author wrote it, with one paragraph consisting of a single sentence. I don't care if it's a style that journalists use. I dislike it. It works in small printed columns but looks dumb on a website. Maybe I need to use my phone more often to read news...

Find my artwork for sale exclusively on NFTShowroom.com
Find my photographs of Nunavut scenery and Wildlife on Lensy.io
Follow me on twitter here: Hive Related Account / Photography and Art Account
I am also on Instagram: But only Photography and Art
More art on DeviantArt at: Ice-O-Lated
Hive Divider provided by @thepeakstudio