Nineteen days ago I posted about completing one thousand missions in Rising Star, the music industry based Hive game with NFT cards. I have just doubled that number, which equates to over fifty missions each day. I do tend to spend all day at my PC, so it is not much effort to click a few things each hour. The audio prompts from the game tell me when it is time, although some can be a little distracting (e.g. the drunks).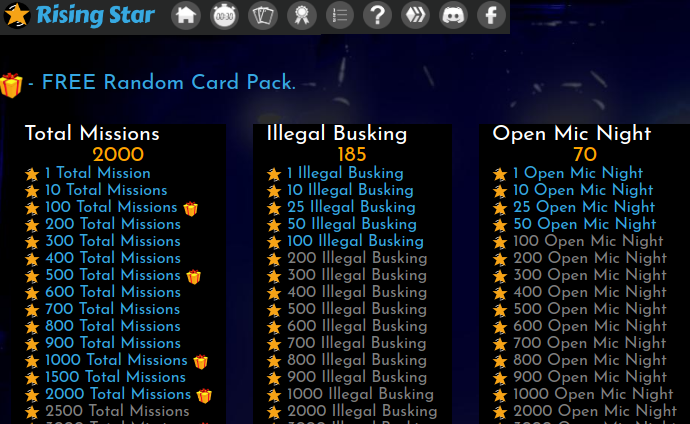 I have clocked up 185 Illegal Busking, 1101 Radio Interviews and 380 Band Rehearsals with lesser numbers of other missions
I do not know what level I was on when I did that previous post, but I have reached level 100 now. Since I reached the third zone I have mostly been doing the Band Rehearsal mission as it gives the best Starbits and XP per hour. If I am away from the PC and do not want to be checking my phone all the time I run some of the longer zone 2 missions. There is one that lasts five hours that I can run overnight. That helps keep my weekly minutes up so I have a chance of winning a pack in one of the weekly draws that happen during the live show put out by @atomcollector who created @risingstar. I have not won one for that yet, but I did win one for posting about the game last week. I am only posting about once a week on this topic as I do not have enough to say for more frequent posts.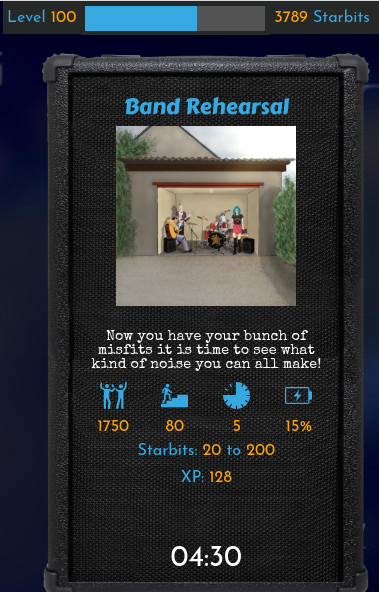 Level 100 would allow me to run the Full Band Headline mission, but I need more cans of petrol for that. I have enough for the Full Band Support Mission. I may have to get more as the headline gig would be a better one hour mission for me to use than the zone 2 one.
I have a few active referrals who gain me some extra Starbits each day. I make a lot more from the missions and get about enough for a card pack most days. I have mixed luck with those. I really do not need more cow bells or congas, although I have sold some. I could do with some legendary cards to boost my fans and my earning capability.
The market is very active. Some people open many packs each day and so have lots of cards to sell. Prices can vary quite a lot. I usually buy for Starbits, but people can ask for any Hive Engine token. I have done a few deals with people such as swaps as I try to collect all the different cards.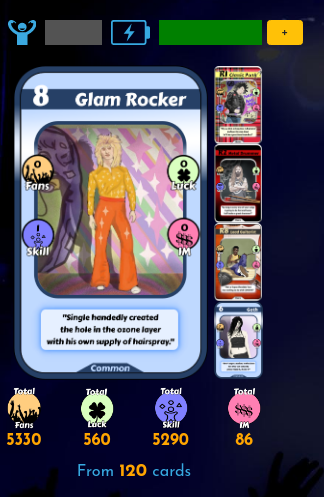 I have over 4000 fans from cards, so the drunks are putting me at risk of ego reducing my earnings. I think it is time for a lesson whilst I have dinner to increase my skill.
This is what I got in the bonus pack for completing 2000 missions. I have those instruments already, so I may be selling them.

One more skill boost will not make too much difference.
I am still enjoying the game and am interested to see what the next zone will bring. There is a good community and lots of development going on. There are some 'mini-games' you can play such as a Flappy Bird clone, but I have not been playing those. I think it can be a nice way to earn extra tokens, which you can sell if you want without any initial investment. Some of the cards are selling for hundreds of HIVE. Several players qualified for the million Starbits card, but I keep spending mine.
Give it a try and see what you think. You have nothing to lose and you may enjoy it.
Rock on!