Some pictures of the great Catharanthus Roseus || Algunas fotos de la grandiosa Catharanthus Roseus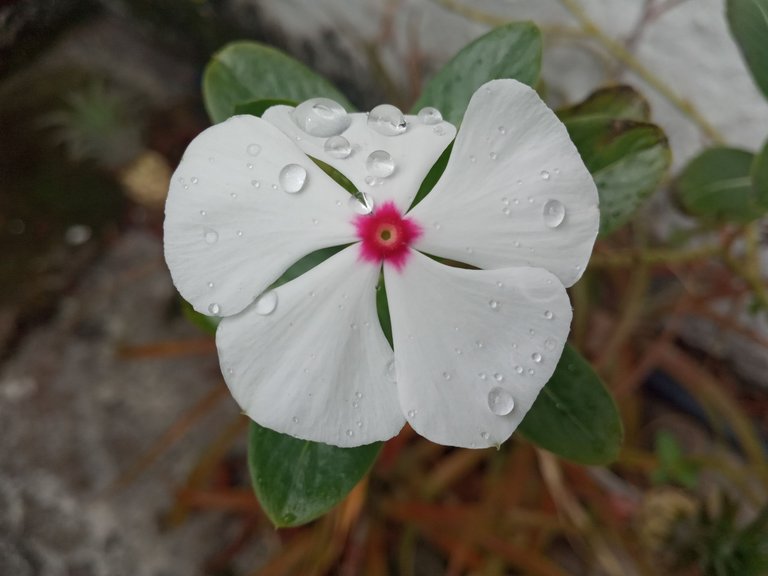 Photo taken by me || Foto tomada por mi
English
Its scientific name: Catharanthus Roseus, or also known in my country as "Chocolata", is a plant that we sometimes use in my home when someone gets sick, my mother for her experience has always told me that this plant helps to raise the body's defenses, something very true, because its scientific use is given for the treatment of diseases such as leukemia, hypertension and diabetes, usually in my home we boil a couple of leaves in a little water and then we consume its substance.
It has been a quite effective plant, in fact, not long ago when the COVID invaded my home, this plant was one of our great allies, I even had direct contact with my sister who was infected with the virus and I never contracted it despite having been inside her isolation area in my home.
I found it quite curious and opportune to take some pictures of this great plant, because until not long ago all the flowers in my garden were pink, and currently all of them suffered a change in their pigmentation, becoming white with a pink center.
Español
Su nombre científico: Catharanthus Roseus, o también conocida en mi país como "Chocolata", es una planta que utilizamos en ocasiones en mi hogar cuando alguien se enferma, mi madre por su experiencia me ha comentado siempre que esta planta ayuda a subir las defensas del cuerpo, algo muy cierto, pues su uso científico se da para el tratamiento de enfermedades tales como la leucemia, hipertensión y diabetes, normalmente en mi hogar ponemos a hervir un par de hojas en un poco de agua y posteriormente consumimos su sustancia.
Ha sido una planta bastante efectiva, de hecho, no hace mucho cuando el COVID invadió mi hogar, esta planta fue una de nuestras grandes aliadas, yo incluso tuve contacto directo con mi hermana quien estaba infectada con el virus y yo nunca lo contraje a pesar de haber estado dentro de su área de aislamiento en mi hogar.
Me pareció bastante curioso y oportuno hacer unas fotos de esta grandiosa planta, pues hasta no hace mucho todas las flores en mi jardín eran de color rosado, y actualmente todas sufrieron un cambio en su pigmentación, pasando a ser blancas con un centro de color rosado.

In my garden this wonderful plant prevails, along with a papaya plant and a taller central tree, I wanted to highlight the previous traces of rain, and among the photos, I captured a nest of some small pigeons in the biggest tree, with a couple of chicks there, I took a couple of shots but the best one is the one I will show, I didn't want to disturb the tranquility of the chicks and their mother. Here are the shots.
En mi jardín impera esta maravillosa planta, junto con una de papaya y un árbol central más alto, quise resaltar los rastros previos de la lluvia, y entre las fotos, capté un nido de unas pequeñas palomas en el árbol más grande, con un par de pichones allí, hice un par de tomas pero la mejor es la que enseñaré, no quise entorpecer la tranquilidad de los pichones y su madre. A continuación las tomas.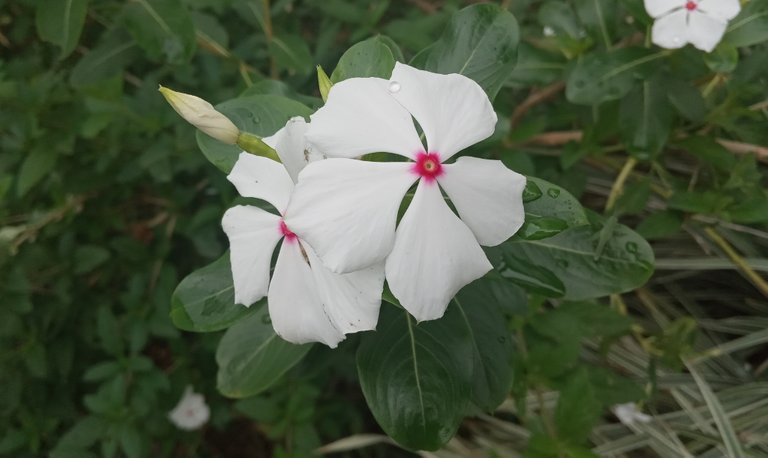 ---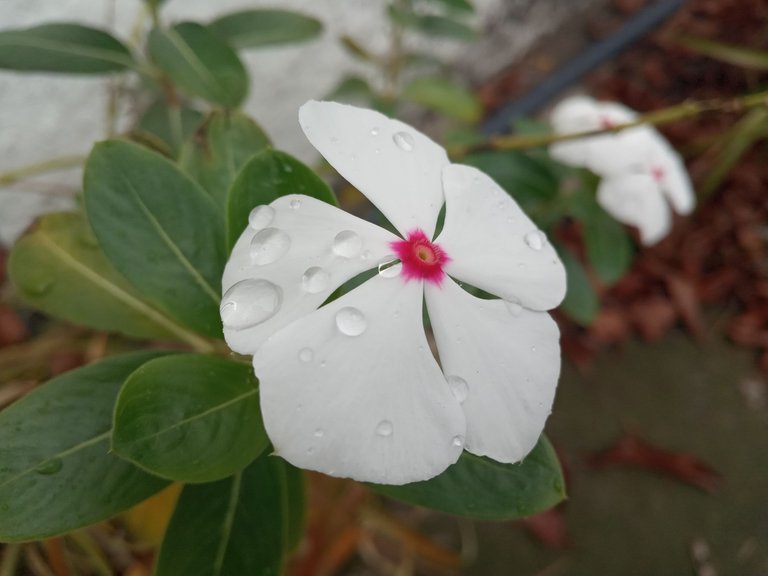 ---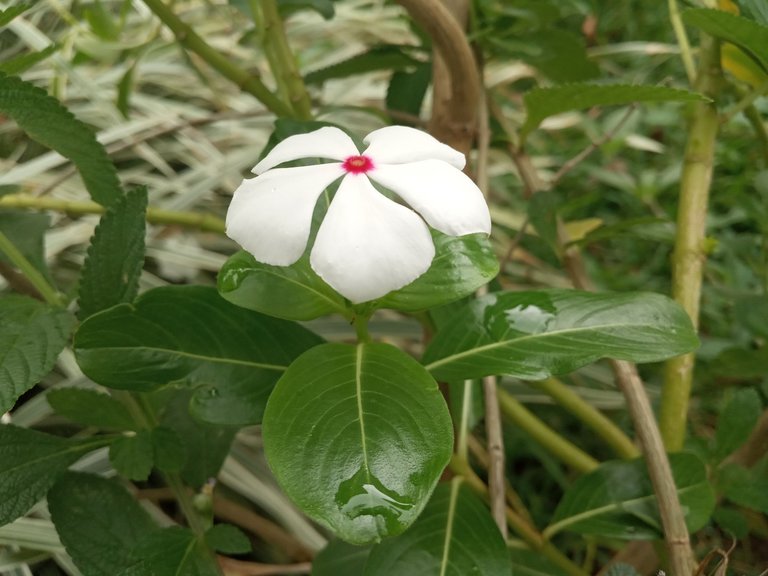 ---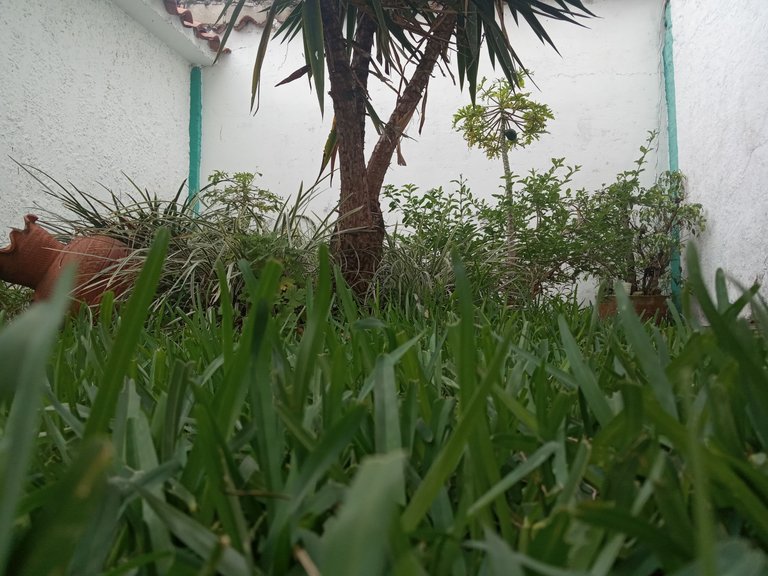 ---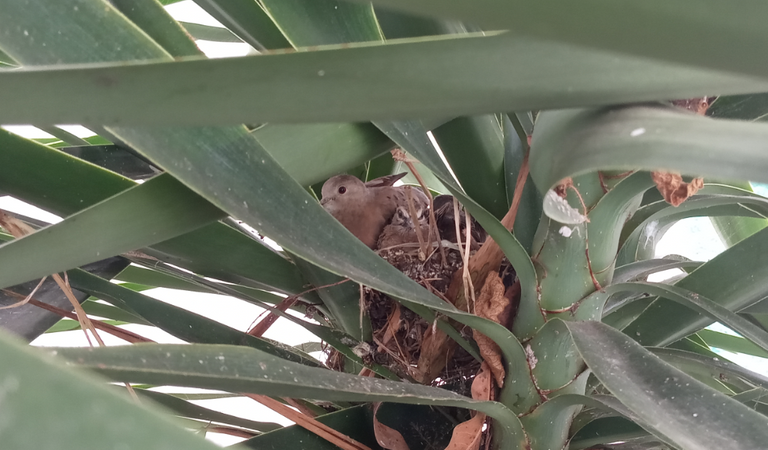 ---
Photos taken by me || Fotos tomadas por mi
For the moment I continue capturing my photos with my phone, and as advice, for all those dreamers, and photography lovers, I can tell you, do not limit yourself to the fact of not having a professional camera, sometimes a good angle is enough to make really beautiful pictures, the art is in the effort we show in each image we generate with our lens, the rest comes by itself.
As always, I am open to advice to feed my photographic knowledge, I hope to give more life and color to my garden, I plan to bring a few new plants to try to attract rare insects and some birds so I can take more pictures and tell stories behind each image.
Por el momento sigo captando mis fotos con mi teléfono, y como consejo, para todos aquellos soñadores, y amantes a la fotografía, les puedo decir, que no se limiten al hecho de no tener una cámara profesional, a veces es solo suficiente un buen ángulo para hacer fotografías realmente hermosas, el arte está en el esfuerzo que demostremos en cada imagen que generemos con nuestro lente, lo demás viene por sí solo.
Como siempre, estoy abierto a los consejos para alimentar mis conocimientos fotográficos, espero darle más vida y color a mi jardín, pienso traer unas cuantas plantas nuevas para intentar atraer insectos raros y algunas aves para poder hacer más fotografías y contar historias detrás de cada imagen.

Source of images || Fuente de imágenes
---
1 - 2 - 3


---