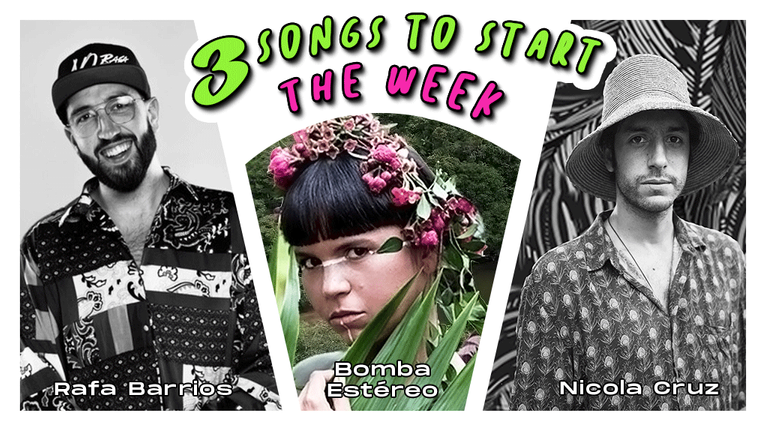 English
What's up people! Happy start of the week. In this opportunity I come to recommend three songs that unite folklore with electronica, here you will find traditional songs united with a good electronic vibes, here I leave this dose of energy to start the week, listen to these 3 gems:
Español
¡Que dice la gente! Feliz inicio de semana. En esta oportunidad vengo a recomendarles tres canciones que unen el folklore con la electrónica, aqui encontraran cantos tradicionales unidos a un buen punki punki, ahí les dejo esta dosis de energía para iniciar la semana, escuchen estas 3 gemas:
---

Agua de la tierra - Nicola Cruz
Agua de la tierra es un house con folklore andino, así que tiene mandolina, percusión y flautas de pan, un track bien equilibrado entre elementos electrónicos y orgánicos.
Este mix es tan solo uno de los tracks del EP "El Origen" un proyecto colaborativo entre el músico chileno Rodrigo Gallardo y el DJ francés Nicola Cruz, este último tiene una gran afición por la cultura Andina, así que este proyecto es un reflejo de la pasión e interés de Nicola por dicha cultura.
Agua de la tierra es uno de mis temas favoritos para empezar el día, siento que es un tema fresco que transmite buena vibra. Ideal para que renueves la energía y comiences la semana sintiéndote ligero.
Agua de la tierra is a house with Andean folklore, so it has mandolin, percussion and pan flutes, a well balanced track between electronic and organic elements.
This mix is just one of the tracks of the EP "El Origen" a collaborative project between the Chilean musician Rodrigo Gallardo and the French DJ Nicola Cruz, the latter has a great fondness for the Andean culture, so this project is a reflection of Nicola's passion and interest for this culture.
Agua de la tierra is one of my favorite tracks to start the day, I feel it's a fresh track that transmits good vibes. Ideal for you to renew your energy and start the week feeling light.
---

Lucerito - Rafa Barrios
Lucerito es un tech house con tonadas del llano venezolano, así de loco 😂 Es un tema que activa, así que funciona para entrenar por la mañana.
En Lucerito el DJ Rafa Barrios incluye en un tech house los versos de Canto del Ordeño, un tonada del reconocido compositor venezolano Antonio Estevez; esta pieza ha sido interpretada por muchos artistas pero la versión que utiliza Rafa es la de Cecilia Todd, por acá dejo la original para los curiosos:
Lucerito is a tech house with tunes from the Venezuelan plains, so crazy 😂 It's a track that activates you, so it works to train in the morning.
In Lucerito DJ Rafa Barrios includes in a tech house the verses of Canto del Ordeño, a tune by the renowned Venezuelan composer Antonio Estevez; this piece has been interpreted by many artists but the version Rafa uses is the one by Cecilia Todd, here I leave the original for the curious ones:
---

Sonic Forest (Dejame respirar / Let me breathe) - Bomba Estéreo ft. Nidia Góngora
Esta canción es preciosa tanto por su música como por su mensaje. Primeramente tiene un mensaje muy bonito de conciencia ecológica y forma parte de una campaña para salvar los bosques del Pacífico de Colombia, por otra parte, la música es genial ya que mezcla la electrónica con elementos peculiares, como por ejemplo, el sample de un hombre hablando en una lengua indígena.
Entre los muchos elementos que tiene Sonic Forest mi favorito es que utilizan muchos sonidos de la naturaleza. Si se fijan, al inicio suena el canto de unos pájaros, que es como el sonido de la mañana, luego, a medida que el tema transcurre hay sonidos de distintos animales como aves y sapos (en los segundos 00:47, 1:25 y 1:31 pueden escuchar algunos), y concluyen la canción con sonidos de grillos, como reflejando la selva de noche.
De esta manera logran crear todo un paisaje sonoro en torno a la naturaleza y lo mejor es que no suena forzado o sobrecargado, más bien pasan un poco desapercibidos a la primera escucha, pero ya que están advertidos seguro podrán notarlos fácilmente. Estos sonidos son un detalle precioso que encaja perfecto con el contexto de la canción.
"Está canción está inspirada en la experiencia de Simón Mejía, de Bomba Estero, con las comunidades que protegen los bosques del Pacífico de Colombia.

Sonic Forest (Déjame respirar) es la canción oficial de un documental que retrata la riqueza natural y musical de la costa del Pacífico colombiano y las comunidades que protegen los bosques de la región.
- Palabras obtenidas de la descripción del video original. Fuente: Sonic Forest
Como verán, esta no es solo una canción buena vibra sino que tiene un llamado a la acción importante, por lo que los invito no solo escuchar la canción sino también a ver el documental el cual está completamente grátis en YouTube, por acá se los dejo:
This song is beautiful both for its music and its message. First of all it has a very nice message of ecological awareness and it is part of a campaign to save the forests of the Pacific of Colombia, on the other hand, the music is great because it mixes electronics with peculiar elements, like for example, the sample of a man speaking in an indigenous language.
Among the many elements that Sonic Forest has, my favorite is that they use a lot of nature sounds. If you notice, at the beginning there is the sound of birds singing, which is like the sound of the morning, then, as the song goes on there are sounds of different animals like birds and toads (in seconds 00:47, 1:25 and 1:31 you can hear some of them), and they conclude the song with sounds of crickets, like reflecting the jungle at night.
In this way they manage to create a whole soundscape around nature and the best thing is that it does not sound forced or overloaded, rather they go a little unnoticed at first listen, but since you are warned you will surely be able to notice them easily. These sounds are a precious detail that fits perfectly with the context of the song.
This song is inspired by Simon Mejia of Bomba Estereo's experience with the Pacific Forest Communities in Colombia.

Sonic Forest (Déjame respirar / Let Me Breathe) is the official theme song for 'Sonic Forest' - a documentary that spotlights the natural and musical richness of Colombia's Pacific coast and the communities safeguarding the region's forests.
- Words taken from the description of the original video. Fuente: Sonic Forest
As you can see, this is not only a good vibe song but it has an important call to action, so I invite you not only to listen to the song but also to watch the documentary which is completely free on YouTube, here it is:
Documental en Español: Link aquí
---

Bueno amigos, esto es todo por esta oportunidad, espero les haya gustado está selección de música electrónica un poco más inusual con estas mezclas de género folklore. A mi me encantan por la fusión de sonidos tradicionales y modernos que tienen. Estas canciones me revitalizan un poco, por mas hippie que suene😂, así que espero les sirvan también a ustedes para llenarse de buena energía😊.
Si desean que haga un review sobre un género específico déjenmelo saber en los comentarios, el próximo lunes regreso con tres canciones más, así que nos estamos leyendo. Sin mas que agregar les deseo una linda semana.
✨ Un abrazo a todos
and good vibes! ✨
Well friends, this is all for this opportunity, I hope you liked this selection of electronic music a little more unusual with these folk genre mixes. I love them because of the fusion of traditional and modern sounds they have. These songs revitalize me a little, no matter how hippie they sound😂, so I hope they also serve you to fill you with good energy😊.
If you want me to do a review on a specific genre let me know in the comments, next Monday I'll be back with three more songs, so we are reading each other. Without more to add I wish you a nice week.
✨ A hug to everyone
and good vibes! ✨

---
External links | Enlaces externos:
Sonic Forest Original Page: https://standfortrees.org/sonicforest/
Help the communities of the Colombian Pacific raise $10,000 for clean water, scholarships, and health centres.
Canto del Ordeño | Compositor y versiones: https://www.google.com/amp/s/www.cancioneros.com/nc_amp.php%3fNM=6147&ID=0
Rodrigo Gallardo y Nicola Cruz: https://wonderwheelrecordings.com/artist/rodrigo-gallardo-nicola-cruz/
---

⚡️ Hey ⚡️
También puedes seguirme en mis redes
⚡️ Hey ⚡️
You can also follow me on my social media

Iconos cortesía de Plus Math icon icon by Icons8
Collages y separadores hechos por mi @cronosclocks