Blooming cactus - Rebutia Albiflora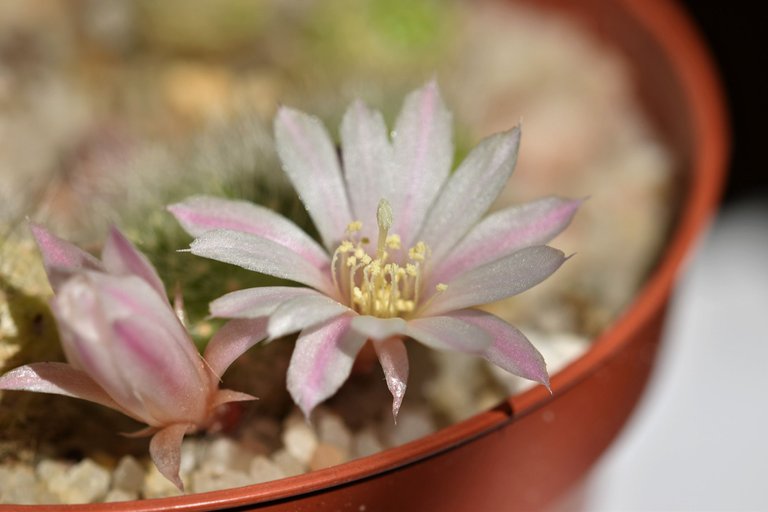 I heard somewhere that this cactus does not (or is very hard to) propagate though seeds and the only way is the cuttings. Thus all the plants grown in home conditions come from the ones grown in a wild. Not directly... but cutting after cutting.
I received a few of them from a Steemian Hivean that unfortunately is not active for a long time. She has the most amazing collection of cacti!
Rebutia Albiflora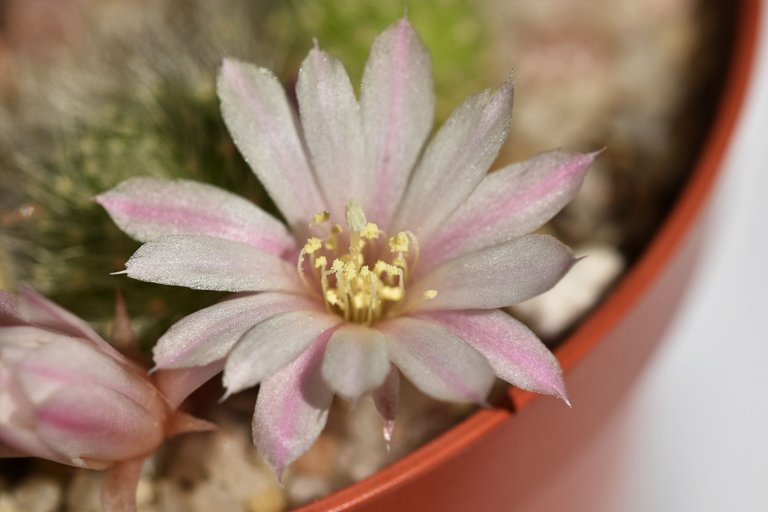 It is a very tiny cactus native to Bolivia. I grows in shaded areas and I am not surprised. In full sun it would probably dry to a crisp in no time. The tiny balls would heat up and puff.. bye bye Rebutia :p
The biggest green ball you see here is maybe 1cm in diameter. The flower is much larger, but still tiny. It all makes the smallest cactus I have.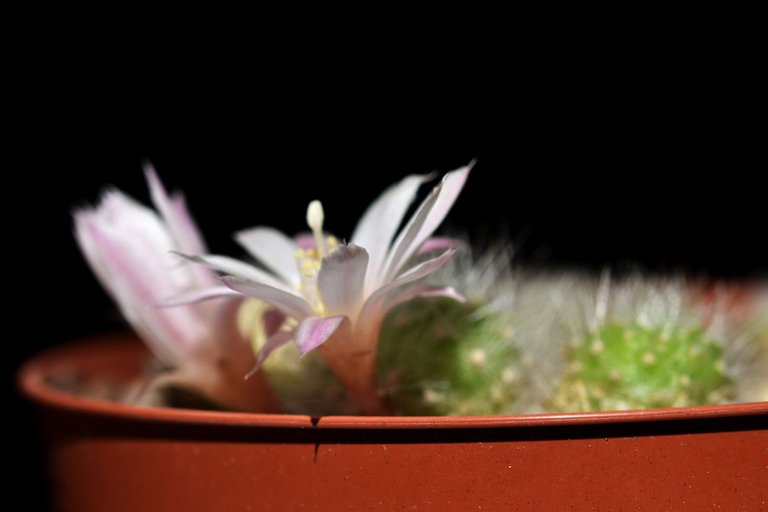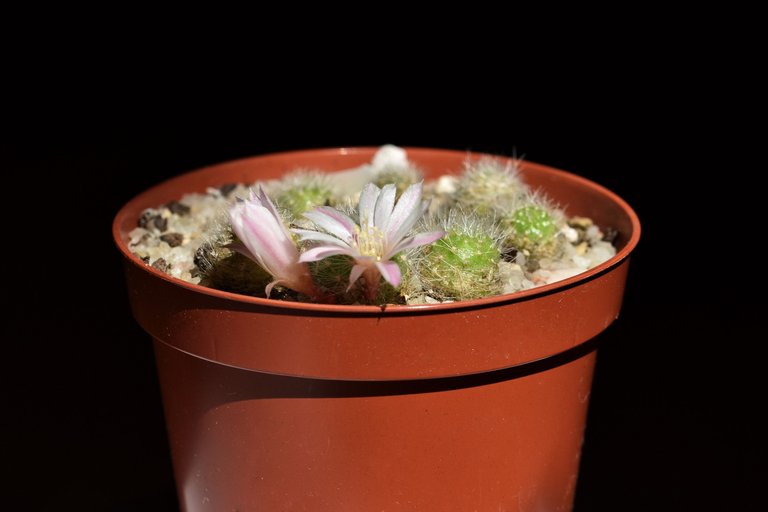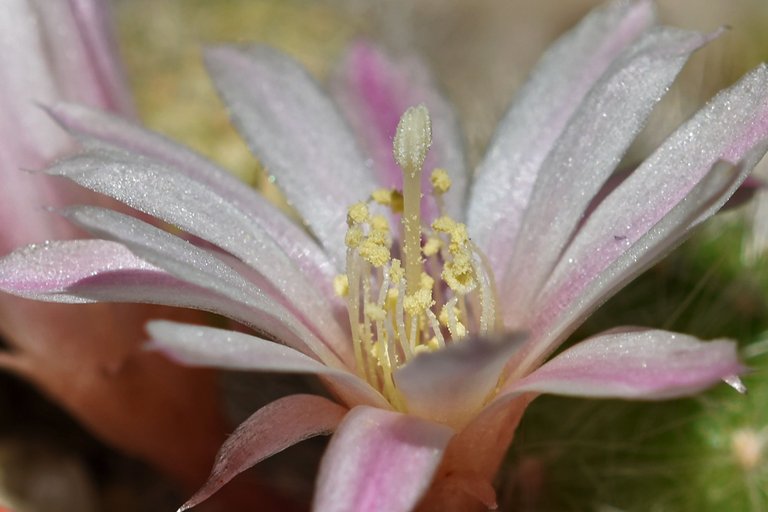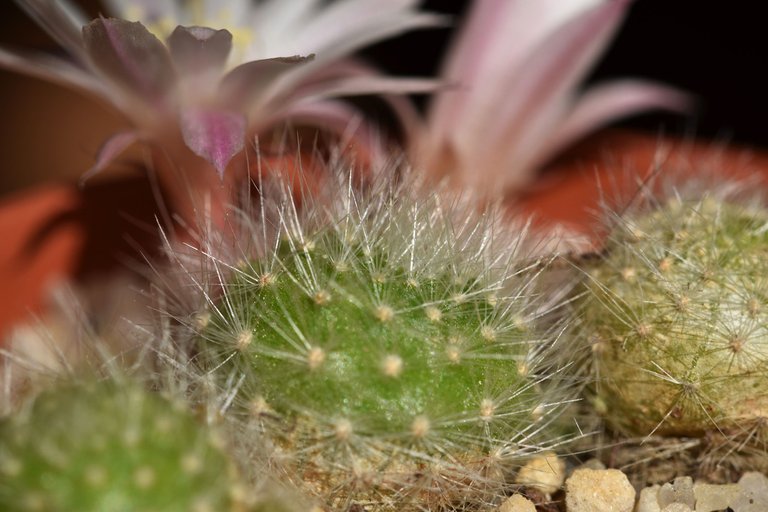 There is a few of the growing in this pot. I had more, but previously they grew in clay pot and some didn't make it though the winter. I am hoping to get a nice green carpet in a few years. You can google some photos if you are interested - they look amazing!
Good thing is that after they are don't blooming they will start to produce more little green balls and they can grow few of them every year.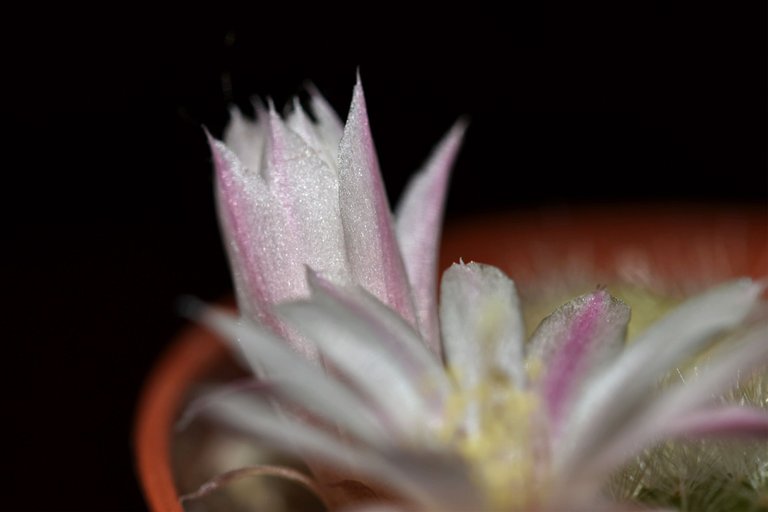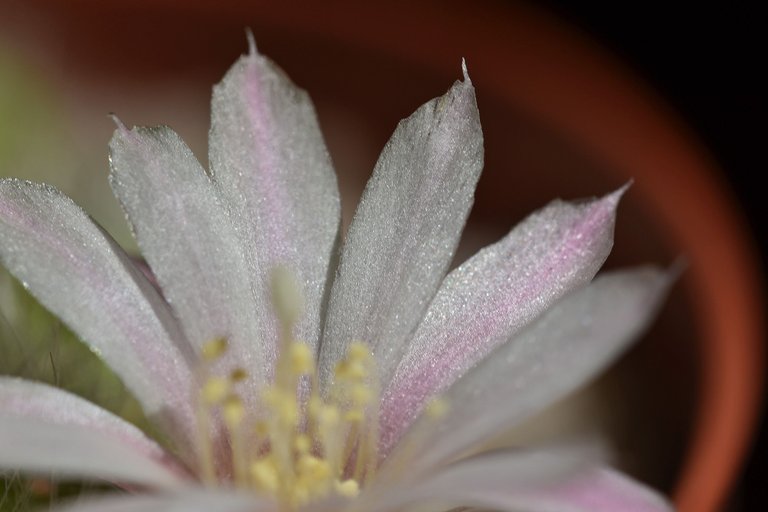 The flowers appear in spring (I took the photos today) and last a few days. As I mentioned - bigger than a cactus itself, but still very small with maybe 2,5 cm in diameter. They will last a few days and I will have to wait until next spring.
I think this is the only colour they have. Very delicate, sparkly white with pink tint.
The spines are so delicate that you can actually pet it.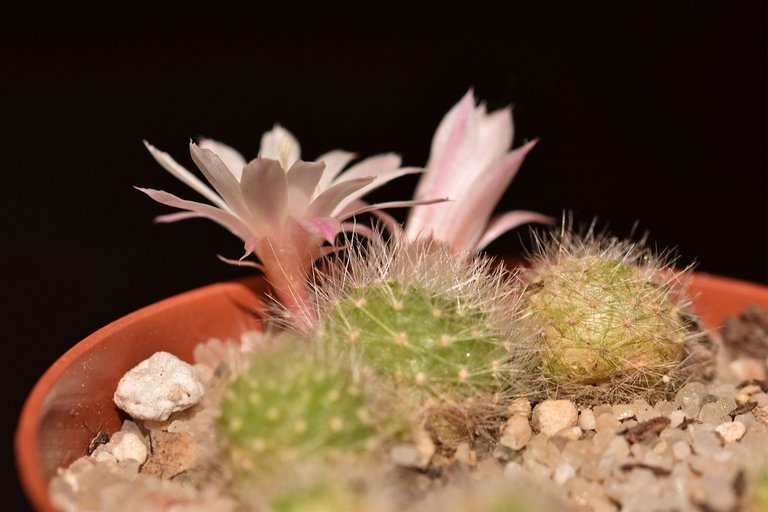 ---
Last year I had an assistant with me. Today there was no assistant in sight.
Bored face says one thing... This cactus is not interesting at all!
And please notice the clay pot it used to grow in. Pretty... I like clay pots. But they just don't work for me.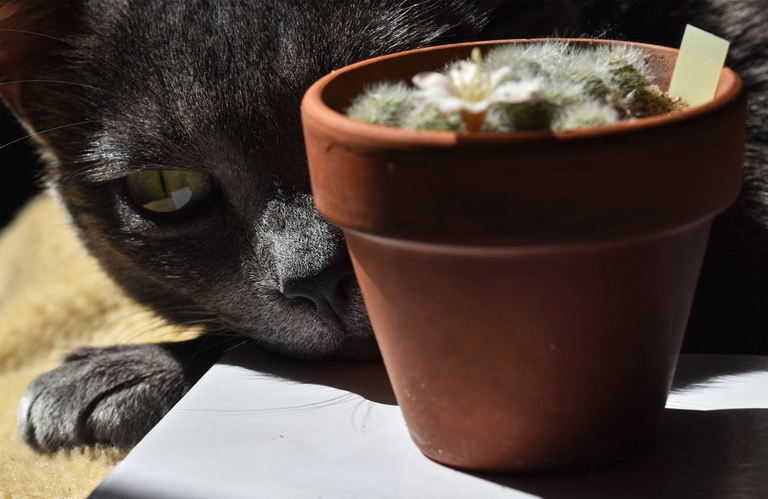 My other blooming cacti:
Click on the image to view full post.
| | | | |
| --- | --- | --- | --- |
| Chamaecereus hybrid | Sulcorebutia Canigueralii | Mammillaria camptotricha | Mammillaria Glassii |
| Gymnocalycium baldianum | Mediolobivia mudanensis | Lobivia Arachnacantha | Rebutia hybrid |
| Mammillaria Bombycina | Mammillaria Gracilis Snowcap | Mammillaria haageana | Mammillaria backebergiana |
| Chamaecereus silvestrii | Mammillaria prolifera | Rebutia Fabrisii var. Aureiflora | Lobivia Wrightiana |
| Aylostera Flavistyla FR756 | Parodia concinna | Mammillaria Copper King | Gymnocalycium Bruchii |
| Mammillaria backebergiana | Gymnocalycium damsii | Echinopsis subdenudata | Rhipsalis pilocarpa |
| Mammillaria Prolifera | Lobivia arachnacantha v. vallegrandensis | Mediolobivia atrovirens | Mammillaria magnimamma |
| Sulcorebutia langerii | Sulcorebutia frankiana | Chamaelobivia no ID | Rebutia Albiflora |
| Mediolobivia atrovirens var. ritteri | Gymnocalycium damsii var. tucavocense | Notocactus Ottonis | Gymnocalycium Friedrichii |
| Turbinicarpus Viereckii | Rebutia neocumingii | Notocactus Rubrigemmatus | Lobivia no ID |
»«
Shot with Nikon D5500 + Sigma 105mm lens
All photos and text are my own.
---
---