Some weeks ago I got hold of (a copy of) a manuscript of a composition that I knew existed, but that is not available in the public domain. It s prelude and fugue in D major by one of lesser known cousins of Johann Sebastian Bach, namely Johann Lorentz Bach. The fugue of that works ís availble, but not the prelude. Getting hold of such a manuscript is really exiting. Well, at least to me, I am probably a bit weird.
First step is then to create a nice score out of it, practise the music, record a performance of it, create a video with the score in overlay and then publish the score a the final step. It's actually a lot of work for each score. Yesterday evening I finished the first round of note entry. Tonight I'll start playing it as a means of proofreading as playing already showes a lot of the errors made during note entry.
The prelude looks very nice, though short. It's probably not a lot of work to practise it. The fugue however, looks more intimidating. And not really interesting to be honest. It's the prelude I am most interested in.
I am not yet sure I can publish the score however. The owner has not yet given persmission to do that. So for now, being able to study it is my own personal pleasure. I hope however I can share it, somewhere in the near future.
What I can share is this choral prelude by Friedrich Wilhelm Zachow, "Wenn mein Stündlein vorhanden ist" (LV 12).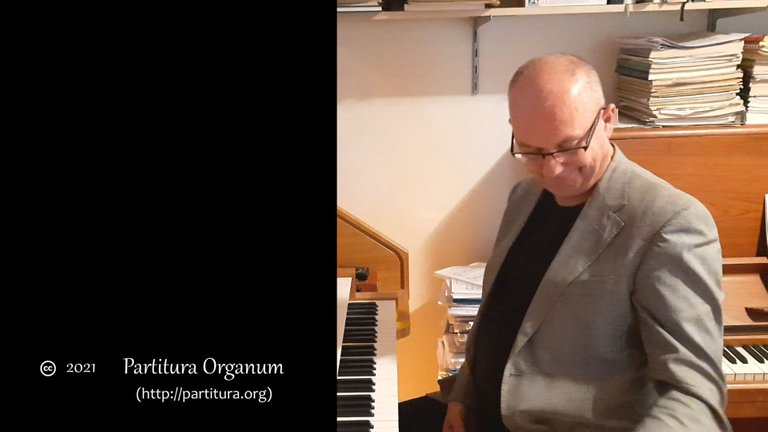 Like a lot of Zachow's choral preludes. this one is also a fugue on the first phrase of the choral melody. In this case Zachow also employs a countersubject that he maintains throughout the piece. Zachow was a craftsman in counterpoint as he shows in this piece: the countersubject is written in double counterpoint, meaning it can be played both above and below the fugue subject without violating voice leading rules.
The recording was done with the Hauptwerk software and the sampleset, made by Sonus Paradisi, of the Hinsz organ in the Reformed church in the Midwolda (https://www.sonusparadisi.cz/en/organs/netherlands/midwolda-surround-sample-set.html).
Score available here: http://partitura.org/index.php/friedrich-wilhelm-zachow-wenn-mein-stundlein-lv-12