This publication was also written in SPANISH and PORTUGUESE.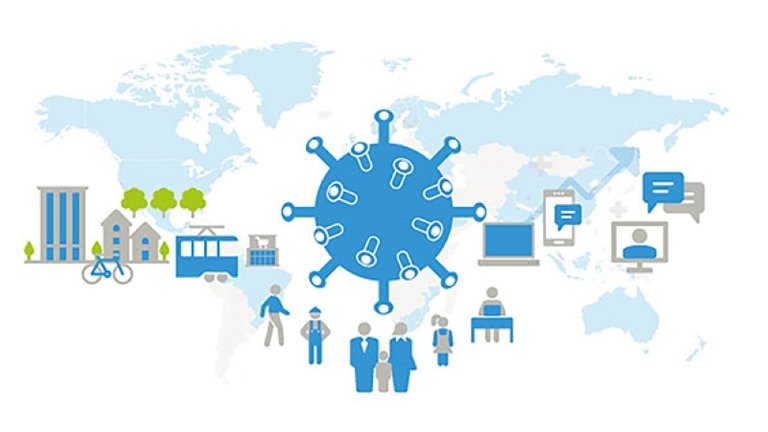 World Green Building Council
During this quarantine period, everyone knows (or should know) that isolation and social detachment are two of the main "weapons" that we all have to prevent Coronavirus (Covid-19). But unfortunately, there are still many people who insist on breaking these - and others - rules like wearing masks or hand hygiene) and ignore these security measures. This is very sad to see because I think it is a clear demonstration of how much society still needs to evolve as a human being.
Particularly speaking, leaving home has been something I have done very little and when I need to go somewhere (like the supermarket to buy food or the bank to pay bills) it is always for some important reason. On these specific days, I always feel a sense of awkwardness when I see most people wearing masks and standing away from each other. Sometimes, even without realizing it, casting suspicious glances about how people behave in the midst of this pandemic situation... After all, everyone has a potential level of suspicion.
In addition, walking through the empty streets and seeing most of the establishments closed is also a bit of an impact because it is like being in a "parallel world" and full of restrictions. At times, seeing important places isolated and without any sign of movement reminds me of those films with a relatively apocalyptic theme. Getting into the allowed places and having to follow so many rules (being constantly watched so the rules are not broken) is really the "new normal" and these recommendations are here to stay.
We will have to adapt to what is being imposed on us and contrary to what many people still think, this is not a choice... It is an obligation. Fighting this change is inevitable because in one way or another, all of us (and obviously, our habits) are part of it. Adaptation will be a key word and within this scenario, a reformulation of concepts and ideas is very likely, which will create new ways of thinking and acting. The "new normal" will definitely rock the world.
I know it may be an exaggeration to say this, but I think that experiencing this new reality is almost like a challenge for an intense phase of transition, as something that is beyond our limited understanding and that we - as human beings - do not yet have. the ability to understand. However, we will have to accept it because there is no escape from it. Understanding the new normal and adapting to the challenges to come is the next phase that society will have to overcome in this game called "life".
---
Experimentando la nueva normalidad.
Durante este período de cuarentena, todos saben (o deberían saber) que el aislamiento y el desapego social son dos de las "armas" principales que todos tenemos para prevenir el Coronavirus (Covid-19). Pero desafortunadamente, todavía hay muchas personas que insisten en romper estas reglas - y otras - como usar máscaras o higiene de manos) e ignoran estas medidas de seguridad. Es muy triste ver esto porque creo que es una demostración clara de cuánto necesita evolucionar la sociedad como ser humano.
Particularmente hablando, salir de casa ha sido algo que he hecho muy poco y cuando necesito ir a algún lugar (como el supermercado para comprar comida o el banco para pagar facturas) siempre es por alguna razón importante. En estos días específicos, siempre siento una sensación de incomodidad cuando veo que la mayoría de las personas usan máscaras y se alejan unas de otras. A veces, incluso sin darse cuenta, lanzando miradas sospechosas sobre cómo se comportan las personas en medio de esta situación de pandemia... Después de todo, todos tienen un nivel potencial de sospecha.
Además, caminar por las calles vacías y ver la mayoría de los establecimientos cerrados también es un poco impactante porque es como estar en un "mundo paralelo" y lleno de restricciones. A veces, ver lugares importantes aislados y sin ningún signo de movimiento me recuerda a esas películas con un tema relativamente apocalíptico. Entrar en los lugares permitidos y tener que seguir tantas reglas (ser vigilado constantemente para que las reglas no se rompan) es realmente la "nueva normalidad" y estas recomendaciones están aquí para quedarse.
Tendremos que adaptarnos a lo que se nos impone y, contrariamente a lo que mucha gente todavía piensa, esto no es una opción ... Es una obligación. Combatir este cambio es inevitable porque de una forma u otra, todos nosotros (y obviamente, nuestros hábitos) somos parte de él. La adaptación será una palabra clave y dentro de este escenario, es muy probable una reformulación de conceptos e ideas, lo que creará nuevas formas de pensar y actuar. La "nueva normalidad" definitivamente sacudirá el mundo.
Sé que puede ser una exageración decir eso, pero creo que experimentar esta nueva realidad es casi como un desafío para una fase intensa de transición, como algo que está más allá de nuestra comprensión limitada y que nosotros - como seres humanos - todavía no tenemos. La capacidad de entender. Sin embargo, tendremos que aceptarlo porque no hay escapatoria. Comprender la nueva normalidad y adaptarse a los desafíos por venir es la siguiente fase que la sociedad tendrá que superar en este juego llamado "vida".
---
Experimentando o novo normal.
Durante esse período de quarentena, todo mundo sabe (ou deveria saber) que o isolamento e o distanciamento social são duas das principais "armas" que todos nós temos para evitar o Coronavírus (Covid-19). Mas infelizmente, ainda existem muitas pessoas que insistem em descumprir essas - e outras - regras como o uso de máscaras ou a higienização das mãos) e ignoram essas medidas de segurança. Isso é muito triste de se ver porque eu acho que é uma clara demonstração da quanto a sociedade ainda precisa evoluir enquanto ser humano.
Particularmente falando, sair de casa tem sido algo que eu tenho feito muito pouco e quando preciso ir a algum lugar (como ao supermercado comprar comida ou ao banco pagar contas) é sempre por alguma razão importante. Nestes dias específicos, eu sempre sinto uma sensação de estranheza quando eu vejo a maioria das pessoas usando máscaras e mantendo-se distantes umas das outras. Às vezes, até mesmo sem perceber, lançando olhares de suspeita sobre como as pessoas se comportando em meio à essa situação de pandemia... Afinal, todo mundo tem um nível de suspeita em potencial.
Além disso, andar pelas ruas vazias e ver a maioria dos estabelecimentos fechados também é uma sensação meio impactante porque é como estar em vivendo em um "mundo paralelo" e cheio de restrições. Em alguns momentos, ver lugares importantes isolados e sem nenhum sinal de movimentação me lembra aqueles filmes com uma temática relativamente apocalíptica. Entrar nos lugares permitidos e ter que seguir tantas regras (sendo constantemente vigiado para as regras não serem desobedecidas) é realmente o "novo normal" e essas recomendações chegaram para ficar.
Nós vamos ter que nos adaptar ao que nos está sendo imposto e ao contrário do que muitas pessoas ainda pensam, isso não é uma escolha... É uma obrigação. Lutar contra essa mudança é inevitável porque de uma forma ou de outra, todos nós (e obviamente, os nossos hábitos) estamos inseridos dentro dela. Adaptação será uma palavra-chave e dentro desse cenário, é bem provável uma reformulação de conceitos e ideias, que irão criar novas formas de pensar e de agir. Definitivamente, o "novo normal" vai balançar o mundo.
Eu sei que pode ser um exagero falar isso, mas eu acho que experimentar essa nova realidade é quase como um desafio para uma intensa fase de transição, como algo que está além da nossa compreensão limitada e que nós - enquanto seres humanos - ainda não temos a capacidade de entender. Porém, nós vamos ter que aceitar porque não há como fugir disso. Entender o novo normal e se adaptar aos desafios que estão por vir é a próxima fase que a sociedade terá que vencer nesse jogo chamado "vida".