The Hive ecosystem provides users with a diverse array of opportunities to earn the Hive cryptocurrency. So whether you're an investor, entrepreneur, developer, content creator or content consumer, you have several different options available to you to earn Hive.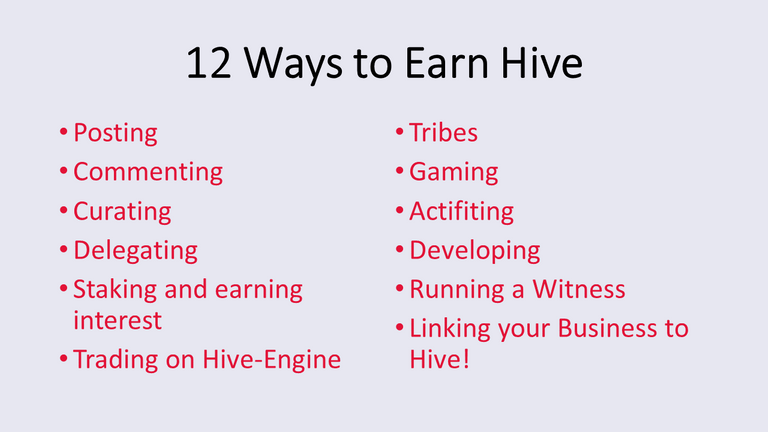 Posting to earn is probably the best known earning strategy on Hive, but this is far from your only option, you can also earn by curating, playing games, and developing projects on Hive, and more. Below I cover a total of 12 diverse way you can earn Hive.
12 Ways to earn on Hive
Posting content
There are numerous forms of content you can post to Hive, using different front ends. The main type of content posted are blogs of various forms, on Hive.blog and PeakD, but you can also post video content to 3Speak, a Hive platform which champions Freedom of Speach which is rapidly becoming home to those deplatformed from mainstream social media.
The amount you earn depends on the stake weighted Vests which vote for you. According to @arcange's Hive statistics, the average post on Hive currently earns 4HBD, or approximately $4 split between creators and curators, so there is the potential for ordinary bloggers to earn a decent second income.
It's worth looking at posting within the Hive tribes, especially Leofinance and OCD, which are two communities that allow for a broad range of topics to be posted and can offer generous rewards, the former focused on finance, the later more general.
There are also many communities and indivduals who run regular challenges, where you can earn nice upvotes and/ or other prizes for posting content around a particular theme. For example:
The @Splinterlands challenge of the week is a good example of this - you upload a video of a battle according to the rules of the challenge and analyse your strategy - the best posts get a reward worth several Hive.
The Your Top 3 contest is another interesting example of an innovative competition, and anyone can take part - you make a post, devote your pay-out to the contest rewards pool, and then paricipants vote on the best top three post, the winner wins all the payouts from all the posts!
If you're an artist or a musician then you'd do well to follow @isaria who runs a lot of competitions which reward creative content.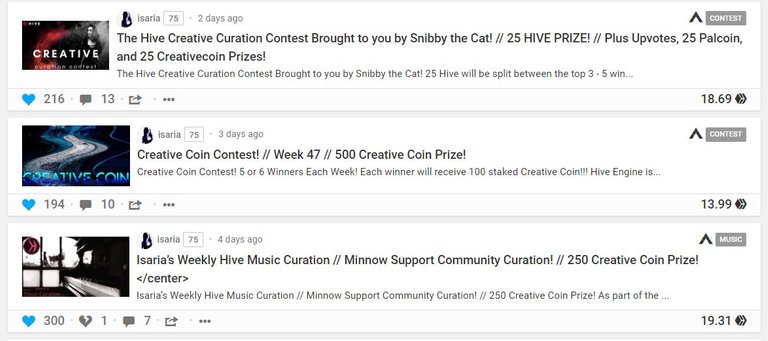 You should take the time to explore the communities you might like to post to and make sure you follow their specific posting guidelines.
There's something of an unwritten rule that you shouldn't post more than twice a day from one account. Most people who post to earn limit themselves to posting once a day (a few post twice), focusing of producing content of a decent quality.
Of course you can post what you like as often as you like. You are more than welcome to upload as many quick-shot selfies or quick-links to game-battles as you like, and both just for the bants, just don't expect people to vote on them.
Commenting
Many of the people who earn a decent income from 'quality' daily posts have spent several months, if not years, building up a following by engaging with other people's content on Hive.
If you're part of a topic-specific community, it is natural to engage and comment on other people's work - it's just simply friendly, polite and basically just 'nice' - many people prefer decent comments to votes.
The added bonus on Hive is that you might get a cheeky little upvote on some of your comments and earn a little bit of extra Hive, as well as Tribe tokens (see below for more details on these).
You might even be visited by Mr Engagement and earn 'ENGAGE' on top, if somebody with over 1000 ENGAGE tokens calls the Engage bot.
If you're interested in taking commenting and engagement to the next level you should join Asher's (@abh12345) Engagement Leagues - he runs a league table you can win Hive for tanking - for making the most comments on posts - factoring in length of comments and a range of other things too!
Curating
Hive posting rewards get split 50-50 between creators and curators (the people who vote on the content) - so you are rewarded just for voting.
It's not unusual for accounts to earn a 12% annual ROI just on voting for content.
There is a bit of an art to maximizing your curation returns - the optimum time to vote on a post is around 2.5 minutes, and to hit this you'll need to use Hive-vote, so your votes go out automatically.
I personally only use this with some accounts who I know produce content I like, of a consistently good quality, and I also manual vote. If you see a good post early on and front-run larger votes which might come later, you get a better curation return.
The mechanics of curation are quite complex - if you want to find out more, this is a good post by @tarazkp: How Does Curation Work on Hive?
Delegating
Delegating is one of the most powerful tools on Hive - it allows you to invest in a project or business and earn a return without risking your capital.
If you Power Up Hive, you can delegate to a number of projects which will pay you out a decent return. Many of these are curation projects - accounts which have high HP because of incoming delegations able to give relatively high rewards to the content they vote on, chosen by the users who control the accounts.
Two examples of accounts you can delegate to include @curangel and @hodlcommunity - both offer a return of about 10%, and they focus on voting quality content, effectively doing your voting for you.
Delegating is one of the easiest, most passive ways of earning on Hive, just make sure you're delegating to an account with standards.
Earning interest on Staking
Even easier than delegating, you earn just by staking Hive - 15% of Hive Inflation, or Newly Printed Hive gets awarded to accounts who have vested, or Powered Up Hive. So if you Vest, and do nothing, you will still see your Hive Power increase every day!
Trading on Hive-Engine
Hive-Engine is a side-chain of Hive - it is an exchange which lists the tokens used by Hive communities, Tribes and Games, and you can buy these tokens directly with Hive, as well as with other cryptocurrencies such as BTC and LTC.
These tokens have different functionalities depending on the applications they are linked to, but trading in and out of these coins offers you another (risky) way to make more Hive.
The most accessible way to trade on Hive-engine is through the LeoDex.
There can be some nice trading opportunities: if you'd have bought LEO in May 2020, you would have qaudrupuled your investment had you sold in June: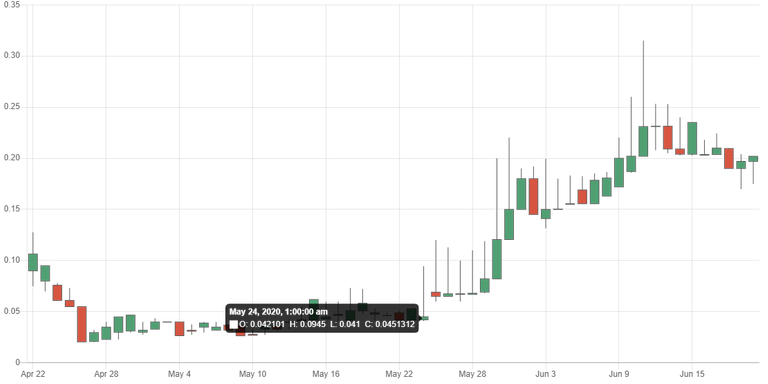 Tribes and Communities
There are several communities on Hive focused on specific interest topics, and you might find the highest level of engagement and rewards within these communities. I'm not sure if it's an official definition but the way I understand it is that a 'Hive Tribe' is simply a community with its own front end and Hive-Engine token.
One of the most successful communities on hive is leofinance - it has its own front end, token (LEO) and applications such as Hivestats and LeoDex (trading) interface - if you post finance related content through the Leo front end you stand a change of winning a decent upvote from some of the LEO whales, who are different from the Hive whales.
For newer users, exploring the Tribes could be the most effective way for you to get noticed and make an impact.
Gaming
Splinterlands is the most successful blockchain game of all time, and it's on Hive - you can earn DEC (the currency) and reward cards just by playing! And because you own the cards you buy, buying cards can be treated as investment. You can buy a $2 pack (or much cheaper on Hive-Engine with DEC) of untamed cards and you stand a chance of receiving one of these, currently on the market for > $20.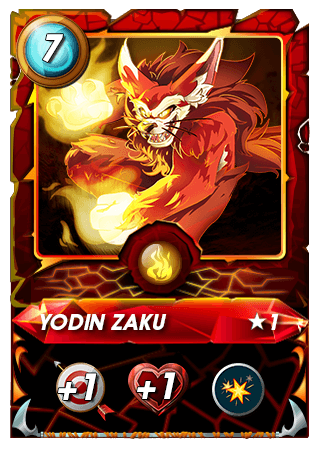 Another game to watch out for on Hive is eXode (@exodegame) - it's in its very early stages of development, but having just opened 100 booster packs I can testify to the fact that it's got that addictive factor!
For a current list of all Hive games see HiveProjects.io.
Possibly the easiest money you'll earn posting content on Hive is through @actifit - just download the app to your phone, record your steps and upload your achievement to Hive - if you get to > 5000 steps in a day you'll get an upvote from the @actifit account.
Developing and other Hive Projects
I'm not a developer myself, but Hive does have a very well funded Decentralised Hive Fund which exists to pay developers for evolving Hive - so if you want to work on a Hive Dapp or Front End you can apply to the decentralised fund to be paid for your work. The fund has a daily budget of 5000 HBD, and proposals can be voted on by anyone with a vested stake in Hive.
Running a Witness
Anyone is welcome to set up a witness to help secure the chain on Hive - if you receive enough votes to make it into the Top 20, you can earn a decent amount of money! The top 20 witnesses each sign about a block a minute and are rewarded 0.245 Hive per block, which works out to around 130 000 Hive a year.
Linking your Business to Hive
If you run a business that uses WooCommerce, there is a plugin you can download which allows people to pay you - in Hive! This post by @roomservice explains how you can get it active on your WordPress blog.
NB there are other ways you can leverage Hive for your business - you could buy Hive, power up your account and then get people to produce marketing material for you here on Hive, and pay them in upvotes!
TLDR; how can you earn Hive?
Posting
Commenting
Curating
Delegating
Staking and earning interest
Hive-Engine
Working with the Tribes
Gaming
Actifitting
Developing
Running a Witness
Linking your business to Hive
And that's just 'for now'.
As the Hive ecosystem develops and evolves further, a greater diversity of earning opportunities will no doubt emerge!
Shared to Twitter and Quora: