For about two years, I did a monthly report on Steem called "STEEM: Whales Are Losing Their Power....The System Is Not Broken". This took a look at how the distribution of Steem Power changed on a monthly basis. The presumption on there was that the Whales were just getting more powerful when the reality showed the exact opposite. When it came to Steem Power, over a two years period of time, things were flattening out.
Of course, we know that Steemit Inc selling part of the stake each month had a lot to do with it. Unfortunately, as we found out, not enough was sold.
I decided to bring this report over to Hive so that we can monitor how things are going. I am going to use the first chart I have from Steem as the initial basis since Hive has its roots there. The chart is pertinent for all categories other than the Whales since we know that is much different than on Hive due to Steemit Inc.
---
These are the numbers through October 31, 2020.
Each month I monitor what is going on with new accounts and the amount of MVests in each category. I do this to determine what trends are taking place.
Now that we are at end of month, time to post the numbers again.
I want to thank @arcange for the work done each day compiling these numbers and making the charts.
We will be showing 3 months worth of data for analysis purposes to see how the 90 trend might be.
The first chart is from August of 2017, the month I started on Steem. It is placed here to provide some contrast to see how things are changing over a longer period of time.
Here is the breakdown.
8/1/2017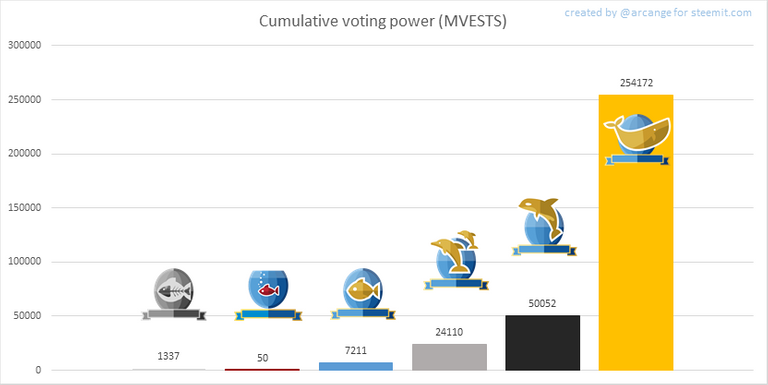 The total MVests here is 336,932.
On a percentage basis:
Whales 75.44%
Orcas 14.86%
Dolphins 7.16%
Minnows 2.14%
Red Fish .01%
Inactive .40%
8/31/2020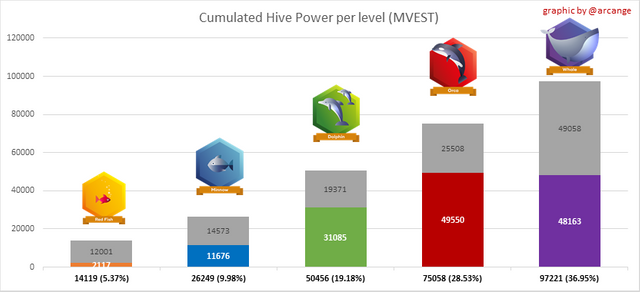 https://leofinance.io/hive-133987/@arcange/hive-statistics-20200831-en
The total MVests here is 263,103 .
On a percentage basis:
Whales 36.95%
Orcas 28.53%
Dolphins 19.18%
Minnows 9.98%
Red Fish 5.37%
The change over that time period is as such:
Whales +.41%
Orcas -1.04%
Dolphins +.42%
Minnows +1.53%
Red Fish +.94%
9/30/2020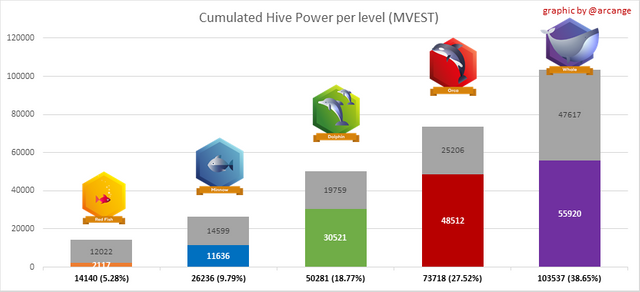 https://leofinance.io/hive-133987/@arcange/hive-statistics-20200930-en
The total MVests here is 267,912.
On a percentage basis:
Whales 38.65%
Orcas 27.52%
Dolphins 18.77%
Minnows 9.79%
Red Fish 5.28%
The change over that time period is as such:
Whales +4.6%
Orcas -3.47%
Dolphins -2.14%
Minnows -2.1%
Red Fish -1.68%
10/31/2020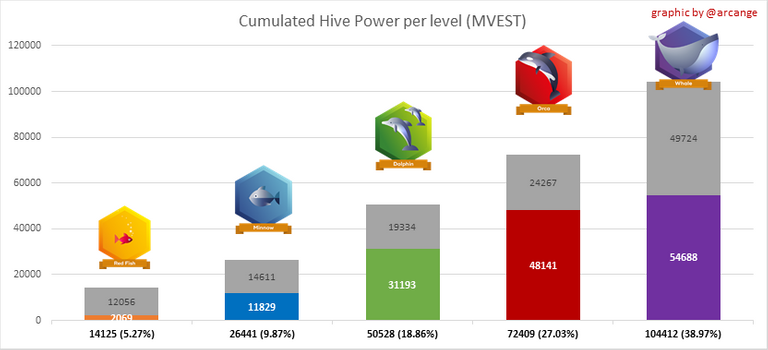 https://peakd.com/hive-133987/@arcange/hive-statistics-20201031-en
The total MVests here is 267,915 .
On a percentage basis:
Whales 38.97%
Orcas 27.03%
Dolphins 18.86%
Minnows 9.87%
Red Fish 5.27%
The change over that time period is as such:
Whales +.83%
Orcas -1.78%
Dolphins +.48%
Minnows +.82%
Red Fish -.19%
8/31/2020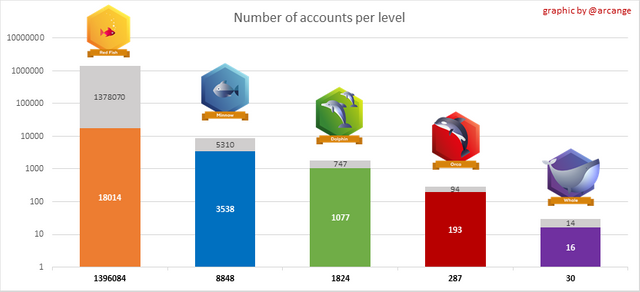 9/30/2020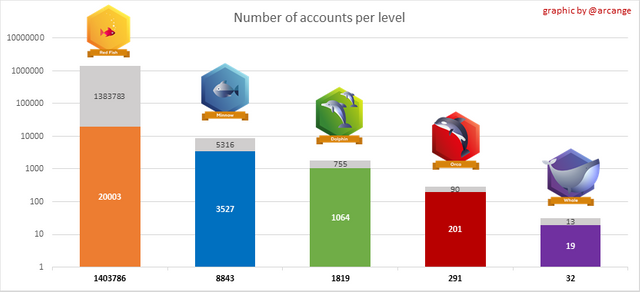 10/31/2020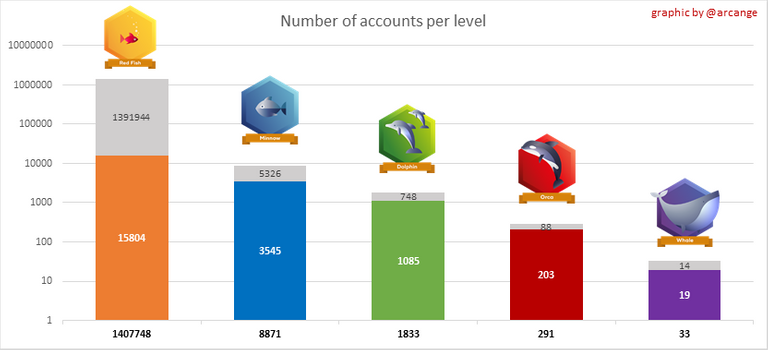 This month, we see the results mixed. Over the last couple of months, the number of Whales were increasing. This could also be a mixed bag. If it is organic, i.e. an account getting stronger, than it is a good thing. On the other hand, if one is simply moving HP among different accounts, than it does little.
The Orcas took another hit although that is not surprising if one did organically more to Whale status. Since the number of Orcas remained the same, that would result in a net loss.
Both Dolphins and Minnows saw their total number of accounts increase which translated into more MVests. They were two gainers for the month, with the Minnows rivaling the Whales in terms of percent gains.
The Red Fish fell off a slight bit, again not a shock considering accounts were moving up at the "Middle Class" level.
On August 31, 2020, the Whales and Orcas 172,279 MVests (65.48% of the total); on September 30, 2020, 177,255 MVests (66.16% of the total), an increase of 1.03%; On October 31, 2020, 176,521 MVests (65.99 of the total), a decrease of .26%.
The big question with all of this is how much of an impact is the Layer 2 options having? There was one on discord yesterday who was discussing buying $10,000 worth of HIVE and powering it up. Instead, he opted to buy LEO to ride that way and hold off on the HIVE powering up until a later day. Obviously, his thought is LEO will appreciate more than HIVE and will end up giving him a greater total for his $10,000.
My theory is we will eventually see the success of Layer 2 translate into the demand for HIVE. As people cash out for profit, a portion of that will likely head back into HP, if for no other reason than to alter the governance situation.
As for the overall totals, the numbers mirror what I observed. The eyeball test is not always the most accurate but there were a number of people posting, at the Minnow and Dolphin level how they attained certain personal milestones.
This certainly is reflected in the numbers. Thus, for one month, the Hive Middle Class got a bit stronger.
---
If you found this article informative, please give an upvote and rehive.

gif by @doze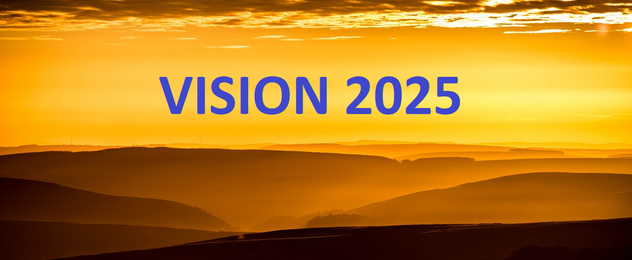 Posted Using LeoFinance Beta