Hello,
My Dear Respected Hivers, I strongly believe that you are earning a very Handsome figure every month creating quality content, curating quality content, adding various tribe tokens in your hive-engine wallet, and also doing various activities on #HiveBlockchain. All of those earning source in Hive is not passive income at all. We can consider those sources as "Paid for Actions". Content curation by added with various curation trails is considered as a passive income source but you can't earn a handsome from it if you don't have a handsome #HP (HivePower) in your wallet.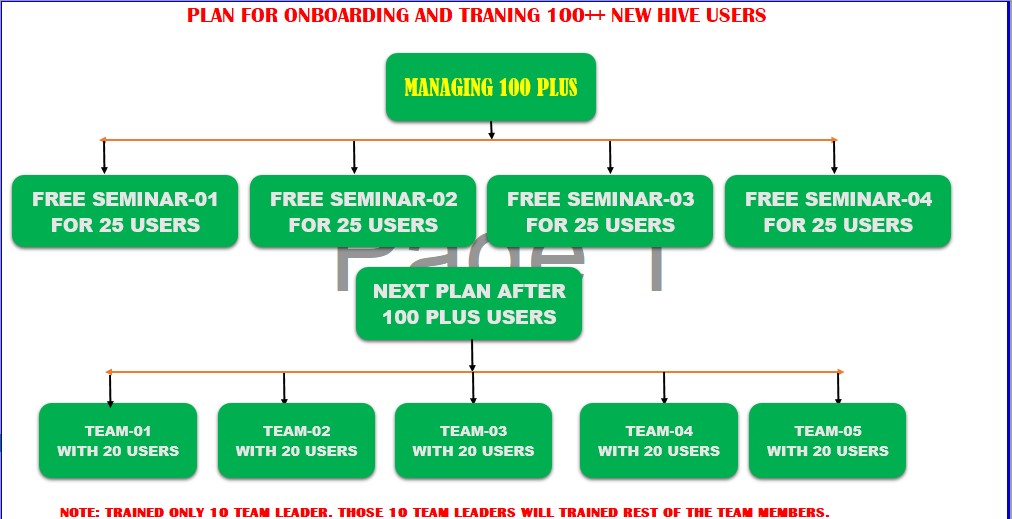 Now you can be asked me, how I can earn HIVE/HBD passively. Is there any option in Hive Blockchain? Yes, there has a very beautiful passive income source in HiveBlockchain. Maybe you already know about this, If you know about the passive income method you must read out my whole post, cause in this post I'm going to share excellent ideas with you all. People don't know about the method you have to go through this post.
#Onboarding New Hive user for HiveBlockchain is the best source of Passive income in HiveBlockchain. How? @hiveonboard (https://hiveonboard.com) now giving us this massive opportunity. The hive Onboarding team developed Reference links for each and every Hive user. Now we can onboard a new user using our reference. When a new user creates an account using your reference by this time you become 3% post beneficiary of this user. From the first post of this new user, your Hive account will be the 3% post beneficiary by default and it is applicable for the lifetime. Isn't it a fantastic passive income with Hive for the lifetime?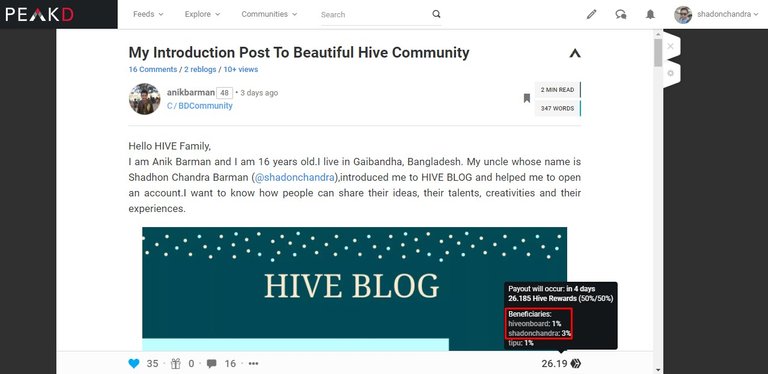 IDEA FOR LIFETIME PASSIVE INCOME FROM HIVE:

It will take a long time to make your vote value $1 if you are not going to invest some liquid money for powering up your HP (
#HIVEPower
). Continuously onboarding new users via your reference link can easily make you a
#Whale
on HiveBlockchain. How it's possible? Let's discuss it:
Let's make a simple calculation. Suppose, by one week you are very capable of onboarding 5 new people in HiveBlockchain. By giving proper fundamental training on how to create quality content, how to use the mark-down method, how to interact with various communities people, about overall Hive wallet and maximum numbers of tribes, how to earn by hive-engine e.t.c must be needed for a new user working with Hive. Your fundamental training will increase the activities of a new user very easily.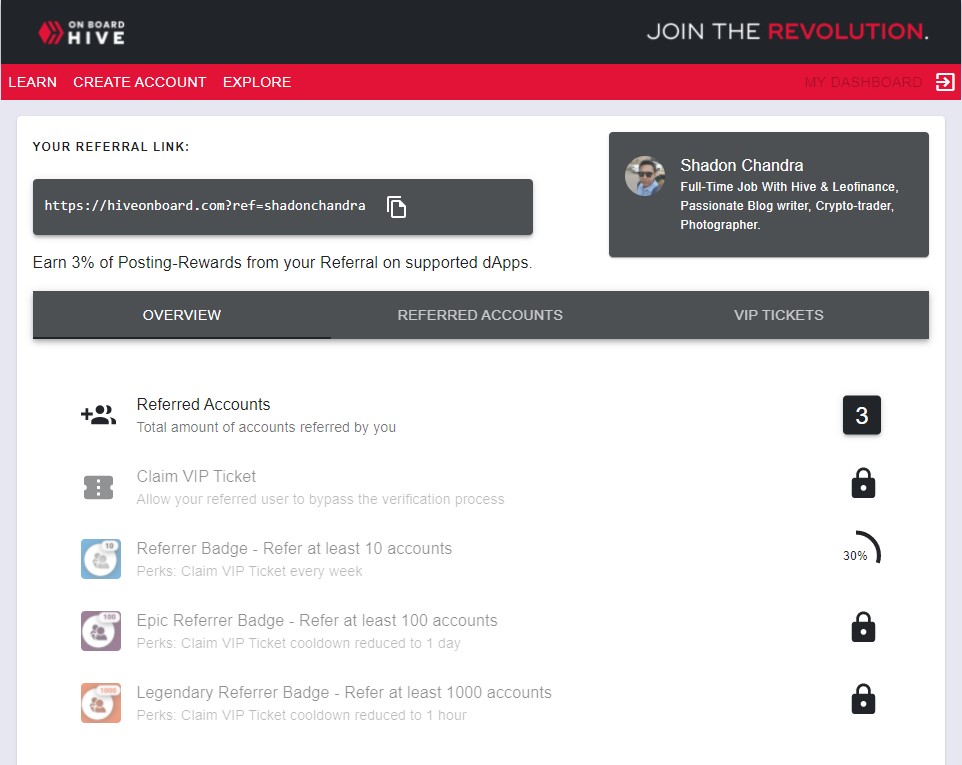 Hope your onboarded new 5 users used to create a minimum of one post per day, as per their quality they are all able to manage an average of 15 HBD from their five Hive post per day. 3% of the total 15 HBD is 0.45 HBD per day, for one week 3.15 HBD and for one month 13.5 HBD. If we multiply this HBD by the current market price of HBD it will be 18.9 USD (Minimum Calculation) per month from your five onboarded Hivers.
If you are an old Hive user you must know the best way how to earn the maximum from HiveBlockchain. Continuous follow-up and guidance to your onboarded users can make the value maximum very easily. By this time automatically you will be the leader of some people, you are very capable to build a strong network on Hive Blockchain.
Let's think about it widely as a project, what I'm planing for. After onboarding new four Hivers within two weeks, I just got this idea tonight. First I make a calculation for 5 new Hivers then I calculate it for 100 new Hive users. If new 5 Hivers can help me to get 13.5 HBD per month, what will be figure if the number of new Hive user become 100. It is a very simple calculation of 20x passive earnings from Hive, which means 270 HBD per month and 378 USD (As per Current HBD Price).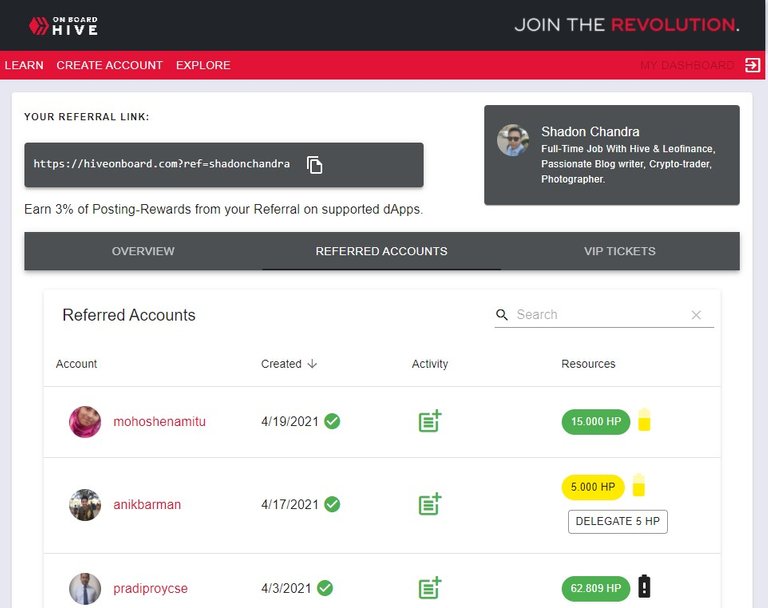 Let's me reduce 78 USD from the total reference passive income of 378 USD. Let's determined a round figure of 300 USD per month. If I convert the 300USD in my native currency (BDT) it will be more than 25000 per month. 300 Usd is a very handsome figure for a Middle-class Bangladeshi Hivers.
HOW I WILL MANAGE & TRAIN 100 NEW HIVERS:

The number of unemployed youth is numerous in our country. Three years ago I was running a computer training center in my native city named Sundarganj. There I have a very good reputation as a computer trainer and as an expert. I did this job for more than one year and able to build a great network.
At present who doesn't want to earn some extra online, If you make statistics which country search for the online earning source in #Google search Engine or in #Youtube, you will find Bangladesh in the top.
Arranging step by step free online earning seminar will help me to achieve my new users target very easily. If I will become successful to manage 100 plus new users for Hive, then I will create five teams distributing an equal number of members in each team. Then I will select 10 active and talented persons for leading these five teams. Those 10 people will get the overall training on HiveBlockchain.
Those 10 trained people will train others people on their team and I will just follow up with them.
MY ULTIMATE GOAL:

I have only one dream in my life, I want to establish a big computer training service center in my native city. If I want to fulfill my dream, I have to show something exclusive than others. A legit and without investment earning source can be a very powerful tool for establishing a computer training and service center in my native city.
If I will very capable to make this idea and plan success it will be very helpful to hundreds of unemployed youth in our country.
Need proper suggestions and motivation from you all in my comment section. Thanks for being with me.
Thanks to @roomservice for developing this.
Posted Using LeoFinance Beta