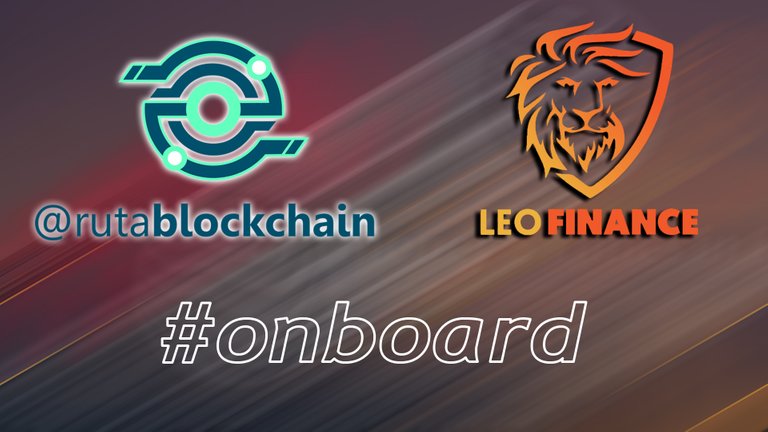 Greetings guys. This post is to announce that we will start working for the promotion and adoption of Leofinance.io also to ask for support in this work from the community that makes life in this platform.
As many of you already know, @rutablockchain is a project of diffusion and incorporation of the people to the blockchain technology. Since our birth in 2017, we have focused on showing the benefits of this technology to ordinary people.
Our work has been both face to face and online, with workshops, courses, or even interviews and participation in media such as radio or digital press. These actions were focused mostly with Steem and later with HIVE. Also with bitcoin and Dash.
We want to include Leofinance in our activities, so that the Hispanic population becomes more familiar with this extraordinary project that is giving so much to talk about.
Why Leofinance
We have been observing the quality of the project, which even brings improvements that can be included in the HIVE layer 1, such as the flat cure curve for example.
Another reason is that the Hispanic community needs to relate better to the issue of money and finances. It's not a coincidence that there are so few posts in #spanish since Latinos generally don't have a very healthy relationship with money.
Since @theycallmedan published his initiative, many members of our community joined and we want to take advantage of this momentum to keep them here publishing. However, some of them told us that they have no idea what to publish about finance. That's why we will be creating several challenges.
Just as we do in Loving HIVE ❤ (Community dedicated to turning HIVE into a lovemark) we want to do it with Leofinance .
Support Request
We want to make an open request to support the whales in Leofinance and all its community, for the curation of the initiatives and thus contribute with the retention of the new users.
In HIVE we have the support of @appreciator for the new incorporations. We are also doing a job to teach people how to start in @nftshowroom and all the NFTArt. In Leofinance we are starting and any support would come in handy.
The work will focus on bringing the Hispanic community that is already a user of HIVE and also people from outside the blockchain. If you have ideas we would love to read them in the comments or you can contact @enmy or @danielvehe in our discord
Leofinance Witness
We see that this community is setting an impressive example of doing things right. We are excited that this is also driving HIVE, that's why we decided to support it as witnees with our account @rutablockchain and our team: @enmy @danielvehe @ambarvegas.
We invite the Hispanic community to vote for him as a witness at HIVE
Translated with www.DeepL.com/Translator (free version)
---

Español
Saludos chicos. Este post es para anunciarles que comenzaremos a trabajar para la promoción y adopción de Leofinance.io también para solicitar apoyo en esta labor a la comunidad que hace vida en esta plataforma.
Como muchos ya saben, @rutablockchain es un proyecto de difusión e incorporación de las personas a la tecnología blockchain. Desde nuestro nacimiento en 2017, nos hemos enfocado en mostrar los beneficios de esta tecnología a personas comunes.
Nuestro trabajo ha sido tanto presencial como online, con talleres, cursos, o incluso en entrevistas y participación en medios de comunicación como radio o prensa digital. Estas acciones se centraron mayormente con Steem y después con HIVE. También con bitcoin y Dash.
Queremos incluir a Leofinance en nuestras actividades, para que la población hispana se familiarice más con este extraordinario proyecto que está dando tanto de que hablar.
Por qué Leofinance
Hemos estado observando la calidad del proyecto, que incluso aporta mejoras que pueden ser incluidas en la capa 1 de HIVE, como la curva plana de curación por ejemplo.
Otro de los motivos es que la comunidad hispana necesita relacionarse mejor con el tema del dinero y las finanzas. No es casual que sean tan escasos los post en #spanish ya que los latinos, generalmente no tenemos una relación muy sana con el dinero.
Desde que @theycallmedan publicó su iniciativa, muchos miembros de nuestra comunidad se sumaron y queremos aprovechar este impulso para que sigan aquí publicando. Sin embargo algunos nos comunicaron que no tienen idea sobre qué publicar en torno a las finanzas. Por eso estaremos creando varios retos.
Así como lo hacemos en Loving HIVE ❤️ (Comunidad dedicada a convertir a HIVE en una lovemark) queremos hacerlo con Leofinance...
Solicitud de Apoyo
Queremos hacer una solicitud abierta de apoyo a las ballenas en Leofinance y a toda su comunidad, para la curación de las iniciativas y así contribuir con la retención de los nuevos usuarios.
En HIVE tenemos el apoyo de @appreciator para las nuevas incorporaciones. También estamos haciendo un trabajo para enseñar a las personas a comenzar en @nftshowroom y todo el NFTArt. En Leofinance estamos iniciando y cualquier apoyo vendría muy bien.
El trabajo se enfocará en traer la comunidad hispana que ya es usuaria de HIVE y también las personas externas a la blockchain. Si tienen ideas nos encantaría leerlas en los comentarios o pueden ponerse en contacto con @enmy o @danielvehe en nuestro discord
Leofinance Witness
Vemos que esta comunidad está dando un ejemplo impresionante de hacer las cosas bien. Nos emociona que esto también impulsa a HIVE, es por eso que decidimos apoyarlo como witnees con nuestra cuenta @rutablockchain y nuestro equipo: @enmy @danielvehe @ambarvegas.
Invitamos a la comunidad hispana a votarlo también como witness en HIVE
---

¡SÍGUENOS EN NUESTRAS REDES!
Botones creados a partir de esta plantilla



Post creado por @danielvehe para @rutablockchain


Posted Using LeoFinance Beta