A number of high profile crypto-commentators such as Plan B, have predicted Bitcoin to hit at least $100K before the middle of the next decade, and I'm inclined to agree....
Just 1% of the world's wealth invested into crypto would = $100K Bitcoin @60% market dominance.
This, I think, is one of the most powerful arguments for Bitcoin hitting $100K at some point (I wouldn't want to predict when!), as 1% is a relatively small hedge.
The statistics...
According to Credit Suisse, current global wealth stands at $360 Trillion.
Currently, hardly any of this is stored as cryptocurrency: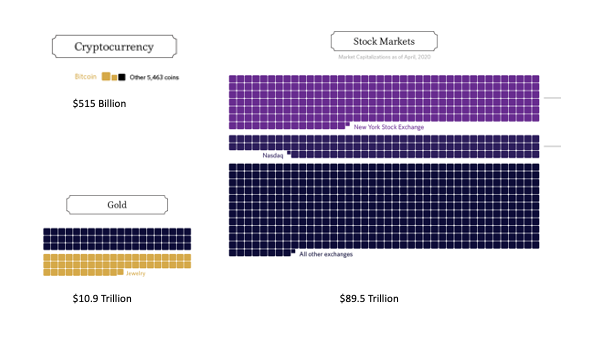 Or it's probably clearer here: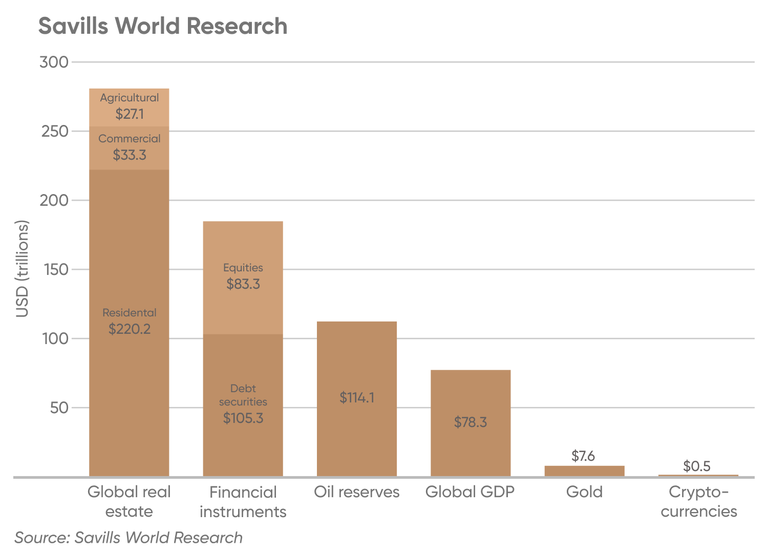 If just 1% of that $360 trillion of global wealth were transferred over into cryptocurrency, then we'd end up with a total crypto market cap of £3.6 trillion.
If we divide that by 21 million (the total number of BTC to be minted) then we end up with a BTC price of around $170K.
But given there are other cryptos, let's multiply that by 60% to allow for some of the alts to develop and maintain their market share, which gives us a Bitcoin Price of just over $100K.
I did a spread sheet! With super cool E numbers and everything!

It really wouldn't take much to boost the price of BTC to $100K or more.
Just 10% of gold wealth transferred to crypto gives us $35K BTC (approx 60% of the $51K in the chart to keep in line with the 60 dominance.
10% of the world's wealth and we're at $1 Million BTC.
Of course it might not be BTC!
$100K BTC will only be the case IF 1% of global wealth gets invested into crypto and 60% of that goes to BTC - it might well be that a combination of other what are now called 'alt's but might in the future be called 'once were alt' coins which soak up who knows 90%, 95% of potential investment....
So maybe we'll get $2000 ETH, and/ or $50 LEO and $50K BTC - to give us a total crypto market cap of the equivalent of $100K BTC.
And we all know that's a possibility, otherwise we wouldn't all be having so much fun having a punt on this and that hopefully to be once were alt coins!
Sources
This is a great source which I used for the stats above! - All the World's Markets in One Visualisation.
This article from Coindesk runs through some interesting scenarios along the same lines as I do above - just 2% of US Household wealth in BTC gives us 6 figure BTC according to this, but I don't think they take into account the dominance affect!
Posted Using LeoFinance Beta