August's income was 25% lower than July's, but August is my lowest earnings month of the year, school summer holidays and all, and with that in mind, I didn't do too badly last month!
I report my monthly income in percentages, it's much less revealing than doing the raw amounts!
Sources of Income
ReviseScoiology.com resource sales - 41%
ReviseSociology.com ad revenue - 2.5%
ReviseSociology.com chat bot - 17%
Marking - 8.5%
Teaching - 0%
Ebay sales - 7%
Hive - 24%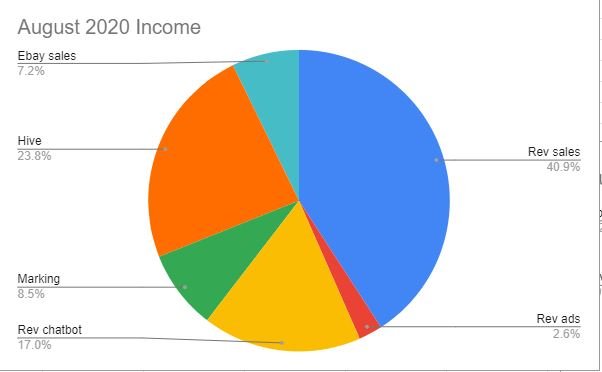 I don't count any gains from passive investments as I'm not willing to start drawing down on my investments for day to day living expenses just yet, so I let those returns accumulate.
Analysis

My revisesociology.com resource sales were down on the previous month, but July was outstanding, and the amount I earned this August was most acceptable, and about 400% higher than the previous August. Because my income is seasonal it makes more sense to compare to this time last year rather than the previous month.
I still have seven teacher subscriptions, no extras last month, but still with 0 attrition, which is gratifying.
The ad revenue is just crap, I really need to sort that - it's tumbled since a couple of years ago.
The chat bot is going great guns, at 17% of my income - I'm going to have to leave it on going forwards! I've never had it on in September before, so it'll be interesting to see what it pulls in during the back to school month!
Marking seems to be stable at £100 a month, hopefully this will keep trickling in. It's defo the most tedious money I earn but at 8.5% of last month's income, it all helps!
Ebay sales were from a few of the heavy items I needed to get rid of before moving, only one month left on these and I'm scraping the barrel TBH.
Hive - It was actually more than the previous month but I lowered it to reflect the recent downturn. I'm being a bit generous counting this as I don't draw down my Hive income, but it does make me feel better about my earnings!
Final thoughts

My August income is lower than I'd like, but I'm not going to freak out as this is my lowest earning month of the year!
Posted Using LeoFinance