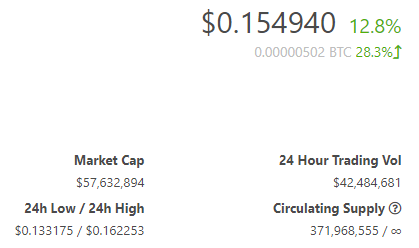 source
There is a new sheriff in town and the news about cryptos are flying
like spring. The space is so vast and so much is moving around, it could be hard
to stay on top of it. At first it seems like Bitcoin is taking a beating for the whole
circle. Right behind it, ether is acting up.
Now in a distant not far away, Hive is doing a spectacular gesture to the market.
It is trading at 477 satoshis. I see the movement is really positive on #Coingecko
where 99% of traders favored to buy Hive.
A friend told me about Hive buying a bunch of miners equipment. He got it confused with the company with the same name.
This name is pretty common out there. Even a restaurant in my area bears this name.
The volume trading totaled around $42 million within 24 hours. You do not see this amount
often but it proves that capacity of the token.
The KRW/HIVE is weird at pumping Hive.
If this environment is fed right, this could be another reason to see the price to rise.
In the timeframe of pump/dump, it will scale down to the desired price.
I would love to see Hive in the range of 50 cents going forward.
It is a possibility with the arising of #leofinance.


source
Lately Leo has maintained top spot in the traders' mind in leodex.
I have to say the state mind of the crypto is strong as a whole.
When the market is on the red, it cries opportunity.
Just look around and see how entertain #leo has been for this blockchain.
And the best has yet to come.
Great time to stack satoshis.

Posted Using LeoFinance Beta