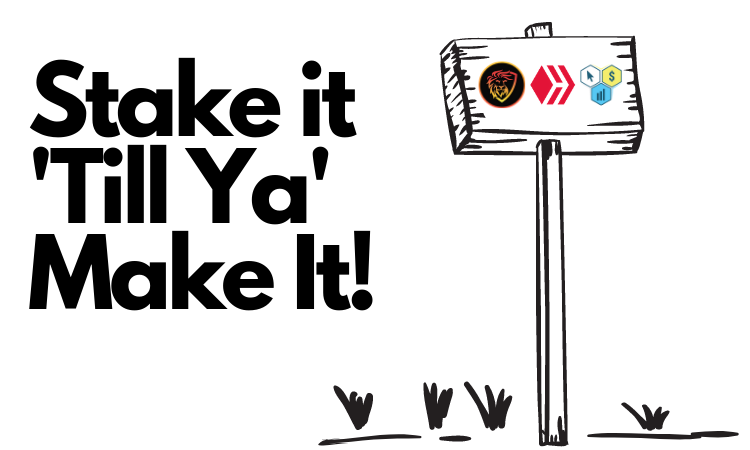 I had a blast today....
Earlier this afternoon @taskmaster4450 and myself hosted our first 'live stream' that we plan on doing regularly going forward.
It was a test run to iron out some of the kinks but also to get feedback from the community...If this was something they would like to see us tackle weekly or bi-weekly.
Here's the recording via Twitter...I forgot to record it lol
One of the attendees this afternoon was my good friend @maddogmike
While Taskmaster and I were going over all the insane things taking place on Hive and LEO as well, he blurted out this quote...
"Stake it till you make it!"
It was brilliant....And here's the context of why I think so ;)
So incase you have been living under a rock, today was a pretty big day for @LeoFinance
They introduced....

You can check out the official release here because honestly, this DeFi stuff flies over my head...But what caught my attention was the middle of the announcement:

Choices!
...Without confusing us to no end, it was brilliant that Leo made this crystal clear...We have choices, and while they believe a healthy mix of both staked and liquid LEO is best moving forward...We can adjust as we see fit.
And that's how I'm approaching the airdrop....
The bulk of my LEO will staked for the airdrop because, I am fan of proof of stake. It's where I feel I can be the most helpful to other content creators and will continue to curate for as long as I'm on the chain...
But I'm not trying to be COMPLETELY out of the liquidity game. DeFi fascinates me. I know next to nothing but I am learning slowly. So the ability to add liquidity to LEO in this new venture to the Binance Chain via Cub Finance....I'm all for!
However I'm still such a fan boy of staking....
Look what this is going to mean for us that staked LEO over the past few years...A brand new token (errr...Coupon) that we can get our hands onto and play around in the brand new Binance Smart Chain....
Not only that, Project Blank is sure to be coming soon and that's another airdrop....For stakers of LEO!
Oh it gets better and better....
Stake some Hive? You'll be getting the new @threespeak mining token too!
And oh yeah, it also pays you like 3.22% a year....Without you doing anything but....Staking!
Maybe I am the uber fan boy of this blockchain and all the projects on it...But to me, it's the no brainer of no brainers...
Get involved!
Stake your tokens.
Play around in Hive-Engine.
Get excited for what's coming....
2021 is going to be epic...I can just feel it!
---
Our Token:
https://hive-engine.com/?p=market&t=CTP
Our Miner:
https://hive-engine.com/?p=market&t=CTPM
Vote for our Witness Node On Hive-Engine:
https://tribaldex.com/witnesses
Posted Using LeoFinance Beta