For those of you just joining us for the Bitcoin rally, you haven't seen nothing yet
Bitcoin is up like 25% so far this month, but in all honesty, that is still small potatoes to what is coming.
For those of you just getting into crypto anytime after 2017, you may feel like this is near a peak of some kind.
Well, you are probably wrong.
If you weren't around for the 2013 and 2017 bull market rallies, you have no idea what is coming in 2021.
Look at this chart: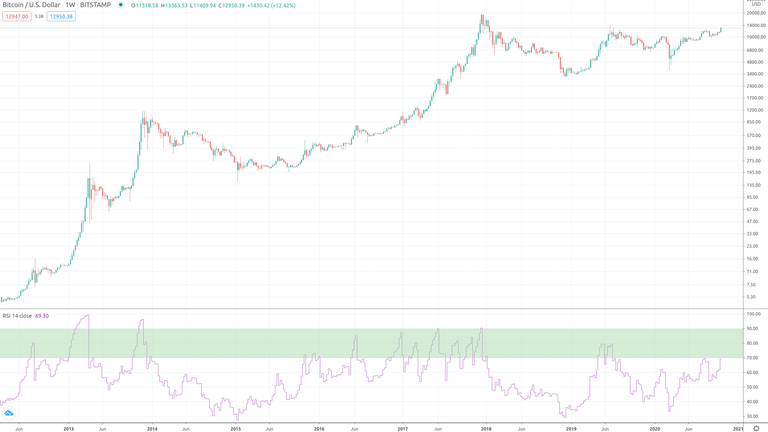 (Source:
1320396880929579008/photo/1) twitter metadata:MTAwdHJpbGxpb25VU0R8fGh0dHBzOi8vdHdpdHRlci5jb20vMTAwdHJpbGxpb25VU0Qvc3RhdHVzLzEzMjAzOTY4ODA5Mjk1NzkwMDgvcGhvdG8vMSl8 ~~~
We haven't even gotten close to breaking our previous highs yet and as you can see the really big moves don't come until after we break those previous highs.
Plus you can see that the RSI is just now getting into the Hot Zone.
The Hot Zone is the range between 70 and 90, where bitcoin spends most of its bull market hanging out.
2021 is going to be a wild year, I hope you are ready.
The biggest problem you will have is selling too soon, which is a good problem to have.
Posted Using LeoFinance Beta