Bitcoin isn't scarce because it can be divided up into Satoshis!
We all knew bears were running out of things to throw at bitcoin, but this latest one is more absurd then even I would have guessed.
Our good friend Peter Schiff took to twitter today in order to quiet the bitcoin bulls by reminded them bitcoin isn't actually scarce.
Nope, it's not scarce because it can divided into a bunch of satoshis.
Seriously.
I can't make this stuff up.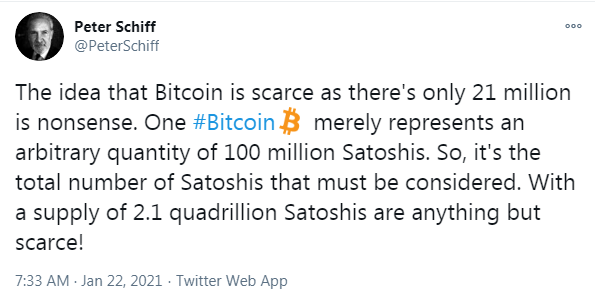 (Source:
1352625339944607744) twitter metadata:UGV0ZXJTY2hpZmZ8fGh0dHBzOi8vdHdpdHRlci5jb20vUGV0ZXJTY2hpZmYvc3RhdHVzLzEzNTI2MjUzMzk5NDQ2MDc3NDQpfA== ~~~
Alright Peter, you win, a bitcoin satoshi will never be worth a million dollars.
Instead each bitcoin satoshi will only be worth a penny.
Guess what smart guy, a satoshi at a penny puts the price of a bitcoin at a million bucks!
It's like saying gold isn't valuable because a gold bar can be broken into a hundred million pieces.
This is utter nonsense.
I feel like I'm the only one taking crazy pills right now!
I'd say this guy needs to have his twitter account taken away but then there wouldn't be nearly as much utter nonsense to talk about.
Keep bringing the absurd Peter, it's all you have left.
Posted Using LeoFinance Beta