Institutions got the ball rolling, and now it looks like retail is taking the reigns
One of my favorite metrics telling me that we were no where near a high as the price continued rising over the last several months was the number of google searches and tweets about bitcoin.
They weren't anywhere near the levels seen back in late 2017 which told me retail wasn't in yet, at least not to the levels we saw back then.
Well, that metric is being tested now as we are seeing new all time highs in the number of bitcoin related tweets.
Yesterday saw 66,832 tweets about bitcoin, breaking the previous all time high of 64,652 set on December 17th, 2017: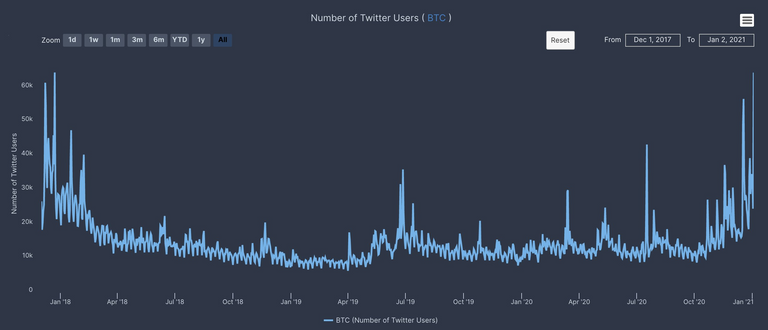 (Source:
1345579859188346881/photo/1) twitter metadata:VGhlVElFSU98fGh0dHBzOi8vdHdpdHRlci5jb20vVGhlVElFSU8vc3RhdHVzLzEzNDU1Nzk4NTkxODgzNDY4ODEvcGhvdG8vMSl8 ~~~
This is exactly what we should be seeing right now, even though some think this is a sign of a top.
I disagree and think that we should see even more retail involvement this time around.
It's much easier to buy bitcoin than ever before, by brother in law who never invests ever recently told me how he downloaded the cash app in order to buy some bitcoin.
I think we are going to see retail FOMO a bit higher before this thing topples over.
Even then, after it topples over and consolidates, we are going to surge again in the summer of this year.
Posted Using LeoFinance Beta