Favorite Ice-Cream Shop
Favorite Ice-Cream Shop |Heladería Coromoto – Venezuela.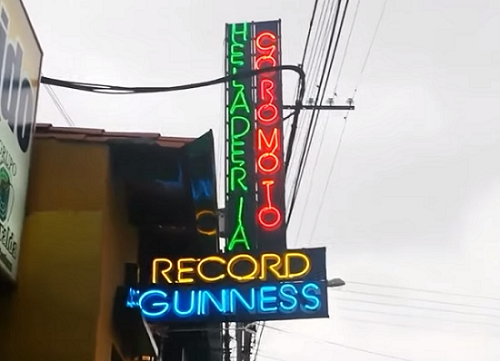 With my Samsung S5 cell phone.
---
---
Excuse the photos in advance, I had to reduce them because my internet is very bad.
Disculpe de ante mano las fotos, las tuve que reducir porque mi intenet es muy malo.
---
---

This is the famous ice cream parlor with a thousand flavors that has a world Guinness record for innovating with fun and incredible flavors that will leave you impressed and enchanted; But can you imagine an ice cream parlor with more than a thousand exotic flavors, yes friends, today I am going to an ice cream parlor that has the Guinness world record for having more ice cream flavors in the world.

Esta es la famosa heladería de los mil sabores que tiene un récord guinness a nivel mundial por innovar con sabores divertidos e increíbles que te dejarán impresionado y encantando; pero te imaginas una heladería con más de mil sabores exóticos pues sí amigos hoy voy a una heladería que tiene el record guinness a nivel mundial de tener más sabores de helados en el mundo.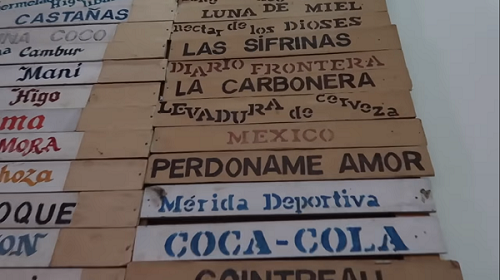 With my Samsung S5 cell phone.

The ice cream parlor is located in the city of Mérida, the Coromoto ice cream parlor is quite unique, quite peculiar because well it has very curious things that I am going to tell you, the first thing friends is that it was founded in 1981 and something very important is that This historical ice cream parlor appears in the Guinness book of records of the year 91 and the year 90 in fact less than a wall full of recognition from many very important organizations where that recognition is given to enterprising people and who have created things that have changed the world.


La heladería se encuentro en la ciudad de Mérida, es la heladería Coromoto una heladería bastante única, bastante peculiar porque bueno tiene cosas muy curiosas que les voy a contar, lo primero amigos es que fue fundada en el año 1981 y algo súper importantísimo es que están heladeria histórica aparece en el libro de los records guiness del año 91 y del año 90 de hecho a menos de una pared llena de reconocimiento de muchas organizaciones importantísimos donde se le otorga ese reconocimiento a gente emprendedora y que ha creado cosas que han cambiado el mundo.
With my Samsung S5 cell phone.

Friends here is the famous wall where it shows the different flavors that can be found in this ice cream parlor, there are unimaginable flavors that can leave you completely surprised, for example, friends we have ice cream even garlic, hayaca, arequipe ice cream, with chocolate, choco Maria, tea, and there are ice creams with their particular names such as ice cream for my quinceañera, for heated, even friends here we have one where the pavilion side is offered, for those who do not know it in Venezuela the Creole pavilion is a typical dish that it has shredded meat, which has beans, rice and eggs.

Amigos aquí está la famosa pared donde muestra los distintos sabores que se puede encontrar en esta heladería, hay sabores inimaginables que te pueden dejar completamente sorprendidos, por ejemplo, amigos tenemos helados hasta de ajo, de hayaca, helados de arequipe, con chocolate, choco maría, de té, y hay helados con sus nombre particulares como helado de mi quinceañera, de calentado, incluso amigos aquí tenemos una donde se ofrece el lado de pabellón, para los que no lo saben en venezuela el pabellón criollo es un plato típico que tiene carne deshilachada, que tiene caraota, arroz y huevo.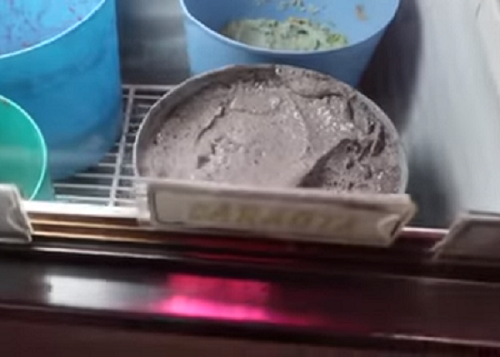 With my Samsung S5 cell phone.

Well friends, you can imagine a black bean ice cream or caraotas as we say in Venezuela, if you also have to say it like this caraotas, which is a grain that we eat on a plate, I could not believe such a variety of flavors, the prices several depending on the quantity or portion between 1 to 3 $


Bueno amigos ustedes se imaginan un helado de frijol negro o caraotas como le decimos en venezuela, si ustedes también la tienen que decir así caraotas, que es un grano que nos comemos en un plato, yo no podía creer tanta variedad de sabores, los precios varias dependiendo de la cantidad o porción entre 1 a 3$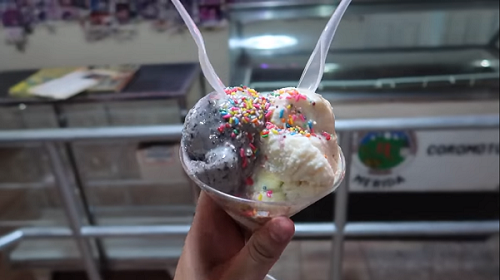 With my Samsung S5 cell phone.

Look friend how the bean ice cream looks, here I have my ice cream cup that has caraota or black beans, it has jojoto or corn or corn, as they call it in other countries and it has a liquor, friends I confess that the ice cream tastes like But it's too rich, I don't understand, it has like condensed milk, it's quite good.


Miren amigo cómo se ve el helado de caraota, aquí tengo mi copa de helado que tiene caraota o frijol negro, tiene jojoto o elote o maíz, como lo llaman en otros países y tiene un de licor, amigos lo confieso que el helado sabe a caraota pero está demasiado rico, no lo entiendo tiene como leche condensada está bastante bueno.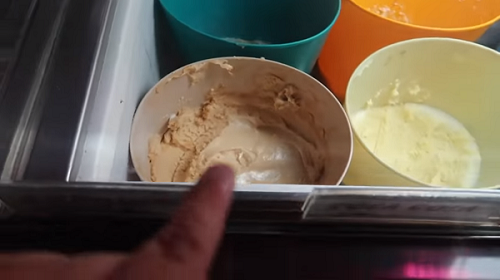 With my Samsung S5 cell phone.

Another that caught my attention was the Coca-Cola ice cream, and here it allows you to taste it before and they allowed it to me. I tried it, it is too rich, it definitely tastes like Coca Cola but it is not frozen Coca Cola, it tastes like very creamy or sparkling Coca Cola, very creamy and it seems that the foam of the Coca-Cola is also taking you.


Otro que me llamo la atención fue el helado de coca-cola, y aquí te permite degustarlo antes y a mí me lo permitieron. Lo probé está demasiado rico, definitivamente sabe a coca cola pero no es coca cola congelada, sabe cómo a coca cola muy cremosa o espumante, muy cremosa y pareciese que también te tomara la espuma de la coca-cola.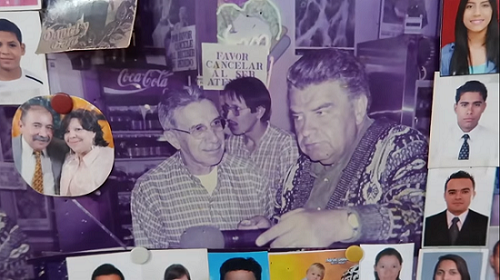 With my Samsung S5 cell phone.

The walls here that are simply unique, unique because they convey a story, because each person who comes here can leave their photograph as a souvenir so that later when they come after so many years and they like to see themselves again in the photos and here there are public figures, artist like Don Francisco himself was in this gallery.

Las paredes acá que son sencillamente únicas, únicas porque transmiten una historia, porque cada persona que viene para acá puede dejan su fotografía como recuerdo para que luego al venir después de tantos años y les gusta verse nuevamente en las fotos y aquí hay figuras públicas, artista como el mismo Don francisco estuvo en esta galería.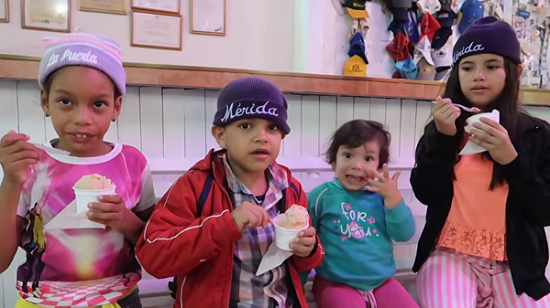 With my Samsung S5 cell phone.

Well this is the other side of Venezuela that it should be, very beautiful and enterprising as it should be, I invite you to come and taste the ice cream you like the most and bring your families and be pleasantly surprised.

Bueno esta es la otra cara de venezuela que debería ser, muy hermosa y emprendedora como debería ser, los invito a que vengan a degustar el helado que más le guste y traer a sus familias y se lleve agradable sorpresa.
---
---