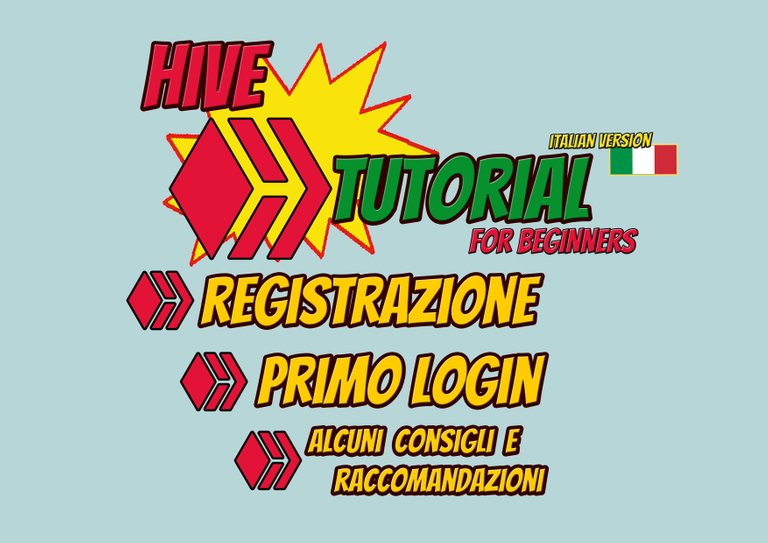 Font used is Open Source - edit by @libertycrypto27
---
This Tutorial is also written in English --> English Version

---
Hive è la blockchain che amo e cerco di cogliere ogni occasione per promuovere Hive con parenti e amici e con chiunque mostri interesse ai principi di decentralizzazione e di libertà.
Come ho fatto per le ultime persone che hanno seguito il mio consiglio e che hanno scelto di iscriversi ad Hive delegherò 30 HP per un periodo di almeno 4 mesi a chiunque dei miei amici e conoscenti si iscriverà ad Hive.
Ultimamente 4 persone si sono mostrate interessate e spero che decideranno di abbandonare Facebook e Co. e sceglieranno di iniziare la loro avventura decentralizzata su Hive.
Invece di inviargli solo il link del sito per registrarsi su Hive ho pensato di scrivere un breve post, con i passi per effettuare la registrazione e con alcuni consigli e link utili per rendere il loro inizio più semplice.
Inziamo dalla registrazione.
---
Registrazione
---
Il punto di partenza per creare un account di Hive è il sito: https://signup.hive.io/
---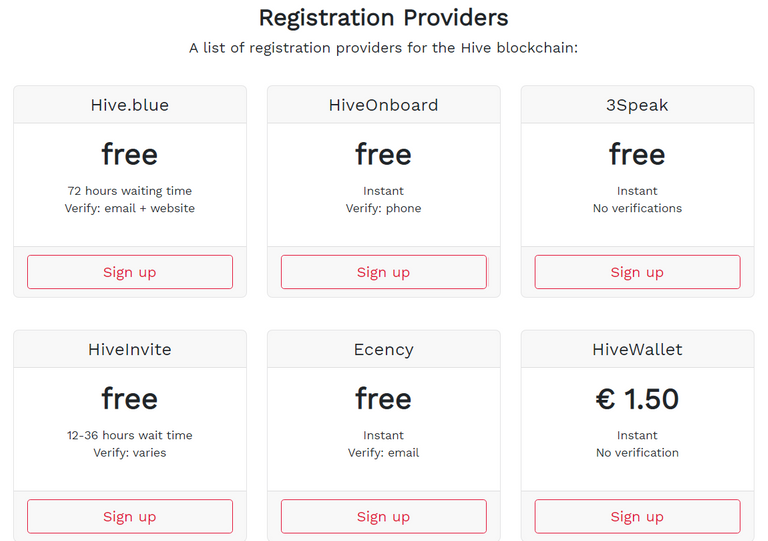 ---
Ci sono varie modalità di iscrizione ad Hive:
iscrizione gratuita senza verifica
iscrizione gratuita con verifica (email e/o phone...)
iscrizione a pagamento (istantanea e senza verifica)
Io consiglio di scegliere una tra le opzioni gratuite.
Ho verificato che al momento Hive.blue non permette l'iscrizione quindi il mio consiglio è di scegliere uno qualsiasi dei providers di registrazione che offrono la creazione di un nuovo account in modo totalmente gratuito.
Ad esempio se scegli di registrarti tramite il sito HiveOnboard e clicchi sul bottone con la scritta Sign Up (https://hiveonboard.com/create-account) visualizzerai la seguente schermata.
---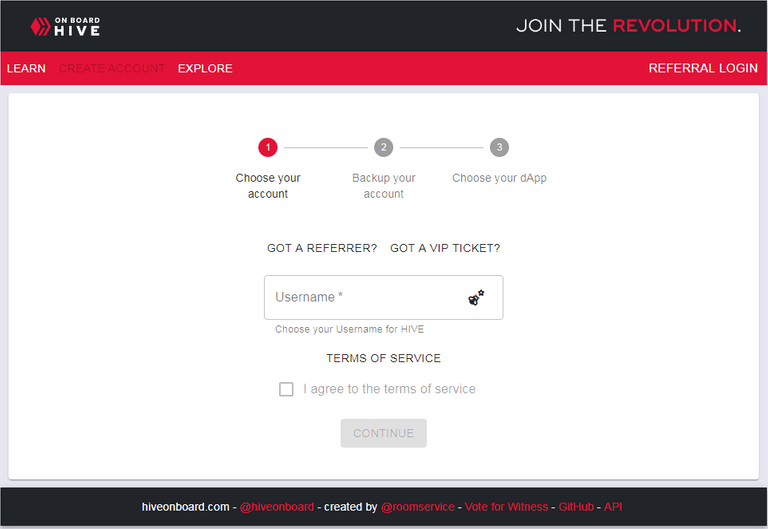 ---
1. Devi scegliere la tua username.
Se l'username da te scelta è disponibile visualizzerai un segno di spunta come quello indicato nell'immagine seguente.
---

---
2. Dopo aver messo la spunta sulla casella che precede la scritta "I agree to the terms of service" puoi cliccare sul bottone con la scritta CONTINUE.
---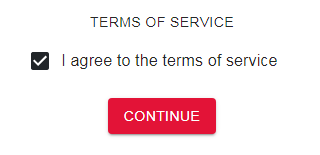 ---
3. Nella schermata successiva vedrai visualizzate le tue password.
---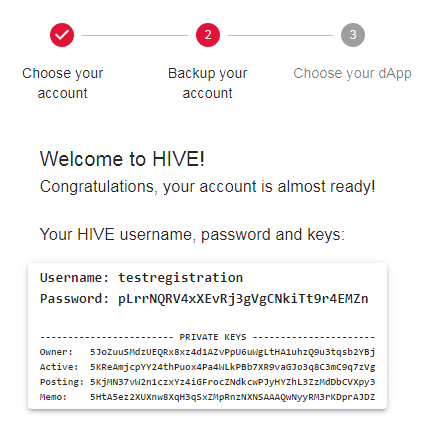 ---
Non avrai una sola password ma 5 password diverse ed ognuna ha un utilizzo diverso:
Posting Key: si usa per le attività social.
E' la chiave che utilizzarai più di frequente e serve per postare, commentare e votare. Non devi usare altre chiavi per le attività di blogging.
Active Key: ha permessi aggiuntivi rispetto alla posting key ed è necessaria per completare le operazioni monetarie come il trasferimento e lo scambio di tokens.
Owner Key: è la chiave che ti permette di cambiare tutte le altre password.
Memo Key: è la chiave che ti permette di crittografare e decrittografare i messaggi inviati da e verso il tuo account.
Master Password: partendo dalla Master Password è possibile ricavare tutte le altre password.
NOTA IMPORTANTE
Su Hive non esiste la funzione per resettare la password e non troverai mai la scritta "Hai dimenticato la tua password?"
Per questo motivo fai una copia di Backup delle tue password e custodiscile con la massima cura. Ti consiglio di scriverle anche su un supporto cartaceo nel caso ad esempio che il tuo hard disk o il supporto che hai scelto per memorizzare le tue chiavi dovesse smettere di funzionare.
Ritorniamo al processo di registrazione.
4. Clicca sul pulsante DOWNLOAD BACKUP per salvare un file di testo contenente tutte le tue password.

5. Clicca sul pulsante con la scritta CREATE HIVE ACCOUNT per procedere con la creazione del tuo account di Hive.
Io ho già un account e non cliccherò sul pulsante per creare l'account e quindi sarai tu a completare il procedimento di registrazione che è comunque molto semplice.
---

---
Hive.blog o Peakd?
---
Ci sono diverse interfacce web per accedere alla blockchain di Hive e per interagire con gli altri utenti di Hive.
Le principali interfacce web sono:
Il mio front-end preferito è https://peakd.com/ e ti consiglio vivamente di usarlo al posto di hive.blog perchè è molto più semplice da usare e ha tante funzionalità integrate che hive.blog non ha.
---

---
Il primo accesso a Peakd
---
Per utilizzare PeakD devi prima fare il Login.
1. Clicca sulla scritta Login come indicato dalla freccia nell'immagine successiva
---

---
2. Nella schermata successiva:
- 1 Inserisci il nome utente di Hive
- 2 Accedi tramite Hive Keychain
---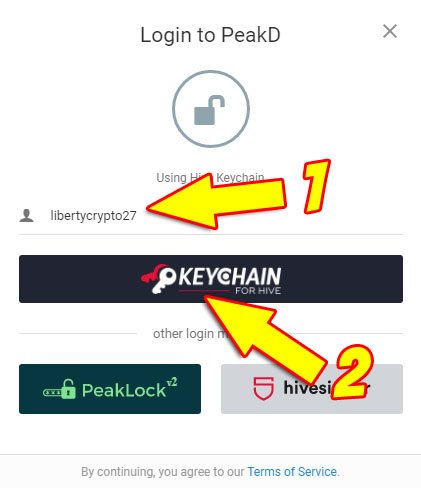 ---
HIVE KEYCHAIN
---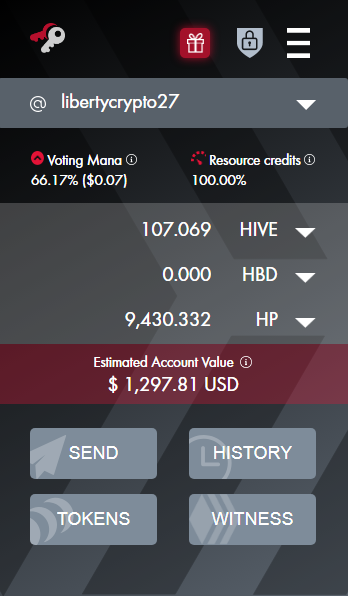 ---
Hive Keychain è un utilissimo tool che permette di accedere in modo sicuro alla blockchain di Hive.
E' il mio metodo di accesso preferito.
E' un estensione disponibile per i seguenti browser:
Ti consiglio di installare Hive Keychain fin da subito ed accedere a PeakDd con Hive Keychain.
---
HIVESIGNER
---
L'alternativa ad Hive Keychain è Hivesigner.
---

---
Dopo aver cliccato sul pulsante dell'immagine in alto ti comparirà la seguente schermata
---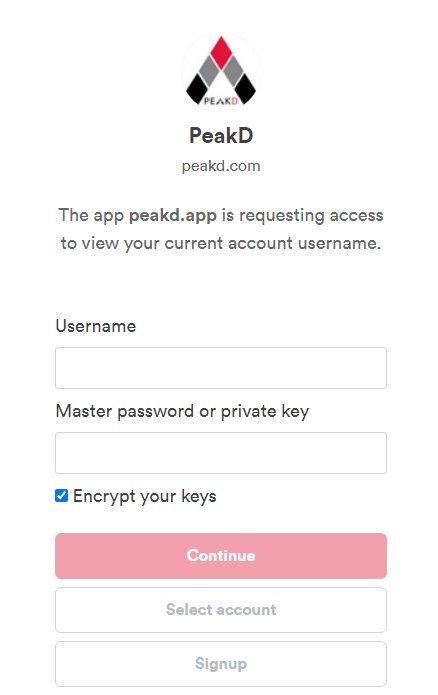 ---
1. Inserisci la tua Username
2. Inserisci la tua Private Active Key
3. Scegli una password per crittografare le tue chiavi quando usi Hivesigner
Mi fermo al primo login rimandando ad un prossimo post una spiegazione approfondita sull'utilizzo di PeakD.
---
Primi Consigli e alcuni link utili
---
Hive è un mondo che a me piace molto perchè è nato e si basa su due principi che io ho molto a cuore:
decentralizzazione
libertà
Se hai scelto di iscriverti su Hive hai fatto un primo passo per spezzare le catene opprimenti della centralizzazione diffusa nella società in cui viviamo.
Dal momento in cui entri a far parte di Hive non sei un semplice utilizzatore della blockchain di Hive ma sei una parte di Hive.
Puoi scrivere contenuti ed essere ricompensato se il tuo contenuto piace agli altri utenti
Puoi votare per ricompensare un autore che ha scritto un post che è stato di tuo gradimento
Puoi entrare a far parte di una delle tante comunità presenti su Hive e conoscere persone che hanno i tuoi stessi interessi
Puoi creare tu stesso una comunità o puoi creare una DAPP (un app decentralizzata)
Puoi creare un tuo token per distribuirlo o per venderlo
Puoi fare davvero tante cose che in un mondo centralizzato non potresti neanche immaginare di poter fare...
Se ti sei appena iscritto su Hive hai fatto la scelta giusta!
Ecco alcuni consigli che spero potranno esserti utile:
Non copiare e non plagiare
Su Hive i contenuti devono essere originali, se hai altri blog o utilizzi altri social network posta prima su Hive. Lo stesso contenuto lo puoi condividere su tutti i canali che desideri ma solo successivamente.
Quando scrivi il tuo primo post di presentazione inserisci il tag introduceyourself e utilizzalo una sola volta.
Con questo tag il tuo post avrà un esposizione maggiore perchè tutti gli utenti di Hive sono contenti quando la comunità di Hive cresce.
Quando pubblichi un post scegli sempre una comunità (l'equivalente del gruppo di Facebook) all'interno della quale pubblicare il tuo contenuto.
Installa Discord (canale di comunicazione molto utilizzato dagli utenti e dalle comunità di Hive).
Link Discord: https://discord.com/
Se sei italiano ti consiglio di iscriverti alle due comunità italiane più attive in questo momento:

Olio di Balena
Discovery-it
In entrambe le comunità troverai tante persone gentili e sempre disponibili ad aiutarti.
---
Olio di Balena
---

---
Olio di Balena on Hive: https://peakd.com/c/hive-146620/created
Canale Discord di Olio di Balena: https://discord.gg/pEynCzy
Account on Hive: @oliodibalena
---
Discovery-it
---

---
Discovery-it on Hive: https://peakd.com/c/hive-193212/created
Canale discord di Discovery-it: https://discord.gg/MfUgmqy
Account on Hive: @discovery-it
---
Spero che questo post ti sia piaciuto e ti ringrazio per la lettura.
---

---