Plakton The Villain Joins The Collection!💥❇️✨ Plakton El Villano, Se Une A La Colección!! 🌿🌟❣️By Danhyelita24

🌿💖🌟❣️💥🌸❇️🍃✨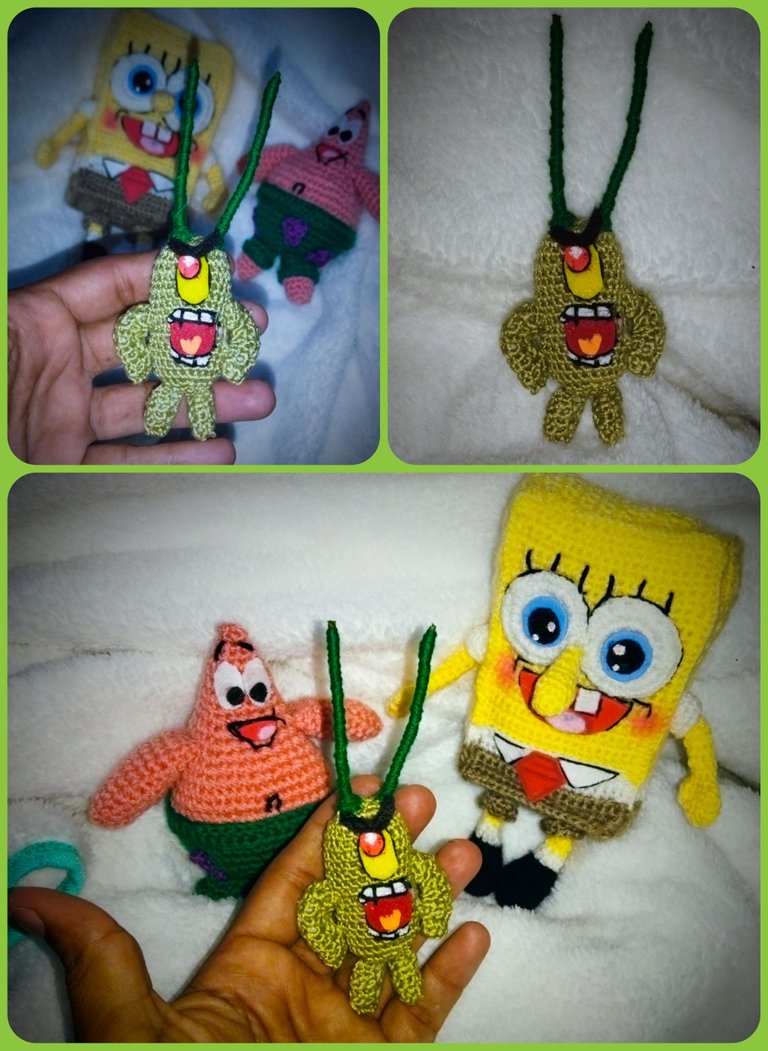 🌿💖🌟❣️💥🌸❇️🍃✨
Hello hello how are you dear friends and all those users who make life in this creative and original community

#needleworkmonday

!
Hola hola qué tal queridos y apreciados amigos y todos aquellos usuarios que hacen vida en esta creativa y original comunidad

#needleworkmonday

!!
Today I want to share with you a very nice and original craft that I made as a complement to a personal collection that I am completing, of one of my favorite cartoons how is "SpongeBob" and this time I show you how to make the favorite villain and super funny Plakton.
El día de hoy quiero compartirles una manualidad muy bonita y original que realicé como complemento de una colección personal que estoy completando, de uno de mis dibujos animados favoritos cómo lo es "Bob Esponja" y en esta oportunidad les muestro cómo realizar al villano favorito y súper gracioso plakton.
🌿💖🌟❣️💥🌸❇️🍃✨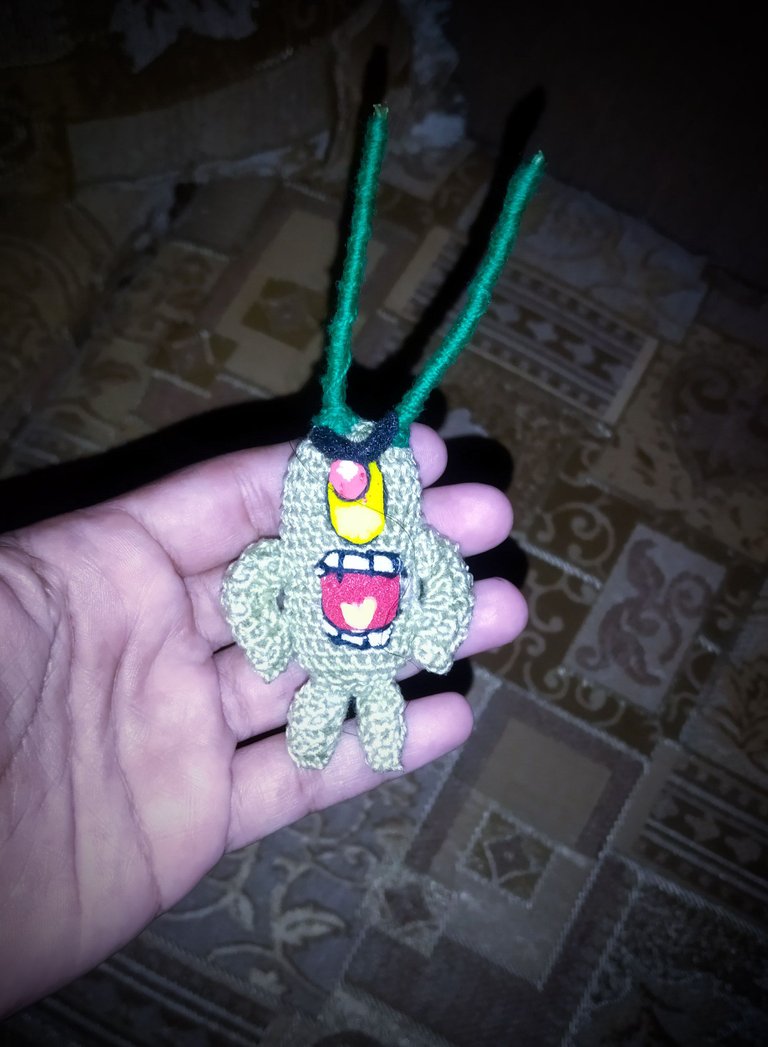 🌿💖🌟❣️💥🌸❇️🍃✨
The little Plakton is the archenemy of Mr. Krabs, with a very strong character. The owner of the restaurant "Balde de Carnada", Plakton's goal in life is to steal the secret recipe for crab burgers from "El Crustáceo Cascarudo".
El pequeño Plakton es el archienemigo de Don Cangrejo, con un carácter muy fuerte. El dueño del restaurante "Balde de Carnada", Plakton, tiene como objetivo en la vida robarle la receta secreta de las hamburguesas de cangrejo a "El Crustáceo Cascarudo"
🌿💖🌟❣️💥🌸❇️🍃✨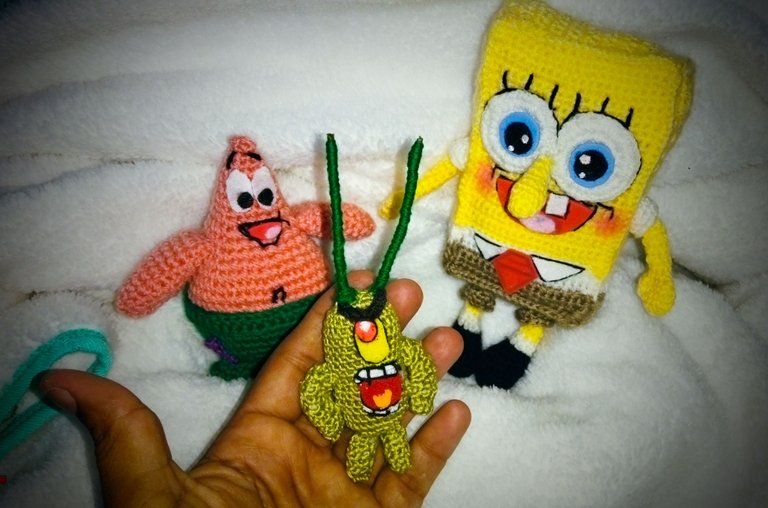 🌿💖🌟❣️💥🌸❇️🍃✨
To make this character we are going to use silk threads, the ones we usually use for embroidery in seaweed green and forest green tones, hypoallergenic stuffing, a crochet number 0, needles, scissors, some foami in black, red, yellow, white and pink tones.
Para realizar este personaje vamos a utilizar hilos de seda, los que generalmente utilizamos para bordar en tonos verde alga y verde bosque, relleno hipoalergénico, un crochet número 0, agujas, tijeras, un poco de foami en tonos negro,rojo, amarillo, blanco y rosado.
🌿💖🌟❣️💥🌸❇️🍃✨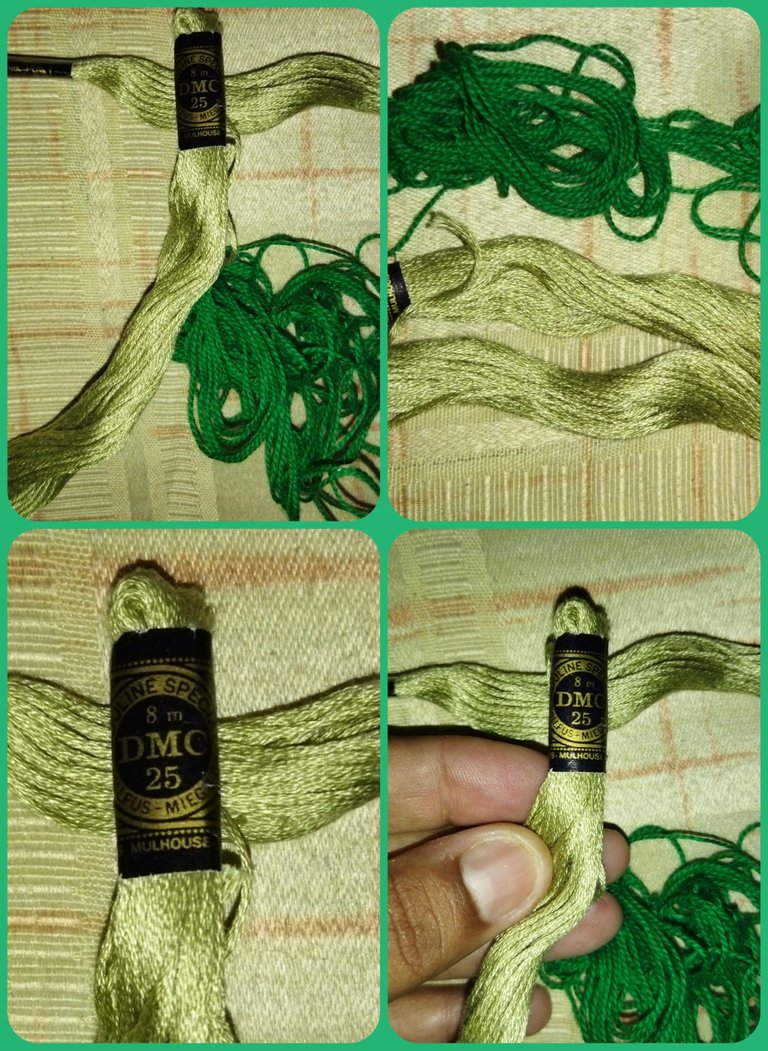 🌿💖🌟❣️💥🌸❇️🍃✨
Let's begin, to make it is extremely simple and that is why it is special to start in this world of crochet since its complexity is practically nil and with very basic stitches that we can finish in about half an hour.
Y pues bien Vamos a comenzar, para realizarlo es sumamente sencillo y por eso es especial para iniciar en este mundo de crochet ya que su complejidad es prácticamente nula y con puntadas muy básicas que podemos culminar alrededor de media hora.
We are going to begin by taking the green yarn the seaweed tone and we make a magic ring where we are going to mount 6 low stitches, for the next round we are going to make an increase in each stitch, Then we are going to make the sequence of one low stitch One increase, then the sequence of two low stitches One increase And from the next round we are going to make 14 rounds of one low stitch in each stitch, This to give the rounded shape to the figure.
Vamos a comenzar tomando el hilo verde el tono algas y realizamos un anillo mágico donde vamos a montar 6 puntos bajos, para la próxima vuelta vamos a hacer un aumento en cada punto, Luego vamos a hacer la secuencia de un punto bajo Un aumento, luego la secuencia de dos puntos bajos Un aumento Y a partir de la próxima vuelta vamos a realizar 14 vueltas de un punto bajo en cada punto, Esto para darle la forma redondeada a la figura.
🌿💖🌟❣️💥🌸❇️🍃✨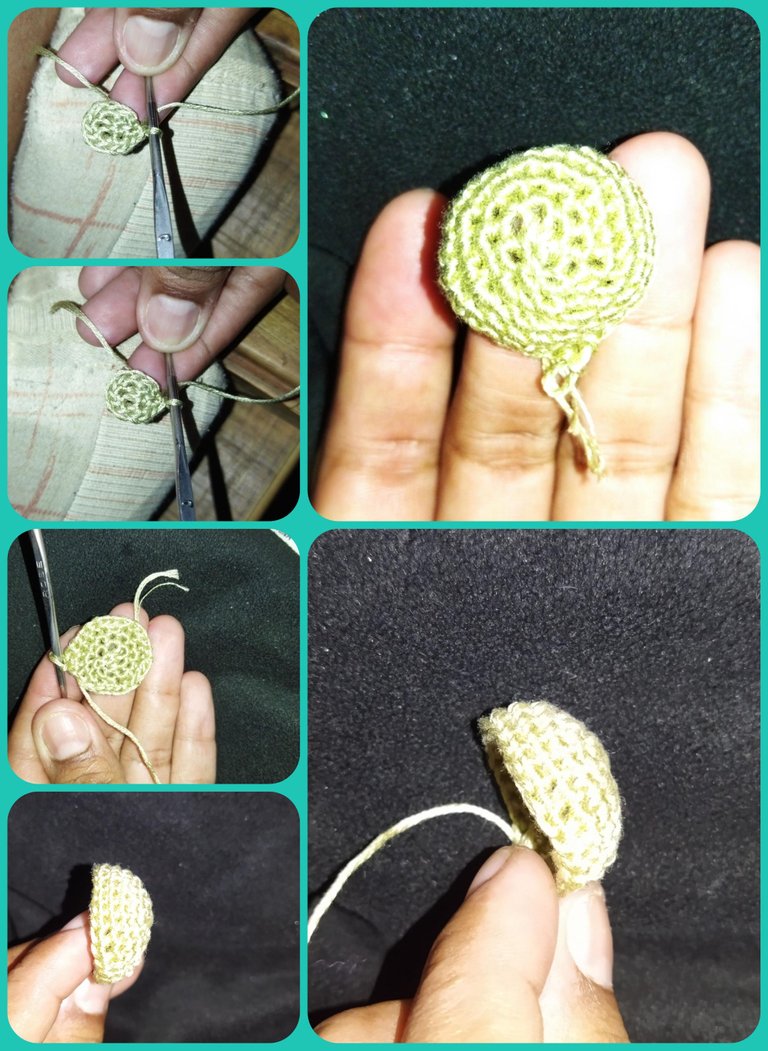 🌿💖🌟❣️💥🌸❇️🍃✨
We fill in and proceed to make the decreases, two single crochet one decrease, one single crochet one decrease and finish by finishing off with the knitting needle. This way we have completed the body of our little Plakton.
Rellenamos y procedemos a realizar las disminuciones dos puntos bajos una disminución, un punto bajo una disminución y terminamos rematando con la aguja lanera. Teniendo de esta forma culminado el cuerpo de nuestro pequeño Plakton.
🌿💖🌟❣️💥🌸❇️🍃✨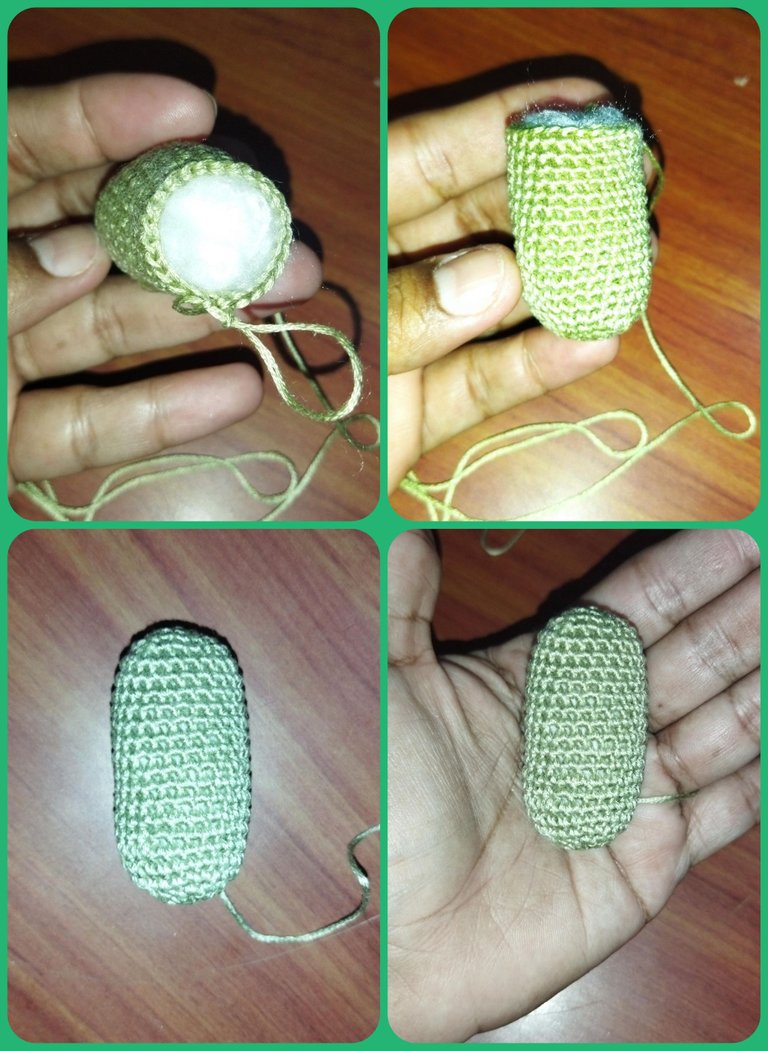 🌿💖🌟❣️💥🌸❇️🍃✨
We are going to make the legs by assembling a chain of 7 stitches in seaweed green yarn, for the second round we are going to go through the last one and make 6 single crochet stitches, a chain in the air, we turn and make 4 additional rounds of the same 6 stitches, we fold in half, we sew in all the edges, we stuff and make two pieces exactly the same and we are going to place them in the lower part of our little doll.
Las piernas las vamos a realizar montando en hilo verde color algas una cadena de 7 puntos, para la segunda vuelta vamos a pasar por la última y realizamos 6 puntos bajos, una cadena al aire, volteamos y realizamos 4 vueltas adicionales de los mismos 6 puntos, doblamos a la mitad cocemos por todos los bordes, rellenamos y realizamos dos piezas exactamente iguales y vamos a colocar en la parte inferior de nuestro muñequito.
🌿💖🌟❣️💥🌸❇️🍃✨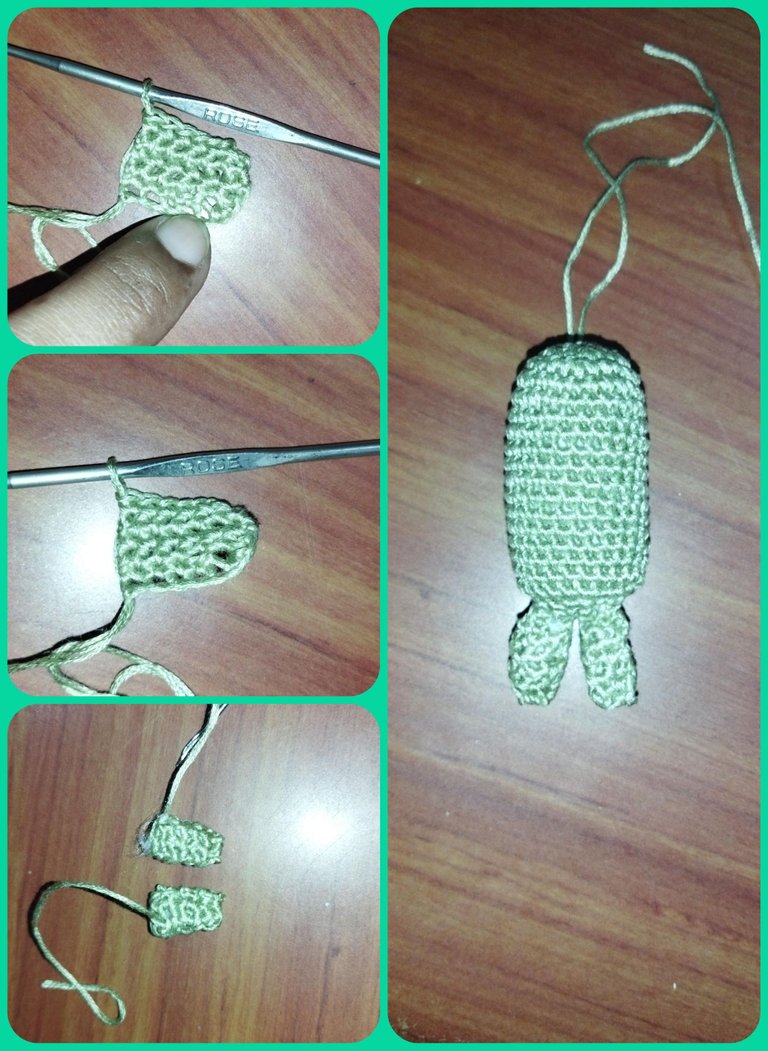 🌿💖🌟❣️💥🌸❇️🍃✨
We are going to make the arms in the same way as we made the feet but the difference is that we are going to make seven turns to give it the length and thus be able to place gestures to the arms, we stuff and in the same way we place on both sides of the little body.
Los brazos los vamos a hacer de la misma forma como elaboramos los pies pero a diferencia de que vamos a realizar siete vueltas para darle el largo y así poder colocarle gestualidad a los brazos, rellenamos y de igual manera colocamos en ambos lados del cuerpecito.
🌿💖🌟❣️💥🌸❇️🍃✨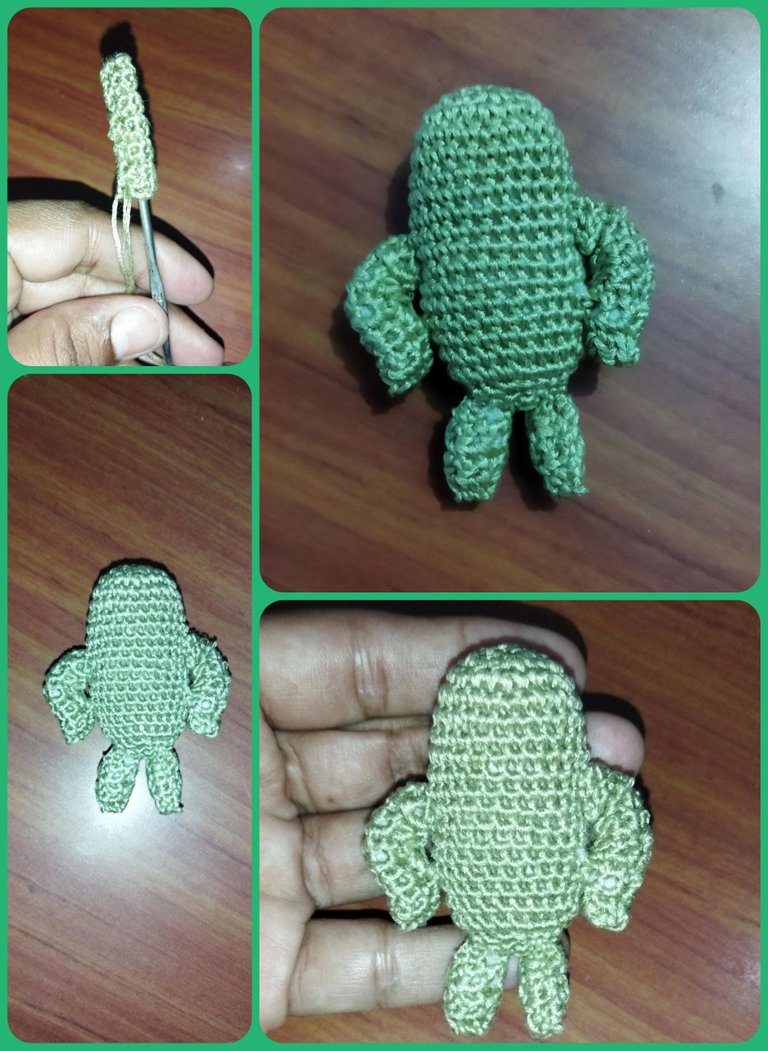 🌿💖🌟❣️💥🌸❇️🍃✨
To make his little antennae we are going to take two small pieces of wire wrapped in plastic and we are going to cut them to the size of his body, which we are going to cover with the forest green thread and we are going to fix with basic stitches on top of the doll's head.
Para realizar sus antenitas vamos a tomar dos pequeños trocitos de alambre envuelto en plástico y vamos a cortar del tamaño de su cuerpo, los cuales vamos a forrar con el hilo tono verde bosque y vamos a fijar con puntadas básicas encima de la cabeza del muñeco.
🌿💖🌟❣️💥🌸❇️🍃✨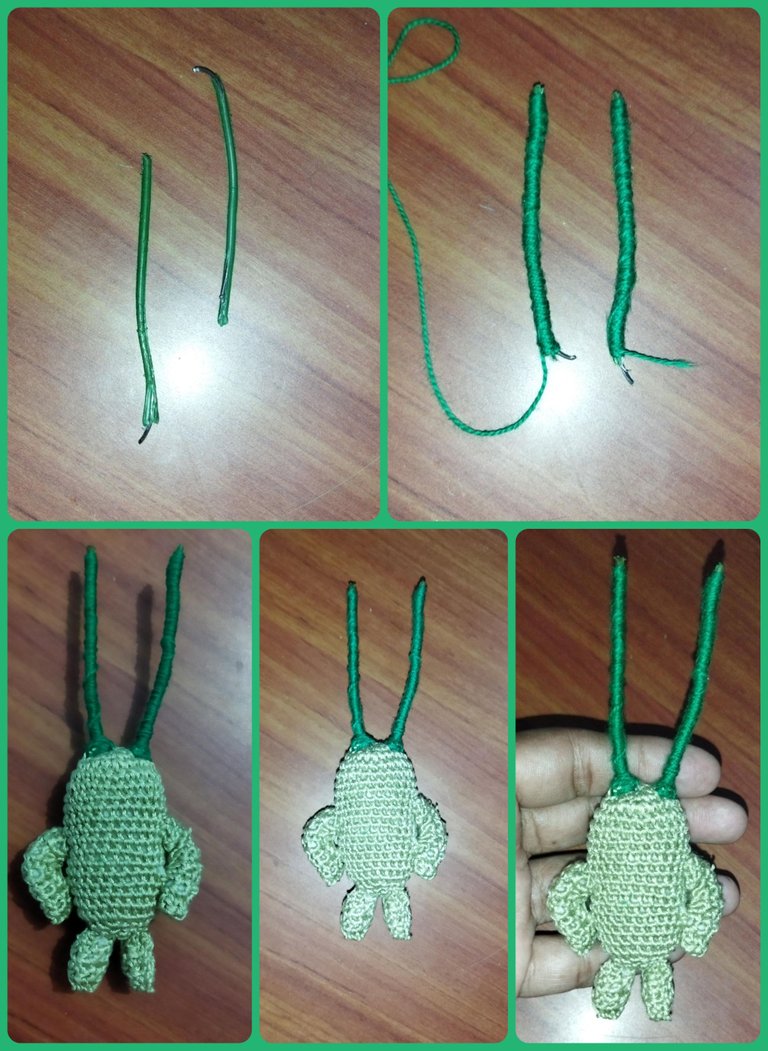 🌿💖🌟❣️💥🌸❇️🍃✨
When the doll is almost ready to complete the body we will complete the face and for that we will use small cuts of foami, yellow tone cen make an oval and make a circle that we will place on top in red tone and above a small white dot and eyebrows in black color so that it gives that sign of evil in his face.
Al tener el listo prácticamente al cuerpo completo vamos a completarle el rostro y para eso vamos a utilizar pequeños recortes de foami,cen tono amarillo hacemos un óvalo y realizamos un círculo que vamos a colocar encima en tono rojo y encima un pequeño punto Blanco y las cejas en color negro de manera de que de ese seño de maldad en su carita.
🌿💖🌟❣️💥🌸❇️🍃✨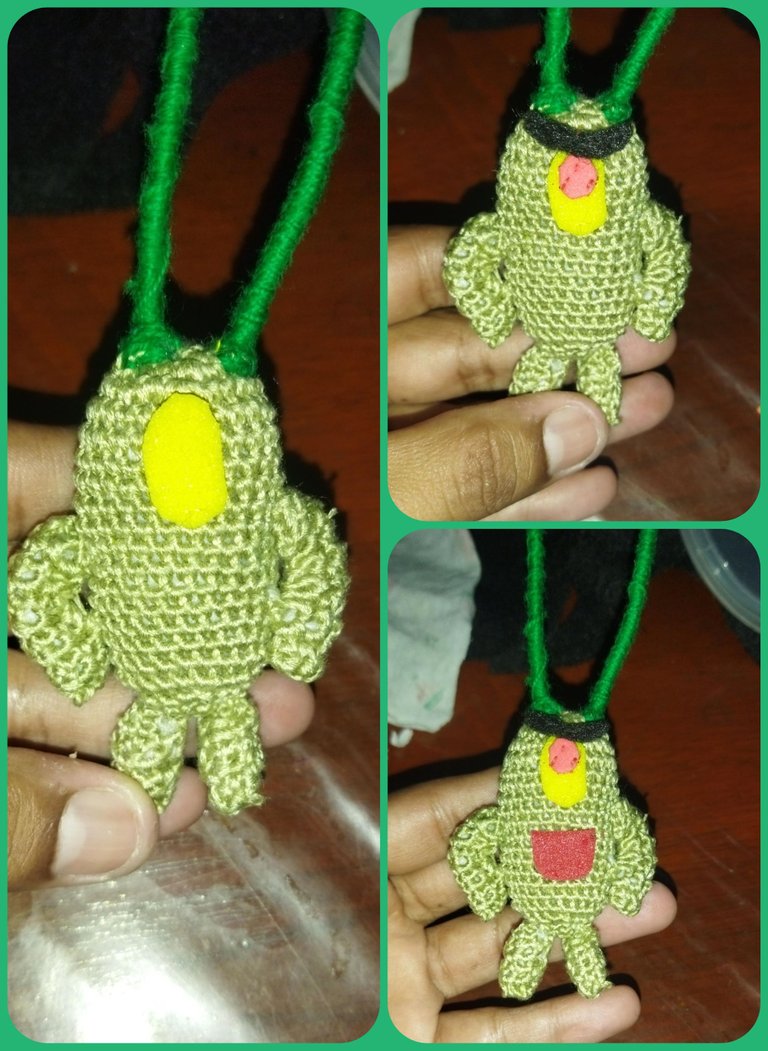 🌿💖🌟❣️💥🌸❇️🍃✨
For the mouth we are going to make a red tone as a kind of a small smile a small heart in skin color that would be his tongue and in white the teeth, the whole part of the face we are going to embroider it with black thread to give him the characteristic features and defining this way all the forms.
Para la boca vamos a hacer un tono rojo como especie de una pequeña sonrisa un pequeño corazoncito en color piel que sería su lengua y en blanco los dientes, toda la parte de la cara la vamos a bordar con hilo negro para darle los rasgos característicos y definiendo así todas las formas.
🌿💖🌟❣️💥🌸❇️🍃✨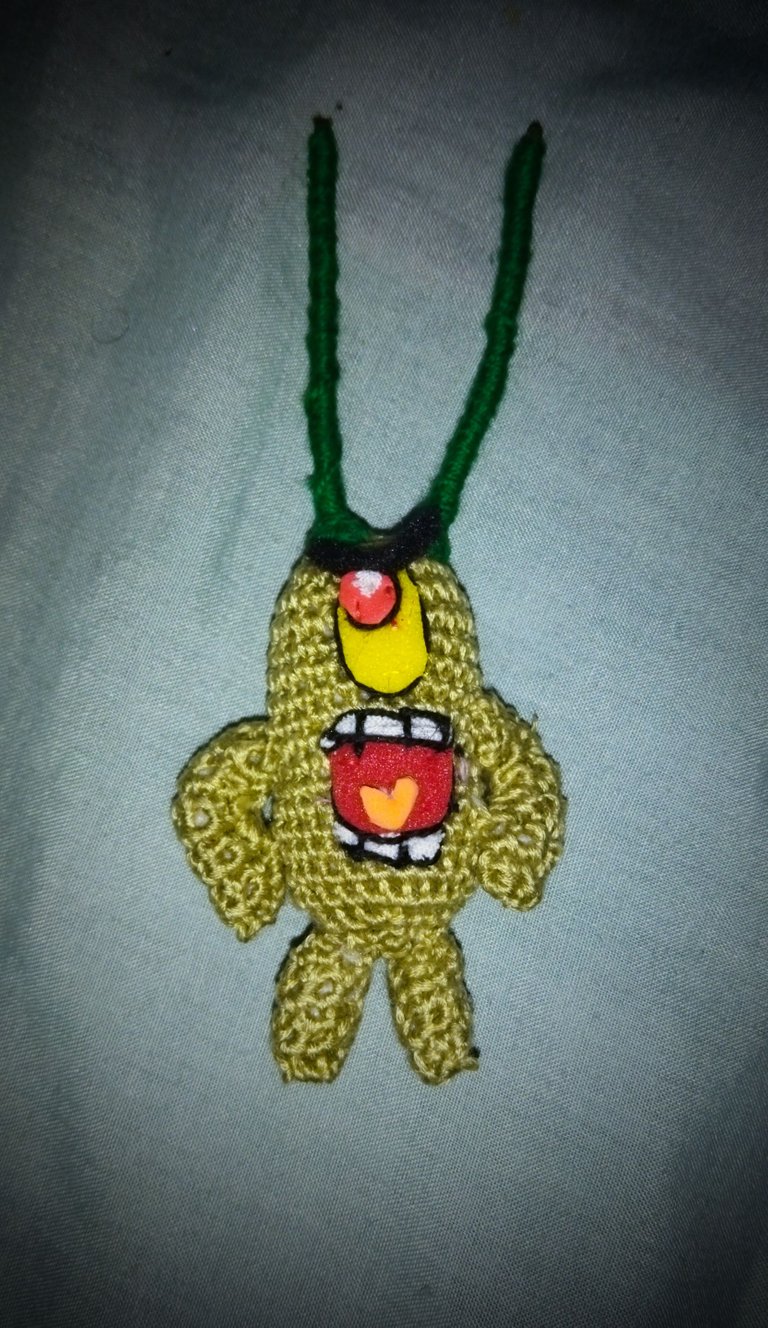 🌿💖🌟❣️💥🌸❇️🍃✨
And in this way we have already completed our enemy Plakton, I loved doing this craft because it was super relaxing and the result was better than I expected and so I have completed one more character of my personal collection of SpongeBob that I hope soon to finish it and also to show it.
Y de esta manera ya tenemos culminado a nuestro enemigo Plakton, me encantó realizar esta manualidad ya que fue súper relajante y el resultado fue mejor de lo que esperaba y así tengo completado un personaje más de mi colección personal de Bob Esponja que espero pronto poder culminarla Y de igual manera mostrarla.
🌿💖🌟❣️💥🌸❇️🍃✨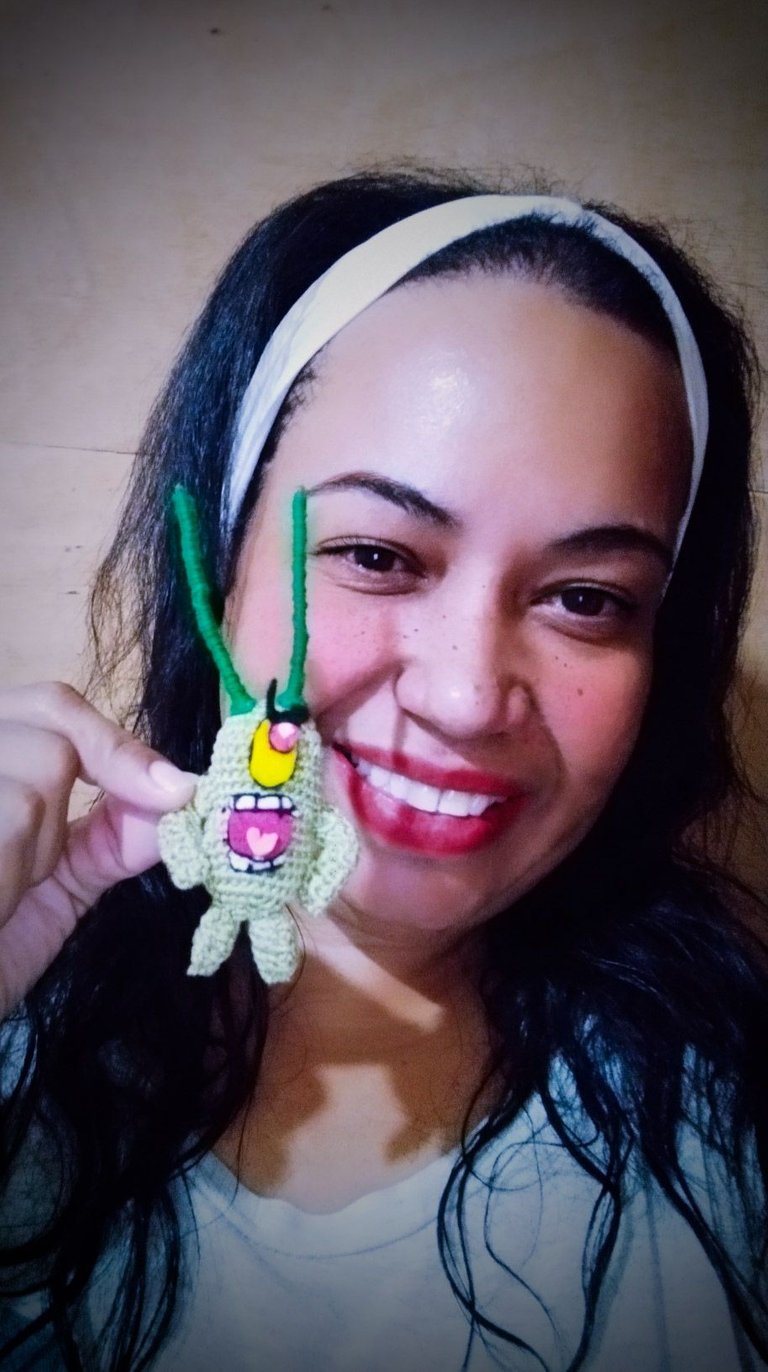 🌿💖🌟❣️💥🌸❇️🍃✨
For this opportunity I say goodbye wishing that this post has been to your liking and motivate you to make it, we will see each other God willing very soon, Greetings and blessings.
Por esta oportunidad me despido deseando que este post haya sido de todo su agrado y se motiven a realizarlo, nos veremos Dios mediante muy pronto, Saludos y bendiciones.
🌿💖🌟❣️💥🌸❇️🍃✨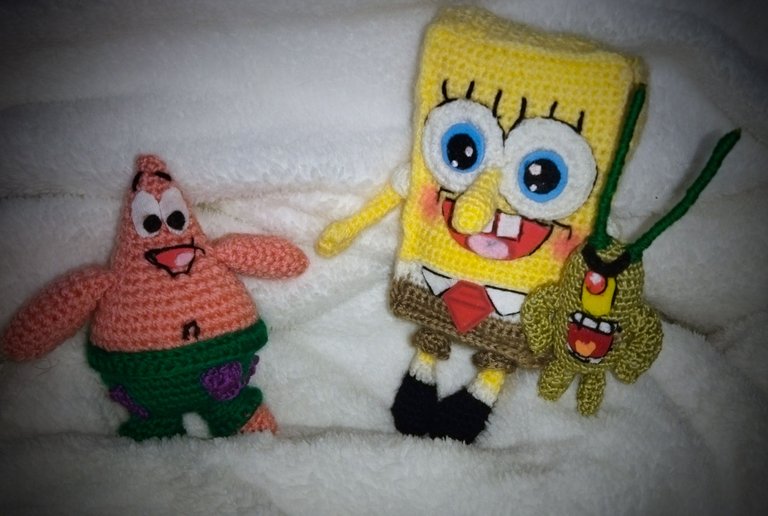 🌿💖🌟❣️💥🌸❇️🍃✨
All images are my property taken with redmi 9t and edited with Photoshop Express application for Android.
🌿💖🌟❣️💥🌸❇️🍃✨
🌿💖🌟❣️💥🌸❇️🍃✨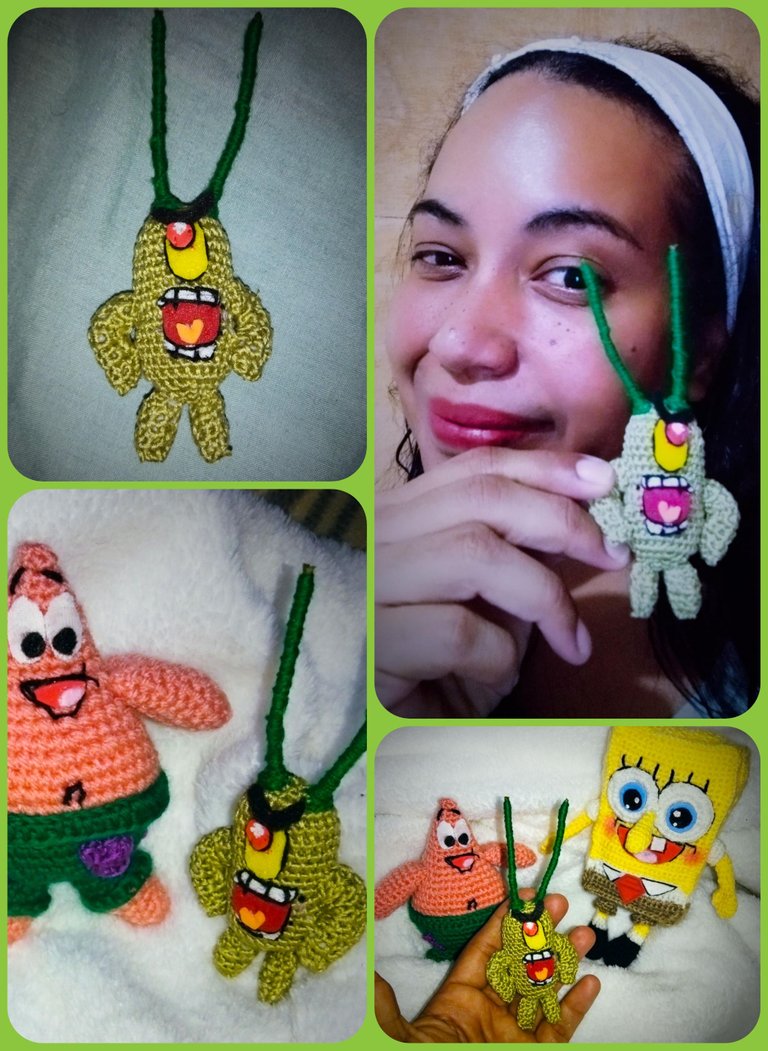 🌿💖🌟❣️💥🌸❇️🍃✨
🌿💖🌟❣️💥🌸❇️🍃✨
---
---